The ESB-MACC is currently closed to the public. 
The ESB-MACC is proud to offer engaging digital programs and performances, often featuring artists from the Latino Artist Access Program. Check out our Digital Programs Page and the MACC Facebook for upcoming digital events!
For family-friendly/ youth activities, make sure to view our Education Digital Programs too!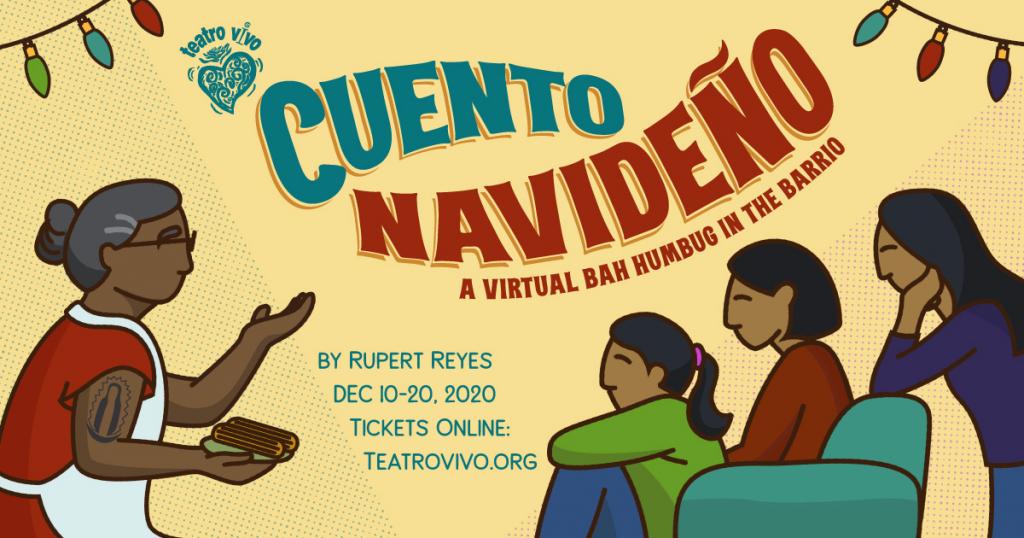 Cuento Navideño
Teatro Vivo returns with the 2020 virtual production of Cuento Navideño: Bah Humbug in the Barrio, a bilingual holiday comedy Dec. 10 -20. This festive bilingual comedy infuses Latino culture, Spanish language, and Latino holiday traditions in a show to be enjoyed by the whole Austin familia. Cuento Navideño was written and Directed by Rupert Reyes and will be presented online.
Performance Streaming Date and Times:
DEC. 10, 11, 12, 17, 18, 19 @ 7PM
DEC. 13, 20 @ 2PM
DEC. 10 will be FREE, hosted by the MACC
Following every performance, Teatro Vivo will host a live discussion with members of the Cuento Navideño company, hosted by Ben Bazán. The discussions are free and will go live immediately following each performance.
Teatro Vivo gives the gift of laughter once again this holiday season. This year's production brings back the beloved characters from the 2012 production and offers some new surprises! Written and directed by Rupert Reyes and inspired by Charles Dickens' A Christmas Carol, Cuento Navideño (A Christmas Story) takes place on Christmas Eve in a modern, urban Latino community. Evangelina Cruz is the Latina version of Ebenezer Scrooge. She is a selfish businesswoman who has lost touch with her culture, her family and connection to her community. An unexpected visit from the ghost of her former business partner, the once equally-greedy Teodora, sets Evangelina on a journey to look closely at her choices.
This festive bilingual comedy infuses Latino culture, Spanish language, and Latino holiday traditions in a show to be enjoyed by the whole Austin familia!

Austin's first Latinx Comic Book Convention (Comic Con) is back for its third year! MexAmeriCon 2020 will be a virtual event showcasing Mexican American and Latinx artists who work through the medium of comic books, graphic novels, zines and other related media. There will be music, an artist alley, as well as interviews and panels exploring topics relating to comics and Latinx Culture. Attendees will also have a chance to enter to win cash and prizes as well!
This event will be premiered entirely online at MexAmeriCon.com on Saturday December 12, 2020 from 11:00 AM to 4:00 PM. Admission is free of charge and all are welcome! Please visit MexAmeriCon.com or our social media platforms for more information.
MexAmeriCon 2020 is organized by a group of dedicated volunteers who grew up reading comic books and believe in the value of Latinx art and culture. Our focus at MexAmeriCon is to create a positive and inclusive environment for both artists and attendees to unite and share.

On Nov 1 & 2, the ESB Mexican American Cultural Center is proud to present Día de Los Muertos. This celebration has been a tradition at the ESB-MACC for over a decade. This year for the first time, we will present a digital event that anyone can view for free from a computer, tablet, or phone! Local artists and the community can participate, making this a collective digital event.
To view the program, please visit www.DayoftheDeadATX.net.
Desde la Sala Virtual Concert Series
A series of musical performances by some of our favorite artists, from their living room to yours - FOR FREE! Watch all of the performances on the Desde La Sala Playlist, plus find more information on the Desde La Sala website!

Viva Mexico 2020
Visit www.vivamexico2020.net to watch! The Emma S. Barrientos Mexican-American Cultural Center hosted its annual Viva México celebration on Wednesday, September 16th from 6-9pm. This lively celebration is still offered virtually, free of charge, live streamed on Youtube, Facebook, and Twitter.
At the ESB-MACC Healing Garden we grow fruits, herbs, and vegetables that can be used for everyday meals and health. If you are interested in gardening or sharing in our harvest, join us for one of our workdays. Contact us at maccgarden@austintexas.gov or call 512.974.3773. View the informational brochure in English or Spanish and our Garden webpage in English or Spanish!

ESB-MACC Signature Events:

La Mujer
A celebration of women inspired by the first feminist of the New World, Sor Juana Inés de la Cruz, with food, art, and performances by women.

Awards of Excellence
Award Ceremony recognizing remarkable Latinx for the highest artistic excellence they bring to the cultural arts of Austin, TX. 

¡Viva Mexico! 
The day of Mexico's Independence from Spain is always remembered on the 16th of September. Our father of independence is Miguel Hidalgo y Costilla, who started the revolt on the eve of the 15th of September.

Día de los Muertos
A day to remember our loved ones who have passed with offerings, music, food, and kids activities. Part of Mexican culture is learning from our ancestors and learning where they came from to guide our future.!

COLLABORATE WITH US!
The Emma S. Barrientos Mexican American Cultural Center is a vibrant arts center with 100,000 annual visitors. Since 2007, we have been offering countless cultural events and art classes focusing on performing arts, music, literature, film screenings, and the Latino Arts Residency Program. A collaboration is a one-time presentation that is co-produced with the ESB-MACC.  It can be a panel discussion, music or theater presentation, film screenings or community engagement discussion. The ESB-MACC organizes year-round activities and also cooperates with a large number of partners who complete and strengthen programming through rentals and collaborations. For more information, download our collaboration request form.
Collaborators that we have worked with in the past are: AARP, ALMA (Austin Latino Music Association), Austin Community College Creative Writing, Austin History Center, Austin Museum Partnerships, The Austin Symphony, Ballet East, Bellas Artes Alliance, The Center for Mexican-American Cultural Arts (CMACA), Cine Las Americas, Conspire Theatre, Crossroads Events, Dan Guerrero, Daniel Llanes, El Corazón de Tejas, Flor de Nopal, Indigenous Cultures Institute San Marcos, KLRU-TV, Latinitas, LATINO Magazine & No Mas Hambre, Nuestro Grupo, PODER, Proyecto Teatro, Puerto Rican Folkloric Dance Company, Telemundo Austin, Texas Criminal Justice Coalition, Texas Folklife, Resistencia Bookstore, University of Texas at Austin CMAS, Univision