The Guadalupe Corridor Plan
The City of Austin has completed the preliminary engineering report for the Guadalupe Corridor Improvement Program. The preliminary engineering report, also known as a Corridor Mobility Plan, contains recommendations to enhance mobility, safety and connectivity for all roadway users—including people who drive, walk, bike and take transit. Recommendations included in the report will be considered for possible design and construction funding as part of the voter-approved 2016 Mobility Bond. 
Click on the links below to read the plan.
Appendix C - Public Meeting Boards (See below)
The Austin Transportation Department initiated the Guadalupe Corridor Improvement Program in 2014 to identify and recommend short- to long-term transportation improvements to enhance mobility, safety, and quality of life along the Guadalupe Street Corridor. The program area is composed of Guadalupe Street near the UT Austin campus, with approximate boundaries of Martin Luther King Jr. Boulevard to the south, West 29th Street to the north, Rio Grande Street to the west, and a block into the UT Austin campus to the east.
Recommended Transportation Solution Presented at May 11, 2016 Public Meeting and Business Open House
On Thursday, May 11, 2016, the Austin Transportation Department (ATD) hosted two Open Houses to review and discuss scenarios and the preferred recommendation for how to enhance mobility, safety and quality of life along the Guadalupe corridor.
The presentation was composed of several stations with illustrative boards. For those not able to attend, a link to each board is provided here and available for download:
The University of Texas also provided findings from the UT Austin Guadalupe Safety Study and the early safety-related implementations from that project. Capital Metro provided a final infographic board to support the current and future transit service in the corridor.
Approximately 80 people attended the meeting and spent quality one-one-one time with the project team members at each station. The presentations and discussions aimed to help participants gain a deeper understanding of existing conditions along the corridor and discuss the recommended solutions that aim at improving the area for pedestrians, bicycles, public transportation and vehicles.
Over the next few months, the project team will be working with ATD to finalize the plan and prepare a presentation along with the supporting analysis for review by the City of Austin Boards and Commissions.
ATD appreciates public interest and participation in this project and looks forward to sharing further updates as it evolves.
Previous Public Meeting
ATD and the consultant team working on the program previously invited community members to a Public Open House. Attendees met with City staff and consultants working to identify improvements. Throughout the evening, the program team discussed project details with participants, and assisted with questions and identifying improvement priorities. Below you can see the materials presented during the Public Open House and download the public 'Thought Wall' comments from the event. The complete survey results are also available for download.
Open House Meeting (December 3, 2014) Display Materials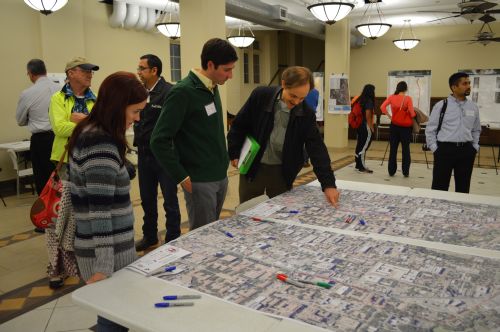 Other Project Documents