Community Organizations are Invited to Host Community Conversations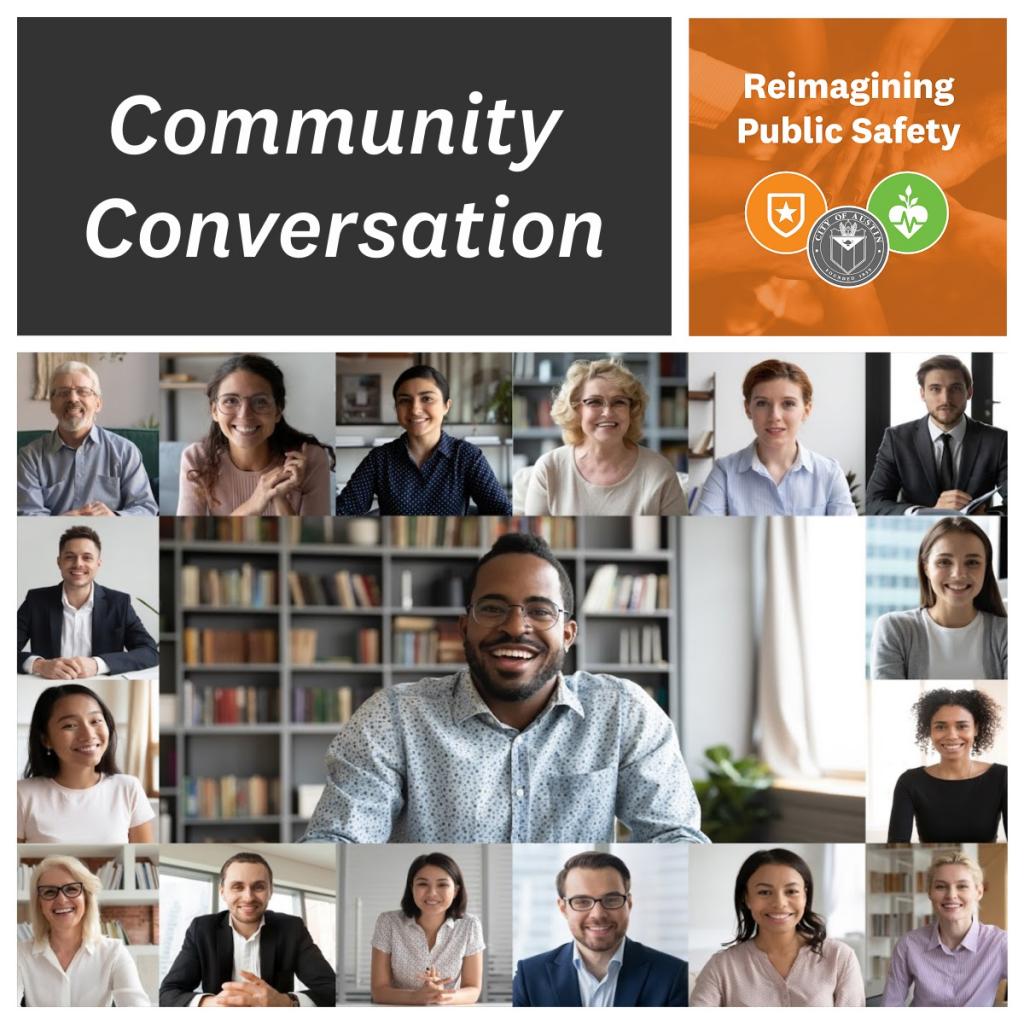 Community organizations play a vital role in Austin, and the Reimagining Public Safety initiative wants to hear from you. To that end, community organizations are invited to host Reimagining Public Safety meetings for their members, from now through January 31, 2021.
Community conversations are virtual meetings at which attendees provide candid feedback on how policing should work in a number of real-life scenarios, ranging from a domestic disturbance to a mental health issue to police on the beat. The feedback will be aggregated and made part available to city leadership as part of their decision making process. In many cases members of the Austin Police Department will sit in on the meetings, to hear from the community firsthand. 
As of early December 2020 three organizations have held community conversations, and six more will be held throughout the month. Another 10 more are scheduled for January 2021. 
The United Way of Greater Austin was one of the first organizations to host a community conversation. Cathy McHorse of the United Way of Greater Austin summarized her organization's meeting this way:  
"The Austin/Travis County Success By 6 and 2-Gen Coalitions recently hosted a Reimagining Public Safety Community Conversation using the City of Austin Toolkit. The organizations that participated work closely with families with low income who have young children  - and their voices are often missing from conversations about public safety.  The Community Conversation not only provided a means for staff at local organization to share ideas and feedback on the reimagining public safety process, but also amplified the voices of parents with lived experience to do the same." 
If you're wondering how your organization would host a meeting, here are the answers to a few key questions: 
What is my role, as a community organization, in this initiative?  
The Mayor and City Council are committed to listening to the community and taking its feedback into account as public safety is redefined and reformed. By facilitating a listening and engagement session, your organization can ensure that its and its members' voices are heard in this important process. Your participation also helps us ensure that we incorporate broad-based feedback from across Austin. 
How do I conduct a community conversation? 
The Communications and Public Information Office's RPS team has created a toolkit that will show you how to conduct a session. The toolkit includes a step-by-step agenda and script to conduct the meeting. 
Will the City help us put on a listening session? 
Yes! A member of the RPS team is available to walk you through the session toolkit and prepare you to host the meeting. This representative can answer any questions you may have. 
Are the meetings virtual? 
Yes. Given the current COVID19 situation, the meetings are facilitated via your organization's Zoom account. 
Are multiple languages supported? 
Yes! We can provide meeting toolkits in the following languages: Spanish, Arabic, Burmese, Chinese (Mandarin and Cantonese), Hindi, Urdu, Korean, and Vietnamese.  
What will be done with the information? 
Your organization's feedback will be shared with City leaders who will use the information to drive meaningful police reform that meets the needs of all Austin residents.  
Will the meeting content be controversial or potentially uncomfortable for my members? 
The subject matter covers matters of safety, policing, and difficult situations that could be uncomfortable for some attendees. The meeting agenda will address the potential for triggering content, however, and attendees may opt out at that time if desired.