Reimagining Public Safety
The Reimagining Public Safety Initiative (RPS) is the City of Austin's holistic approach to assessing and evolving public safety systems to meet current and future community needs equitably and efficiently for all Austinites.

RPS is grounded in the core values that everyone deserves to feel safe and have the most appropriate public safety resources to show up for them in their time of need.

RPS is also focused on leveraging City resources, beyond the scope of law enforcement, to design community centered interventions to reduce harm and address the root cause of systemic inequities which often lead to crime.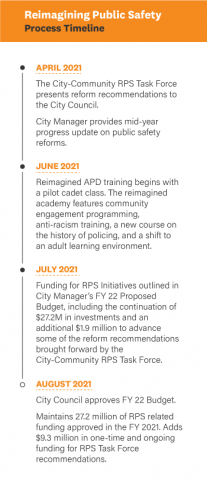 Reforms
In this historic moment, the City Manager and City Council have acted on a series of public safety changes. 
| | |
| --- | --- |
| Reform | Status |
| | Budget Approved |
| | In Progress |
| | In Progress |
| | In Progress |
| | In Progress |
Description
What's New
June 2022
On June 1, 2022, in a memo to Mayor and City Council, Rey Arellano, Assistant City Manager, Public Safety shared the findings detailed in an independent evaluator's review of Austin Police Department's handling of  administrative investigations of complaints alleging bias or discrimination. Read the report.
May 2022
On May 23, 2022,  An independent evaluator presented the results of its final assessment of the 144th Cadet Class at the Austin Police Department (APD) Training Academy. The pilot class was the first to complete revised training and curriculum implemented in June 2021. Watch the Presentation. Read the report. Read APD's new cadet class review protocol
March 2022
Police Chief Outlines Plan for Increased Sex Crimes Unit Training
On March 23, 2022, Austin Police Chief Joseph Chacon updated City Council on APD's progress towards implementing recommendations  from the Police Executive Research Forum (PERF)  to improve APD Sex Crime Unit training. The PERF recommendations, issued in June 2021, are an outcome related to City Council Resolution 20190131-077  focused on improving best practices and outcomes of sexual assault reporting, processing, investigations, and prosecutions.  Read Chief Chacon's update memo.
Supplemental Report Provides Additional Analysis of APD Use of Force Cases
On March 16, 2022 Rey Arellano, Assistant City Manager, Public Safety, provided City Council with a supplemental report from Kroll Associates with additional statistical analyses related to arrests, the use of force and circumstances related to use of force involving people with behavioral or mental health issues. The additional data and response to City Council questions were a follow up to Kroll's January presentation outlining the findings of  its final evaluation of APD  Use of Force / Public Interactions / Recruitment, Selection, and Promotion. Read the supplemental report.
February 2022
Next Police Cadet Class On Track to be Most Diverse in Austin's History
Austin Police Department (APD) is moving ahead with the 145th cadet class following a successful pilot of a new curriculum and the graduation of 66 new officers as part of the 144th class of the training academy in January 2022. The next class, which is scheduled to start in March, could be the most diverse in APD's history. Class training will incorporate curriculum changes recommended by independent consultants.  Read More.
January 2022
Report offers 'Roadmap' to addressing inequities in Austin Policing
The City of Austin released the second part (Phase B) of an independent analysis studying the impact of racism, discrimination, bigotry, and bias on Austin Police Department (APD) culture, policies, and practices. The 14-month review conducted by Kroll Associates (Kroll), centered on three priority areas:
Use of force: Analyzing four years of use of force incident data.

Public interaction with civilians: Analyzing traffic stops, arrests, citations, and searches.

Recruitment, selection, and promotion policies and practices.
Read previous updates in the What's New Archive.