Reimagining Public Safety
The City of Austin has made numerous reforms to public safety over the years, including conducting an investigation of systemic discrimination and bias within APD and establishing the Office of Police Oversight.

The April 24, 2020 death of Mr. Michael Ramos during an interaction with APD officers amplified calls to end disparities in how communities of color are treated when they interact with officers. Those calls became part of a moment of national racial reckoning with the May 25, 2020 death of George Floyd at the hands of a Minneapolis police officer.

In August 2020, after hours of community testimony, the City Council passed a historic budget to redefine public safety. Also, the City Manager charged his Executive Leadership Team with creating a City-Community Reimagining Public Safety Task Force to consider new ways to help and support the community in times of crisis.

The City of Austin is committed to implementing policy and cultural changes to address the disproportionate impact of police violence on people of color and other affected communities.
Subtext
In this historic moment, the City Manager and City Council have acted on a series of public safety changes. 
Description
What's New
May 2021
City Council Approves Pilot Cadet Class for a Reimagined APD Training Academy
On May 6 The Austin City Council today approved moving forward with a reimagined Austin Police Department (APD) training academy. The 144th cadet class will be a pilot class, the first to complete training with the Academy's new curriculum and expanded community engagement programming. The class will begin in June. Read more in English or in Spanish.
Initial Results of Community Engagement Now Available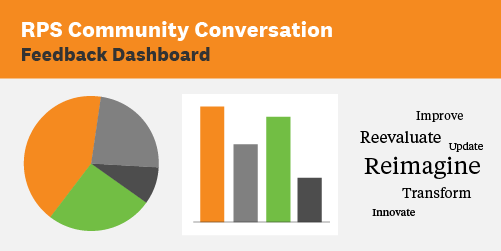 Since September 2020, RPS has offered residents a variety of ways to provide input and make their voices heard. Nearly 1,000 residents and community members have provided feedback up to now. The initial data has been analyzed, and the results are available.
For a full report, click here.
To view the RPS Community Conversation Feedback Dashboard, click here. 
APD Training Academy Final Assessment Report Presented to City Council
The City Manager has delivered a final report detailing an in-depth assessment of the APD Training Academy to City Council. The report, authored by independent consultant Kroll and Associates, is expansion of a preliminary analysis released in March 2021. Findings and recommendations were presented at the May 4, 2021 City Council work session. Read the report.
April 2021
Renewed Commitment and Collaboration between Austin Police Department and Office of Police Oversight
On April 23 the Austin Police Department and the Office of Police Oversight (OPO), outlined a renewed commitment to improve the working relationship between the two departments and the steps each will take to facilitate a comprehensive and impartial review of complaints and policy recommendations. Read more.
RPS Mid-Year Budget Amendments Approved
On April 22 the Austin City Council approved a series of mid-year budget amendments related to Reimagining Public Safety Initiatives.
The changes, focused on realigning City services and resources to allow the Austin Police Department to focus on its core mission of law enforcement, includes the creation of a new Emergency Communications Department to handle emergency calls.
Read more in English here and in Spanish here.
Report: Redefining "Resistance" and Considering Alternative Tactics and Tools to Prevent the Need for Lethal and Less-Lethal Munitions
The Office of Police Oversight released the "Redefining Resistance and Considering Alternatives Report on April 15 in response to City Council Resolution 95. The report outlines research findings and  recommendations for amendments to the Austin Police Department General Orders to better define what constitutes "resistance" and alternative tactics and tools that can be used by officers to prevent the need for lethal or less lethal munitions. Read the report.
City-Community Reimagining Public Safety Task Force Recommendations
The Reimagining Public Safety Task Force presented a comprehensive body of public safety reforms to Austin City Council on April 20. Read the recommendations report.
RPS Leadership Team Releases Quarterly Progress Report
The RPS leadership team and City staff have advanced progress on key public safety initiatives throughout February and March including City Council approval of the City Manager's blueprint for a reimagined Austin Police Department training academy and the creation of a new Forensic Sciences Department as well as the launch of the mental health option to the 9-1-1 call triage. Read the report.
Read previous updates in the What's New Archive.