You are here
Injury Prevention Programs
Safe Baby Academy is a FREE three hour class that provides education and hands-on practice for child passenger safety, safe sleep, home safety, water safety, infant CPR and choking awareness. You can also get your car seat checked by a certified technician during class.  Click here to register
Our Child Passenger Safety program conducts FREE car seat inspection events every month. Attend an event to have your car seat inspected, ensure it is the correct type of seat, and that it is installed properly in your vehicle. We also provide FREE car and booster seats to families in need.
Elderly falls attribute to a significant amount of both dispatches and transports to the Emergency Room when compared to other traumatic call types and a large percentage of these falls occur in the home.  Austin-Travis County EMS has a team of trained personnel who conduct FREE home safety assessments to identify potential risks and hazards for slips, trips and falls in the home environment. To request a Fall Prevention home safety assessment fill out a Fall Prevention Home Visit Referral Form or contact EMSFallPrevention@austintexas.gov for more information.
EMS Explorer Post 247 is an organization for youth aged 14-21 years in the Central Texas area to learn about careers in Emergency Medical Services through classes, community service and ambulance ride-alongs.
Boy Scouts and Girl Scouts of America First Aid Merit BadgeTraining
EMS Community Education Coordinators will teach the required curriculum to obtain the First Aid Merit Badge. Fill out an Event Request Form to schedule a training session.
Hands-Only™ CPR
Austin-Travis County EMS supports the American Heart Association's Hands-Only™ CPR program in an effort to increase bystander participation in compression-only CPR. We know that high quality, uninterrupted chest compressions initiated as soon as possible after someone goes into cardiac arrest (their heart stops pumping) can triple their chances of survival.  We offer FREE hands-on classes to schools, businesses, community groups, neighborhood associations, clubs and organizations of all kinds. Fill out a CPR Instructor Request Form to schedule a free class.
Safety Presentations
EMS Community Education Coordinators will conduct safety presentations on a variety of topics such as Heat Safety Awareness, First Aid Basics, Lightning Safety, Emergency Preparedness and Senior Safety / Vial of Life Program to groups of 10 or more. This is a free service provided by Austin-Travis County EMS. Fill out an Event Request Form to schedule a presentation. 
School Visits and Career Days
EMS Medics will visit day care facilities, elementary, middle and high schools for scheduled Community Helper and Career Days.  Medics will discuss career paths, explain EMS' role in the community and how medics help the sick and injured, and demonstrate some of the equipment on board the ambulance. To schedule a visit fill out an Event Request Form at least 2 weeks prior to your event.
Check out our new children's book!  Click the cover image to read.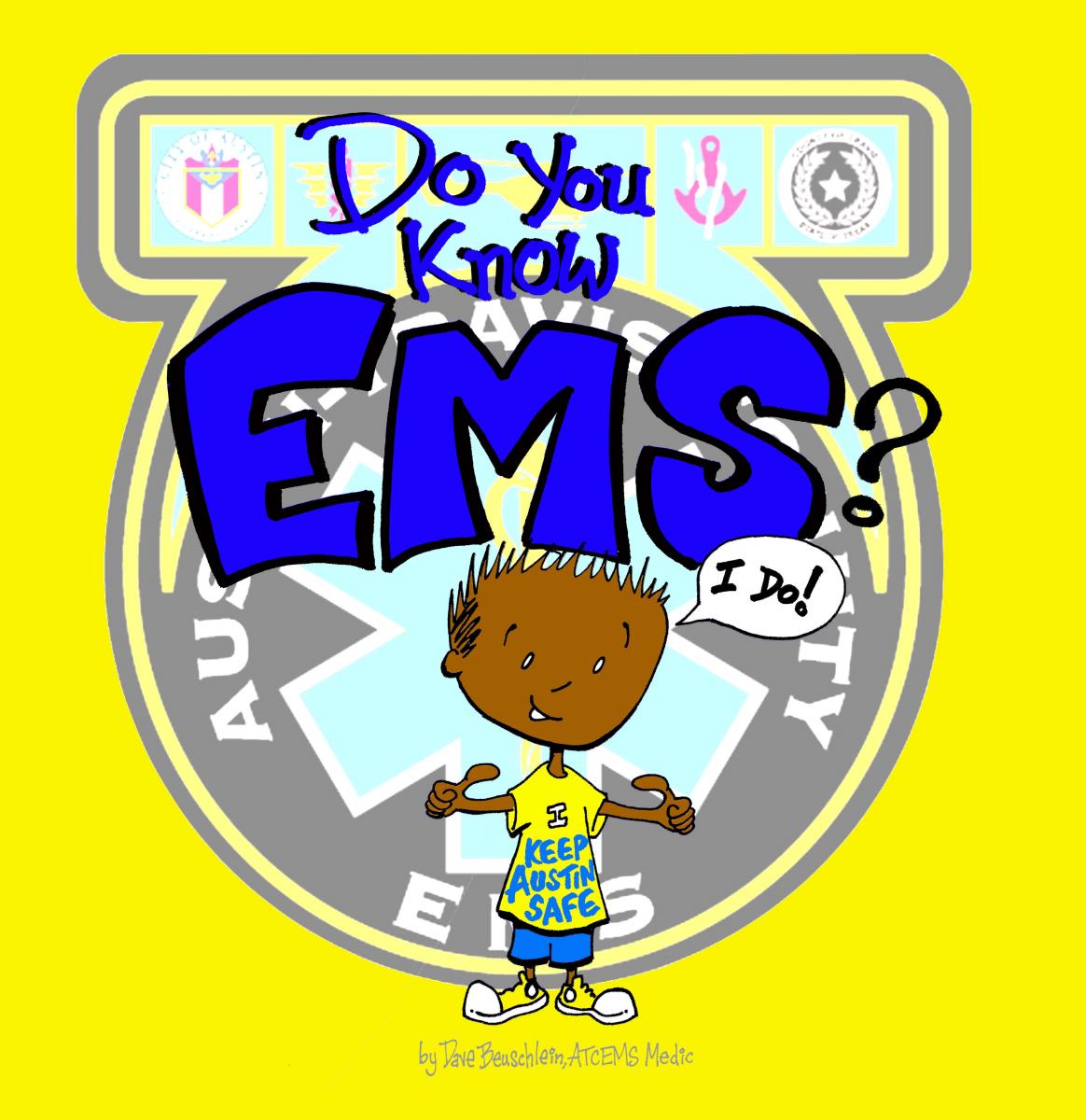 ---