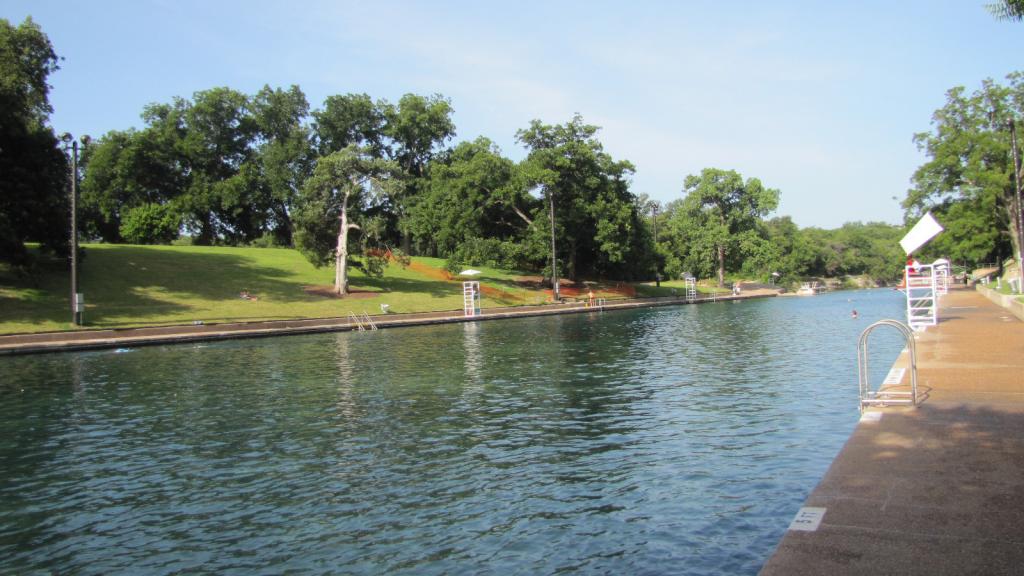 The Austin Parks and Recreation Aquatic Division operates 45 public aquatic facilities, which includes 7 Regional pools, 3 Community pools, 22 Neighborhood pools, 1 Wading pool, Barton Springs Pool and 11 splash pads.  In addition to coordinating open water events and swim team competitions, we also offer instructional programs such as masters swim, lifeguard and water safety training and youth and adult swim lessons.
Pool Reopening Updates
Due to the recent spike in COVID-19 cases and the projected trajectory of COVID related hospitalizations, beginning on Monday, July 6, all facilities and park amenities will remain closed. This includes facilities previously reopened such as cultural facilities, pools, golf courses, tennis facilities, park concessions, and other amenities.
All in-person programming for the month of July will be suspended including sports and fitness programming, summer camps, and cultural programming. In addition, the Barton Creek and Bull Creek greenbelts will remain closed. Parks will remain open; however, all amenities (e.g. volleyball courts, tennis courts, playgrounds, disc golf courses, etc) will be closed except for restrooms and water fountains. A full listing of closed facilities will be available at austintexas.gov/parkclosures.
City of Austin parks and trails (except for those listed above) will remain open; however, rules regarding mask use and social distancing continue to apply. PARD Rangers will continue to patrol parks and help educate park uses for voluntary compliance.  The Parks and Recreation Department will continue to provide park access for COVID-19 related City of Austin initiatives such as drive through testing and meal distribution. Additionally, any PARD sites identified as polling locations will open as scheduled for voting.
Pool Locations
Check out the Parks Viewer to search for a pool near you. 
North Austin Facilities
| | | | |
| --- | --- | --- | --- |
| Name | Address | Type of Facility | Facility Schedule |
| Bailey Splash Pad | 1201 W. 33rd St. | Splash pad | Closed |
| Balcones | 12017 Amherst Dr. | Neighborhood pool | Closed |
| Brentwood | 6710 Arroyo Seco St. | Neighborhood pool | Closed |
| Canyon Vista | 8455 Spicewood Springs Rd. | Neighborhood pool | Closed |
| Kennemer | 1031 Payton Gin Rd. | Neighborhood pool | Closed |
| Murchison | 7022 Hart Ln. | Neighborhood pool | Closed |
| Northwest (Beverly S. Sheffield) | 7000 Ardath St. | Regional Aquatic Center | Closed |
| Springwoods | 13320 Lyndhurst St. | Regional Aquatic Center | Closed |
| Walnut Creek | 12138 N. Lamar Blvd. | Regional Aquatic Center | Closed |
East Austin Facilities
| | | | |
| --- | --- | --- | --- |
| Name | Address | Type of Facility | Facility Schedule |
| Bartholomew | 1800 E. 51st St. | Regional Aquatic Center | Closed |
| Bartholomew Splash Pad | 5201 Berkman Dr. | Splash pad | Closed |
| Chestnut Splash Pad | 1404 E. 16th St. | Splash pad | Closed |
| Civitan | 513 Vargas Rd. | Neighborhood pool | Closed |
| Dottie Jordan | 2803 Loyola Ln. | Neighborhood pool | Closed |
| Givens | 4001 E. 12th St. | Community pool | Closed |
| Govalle | 5200 Bolm Rd. | Neighborhood pool | Closed |
| Lott Splash Pad | 1180 Curve St. | Splash pad | Closed |
| Mabel Davis | 3427 Parker Ln. | Regional Aquatic Center | Closed |
| Martin | 1626 Nash Hernandez Sr. Dr. | Neighborhood pool | Closed |
| Metz | 2309 Canterbury St. | Neighborhood pool | Closed |
| Metz Splash Pad | 2407 Canterbury St. | Splash pad | Closed |
| Montopolis | 1200 Montopolis Dr. | Neighborhood pool | Closed |
| Parque Zaragoza | 2611 Webberville Rd. | Neighborhood pool | Closed |
| Patterson | 4200 Brookview Rd. | Neighborhood pool | Closed |
| Rosewood | 2300 Rosewood Ave. | Neighborhood pool | Closed |
| Rosewood Splash Pad | 2300 Rosewood Ave. | Splash pad | Closed |
South Austin Facilities
| | | | |
| --- | --- | --- | --- |
| Name | Address | Type of Facility | Facility Schedule |
| Barton Springs Pool | 2131 William Barton Dr. | Regional Aquatic Center | Closed |
| Big Stacy | 700 E. Live Oak St. | Neighborhood pool | Closed |
| Dick Nichols | 8011 Beckett Rd. | Community pool | Closed |
| Dittmar | 1009 W. Dittmar Dr. | Neighborhood pool | Closed |
| Dove Springs | 5801 Ainez Dr. | Community pool | Closed |
| Garrison | 6001 Menchaca Rd. | Regional Aquatic Center | Closed |
| Gillis | 2410 Durwood St. | Neighborhood pool | Closed |
| Liz Carpenter Splash Pad | 201 Dawson Rd. | Splash Pad | Closed |
| Ricky Guerrero Splash Pad | 1100 Brodie Street | Splash pad | Closed |
| Stacy Wading (Little Stacy) | 1500 Alameda Dr. | Wading pool | Closed |
West Austin Facilities
| | | | |
| --- | --- | --- | --- |
| Name | Address | Type of Facility | Facility Schedule |
| Clarksville Splash Pad | 1811 W. 11th St. | Splash pad | Closed |
| Deep Eddy | 401 Deep Eddy Ave. | Regional Aquatic Center | Closed |
| Eastwoods Splash Pad | 3001 Harris Park Blvd. | Splash pad | Closed |
| Pease Splash Pad | 1100 Kingsbury St. | Splash pad | Closed |
| Ramsey | 4201 Burnet Rd. | Neighborhood pool | Closed |
| Reed | 2614 Pecos St. | Neighborhood pool | Closed |
| Shipe | 4400 Ave. G | Neighborhood pool | Closed |
| West Austin | 1317 W. 10th St. | Neighborhood pool | Closed |
| Westenfield | 2008 Enfield Rd. | Neighborhood pool | Closed |