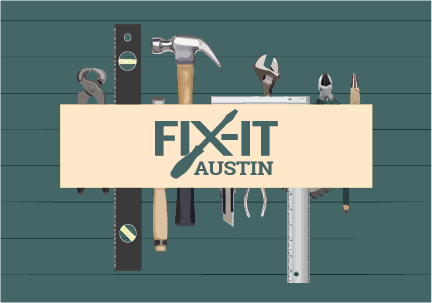 Fix-It At Home! 
Fix-It At Home! is an online repair workshop series, a part of Fix-It Austin, that will teach Austinites how to repair household items and learn other useful skills from the comfort of their own home. Classes will be hosted throughout the summer and will range from learning how to sew by hand (or by machine), to repairing a bike or household appliance. All classes are interactive and taught by a local instructor. To attend Fix-It At Home, you must have access to a computer and internet connection.
---
Fix-It At Home! class schedule
Thursday, August 6, 5-6 p.m.  |  Tour de Bike: Repair Basics
Age: 10+
Meet the Instructor: Christopher Summers is a jack of all trades with experience in various types of construction and building maintenance, as well as computer engineering and event production. By day, he does project management. He has been cycling for over 30 years.

Monday, August 10, 4-5 p.m.  |  Sewing: Basics By Hand
Age: 10+
Meet the Instructor: Kat Davis is a former theatrical costumer who has sewn, altered and repaired clothing for over 15 years. She loves to share textile care and repair skills to keep everyone's favorite clothes in great shape.

Wednesday, August 12, 11:30 a.m.-12:30 p.m.  |  Bike Repair: My Gears are Stuck!
Age: 10+
Meet the Instructor: Michael Dolan has been a bike mechanic for more than a decade, and currently works at Sun & Ski Sports. Michael holds several certifications, including with Professional Bicycle Mechanics Association and Bosch e-bikes and also serves as a leader in a local Cub Scout pack.

Thursday, August 13, 1-2 p.m.  |  Guitar Adjustments
Age: 12+
Meet the Instructor: Chazz Bessette is co-owner of Sunflower and Friends, a vintage guitar store in Lockhart, Texas. He has over 20 years of hands on experience working on musical instruments and related electronics.

Saturday, August 15, 10-11 a.m.  |  Sewing: Basics by Hand
Age: 10+
Meet the Instructor: Sarah Jacobs has been sewing for nearly 30 years. She likes to make practical, everyday objects and ridiculous, historical clothing. Most recently, she launched her own YouTube channel.

Monday, August 17, 4-5 p.m.  |  Sewing: Patching by Hand
Age: 12+
Meet the Instructor: Maria Patterson is a professional seamstress for Stitch Texas, a local cut-and-sew manufacturer. She has over 10 years of experience in the industry. She hopes to empower people with a skill that can help people repair their garments instead of discarding them. Maria is a regular volunteer for Fix-It Clinics.


<iframe width="560" height="315" src="https://www.youtube.com/embed/NbW2s7ikI5M" frameborder="0" allow="accelerometer; autoplay; encrypted-media; gyroscope; picture-in-picture" allowfullscreen></iframe>