Watershed Protection is working on a two-phase, flood-related project along the middle portion of Williamson Creek. The project area includes approximately 250 properties near Stassney Lane between the railroad track and South Congress.
This area experienced serious flooding in 1998, 2001 and 2013. Many homes are at risk for potentially deadly flooding.
Phase 1 consists of the buyout of the 66 houses most at risk. We have contacted all homeowners eligible for Phase 1. As of April 2019, we are nearing completion of this initial phase. Phase 2 is getting started with a feasibility study that will use the latest available data to evaluate the current flood risk and analyze ways to protect homes in this area from flooding.
Map of Phase I Buyouts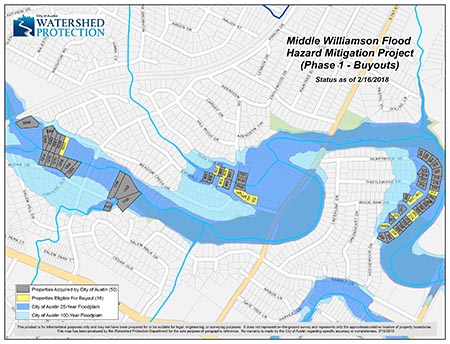 Click on the map for a larger version. (Map was created in February 2018).
Status of Voluntary Buyouts
Total Properties: 66
Properties bought by the City of Austin: 51
The City of Austin is in the process of buying one additional property.
Numbers updated in April 2019
Maintenance of Buyout Area
City maintenance begins once we close on a property, before the house is demolished. Each house must be tested for asbestos, and if any asbestos is found, it must be properly removed or abated before demolition. The testing and abatement process can sometimes take a few months. 
We will demolish the houses that we buy and prevent redevelopment in this flood-prone area. As the buyouts wrap up, we will reach out to the community to develop a long-term maintenance plan. Generally, we maintain buyout areas as open space. Natural areas help filter pollutants out of runoff and improve water quality. They also help prevent erosion and provide habitat for a diverse group of animals on land and in the water.
In this case, it is possible that we may use the buyout area for some type of flood control during Phase 2 to help protect remaining houses in the area. This will depend on the results of the preliminary engineering study.
In addition, the Nature Conservancy, the Austin Community Design and Development Center and Public Green and Wild are developing a vision plan for the Williamson Creek Greenway, including the buyout areas. They are gathering feedback and opinions through a series of community events. We are supporting this effort to reimagine the floodplain as a resilient, connected space. See the documents section on this page to download results from a community survey about maintenance of the buyout areas along the Richmond Tributary.
There is more information about the maintenance of the Williamson Creek buyout areas here and general information on our Green Infrastructure Management web page. For maintenance questions and concerns, please call 3-1-1.
Background
After the floods in 1998 and 2001, we partnered with the U.S. Army Corps of Engineers and evaluated widening the creek, raising bridges, detention ponds and buyouts. Public meetings were held between 2002 and 2006. Surveys were sent to residents gauging interest in various options. In 2008, the Corps revised their study with updated costs and floodplain maps. With the exception of buyouts in some areas, the other options were not economically feasible, and they did not provide full protection from flooding.
 
We held more public meetings in 2014.
On June 4, 2015, the City Council authorized buyouts for 38 properties. On Feb. 4, 2016, the Austin City Council authorized buyouts for 25 more properties, but did not increase funding to account for all the additional houses. Additional funding may become necessary if more than 45 homeowners accept offers.
Documents and Links
Land Management Survey Results
Buyout Information
Flood Safety
Another flood will occur in this area. To prepare, we encourage residents of this area to take the following steps:
Consider purchasing flood insurance for both the structure and the contents. Renters can purchase policies too. Contact your insurance agent.
Stay informed by signing up for regional emergency notifications.
Have an emergency plan. Please keep in mind that you may be safer staying at your home, on your roof, if necessary, than trying to escape a flood in your vehicle. Most fatalities during floods happen in vehicles.
Make an emergency kit.
Get to know your neighbors. They are often the ones who can respond first in an emergency.
<iframe width="560" height="315" src="https://www.youtube.com/embed/DfY8dCJdLRw" frameborder="0" allow="accelerometer; autoplay; encrypted-media; gyroscope; picture-in-picture" allowfullscreen></iframe>