Population Monitoring
Surveys to monitor the population size of the Barton Springs Salamander are conducted on a monthly basis at each spring site. During these surveys, biologists carefully search the available habitat by removing stones and cover objects to a solid base (concrete, bedrock or compacted sediment) where the salamanders are typically hiding. Each salamander observed is categorized based on its size. Surveys are done in a systematic fashion to avoid counting any salamanders twice. Additional information is also recorded during these surveys, such as presence and abundance of benthic macroinvertebrates, and various measurements of water quality.
Survey Results
Below is a graph of the combined survey results for the Barton Springs Salamander over the past five years. As you may notice, there are large differences in the number of salamanders found at each site. Eliza Spring has, by far, the largest population of salamanders, followed by Parthenia Spring.
Another interesting trend is how widely salamander counts vary over time. This is important to biologists because their goal is to understand the factors that influence such fluctuations, as they have important consequences for the management and protection of this endangered species.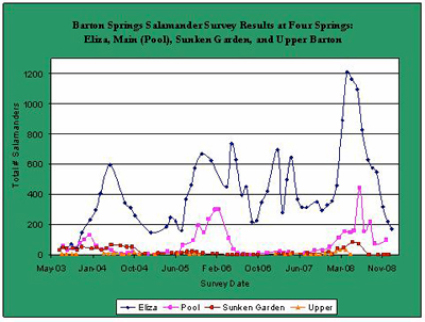 Eliza Spring
Eliza Spring has the most salamanders in part because large scale rehabilitation has occurred at this site. In late 2002, City biologists assessed the state of aquatic habitat in Eliza and its impact on the number of salamanders observed during a survey. At this point Eliza Spring had about 10 feet of water in it, had multiple layers of compacted rocks, trash and sediment as the substrate, and the outflow pipe was clogged with debris. Looking at the phylogenetic relationship of this species compared with other central Texas Eurycea, it was determined that the Barton Springs Salamander should be found in spring- or stream-like habitats, not pond-like habitat in Eliza.
This assessment brought on a reconstruction effort by City biologists to return Eliza Spring to more spring-fed stream-like conditions. Over the course of a year, trash and rocks were hand excavated by SCUBA diving in the spring and the outflow pipe was dislodged of all debris and native aquatic plants were reintroduced. By the end of the rehabilitation process, Eliza Spring was about a 1 foot deep and had a single layer of gravel/cobble on the concrete surface. The salamanders responded to this improved habitat. The graph below shows that on average the observed number of salamanders during surveys increased from the end of 2003 to 2008.
The response of the salamanders to rehabilitation at Eliza Spring has triggered efforts to improve the habitat at Old Mill Spring (Sunken Garden).  Like Eliza Spring, Old Mill Spring (Sunken Garden) has an accumulation of sediment, rocks, and garbage that need to be removed to improve flow in the spring and provide better habitat for the salamanders and their prey.