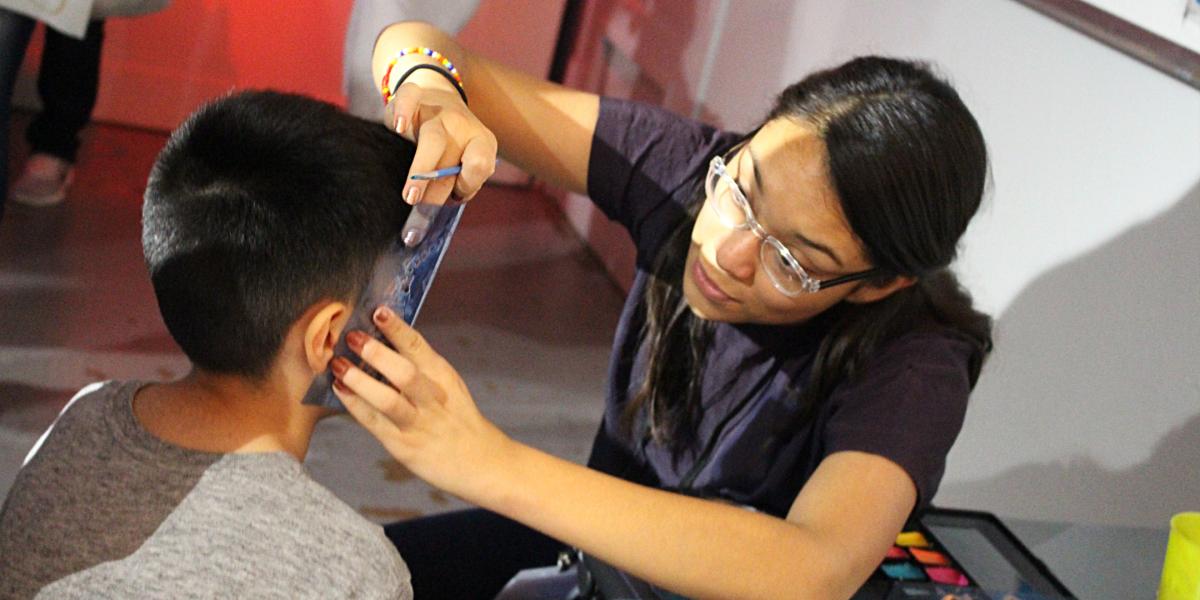 At the DAC, we offer a variety of ways for individuals or organizations who are passionate about the arts to get involved. Take a look at how you can become a part of the DAC community! 
Employment Opportunities
Arts Instructors
​The DAC is always looking for passionate, experienced part-time Arts Instructors and Substitutes for its youth programming. Our youth Art Instructors facilitate classes and workshops in every medium, including photography, theater, painting, film making, ceramics, digital design, music and more for youth ages 3-12 years of age. Click here to view and complete an application.   
Visitors Service Staff
There are currently part time opportunities to join our Visitors Services team of the Dougherty Arts Center. Stationed at the Visitors Service Desk in the enterance of teh Julia C. Butridge Gallery, these positions assist the general public with information regarding all of our programming. Interested applicants must have experience in customer service. Please email your letter of interest and resume to DACInfo@austintexas.gov. 
Volunteer Opportunities
The Dougherty Arts Center is now accepting applications for Program Support Volunteers! Our Program Support Volunteers are individuals who commit to volunteering at least two shifts per month, and must pass a Criminal Background Investigation before they can begin. 
Program Support Volunteers are involved with every aspect of the DAC, which makes their role quite unique. As a Program Support Volunteer, you will have the opportunity to explore a variety of roles and responsibilities. Roles and responsibilities can include (but are not limited to): 
Clerical duties

Monitoring and/or facilitating art activities

Special Event assistance

Customer service

Assisting with exhibit set up

Art supply inventory management

Preparing studios for art classes
Regular volunteers do not have to have any prior experience volunteering or working within an arts organization. We welcome individuals of all backgrounds and experience levels to volunteer. If interested, please download and complete the application below. Submit to lucy.miller-downing@austintexas.gov
Collaborative Partnership Opportunities
The Dougherty Arts Center seeks to expand partnerships, build creative community and incubate emerging local performing artists and organizations. Past organizations who have collaborated with the DAC include University of Texas Movement Exchange, The Speak Piece Poetry Project, Austin Civic Wind Ensemble, The Mahogany Project, Trouble Puppet Theatre and more. 
Guest Artists
The Dougherty Arts Center is pleased to host Guest Artist classes in order to enrich and expand our programming. Our Guest Artists are Parks and Recreation Independent Contract Instructors who collect registration and payments directly from their students and pay the Dougherty Arts Center a percentage for facility use. If you are interested in becoming a Guest Artist, please read the Independent Contract Instructor Handbook for full details and email a Class Proposal to sarah.german@austintexas.gov
Austin Art POP UP Artists
Join the Dougherty Arts Center and neighborhoods across the city as we POP UP! for community art activities. We are looking for artists from various mediums to lead workshops in their district that will be free and open to the public. Artists of color are strongly encouraged to apply.
Selected artists will receive an honorarium and the Dougherty Arts Center will provide necessary supplies and resources. This is a great opportunity for artists to share their artistic skills, give back to their community, and gain professional development and teaching experience. To apply, please include the following in an email to ArtistResourceCenter@austintexas.gov:
Your City Council District (District Map)
Project Proposal
3-5 images of your work
Artist Resume or CV if available