Austin Green Business Leader | Featured Member: Foundation Communities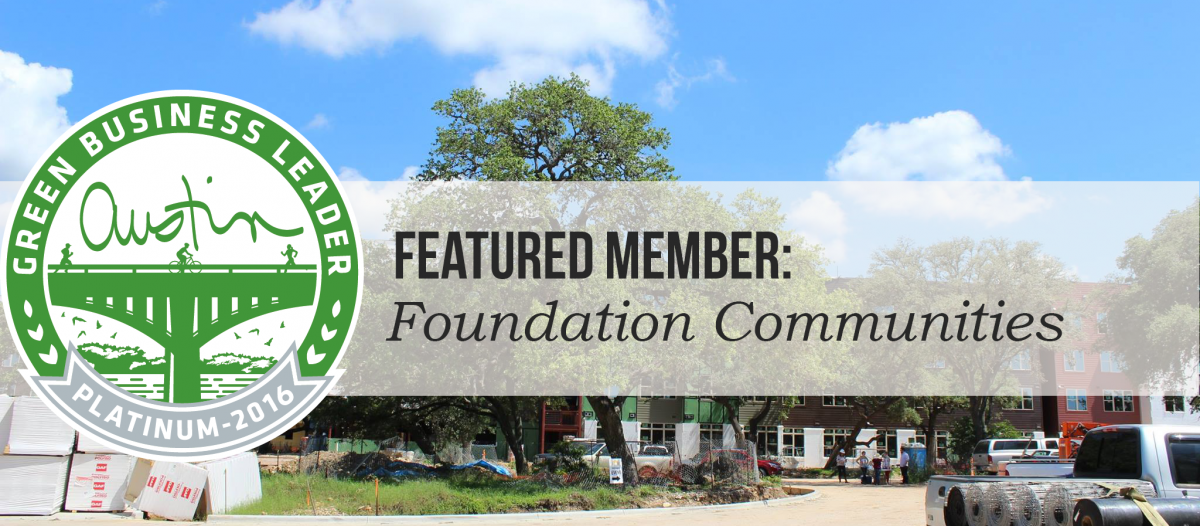 You may have heard of the Austin Green Business Leader program, but perhaps are still unsure of how the program works or who the members are. We'll be featuring different members throughout the year to introduce these great business that are helping make Austin an even better place to live and do business!

Who is Foundation Communities?
Foundation Communities is a local, homegrown nonprofit that provides affordable, attractive homes and free on-site support services for thousands of families with kids, as well as veterans, seniors, and individuals with disabilities. They own and operate 19 communities all over Austin and North Texas and offer an innovative, proven model that empowers residents and neighbors to achieve educational success, financial stability, and healthier lifestyles.
What makes them a Green Business Leader?
All property managers and lead maintenance staff are Certified Green Property Managers through the National Affordable Housing Management Association. To earn the certification, staff must complete a 16-hour green operations and maintenance training course shortly after hire. This sets an expectation and culture of sustainability within the organization.
Training includes:
Green Building Principles and Practices Overview
Energy Efficiency
Water Efficiency
Integrated Pest Management
Indoor Air Quality
Green Operations and Maintenance
The certification has benefitted the health and well-being of both staff and residents. What's more, it has reduced operational expenses, improved asset durability and provided important staff professional development opportunities. Most importantly, it has allowed Foundation Communities to "empower building occupants as building operators."
Read the full feature on Foundation Communities
---
Is your business a green business?
If so, we encourage you to join this elite group of members and be recognized as Austin Green Business Leader. Open enrollment happens only once year from January 1 through the month of February. This is the only time that scorecards will be reviewed and new members are invited into the program. Download the scorecard today to get started on your application! Learn more about the Austin Green Leader Program.
Members of the Austin Green Business Leaders are companies that have filled-out and submitted a scorecard that demonstrates their commitment to sustainable business practices in the seven categories of energy, resource management, water, transportation, healthy work environment, community stewardship, and communications and outreach.  These community leaders have adopted a business model that protects the environment, enhances the community, supports local culture, and maintains a healthy workplace, all of which can positively affect their bottom line.  They understand that, especially in Austin, Green Business is Good Business.