It was a contest for the ages!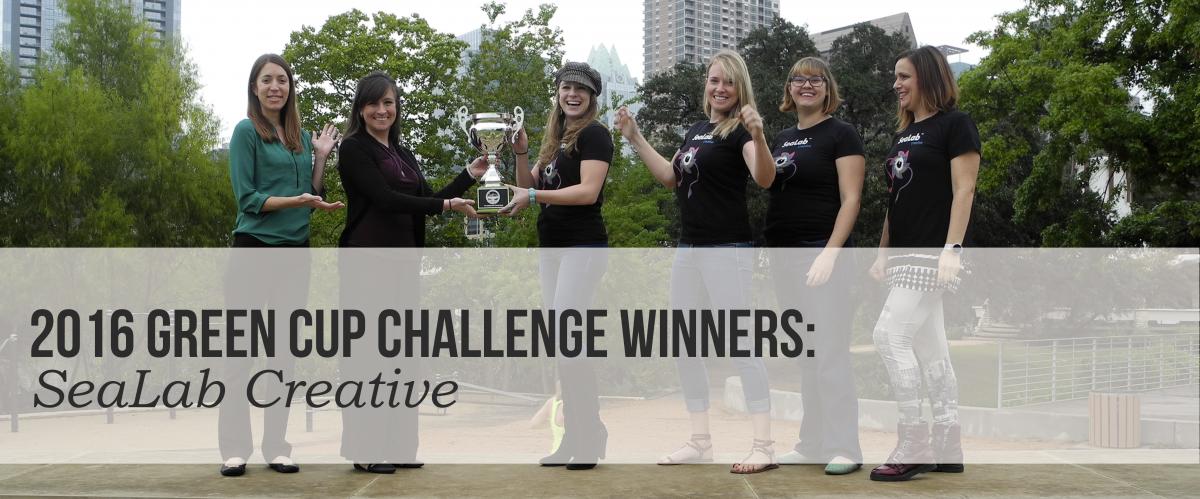 While the Cubs/Indians World Series will go down as one of the greatest World Series ever played, there was another October battle that was equally captivating. The Austin Green Business Leaders 2016 Green Cup Challenge began with eight teams, but in the end, it came down to a clash between the Architects of McKinney York, and your 2016 Green Cup Champions, the Custom Web Designers of SeaLab!
SeaLab's win was even more rewarding, because they were last year's runner-up for the Green Cup. Determined to get a jump on their competition, SeaLab created a "Green Cup Challenge Slack Channel" to keep each other motivated and provide encouragement throughout the competition. And for those employees that needed a bit more incentive, prizes were awarded to those who beat their individual scores from last year.
Some of the highlights of SeaLab's victory:
Holding an outdoor team event that got everyone together at the park to celebrate being green.
Setting up a newer, more convenient composting system for the office.
Using the Rethink/Austin mobile app to compete offered a great reminder of habits that folks had let slip and suggested more areas for improvement (lights out, water settings, and eco cycles)!
To quote a member of the winning team:
"Exciting news, my gas bill was cut in half from our Green Cup Challenge. I turned my water heater down 2 clicks, which is still PLENTY hot enough and seriously cut my bill in half! It's been between $19 and $88 the whole time I have owned my house and it was $7 this month."
Congratulations and thank you to everyone who participated!
Collectively, the eight Green Cup Challenge teams diverted 1,050 pounds of waste from area landfills, saved over 24,000 gallons of water, and kept over 6 metric tons of carbon from entering the atmosphere! All of this was accomplished in just 7 short days.

Teams competed using the City of Austin's Rethink/ Austin mobile app to see which business was the greenest over the week long challenge. The app is free to download and is available for either Apple or Android products.
Find out more information on how your company can become an Austin Green Business Leader.
2016 Green Cup Champions | Platinum Member SeaLab Creative