The Life Cycle of Donations: Goodwill Central Texas

So you've finally cleaned out that closet or garage. In organization bliss, you arrive at your local donation center with a box (or three) of unwanted items. As you drive away, the relief of out of sight, out of mind sets in. But have you ever wonder where these items end up? We recently toured Goodwill Central Texas to get a closer look at the lifecycle of donated items and discovered that these Austin Green Business Leaders are making sure your donated items don't go to waste.
Phase 1: Sorting & Selling

After drop-off, donations are sorted into their respective categories – clothing, books, appliances, etc. A majority of items are sold at the same location they were donated. However, in some instances, brand name clothing gets sorted to be sold at Goodwill Boutique locations and unique/collectable items are auctioned at shopgoodwill.com.
Phase 2: The Outlet

All items have a three week shelf life in stores. If they don't sell during that time, they're considered "undesirable" and relocated to the Goodwill Outlet (6505 Burleson Rd, Austin, TX 78744).
At the outlet, clothing is sold for $1.49 per pound! Queue Macklemore, because this is some serious thrift shopping.
All other (non-clothing) items are marked down to a further discounted rate.
Phase 3: Recycling
After an additional three weeks, items that still haven't sold in the outlet are sorted by material: fabrics, plastics, electronics, paper, cardboard, etc. and sold to different vendors to be recycled. Last year, Goodwill Central Texas recycled over 29 million pounds worth of materials.
"Our goal is to become a zero waste organization and we [currently] hover around 84% diversion." – Lisa Apfelberg, Director of Development, Goodwill Central Texas.
Tip: Next time you're looking to put together a gift basket, start at a thrift store. They're typically deeply discounted because they're difficult to recycle.  Help keep these items out of the landfill!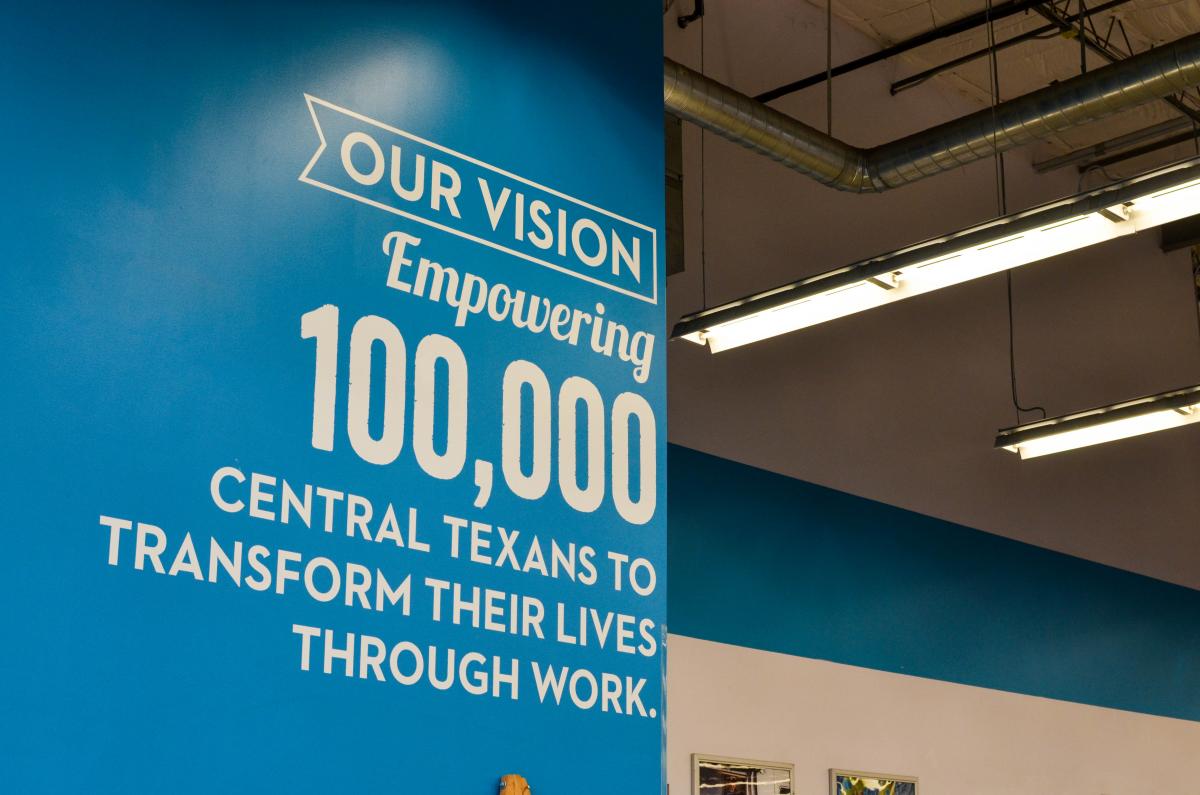 Goodwill's Mission
 
In 2015, Goodwill Central Texas accepted nearly 84 million pounds of donations, making it one of the largest donation centers in Central Texas. Their primary goal: empowering people to work. Proceeds from sales fund their education, training, and job placement programs. In fact, Goodwill Central Texas is only the second location in the country to offer a free high school diploma program to adults over the age of 26.
How Can You Help?

While we encourage everyone to recycle over throwing things in the trash, it's important to think before you throw. Often times, existing items can be reused or repurposed for something else. And if you have absolutely no more use it for it, donate it! After all, one person's trash could be someone else's treasure.
For more information, visit Austin Green Business Leader, Austin Resource Recovery, or Goodwill Central Texas.