Make Austin your playground with these family-friendly parks

The Austin Parks and Recreation Department oversees a large number of incredibly fun parks where families can go to enjoy themselves. With the weather cooling off, it's a great time to try some of these parks with your kiddos. But, with so many great options, sometimes it can feel overwhelming deciding where to go. In order to help you out, here is a list of 11 family favorite playgrounds in Austin.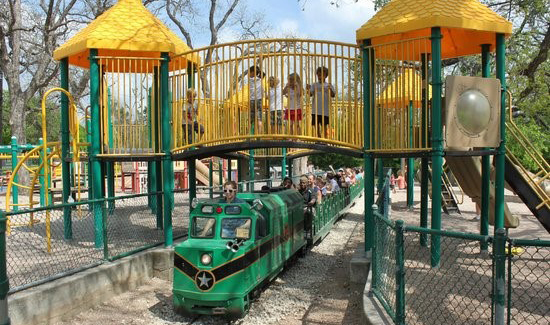 1. Zilker Metropolitan Park Playground
The Zilker Park playground has it all and is the epitome of all things Austin. The playground area is huge with something fun for all ages. Plus, there's a train (the Zilker Zephyr), Barton Springs for swimming on hot days, Lady Bird Lake for canoeing and kayaking, a huge field to play frisbee with your friends or your dog, a botanical garden, the science and nature center, and much more. There's even access to the greenbelt trails from here. What more could you ask for? This park has it all and is one of the city's favorites.
**If you're heading here in October, be sure to avoid coming during the Austin City Limits music festival (Oct. 5-7, and Oct. 12-14). The playground will be closed on those dates, but open prior to the event and in between ACL event weekends. More info on ACL and Zilker Park closures>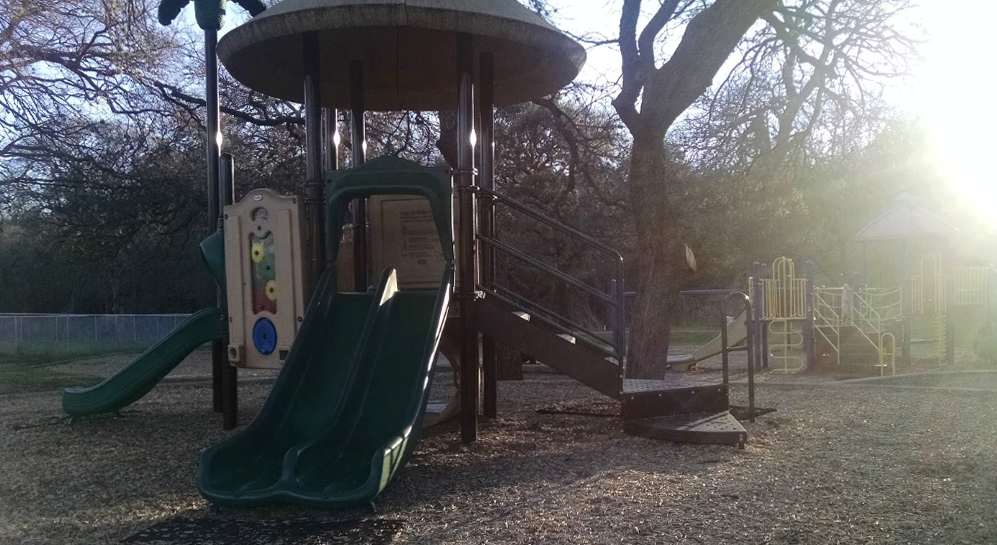 2. Dottie Jordan Neighborhood Park
Dottie Jordan Neighborhood Park has a large green space featuring an outdoor pool and basketball courts, plus barbecue pits and picnic tables. It's a great location for large family gatherings like birthday parties, reunions, and other celebrations.

3. Springwoods Park Playground
Springwoods Park is everything a great park should be. It's well shaded by trees, there's a little walking path that winds around more huge and beautiful trees, and you can even climb fake trees on the playground. Trees seem to be the theme of this place which is what makes it especially nice. There are two playground areas — one for little kids and one for big kids — and if you're standing close to one, you can still easily see the other one, making it an ideal place to go for parents with more than one kiddo. There's a large volleyball court, a soccer/baseball field, a covered pavilion and picnic table area, tennis courts, and bathrooms.
Pro tip: Ride your bike or take the bus! The park tends to be quite popular and the parking lot fills up fast.
 
4. Ramsey Park Playground
Ramsey Park is a large park with something for everyone. There is a pool, tennis courts, basketball area, and plenty of grass. There are also some shade trees, which helps when the weather is hot. There are several children's areas for different ages, including small and large slides and climbing areas as well as balance wheels. There are swings for toddlers and youngsters. The park is clean and well maintained with parking along the edges of it.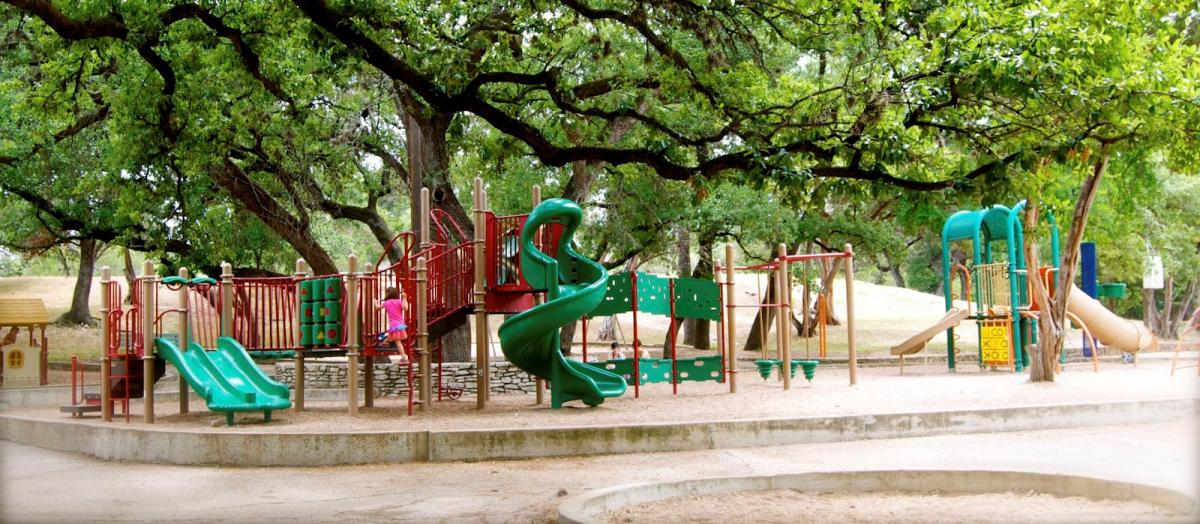 5. Little Stacy Neighborhood Park
This park is well-shaded and has a playground, picnic tables, and bathrooms. It also has basketball, volleyball, and tennis courts, as well as a shallow wading pool. It's beautiful, well-shaded, and definitely a must-see.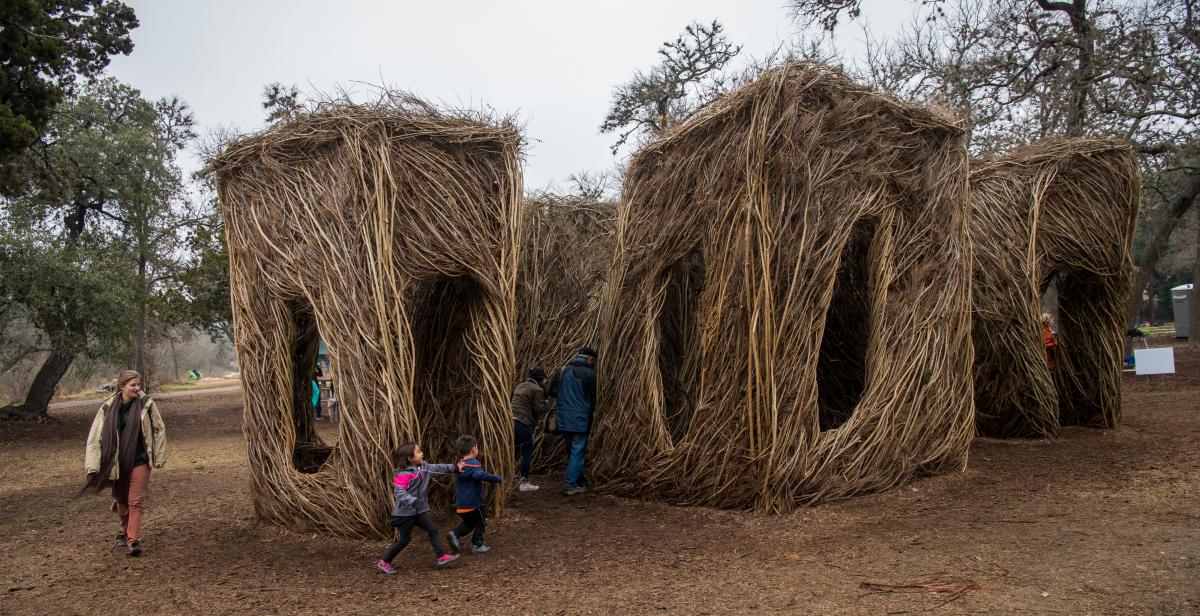 6. Pease District Park
Pease Park has a fun splash pad area, a great playground, picnic tables, basketball and volleyball courts, and bathrooms. There's also a hiking trail entrance to the Shoal Creek Greenbelt next to the park, which currently has an Art in Public Places interactive exhibit, so you could add a little hike to your adventure while you're there.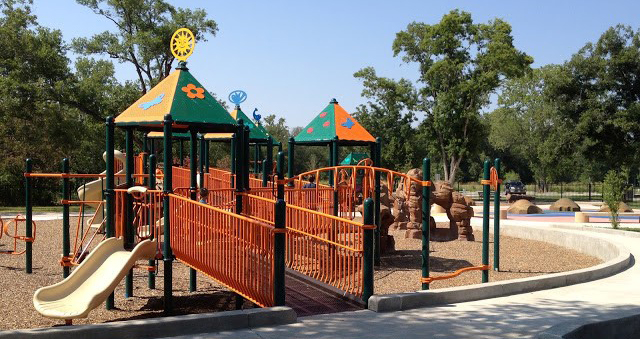 7. Roy G. Guerrero Park
Named after the famed Roy G. Guerrero, patron saint of Austin Parks, this park features play equipment, a disc golf course, and a trail leading to the Colorado River. It also has a (not so) secret beach and is a great place for dogs.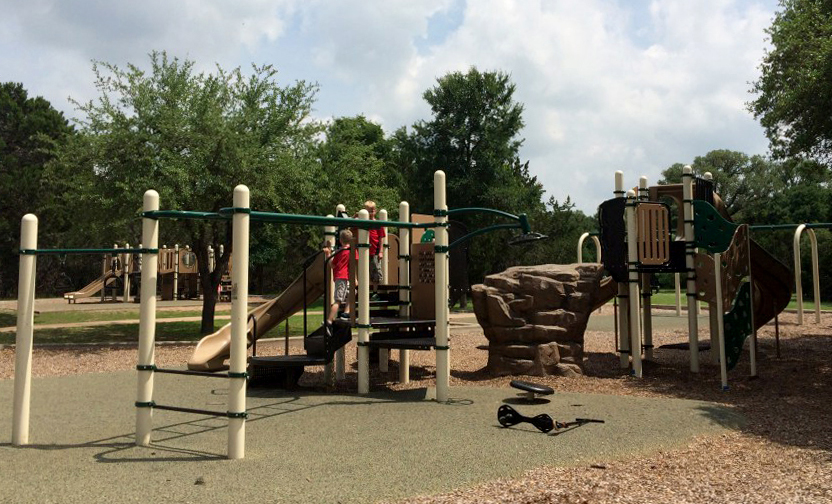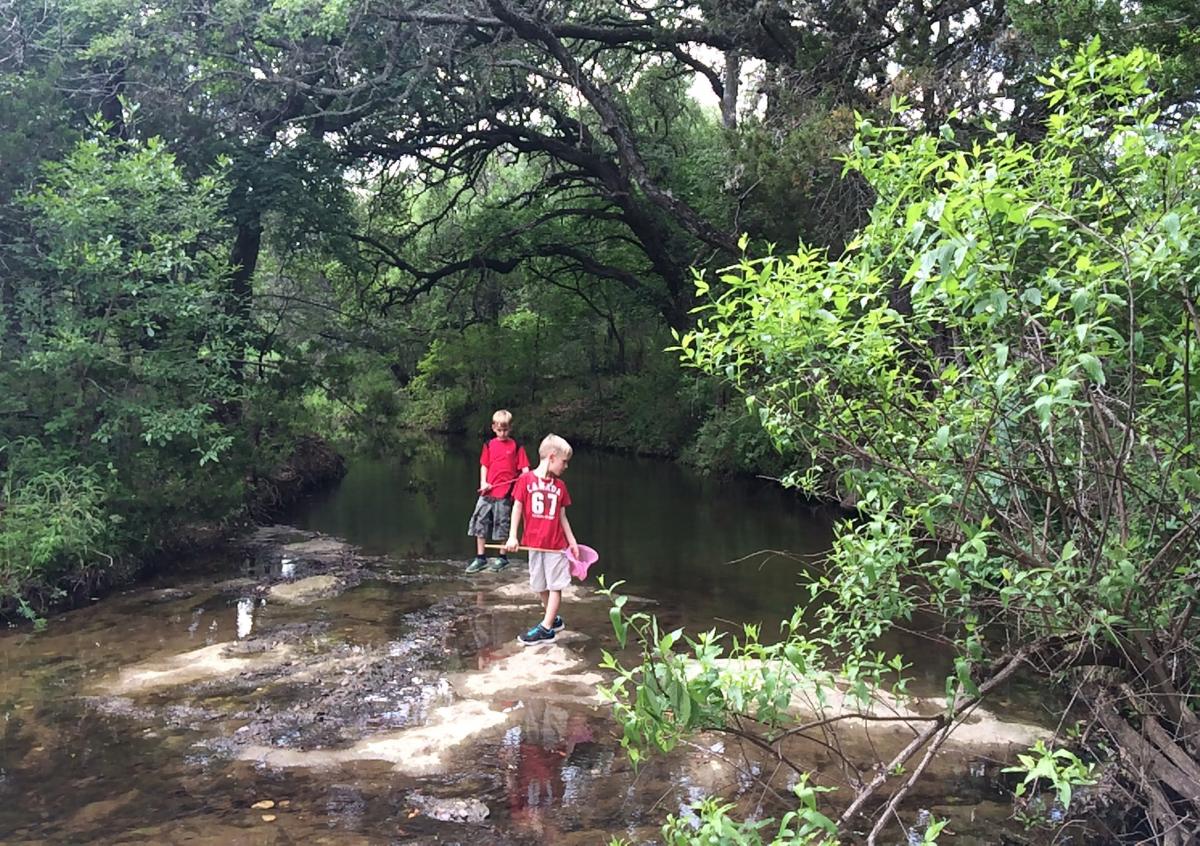 8. Mary Moore Searight Park
This interesting park is hidden within a residential area in South Austin and features more than 330 acres of park with six miles of trails. It offers a number of recreational areas for families including picnic and barbecue areas, two basketball courts, an 18-hole disc golf course, a fishing pier, soccer field, two tennis courts, two volleyball courts, and a playground (located next to the parking lot).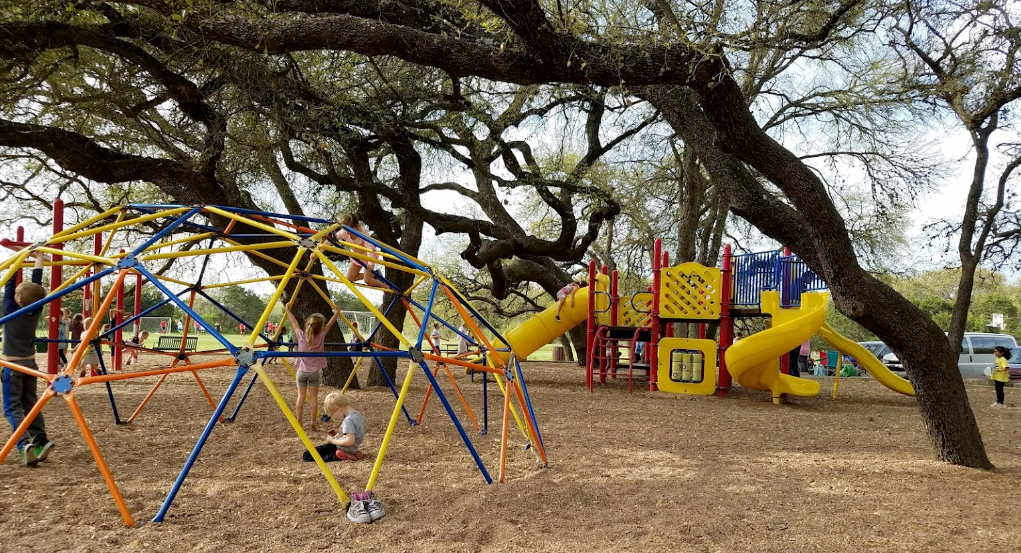 9. Circle C Metropolitan Park
The Circle C Metropolitan Park has playgrounds, disc golf, volleyball and basketball courts, fields, hike and bike trails, bathrooms, and more. The playground is well shaded and there is plenty of equipment for younger and older kids alike. Bring your bikes and scooters, sand toys, sports balls, a picnic or snacks, etc., and spend the day out here.
Pro tip: Don't forget your camera if it's bluebonnet season!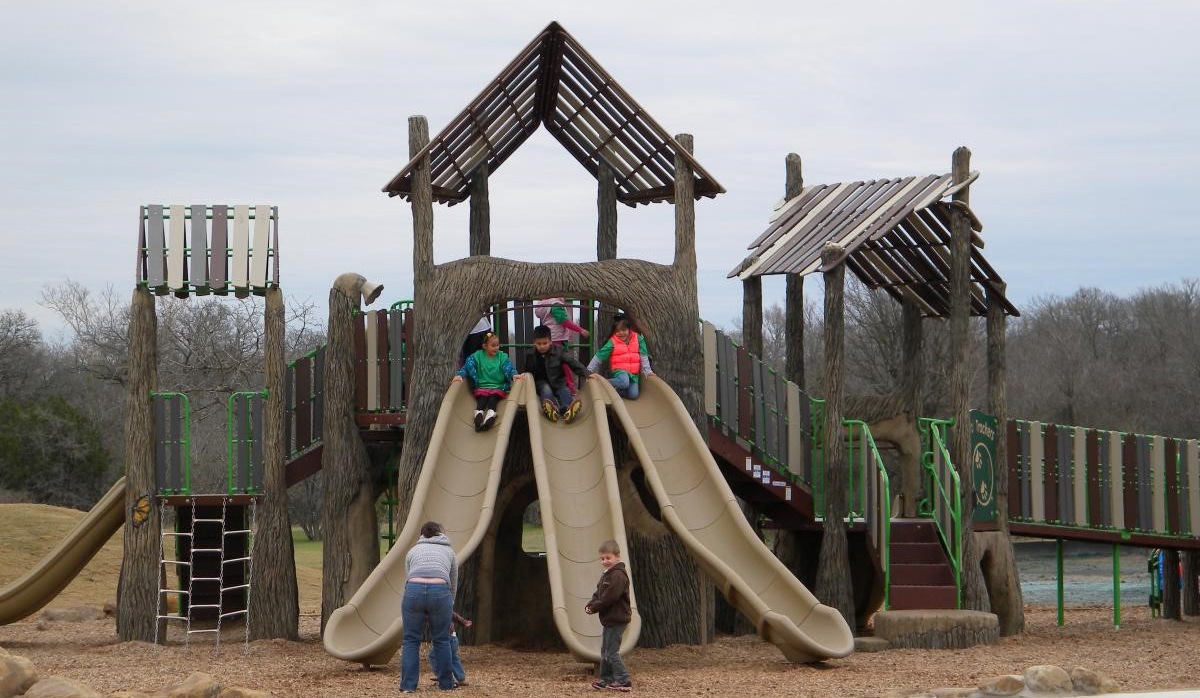 10. Dove Springs District Park
Dove Springs District Park is a family favorite for its amenities such as 3 baseball fields, 3 soccer fields, a swimming pool, outdoor tennis courts, an outdoor basketball court, a pavilion, playscape, sand volleyball court, and a nature walking trail. It also has an 18,000 square foot recreation center onsite.
** As of July 2018, the recreation center is closed for renovations. During this closure, access to the trails, playscape, pool, sports fields, and other open-space amenities will remain available.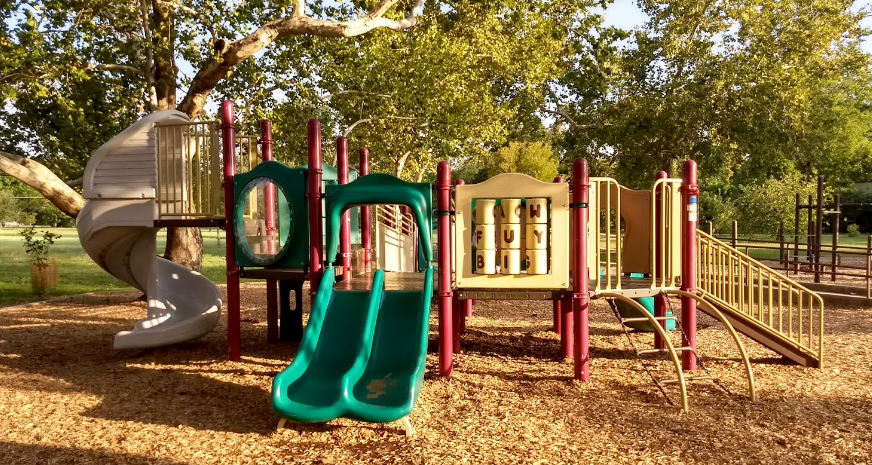 11. Brentwood Neighborhood Park
Located right next to Brentwood Elementary School, Brentwood Park has a lot of amenities in nine acres. There are a few playgrounds, swings, a basketball court, volleyball court, and a large field which is great for kite flying, kickball or other party games. There is also a neighborhood pool which is virtually hidden inside the park, next to the restrooms.
Pro tip: There is no fee to reserve any of the park's picnic tables, but if you pick a nice day, you should probably arrive early to stake your claim.