The Office of Sustainability and EcoRise Recognize the Greenest of 2017

The 3rd Annual Student Innovation Showcase, held May 30 in Austin's City Hall, wrapped up another year of discovery and creativity. Students from eleven schools set up exhibitions for 17 projects in the main atrium while smartly dressed student presenters proudly showed off their ingenuity and hard work. Participation in the Showcase is an honor for the students and the schools they represent.
Student projects featured at the showcase were identified through student-led Eco-Audits of Austin-area schools. The audits measure the school's use of energy, water, transportation, food, waste, public space, and air quality using scoring criteria and materials developed by EcoRise. Students then use the findings of the Eco-Audits to come up with projects that will address sustainability challenges for their school's campus. Funding to implement this year's projects was provided through the Office of Sustainability's Bright Green Future Grants program. Projects are carefully selected for funding based on the quality of proposed solutions.
The evening's festivities kicked off in council chambers, where EcoRise's Jonathan Stott offered thanks to all participating teachers and educators for supporting their students in these projects.
EcoRise's Abby Randall then awarded the 2016-2017 EcoRise Teacher of the Year Award to Hill Elementary School's Kate Hoffner. Student presenters from Hill Elementary applauded as Hoffner accepted her plaque and thanked them for their hard work on their Eco-Audit projects.
The Office of Sustainability's Mary K. Priddy then presented Sam DeSanto, a reading teacher at Brooke Elementary, with the inaugural Legacy Award.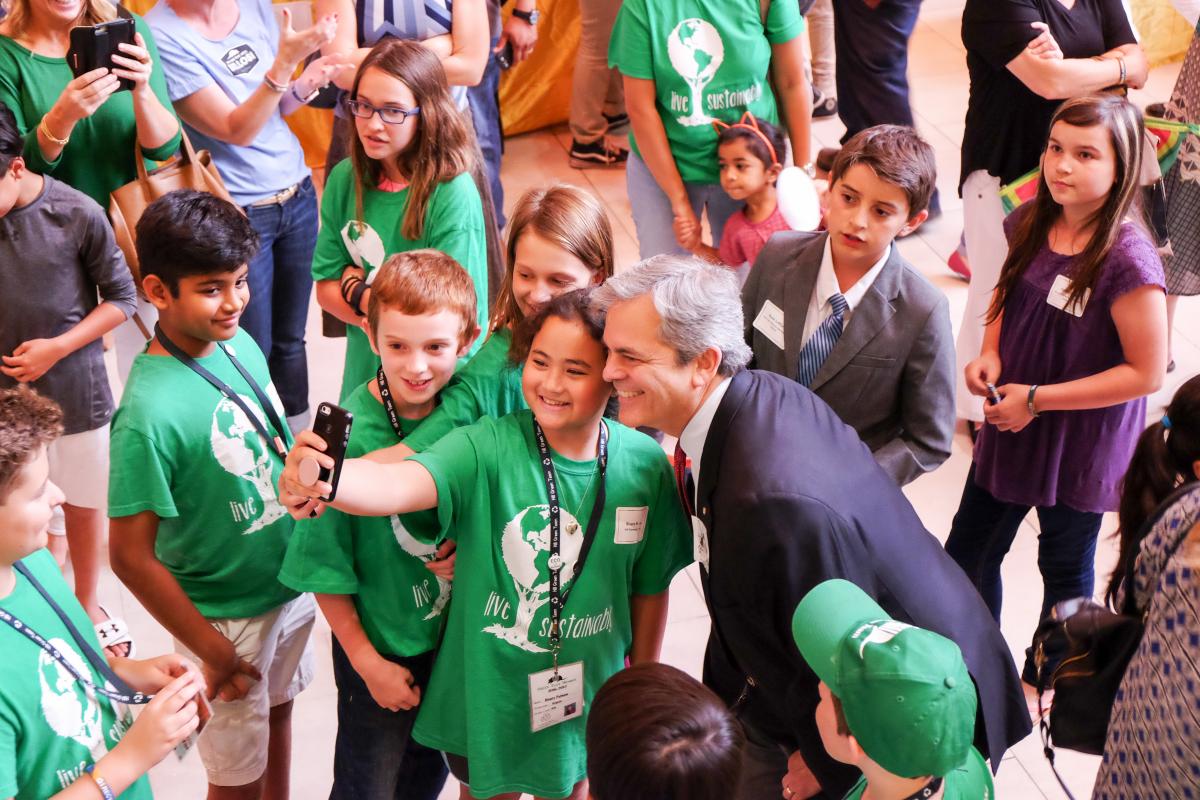 Mr. Santo began planting trees on Brooke's campus 18 years ago. Today he oversees the campus' fruit trees, water catchment systems, bee hives, ponds, vegetable gardens, and more for every grade level.
Mayor Adler closed the program by thanking the students, staff, and parents for their hard work and commitment to sustainability. The Mayor also visited each project and spoke with every student — and even posed for selfies!
Students presented their sustainability solutions to visitors into the evening. These diverse and innovative projects include everything from campus-wide recycling, beehive education, an outdoor classroom, a portable plant wall, and more!
Congratulations to this year's Student Innovation Showcase schools for their Eco-Audit projects!
Akins High School: Bottles You Can Refill, Not Landfill!
Austin Achieve: Revamping Campus-Wide Recycling and Compost
Austin Discovery School: Soil and Water Are Life Rainwater Garden
Brooke Elementary School: Beehive Education
Cedar Park High School: Microbial Fuel Cell with Clean Water Generation
Cedar Park High School: Portable Plant Wall
Cedar Park High School: Vertical Aquaponic Gardening
Hill Elementary School: Compost Tumblers
Hill Elementary School: Lunchroom Recycling Rollers
Hill Elementary School: Playground Bins
Integrity Academy: EcoRise Energy Audit
Integrity Academy: Drinking Water
Integrity Academy: Waste Improvement
Inside Outside School: Outdoor Classroom
Joe Lee Johnson Elementary School: Trailblazer Water Bottle Campaign
Mendez Middle School: Chickens are Friends and Food!
Lamar Middle School: Compost Initiative