School's (almost!) out for summer

While classes are over and summer has begun for most students, some who are sustainability-minded are still going to school for a few more weeks. However, you probably won't hear them complaining when the alarm clock goes off, because they're working to complete green projects that they helped envision and design.
In January, the City of Austin's Bright Green Future Grant program awarded funds for 30 sustainability projects at local elementary, middle, and high schools that include planting gardens with native plants and vegetables, creating healthy habitats for animal species, learning about bicycle safety, installing rainwater catchment systems, and caring for bees. In every instance, students gain hands-on learning about sustainability principles that can foster a lifetime of environmental stewardship.
Bailey Middle School students spent two days dismantling large wooden pallets to build planter boxes for their school garden.
To expand the reach of the Bright Green Future Grants program, the Office of Sustainability partnered with Eco-Rise Youth Innovations to award funding to 30 additional projects. These projects were identified through an Eco-Audit process that students use to evaluate the sustainability performance of their school in seven areas: energy, water, transportation, food, waste, public spaces, and air quality.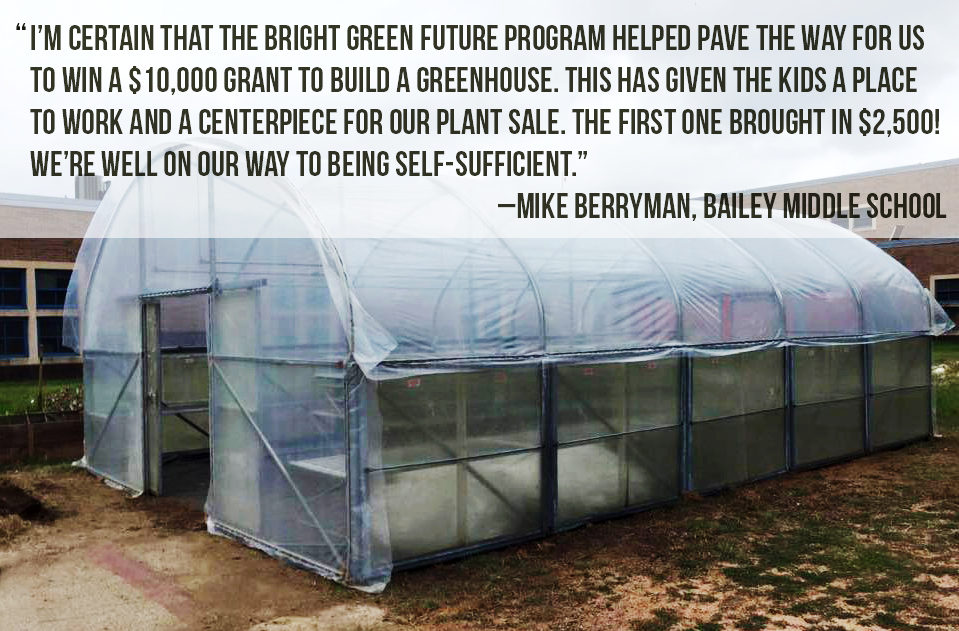 Altogether, 37 Austin area schools that serve approximately 13,500 K-12 students were recipients of a Bright Green Future Grant this year. The environmental impact of these projects has the potential to:
Save 300,000 gallons of water
Produce 8,000 pounds of vegetables
Divert 40% of waste from landfills
Plant over 20 varieties of native plants
Relocate over 20,000 bees
Travel over 30,000 miles by bike instead of car
In the coming months, we'll be featuring several of these unique schools and projects, as well as the students and staff who brought their ideas to realization. Stay tuned and start planning to submit your application for a Bright Green Future Grant starting September 1.