- to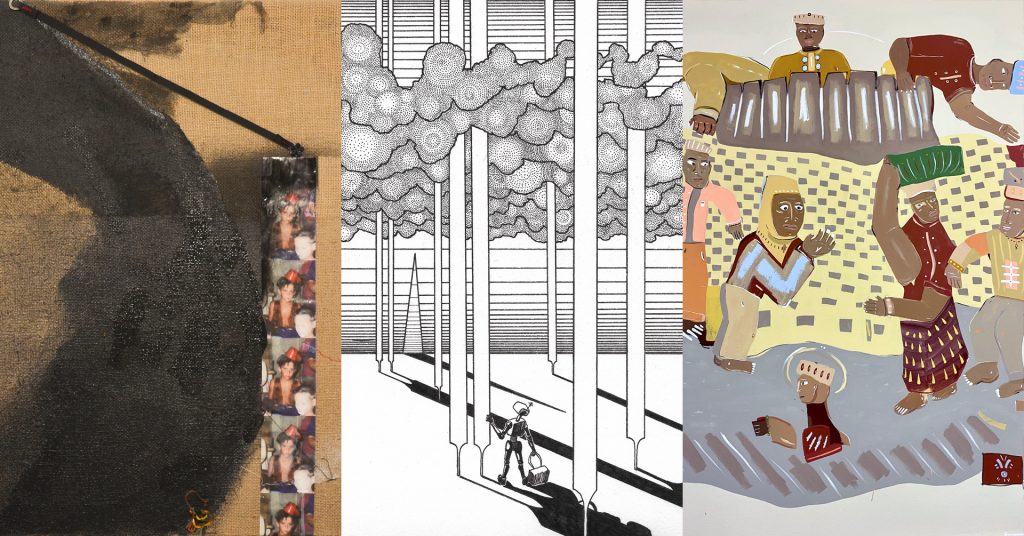 Artist Talk: Neal Flynn, Zoe Pettit, and Jacob Guzman 
Wednesday, October 25, 2023
7-9pm
Learn firsthand the processes, inspiration, and techniques of artists Neal Flynn, Zoe Pettit, and Jacob Guzman.
Neal Flynn's exhibition of mostly new assemblage, collage, and site-specific intervention explores ideas relating to nostalgia, loss, violence, ownership, and modern Western culture.  Flynn's artistic practice involves collecting, journaling, photographing, researching, and responding to the rapid changes in our society, and is informed by his experience as a young, white, cisgender male, gay artist, arts professional, and learner/educator. The materials and imagery he works with are sourced from a restless, Americentric culture of advancement and forgetting. 
Zoe Pettit's The Parallax Project is a series of works that belong to an ongoing narrative that will one day become its own publication. The narrative is a loosely assembled collection of moments, meaningful places, and introspective thoughts put to paper by a lonely robot living through an apocalypse set on Mars. The fanciful illustrations are Pettit's own search for purpose and beauty in a post-civilization world that would otherwise appear devoid of meaning and art. 
Jacob Guzman depicts people of color and aspects of daily inner-city working class struggles. Largely inspired by Guzman's personal experiences and resistance to stereotypes and comparisons, Boxed In challenges viewers thoughts about the experiences of those born into or currently living in poverty, and their survival responses that are misunderstood by dominant society. 
All gallery events are free and open to the public.
For more information about this event, email JCBGallery@austintexas.gov
The City of Austin is committed to compliance with the Americans with Disabilities Act. Reasonable modifications and equal access to communications will be provided upon request. For assistance, please contact (512) 974-3914 or Relay Texas 7-1-1.
Dougherty Arts Center
1110 Barton Springs Rd.
Austin, TX 78704
United States