- to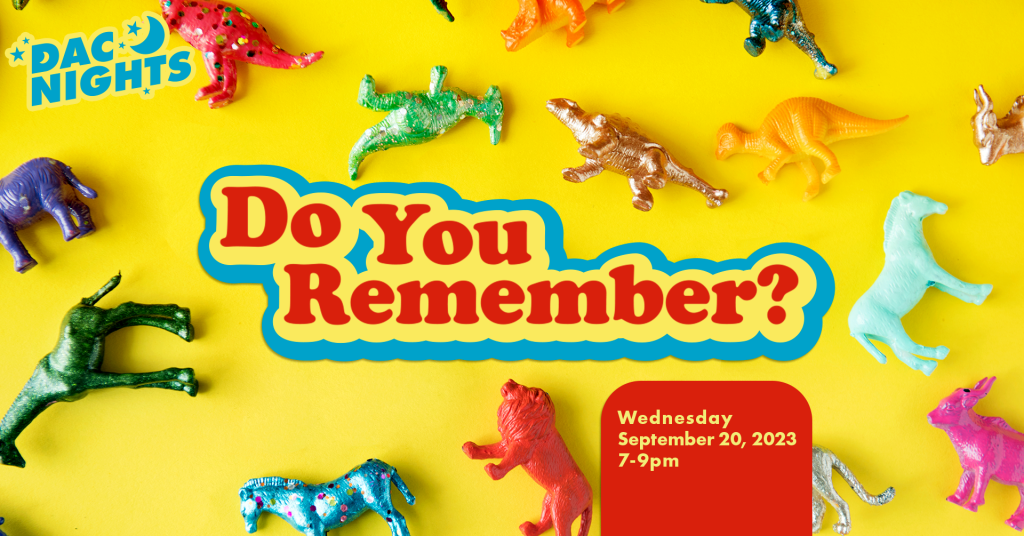 DAC Nights: Do You Remember?
An in-person event
Wednesday, September 20, 2023
7-9pm
This twentieth day of September, DAC Nights explores the realm of Memory. Create a work of art from discarded toys, jewelry, and other found items. Test your memory skills to win prizes. Exchange your memorial creations with others and build new memories with fellow participants!
DAC Nights will have items available for use in crafting, but you are welcome to bring your own costume jewelry, toys, and more to experiment with and share!
This event is free! Registration is encouraged, but not required. 
For more information about this event, email DACTheater@austintexas.gov
The City of Austin is committed to compliance with the Americans with Disabilities Act. Reasonable modifications and equal access to communications will be provided upon request. For assistance, please contact (512) 974-3914 or Relay Texas 7-1-1.
Dougherty Arts Center
1110 Barton Springs Rd.
Austin, TX 78704
United States