- to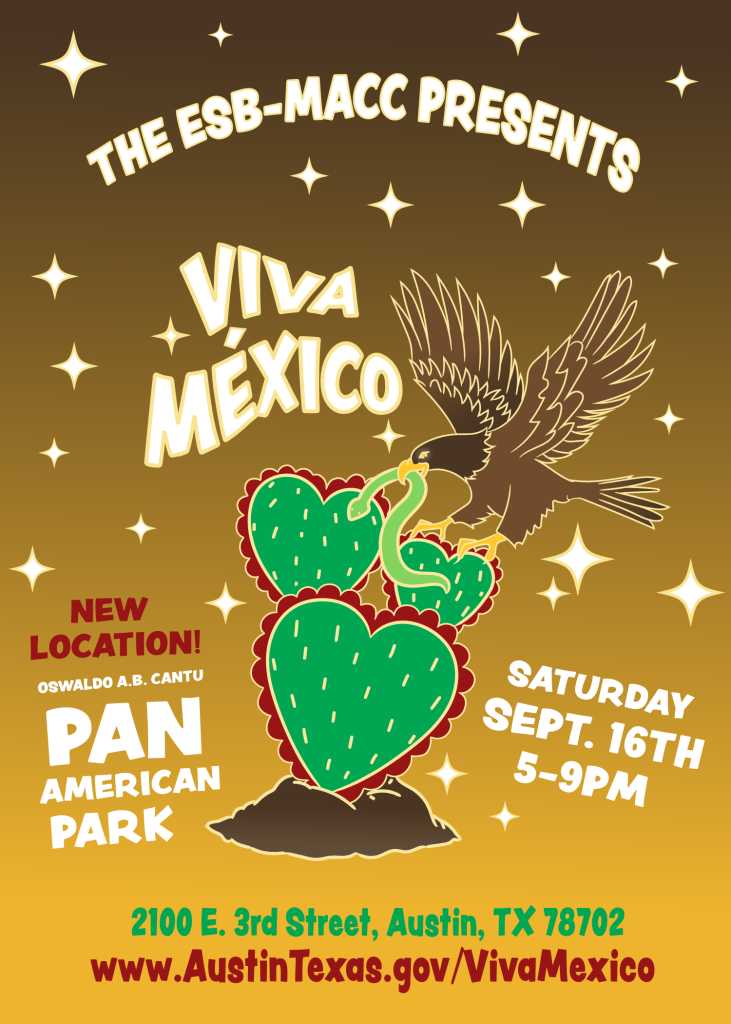 Viva Mexico!
Saturday, Sept 16, 5:00-9:00pm
Oswaldo Cantu Pan Am Recreation Center
2100 E 3rd St, Austin, TX 78702
✨ The Oswaldo A.B. Cantu Pan American Recreation Center and Neighborhood Park will be hosting this year's Viva Mexico event by the MACC! Celebrate Mexican Independence with us! We will have plenty of activities for the whole familia!
Co-hosted by Claudia Talamentez from Univision!

Grito de la Indepencia by Consul General Pablo Marentes!

Dance performances by Ballet Folklorico de Austin and Danza Azteca Guadalupana!

Live music by Mariachi Corazon de Texas, Katelyn Perez and Lesly Reynaga! 

Youth performances featuring local talent including Tejano and Country music!

Free children's activity tent, shaded!

Food trucks and shaded eating area!

Community Resource Market!

Vendor market where you can purchase jewelry, clothes, and gift items from local artisans!
⏰ September 16, 2023 5:00pm-9:00pm
🏡 Oswaldo A.B. Cantu Pan American Neighborhood Park
📌 2100 E. 3rd St, Austin, TX78702 
Viva Mexico 2023 Predicted Schedule :
4:00  PM Shuttle Buses Start Running (see below for shuttle routes)
5:00  PM   Welcome with MC Claudia Talamantez from Univision and drumming with The Center for Art + Healing 
5:15  PM  Ilusion Modesta, student musicians Burnet Middle School
5:30  PM  Katelyn Perez, Tejana singer  
5:45 PM  Cap City Rockers Break dance crew
6:10 PM  Mariachi Corazon de Tejas
6:40 PM  Consul de Mexico Pablo Marentes will give the "Grito"
7:00 PM  Ballet Folklorico de Austin
7:45 PM  Lesly Reynaga
8:25 PM  Danza Azteca Guadalupana
9:00 PM  Festival ends, please get home safe!
10:00 PM Shuttle Bus ends
*** Performance times are estimated only and are highly subject to change!!! 
Shuttle Information:
There will be a free shuttle bus from 4:00pm-10:00pm making trips from Rudy Mendez Recreation Center to the Pan American Recreation Center. Guests may park at Rudy Mendez Recreation Center at 2407 Canterbury St, Austin, TX 78702 (or the neighborhood around it) and take the free shuttle to and from the event.
There will also be a shuttle from the "Fiesta Austin" celebration at Fiesta Gardens to our Viva Mexico event at the Pan Am Recreation Center.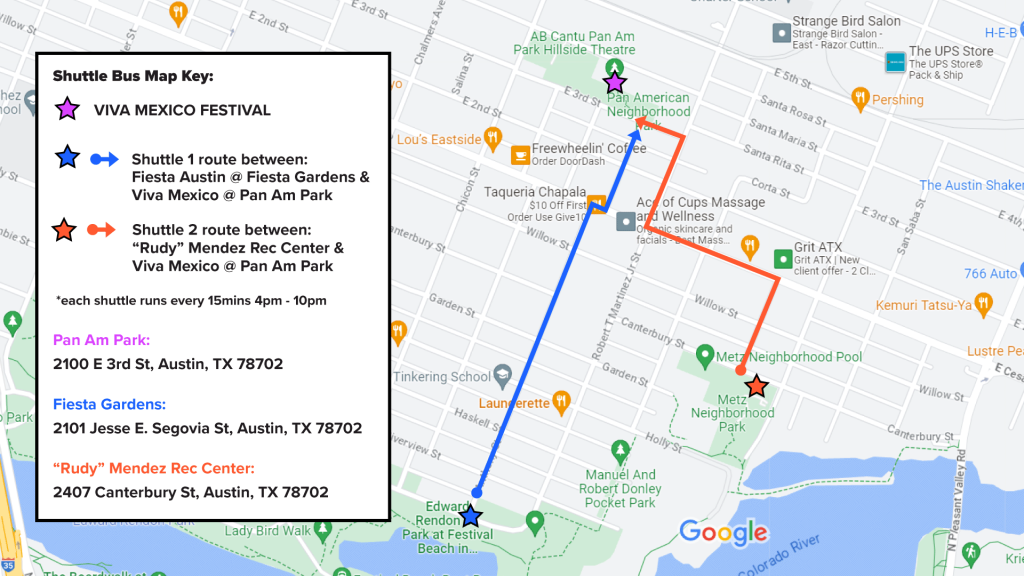 Pan American Recreation Center
2100 E 3rd St
Austin, TX 78702
United States