- to

The Emma S. Barrientos Mexican American Cultural Center Presents:
Day of the Dead & Mexamericon 2023
The Emma S. Barrientos Mexican American Cultural Center presents our 16th annual celebration of Dia de los Muertos (Day of the Dead). This beloved tradition brings family and community together to celebrate the lives of our ancestors, family, friends, and public figures. The large-scale festival is on Saturday, November 4th at the Pan American Recreation Center in East Austin. The MACC will collaborate with Oakwood Cemetery, the Long Center, and Parks and Recreation facilities to offer pop-up events leading up to and after the festival on 11/4.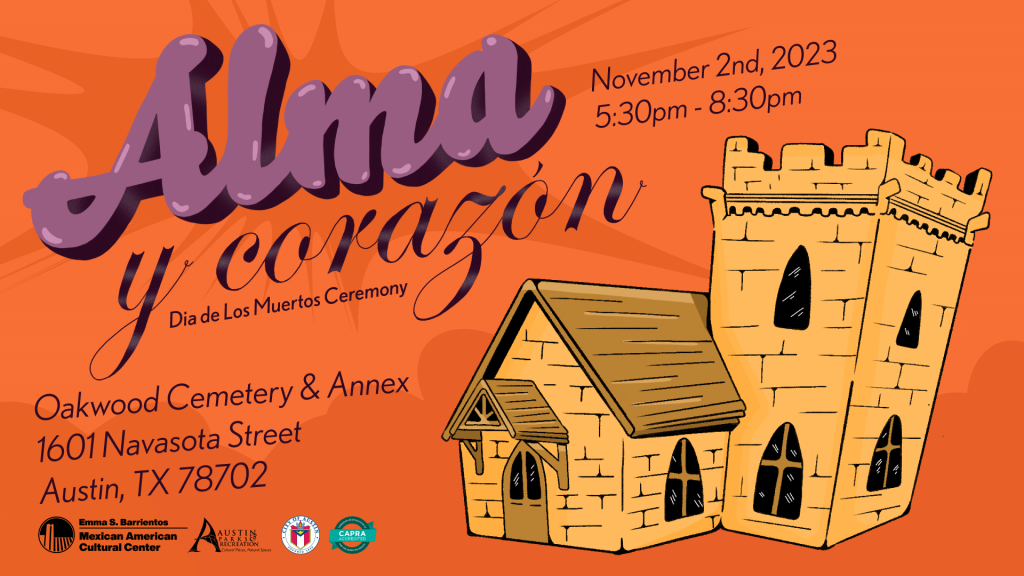 Alma y Corazon Ceremony
Thursday, November 2
5:30-8:00pm.
LOCATION: Oakwood Cemetery
RSVP On Eventbrite!
This free takes place on Dia de Muertos, because on November 2nd is the date that our loved ones can return. The altar presentation and ceremony at Oakwood Cemetery on Day of the Dead features Mariana Nuño Ruiz McEnroe, author of Dining with the Dead, who will give a talk on the rich culinary traditions in Mexico that are associated with Dia de Muertos. Guitar music is provide by Javier Jara and guests can enjoy complimentary hot chocolate and tamales while they share stories of their families. All are invited to pay respect to the individuals buried in Oakwood Cemetery to view the collective ofrenda (altar) by artist Alonso Estrada, made specifically for this site in loving memory of those who have passed. Bring non-perishable objects (notes, flowers, copies of photographs) to add to the ofrenda. A digital exhibit on Day of the Dead will also include articles, photos and videos that give local history and cultural context to this celebration. Anyone who has family ties to Oakwood Cemetery and would like to decorate a monument is encouraged to contact Jennifer Chenoweth. Jennifer.Chenoweth@austintexas.gov.
---
Day of the Dead Festival & Mexamericon Comic Con
Saturday, November 4th
1:00-9:00pm
NEW LOCATION: Oswaldo AB Cantu Pan American Park
The MACC's 16th annual Day of the Dead festival is pairing up again with MexAmericon! This celebration of life will take place at the Pan American Recreation Center, where they recently hosted their Viva Mexico celebration. This celebration hosted in East Austin will be a community-building family friendly event. Guests can enjoy hands-on children's activities, art activations, vendors, food trucks, and a collective community altar.
The festival's extended hours from 1:00pm-9:00pm combine our the most anticipated events of the year into one big celebration! At 1:00-3:00pm, MexAmeriCon will present their afternoon showcase of Mexican American and Latinx artists who work through the medium of comic books, graphic novels, zines and pop art. The "Artist Alley" under the big outdoor MexAmeriCon tent offers loteria (bingo), an artisan market, and autograph signings. Now in its tth year, MexAmeriCon is a Comic Con like no other, and it's the only Latine-focused comic con in Central Texas. Expect to be immersed in culture- focused graphic novels and an innovative experience that creates a positive and inclusive environment for both artists and attendees to unite and share.
MexAmeriCon will be activated during the entire festival hours of 1-9pm. Guests who arrive between 1-3pm will be able to experience a MexAmeriCon-focused afternoon that includes closer insight into the original artworks featured. You may even go "back in time" playing the Aztec Loteria game! 
At 3:00pm, get ready to welcome the Day of the Dead with altars, art installations, and activities that foster an appreciation for the sweetness and fragility of life. Discover the MACC's large-scale interactive sculptures by Las Piñatas ATX. The MACC's education department offers free sugar skull decorating and face painting. The collective outdoor ofrenda (altar) will be a gathering of memories that grows larger throughout the evening as guests contribute names and notes to it. Performances by mariachi metal group Tequila Rock Revolution, Tejano Music Awards Best New Female Artist Monica Saldivar, and Austin's Latin-Psych Fusion band Los Alcos round out the evening.
The MexAmeriCon and Day of the Dead events all occur outdoors and under tent cover on the Pan Am grassy "Hillside". The events are free and open to all ages. Guests may bring chairs and water. Alcohol-free. Parking and shuttle information will be updated on social media @ESBMACC and AustinTexas.gov/DayoftheDead.
---
November 4th Features:
- Graphic Artists, Interactive Board Games by Mexamericon
- Sugar Skull Decorating by MACC Education Department
- Large-Scale Art Installations by Las Pinatas ATX 
- Screen Printing by Old School Nation
- Loteria (live bingo game) by MexAmeriCon
- Facepainting by Mexamericon 1-3pm & MACC Education 3-8pm
-The list of activities will grow, stay tuned on social media for more!
---
Ways the public can participate:
- Attend the festival on November 4th and invite your friends! Follow @ESBMACC!
- To be a vendor or volunteer, please fill out this form!
- Bring your photographs & flowers to add to one of the community altars. The public can add to the altars on Nov 2 at Oakwood Cemetery or Nov 4 at Pan American Receation Center. No perishables or valuables please! 
- Wear your MexAmeriCon cosplay to participate in a costume contest!
- Does your workplace or school want to build an ofrenda? Email Olivia.Tamzarian@austintexas.gov
- Media: Graphics Folder
Oswaldo Cantu Pan Am Recreation Center
2100 E 3rd St, Austin, TX 78702
Emma S Barrientos Mexican American Cultural Center
600 River Street
Austin, TX 78701
United States