- to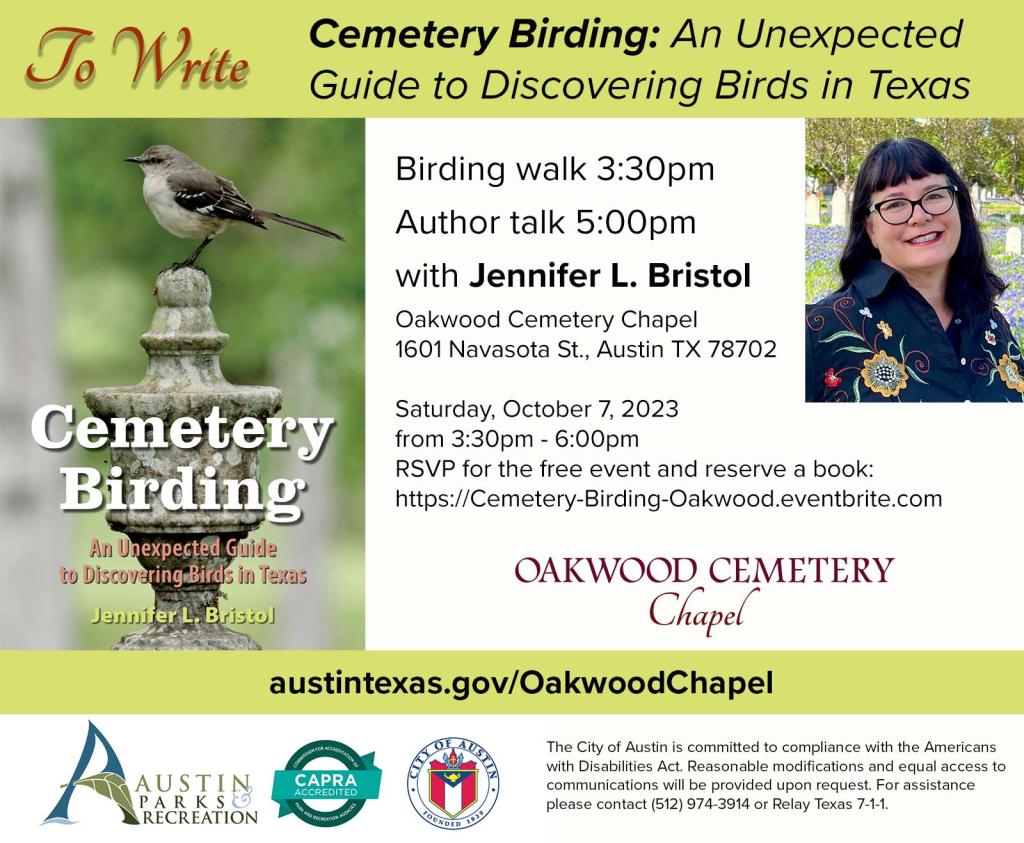 Join for a free event at the Oakwood Cemetery Chapel for an author talk and book signing with Jennifer Bristol. The Birding Walk will be from 3:30-4:30pm, and the Author Talk will be from 5:00-6:00pm.
It might seem unlikely that a place designed for the departed could be teeming with life. Cemeteries have a long history of serving the dual purpose of honoring the deceased while also proving a space for the living to gather and grieve in the embrace of nature. Touted as some of the earliest public parks in the country— with mature trees, open grasslands, meadows of wildflowers—cemeteries are also attractive to birds and wildlife. In an age of distractions and disconnection, cemeteries create a sense of place where visitors can reconnect with nature while exploring the cultural history of a region. For bird watchers, cemeteries offer easy walking, open spaces to peer into habitats, and a peaceful place to feel the breeze and listen to the quiet conversations of nature.
Cemetery Birding builds upon the unique and approachable experiences introduced in Jennifer L. Bristol's first book, Parking Lot Birding. While cemeteries offer accessible places to bird watch, Bristol highlights the need to tread carefully and ethically when exploring these sacred spaces. Her treatment of each of the nearly 100 locations provides information about what birds can be observed in various seasons and offers readers a snapshot of the cemetery and community's history. Filled with rich photos, Bristol deciphers headstone symbolism in "Tombstone Tales" and offers fun facts about individual species of birds in "Tombstone Tails." Locations range from the heart of Houston to the wide-open spaces of West Texas and every ecoregion in between.
JENNIFER L. BRISTOL is the former director of the Texas Children in Nature program at the Texas Parks and Wildlife Department. The 2018 and 2019 recipient of the Most Valuable Birder Award in the Great Texas Birding Classic she guides cemetery bird walks for Travis Audubon. Author of Parking Lot Birding: A Fun Guide to Discovering Birds in Texas is a contributor to Texas State Parks the First 100 Years 1923–2023. She resides in Austin.
Please wear weather-appropriate clothing and closed-toed shoes for the Birding Walk.
Click Here to RSVP for Free on Eventbrite
Oakwood Cemetery Chapel
1601 Navasota St Austin
Austin, TX 78702
United States