At the Heath Eiland and Morgan Moss BMX Skate Park, skaters and bikers defy gravity on ramps, grind down rails and swoop through the park's bowl, which makes up a third of the park. Park-goers who prefer a different style of skating and biking can show off their skills in the plaza-style part of the park, which makes up the remainder of the area.
From sunup to sundown, you'll find skaters and bikers catching air in the park. Since its opening last year, the park has seen frequent use from all ages – from young children learning to ride to adult enthusiasts. In fact, the site itself has always been a favorite spot for activity, even before it was developed into the park.

Park Location & History
The Heath Eiland and Morgan Moss BMX Skate Park sits at the site of the old Austin Recreation Center, 1213 Shoal Creek Boulevard. The center, which flooded during the historic 1981 Memorial Day Flood, was demolished in the late 2000s. At that time, the Parks and Recreation Department identified the site as a potential skate park.
The idea of the park worked well there, because the unique status of the land presented an issue for its use. Project Coordinator Gary Gregson said that because the area was in a flood plain, "we thought the skate park was a good use for the land, which couldn't have been used for much else."
To ensure its success, the department hired an internationally recognized skate park design company to envision the park. The company met early in the design process with the local skating and BMX community to receive input on the park's design, features and facilities, then used this input to design today's park.

Challenging All Skill Levels
One necessary element identified by the public was the park's ability to satisfy and challenge people of all skill levels. The City's only skate park at that time, Mabel Davis Skate Park, was a technical park geared toward advanced users.
Gregson believes the Austin BMX and Skate Park filled this gap. "[The park] was designed with all skill levels in mind, so those from beginners to advanced skaters can find something to do," he said.
Playing with Public Art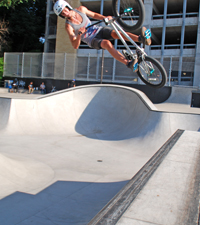 Another appealing aspect of the park is its usable artwork. During the design process, the department worked with the Arts in Public Places Program to commission a local artist, Chris Levack, to produce two pieces of art for the park.
Today, this artwork isn't just pretty to look at – it's functional. Trilobite Shade provides respite from the hot Texas sun to park visitors. And according to Gregson, the Iron Wave, a rideable sculpture, has become a trademark of the site. Both pieces of artwork were nationally recognized for excellence among the best public artworks in the nation.
Location, Location, Location
Finally, visitors relish the fact that the park is centrally located, so it's easily accessible from all parts of Austin, especially by public transportation. Gregson explained that this central location is very important to park-goers. "Skateboard enthusiasts are trying to promote all over the country that skate parks don't have to be in an isolated, useless part of the town," he said. "It's not something you have to hide. It's something you can have downtown that is accessible and appreciated by everyone."