Bee-coming more sustainable at Govalle Elementary School!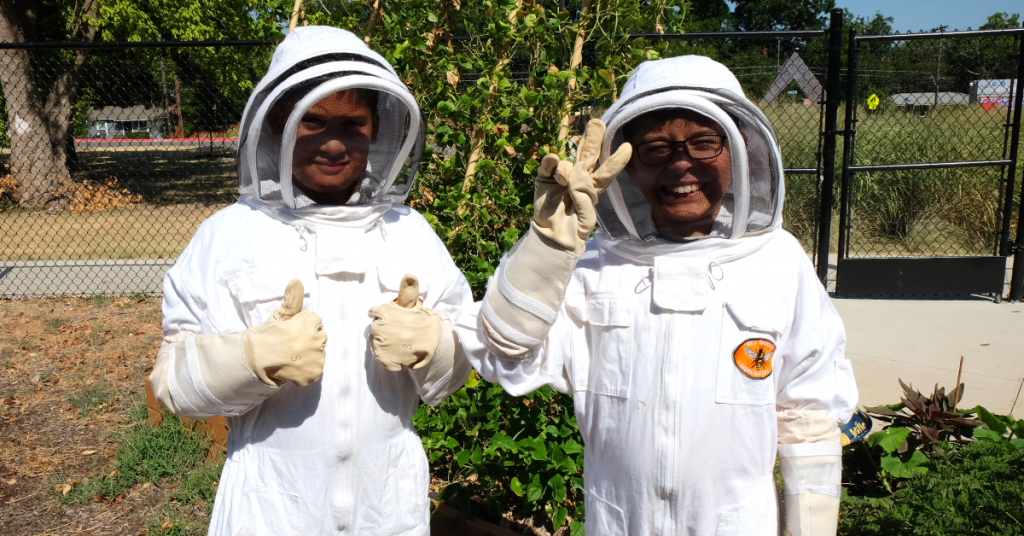 When we asked two fifth-grade students what they most loved about bees, the answer was clear: "HONEY!" The students, Steve and Tadeo, were volunteering at Govalle Elementary School over their summer vacation to help care for the campus's new beehives.
Library Media Specialist and Green Team Leader, Stacey Smith, was at the campus with them. "Honey may draw us in but caring and learning about their behavior is what has kept me engaged," said Stacey. "And I hope it keeps our school community engaged as well!"
At the start of the 2021 school year, Stacey applied for a Bright Green Future Grant to help establish beehives on Govalle's campus. The school had been gifted one hive from Brooke Elementary, which was part of AISD's school closures the year prior. Stacey hoped that with funding from the Bright Green Futures Grants program, she could reestablish Brooke's hive and add another. "It is very important to me, my own children, and our students that we have ways to learn about caring for the planet that are real, fun, and that we can do together as a school family and community."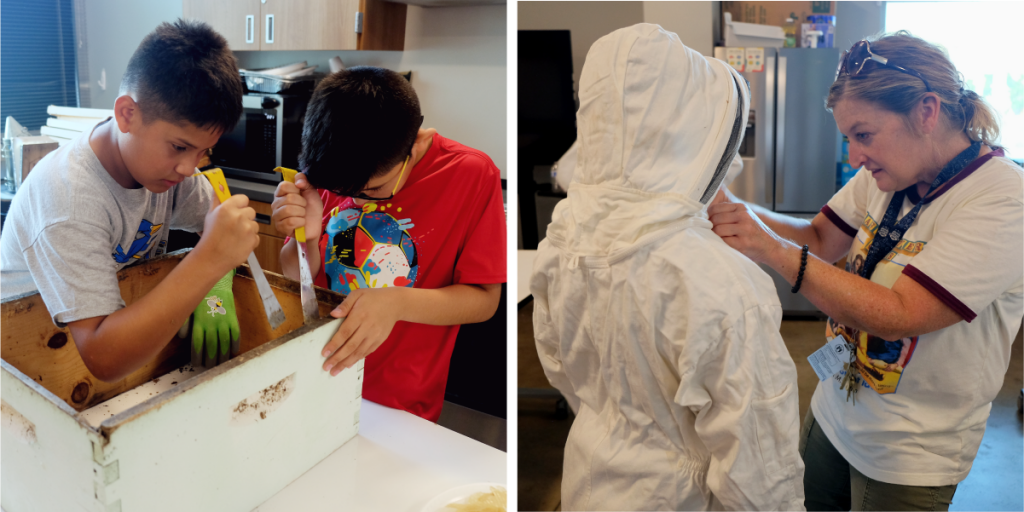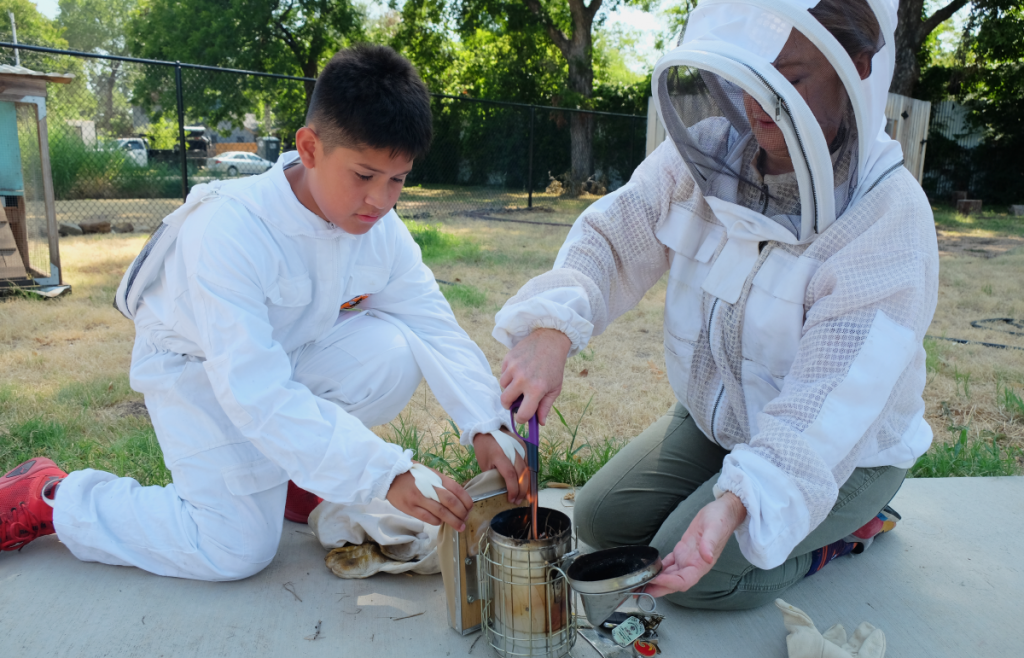 Of the 77 applications received by the Office of Sustainability, Stacey's proposal for Govalle Elementary was one of 45 projects awarded funding in the 2021-2022 school year. In addition to establishing the hives, the grant also supported the creation of a Junior Beekeeper Program, where fifth-grade students learn more about bees, how to create and maintain their habitats, and their role in pollination and supporting our food system.
The project holds extra significance this year as, this spring, City Council unanimously approved a certification making Austin a Bee City USA affiliate. Through this certification, Austin made a public commitment to support and conserve native pollinators. Pollinators, like honeybees, are responsible for the reproduction of nearly 90% of the world's flowering plants, including many of the fruits, vegetables, and nuts we enjoy daily.
"The impact I hope this project will have is to bring our teachers, students, and families joy in learning and caring for the environment," says Stacey. "Bees are magical, fascinating, a bit mythical even."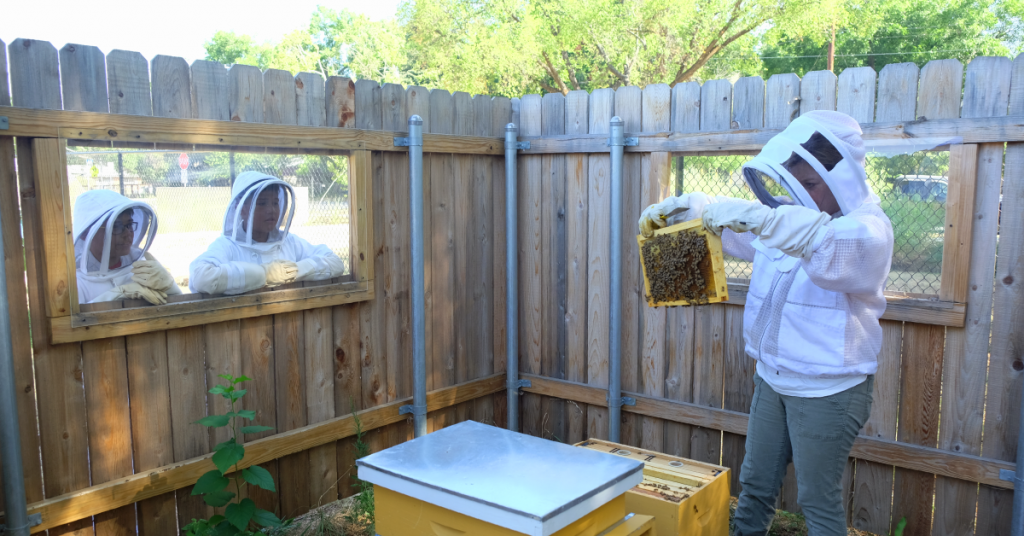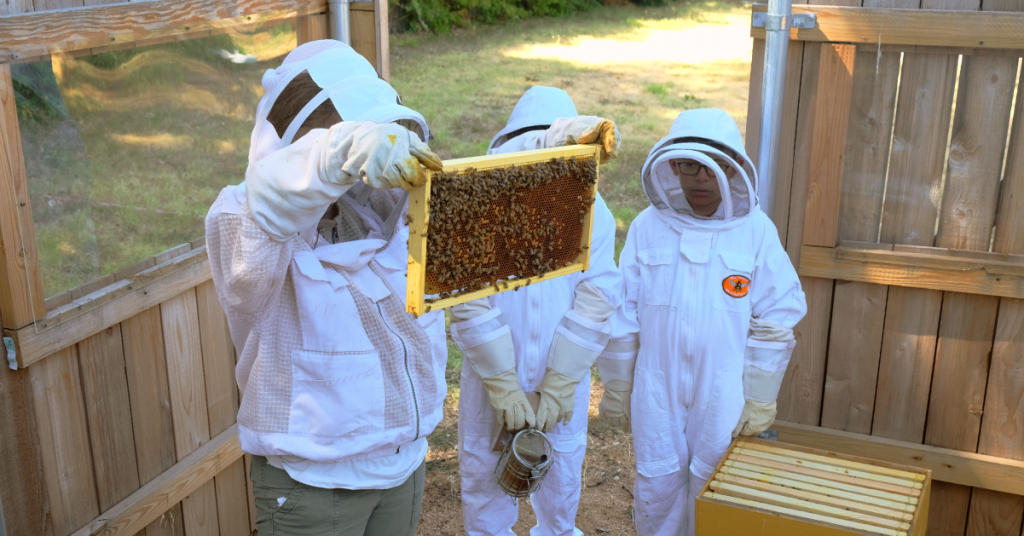 ---
If you're interested in learning more about local pollinators and how you can support them, we encourage you to check out the Roots & Wings Festival, happening this October 22 through November 5. The two-week festival is Austin's annual combined celebration of Arbor Day and Monarch Appreciation Day and is used to celebrate trees, butterflies, bees, and nature in our city with over 50 free events across our community. Explore the 2022 scheudule.
The Bright Green Future Grant was designed to recognize and support innovative projects that will inspire students to become lifelong environmental stewards. In the 2021-22 school year, the City of Austin's Office of Sustainability awarded grants to 41 Austin-area schools. Learn more about the program.