Whether you're an established green business, or just getting started, the Austin Green Business Leaders program can help you protect what is great about our city. Since the program launched in 2012, it has grown to over 200 participating businesses, representing almost 40,000 employees and over 15 million square feet of "green" office space. When you join the program, you'll get official recognition, become a part of the Austin Green Business Leaders network, attract new customers, and more.
The program includes companies of all sizes; from businesses with just one person on the payroll, to Fortune 500 companies, and everywhere in between. Visit our website to see the breakdown of the types of businesses included in the program, and see which other businesses have joined.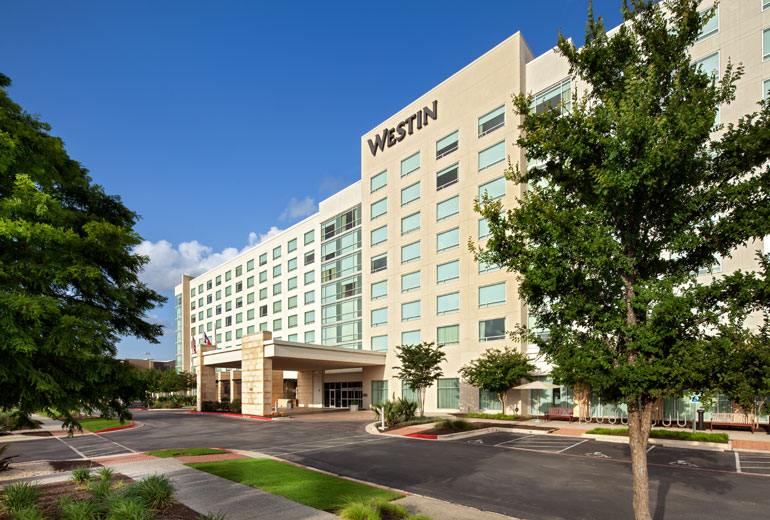 Our newest Green Business Leader is the Westin Hotel at the Domain. During our site visit with their General Manager and Director of Engineering, we learned about the great work the Westin is doing with recycling and food rescue efforts. Since Mid-November, the Westin has donated over 3,500 lbs. of food to local Non-Profit Keep Austin Fed, which helps feed people in our community who are experiencing food insecurity.
Here's why your business should become an Austin Green Business Leader:
Connect and Network
There are currently ten different business categories in the program, sharing best practices and making new connections. This spring, our office will be hosting a recognition event to welcome new members and celebrate the achievements of our long-standing members. Details of the event will be released in early February.
Get Competitive
For business with a competitive edge, each fall, members are encouraged to compete for the coveted "Green Cup" by participating in a week-long challenge using the City of Austin's Rethink App. SeaLab is the current two-time defending champion, so we're looking for new businesses to challenge their title.
Become a Green Business Leader
To get started, all you need to do is download and complete the scorecard and return it to our office. Once we have received and tabulated the scorecard, our office will contact your business to schedule a site visit to review the results. Businesses that excel in the program are then formally recognized as Silver, Gold, or Platinum Green Business Leaders based on their point total. Platinum and Gold members are invited to have their logos displayed on the Green Business Leader website, which will help your business get recognized and strengthen your brand.
Don't wait — applications are accepted once per year, and completed scorecards will only be accepted until February 28!
Questions about the program? Don't hesitate to ask.