K-12 Sustainability Grants Program Reaches 300 Projects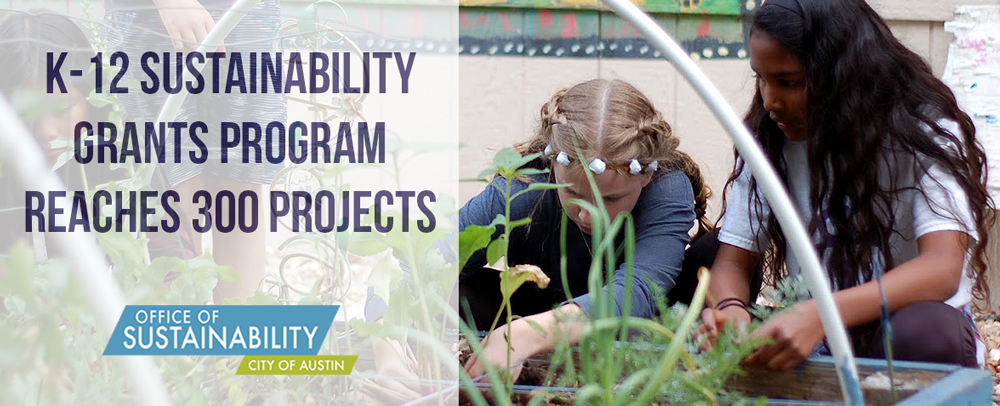 For seven years, the Office of Sustainability has delivered small sustainability grants to area K-12 schools, along with many City department partners. This year, the Bright Green Future Grants program achieved a major milestone by funding its 300th project!
Background
Launched in 2012, the Bright Green Future Grants program was designed to recognize and support innovative projects that will inspire K-12 students to become lifelong environmental stewards. Through a competitive selection process, school-based sustainability projects can be awarded up to $3,000. Grant recipients are selected each year by a panel of judges composed of Office of Sustainability staff, representatives from other City of Austin departments, and community members who serve on the City's sustainability-related boards and commissions.
Initially, the program funded three projects at Austin-area elementary, middle, and high schools. These projects were selected because they offered tangible environmental benefits, provided hands-on educational opportunities for students, and created positive impacts for the broader community. Based on the success of these first projects, the Bright Green Future Grants program was expanded through funding from partner City of Austin departments. In 2014, the program was expanded again through a partnership with nonprofit EcoRise Youth Innovations, this time to fund projects identified through student-led campus Eco-Audits.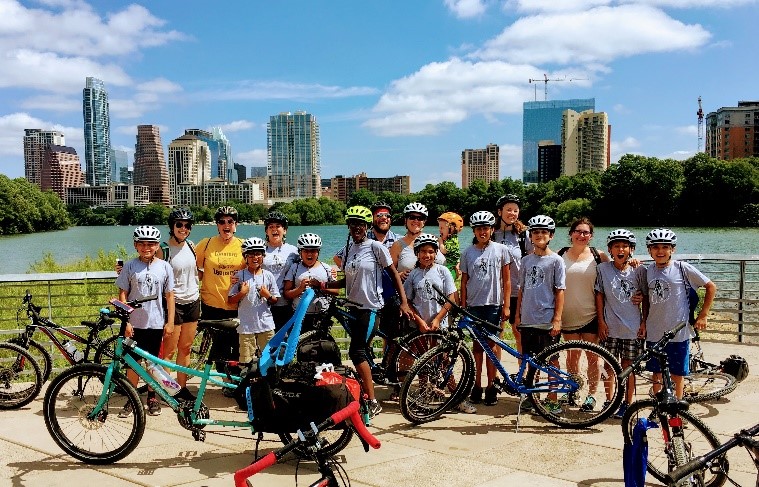 Advancing Sustainability
The Bright Green Future Grants program advances many of the City's sustainability goals, including:
Acting to lower greenhouse gas emissions to achieve net-zero community-wide by 2050.
Growing more healthy local food to strengthen our food system.
Building Austin's resilience to climate change through projects that manage stormwater run-off, reduce urban heat island effects, and conserve energy and water.
Reducing waste to achieve the goal of Zero Waste by 2040.
Encouraging sustainable transportation options to reduce congestion and improve air quality.
Promoting equity through grants to schools with limited resources in low-income, underserved communities.
The City's Transportation, Water, Watershed Protection, Resource Recovery, and Public Works Departments, as well as the Urban Forestry Program, have provided funding to grow the Bright Green Future Grant program — helping to increase community involvement in meeting ambitious sustainability and equity goals.
Program Reach and Impact
Over the school years shown below, projects that encompass composting systems, rainwater harvesting, organic gardens, rain gardens, bicycle academies, tree planting, chicken coops, beekeeping, and wildlife habitats have received Bright Green Future Grant funding. From those three initial projects in 2012, the number has grown to a total of more than 300 funded to date.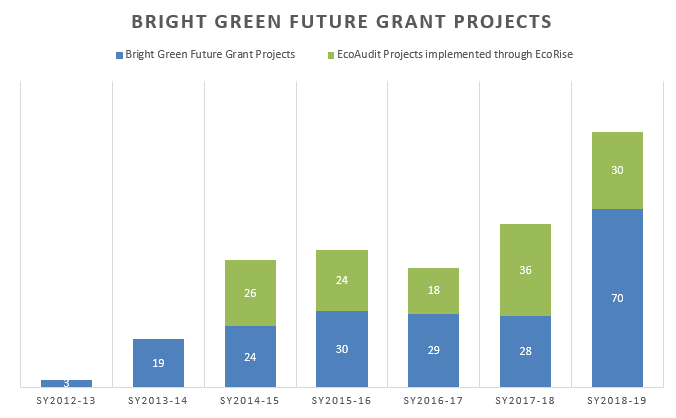 The reach and impact of the Bright Green Future Grants program have increased as well:
Grant-funded projects are located in every Council District, and cover Austin, Round Rock, Georgetown, Leander, and Del Valle Independent School Districts, as well as several private schools, Travis County Juvenile Justice Center, and the Texas School for the Deaf.

To date, 71 projects have been funded at 33 Title 1 schools in the Austin Independent School District. This represents nearly half of the Bright Green Future Grant-funded projects awarded directly by the City of Austin.

Rainwater harvesting and rain garden projects are projected to have saved 1.2 million gallons of water.

Gardening projects have produced approximately 40,000 pounds of vegetables.

Recycling and composting projects diverted 36 percent of waste from the campuses involved.

Students participating in bicycle academies traveled more than 150,000 miles by bike instead of by car and avoided 16.2 metric tons of greenhouse gas emissions.

To date, 337 projects have been awarded a Bright Green Future Grant, and it is estimated that more than 70,000 students have participated in creating and executing these grant-funded sustainability projects.