Meet our new employee: Angela Baucom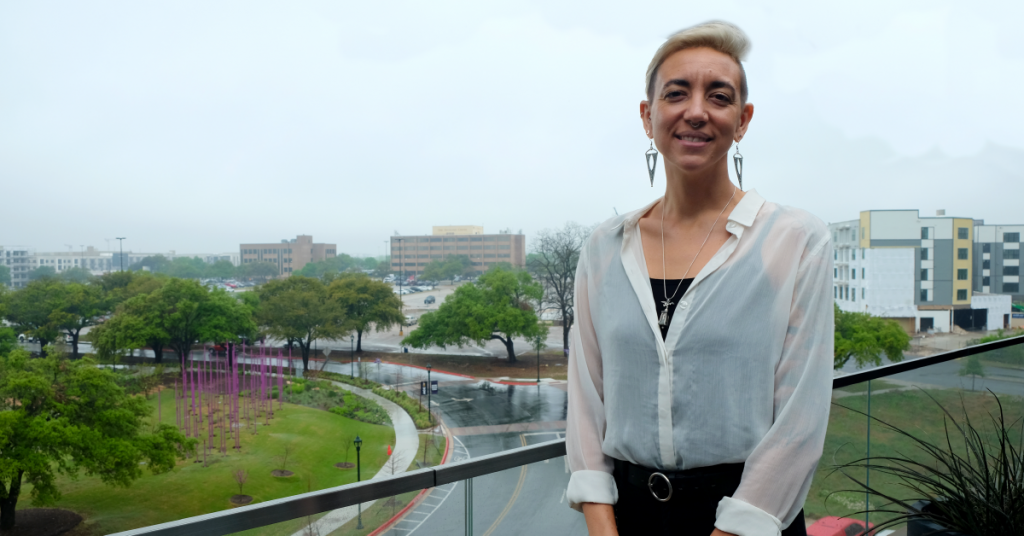 We're excited to introduce our newest team member to the Office of Sustainability: Angela Baucom! Angela is taking on the new role of Food and Climate Program Coordinator. She'll be supporting both the climate and food teams in understanding where their work intersects and how to best leverage resources for collective impact. As Angela settles into the new role, we asked her some getting-to-know-you questions to help introduce her to our larger community.
Q: Where are you from, and what do you like best about your hometown?
A: I am originally from central North Carolina, mostly growing up in the Chapel Hill/Carrboro area and later moving to Greensboro. I grew up in the middle of the woods, surrounded by densely packed pine trees. Walking through those woods will always be one of my favorite things. I was able to live so close to both areas of natural beauty and to academic college towns that valued learning and creativity. These connections made the area a special nurturing space for progressive thinking, work, and art. In a lot of ways, Austin is an everything's-bigger-in-Texas version of the things I love about my hometown.
Q: Tell us a little bit about yourself and what interested you in joining the Office of Sustainability.
A: I have a passion for food, which probably comes from being raised in a family that was half Greek and half North-Carolina-foothills southern. Both sides of the family took food very seriously, and it was always the thing that made any family gathering what it was. Early in my career, I became a public school teacher and saw kids who couldn't concentrate because their families struggled to make ends meet and put food on the table. I decided to go back to school for my Masters of Social Work to address systemic issues that might help families in our community receive support.
It is my greatest hope that the work I am a part of will, in some way, help my community gain access to more nourishing, affordable, and culturally-appropriate foods. Joining the Office of Sustainability means that I can pursue this dream while also supporting the long-term environmental wellness of the community. I look forward to helping work towards a future where food access goes hand-in-hand with environmental stewardship and care for the future we are creating for the next generation.
Q: What are you most excited to accomplish during your time with the Office of Sustainability?
A: I am thrilled to be collaborating across City departments to accomplish work at the intersections of food, climate, and strategic purchasing. I see many opportunities to connect ideas between good work being done in multiple areas. I can't wait to meet with a variety of folks to hear about their exciting work and see how we can advance the Climate Equity Plan. It's ambitious and I love working on big ideas.
Q: What are some of your favorite things to do or places to go in Austin?
A: Austin has so many amazing spaces and activities to appreciate. I love spending time riding my bike on the Walnut Creek Trail or through downtown Austin with Ride Bikes Austin. My dog and I love hiking the Turkey Creek Trail for some quality time in nature. Quite often, though, I just want to sit down with friends or a book at any of my favorite coffee shops, like Epoch and Genuine Joe. I also run a couple of social and networking groups around town, so you might find me bringing people together at spots like Brewtorium or Black Star Co-op for some great conversation. Luckily for me and all Austinites, there are also a ton of wonderful organizations to volunteer with during off-hours, so I can't miss out on promoting the fantastic Sustainable Food Center, Central Texas Food Bank, the Austin Animal Center, and Hospice Austin. Basically, I just love plugging into my community.
Q: What is your favorite sustainable thing to do in your personal life?
A: Although I'm well known for talking anyone's ear off about my backyard chickens, biking for both fun and transportation is one of the most enjoyable and healthy sustainable practices in my life. Austin as a city has gone through a lot of different phases of bike accessibility and different areas are safer and more friendly than others, but whenever I can, I like to ride rather than drive.  
Q: What is your favorite food and why?
A: I have met very few foods that I didn't like, but one of my favorite things in the world is butternut squash. There are so many things to love! The color alone is vivid and exciting, and a warm, spiced, roasted squash in the winter brightens up a meal in so many ways. Sweeten it with maple syrup, cinnamon, and Texas pecans. Spice them up with chili powder and pair them with black beans for a great taco filling. They are a hearty addition to soup. They keep on the counter for ages. And, for bonus points, they grow well in Texas and are available locally!