Meet the Winners of the 2023 Earth Month Challenge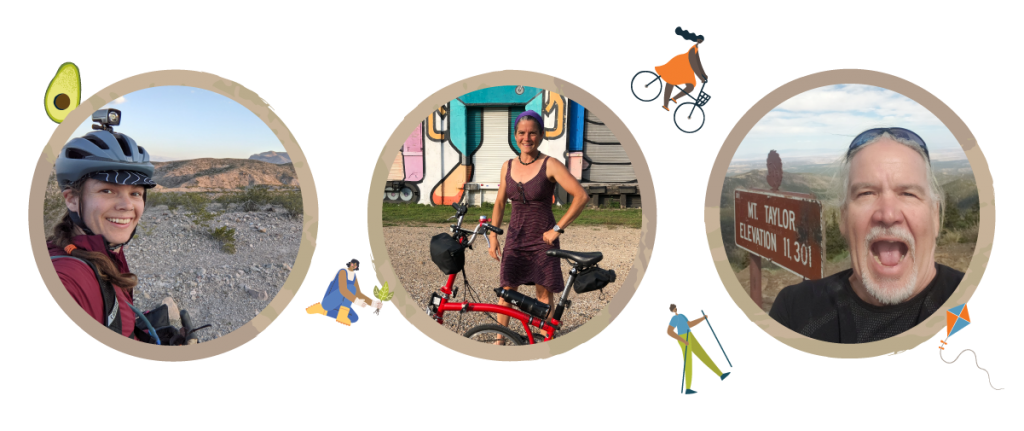 Meet the 2023 Sustainability Superheroes: Katrin Abel, Ann DeSanctis, and Steve Nelson! These three individuals completed all eight of the individual activities featured in the Earth Month Challenge! In honor of Earth Month, the Earth Month Challenge invited Austinites to work toward a brighter, greener Austin by engaging in sustainability-focused activities over the course of April. We spoke with the winners about their experience in the Challenge, what they learned along the way, and what advice they have for other Austinites.

            
"I greatly appreciate that we have an Office of Sustainability and that our City is taking strides and actually walking the walk to move towards a better, more sustainable future for all," shared winner Ann DeSanctis. Ann works as a Program Coordinator in the Urban Trails Program within the City's Transportation and Public Works Department. In her role, Ann was very familiar with the impacts of transportation on climate change, but the Earth Month Challenge let her think more broadly about what it means to live sustainably. "This challenge definitely helped me zoom out a little to think more holistically about sustainability (like the air quality and waste elements)," said Ann. "This helped me appreciate the hard work that so, so many folks are doing across different sustainability aspects." Ann's favorite activity was the Air Quality Check. "I enjoyed this challenge the most because it was the one I had the least experience with but that actually probably affects me and my long-term health more than anything," shared Ann. "I am outside getting around through active modes for the majority of my travel... I hadn't thought that the air quality could vary so much when things don't look differently." Ann hopes

Austinites

know that "Individual contributions DO add up!"

            

Katrin

Abel is a librarian at the Central Library, which was the first

LEED

Platinum Certified library in the nation.

Katrin

weaves sustainability into her everyday life as she manages Austin Public Library's circulating seed collection, opts for bike riding over driving a car, and eats vegetarian. The Earth Month Challenge offered her the opportunity to think about other sustainability actions she could take. "It was fun to try something I wouldn't normally do," said

Katrin

, "like save all my trash for a day or spend a day without lights." But

Katrin's

favorite challenge activity was having an Energy-Efficient Adventure. "We're so used to turning lights on without thinking and sometimes when not necessary,"

Katrin

reflected. "I enjoyed maximizing my use of natural light and lighting candles for dinner and bathing." Through participation in the challenge,

Katrin

learned that, "sustainable living is a combination of maintaining your existing best practices and trying new ones." 

            
Steve Nelson self-identifies as "just an old hippy." He joined the Earth Month Challenge because he was inspired by the variety of challenges included. "I'm in the environmental remediation field, so sustainability obviously interests me," said Steve. "Solutions to climate change need participation by all of us, and even small things help when you multiply it by lots of folks." Steve's favorite challenge was Climate-Friendly Trips because he already enjoyed riding his bike daily "for exercise and enjoyment." For Steve, "realization of your personal carbon footprint really opens your eyes." One message he'd like to share with other

Austinities

about contributing to a more sustainable future? "Be open to new ideas and don't be afraid to contribute to the conversation."
Congratulations to all our winners!
And remember, it doesn't need to be Earth Month to help Mother Earth! Explore ways you can lower your carbon footprint to support a more sustainable city.