Net-Zero Hero: Dr. Rosamaria Murillo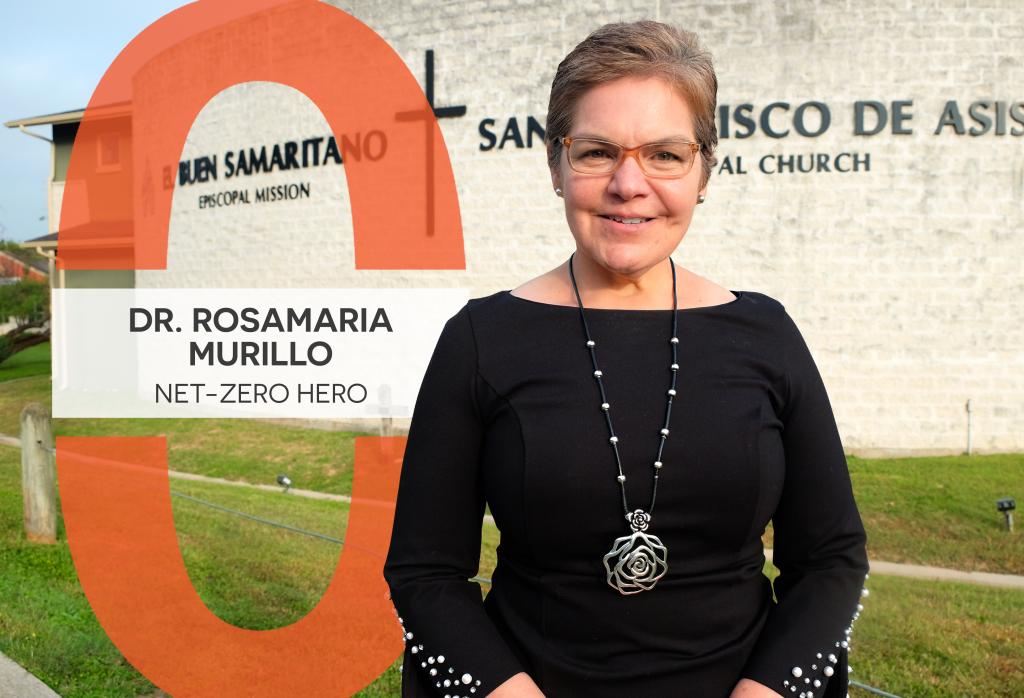 I'm helping to make Austin Net-Zero by living a mission-driven life and creating access for others.
Meet Dr. Rosamaria Murillo, Chief Executive Officer at El Buen Samaritano (El Buen) and our newest Net-Zero Hero! Dr. Murillo is a public health advocate, immigrant, and changemaker who strives to support the physical and mental well-being of her community.
Dr. Murillo began at El Buen in late 2019, shortly before the start of the COVID-19 pandemic. From providing food to over 700 families weekly during the height of the COVID-19 pandemic, to bridging the digital divide for youth through access to technology and the internet, to setting up El Buen as a COVID-19 vaccine distribution site, Dr. Murillo has worked to center community resilience throughout her time at El Buen. 
We met with Dr. Murillo during one of El Buen Samaritano's drive-thru food pantry distribution days to talk about her journey to this work, her experience of leading through the pandemic, and the connections she sees between spirituality and sustainability.
---
What inspired you to take action?
I am inspired by people and experiences. 
First of all, I am inspired by my lived experience as a first-generation English learner and immigrant in this nation. Every day, I get to work with others that have that same experience — it is what drives me. I'm inspired by the thousands of families we work with, who, despite unimaginable injustices, find a way to provide and thrive. Their strength makes me stronger and inspires me to give all I can to the service of others.
I'm also inspired by youth. I am inspired by their ability to dream and their courage, especially right now. The youth that we serve have experienced so much unimaginable loss and so many challenges. And yet I see them becoming all that they want to be without fear. Every moment that we invest in their well-being is a moment that we make this community and this nation a better place.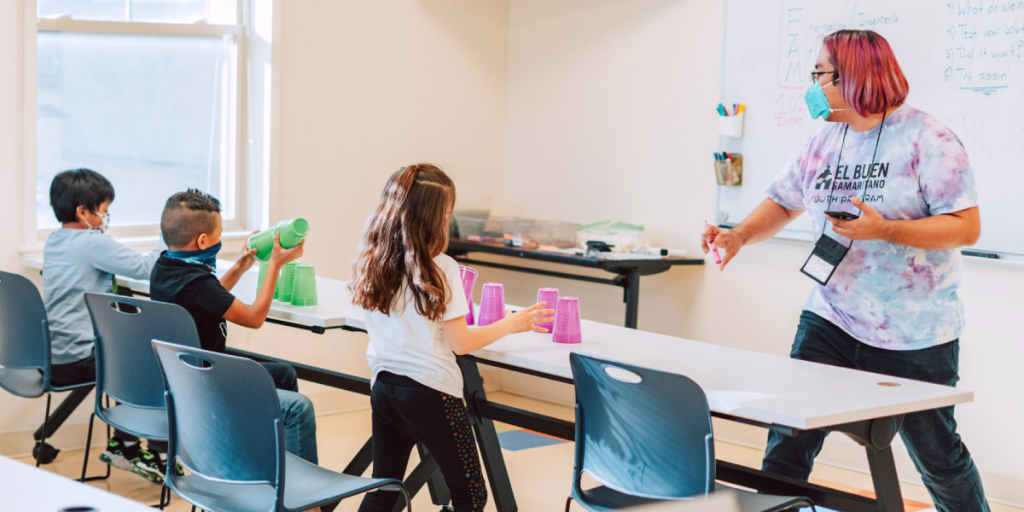 Students participate in El Buen's after school enrichment program. Photo courtesy of El Buen Samaritano.
Many years ago, there were individuals working to make our nation a better place by providing my family and me with tools, information, and access to resources — very similar to what we do at El Buen with families today. Their actions back then were like pebbles tossed in a lake. They created a ripple effect into my future. I am here because of the actions, dreams, and visions others had for a stronger community. They believed that I belonged here and that I could make our community a better place for others to thrive.
How did you do it?
As I get older and think about this question, I think it's not about how I did it but rather how others surrounded me with love, resources, and information to allow me to be here. Our society has us believing that we alone can pull ourselves up by our bootstraps, but it could not be further from that. Many of us don't have boots to begin with, and others have arrived here barefoot. This concept of individuality is incongruent. 
I used to answer this question by starting with the challenges I experienced as an immigrant and English language learner. Now I see that all that I have is 10% me and 90% the support and connectedness of others — the sacrifices of my mother and father, the people who gave me a place to stay when I first arrived in Austin, the people who fed me. Those experiences of love, belonging, and connectedness are what has gotten me here. 
I started at El Buen Samaritano a few months before COVID started. When the pandemic began, like everyone, we didn't know what to do. The main thing that I held onto was the experience of connectedness. We were a very small team of about 15 people. As an organization, we knew we could not respond to the community by ourselves. We needed to be connected with other nonprofits and local and state governments to have a powerful response to the crisis we were facing. 
We set up an incident command structure to support emergency response operations with and for our community. We went from serving food to about 100 families each week pre-COVID to serving 700 families weekly. We could not have done that without strong connections and support — organizations sourcing food for us, volunteers willing to distribute food, and funders. Since the start of the pandemic, we have also distributed close to $8 million in financial and rental assistance. This would have been impossible without organizations and local government having faith in us as a little organization to complete this work.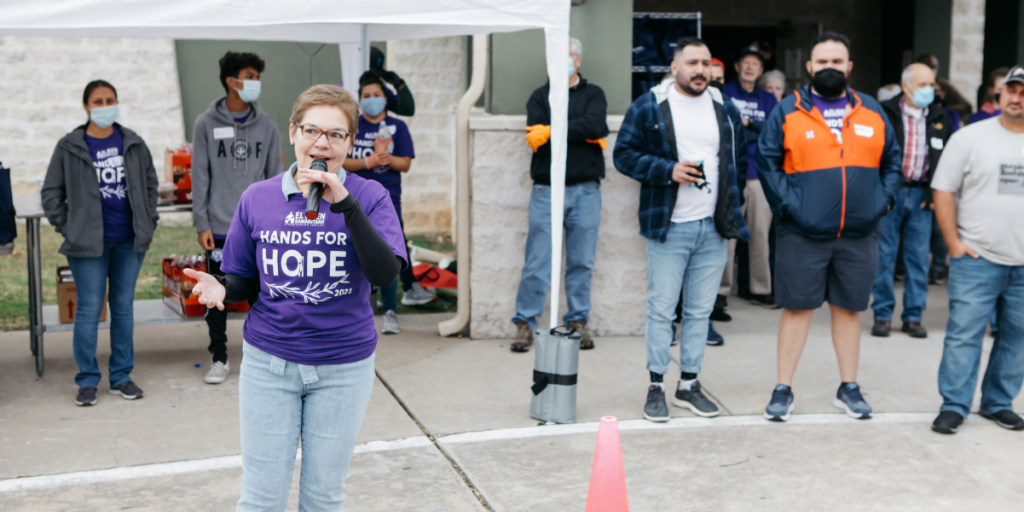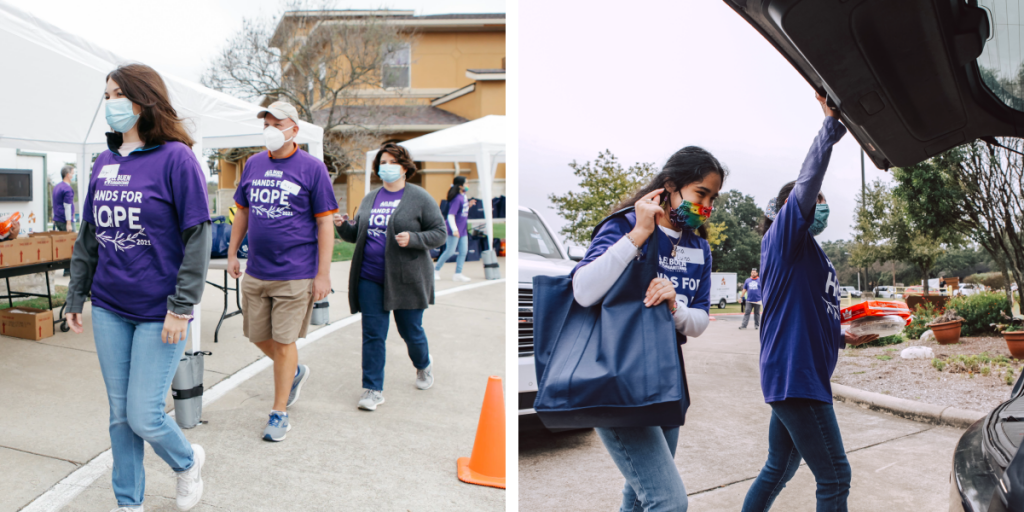 Above: Dr. Murillo speaks to staff and volunteers at the 2021 Hands for Hope event. Below: Volunteers prepare for the event and distribute food during the 2021 Hands for Hope event. Photos courtesy of El Buen Samaritano.
Before COVID, our community garden had plots for families to grow their own food, and plots for us to use for our food access programs. This largely paused during the pandemic, but we are now working with volunteers to revitalize the gardens. In the near future, we are looking to expand our gardens to make them more accessible to community. We're also looking to plant fruit trees throughout our 11-acre campus so that anybody who passes by can access fresh fruit. 
Right now, food is extremely expensive, especially fruits and vegetables. We have an opportunity to figure out how to sustain ourselves with the land we have. We use the gardens as a tool and a lab for educating others. Through the gardens, we can talk about sustainability, nutrition, and feeding ourselves from the land. Through these strategies, we hope to create a current and future community of individuals that can help us to sustain ourselves.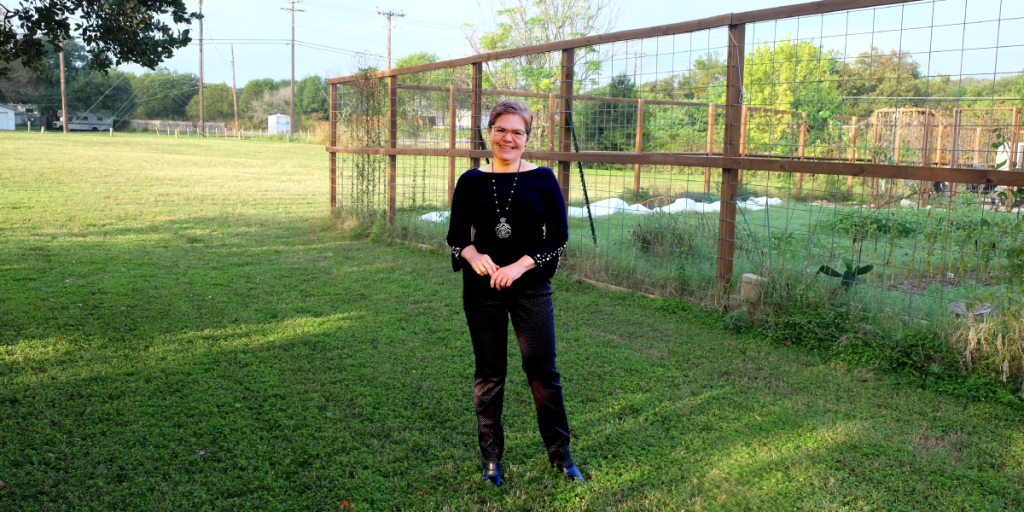 Dr. Murillo visits El Buen Samaritano's community gardens.
The actions I take every day are driven by my personal mission to be a path for the physical, mental, and spiritual well-being of others. It's a blessing for me to be able to follow my mission, and it aligns so closely with El Buen's: to create access to health, education, and essential needs. Through this, we envision a future where we all belong and thrive.
What's been most rewarding about getting involved in this way?
What could be more rewarding than having the privilege to live a mission-driven life? I get to live my mission at a point in my life where I'm not worrying about where I'm going to get my next meal, if I'm going to have a place to live, or if I will be able to get health care if I need it. I no longer have those needs because somebody invested in me.
Addressing injustice is not a one-and-done thing — it's a lifelong experience. I get to give back by supporting the next group of leaders that will take this on. It is rewarding for me to see the generation coming up. They are stronger and even more committed to mission-driven work and they teach me a lot about how to have a sustainable home. The young people who work with me are committed to a sustainable world and creating a healthy environment for humans and animals. They are constantly creating awareness for me and the organization about the ways we can reduce waste.
What's been the toughest part?
On a very personal level, as a woman of color, there has been a retraumatization that has happened during the pandemic. Seeing so much pain and loss experienced by my community through the pandemic and the winter storm brought up my own traumas. I don't think this is unique to me. I think about other organizations at the frontlines of serving the community throughout this pandemic, many being led by people of color, people who themselves have experienced acts of discrimination and racism. It can be a really tough experience to have and can retraumatize those of us who are serving community. It is very personal to acknowledge that I myself feel sad and tired. There is a feeling of not wanting to let anyone down, which can be rooted in the trauma itself. Like: if not us, then who? Who is going to be here for the long term? 
I'm also leading a team of individuals that can be feeling this same way. How can I reenergize and nurture them so we can move courageously through this experience together? It's a commitment I make every day. I couldn't do this work without my team.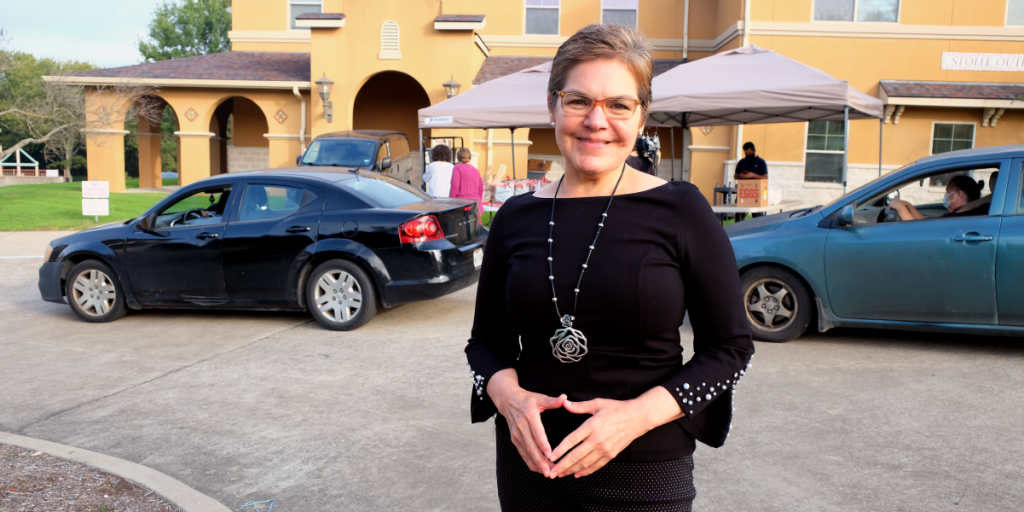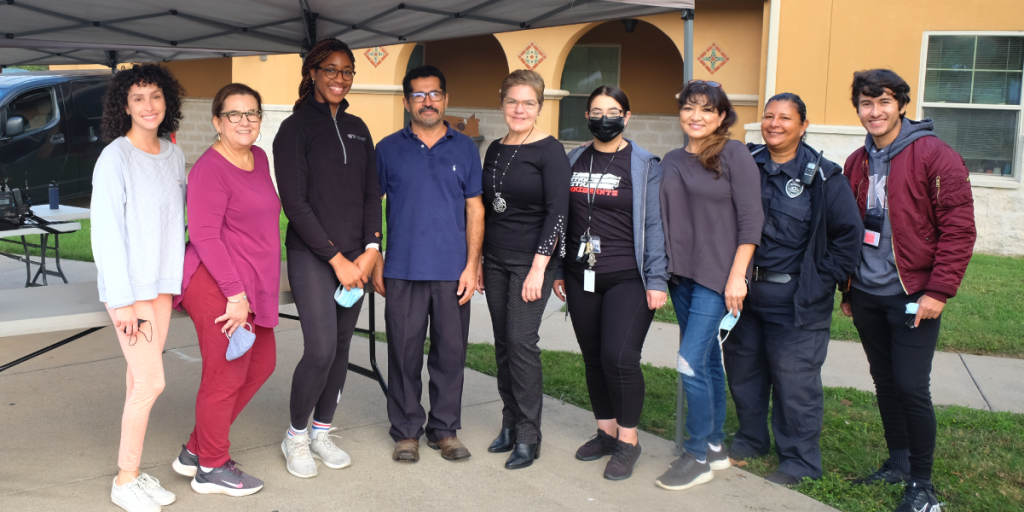 Above: Dr. Murillo in front of a food distribution line. Below: Dr. Murillo poses with her team.
So, being human is the toughest part. I have a tendency to be a hero. If something's wrong, I want to be on the frontlines trying to figure out how to fix it. One of the toughest parts for me, especially throughout the pandemic, has been how to stay healthy and take care of myself so I can be here for the ultramarathon that we're running right now.
Your work at El Buen Samaritano is rooted in a spiritual practice. What are ways in which your faith and sustainability intersect?
We are a mission of the Episcopal diocese which puts us in the category of being a faith-based organization, but at El Buen Samaritano, it's not about any one faith. We work to create a space where everybody belongs, independent of beliefs. When we work to support the physical and mental well-being of individuals, we believe that nurtures their spirit. 
My spirituality is about hope. It is the hope that the seed we plant today becomes a huge tree that provides oxygen and nurturance for others. This hope for a better world drives me. Hope that by not putting plastic out in the world, our oceans will be cleaner. Hope that teaching youth today will lead them to leave the world a better place than they found it. This is how sustainability and faith intersect for me.
Is there a book, documentary, or other piece of media you would recommend for folks wanting to learn more about these topics?
There are three recommendations that have felt most powerful to me. First, a book called Enrique's Journey [by Sonia Nazario]. It is about the journey of immigrants taking trains that come from South America into the U.S. 
Second, there's a documentary called The End of Poverty. The documentary talks about how we can undo 500 years of oppression on Indigenous land. It's very powerful and overwhelming.
Finally, I would recommend the documentary series Unnatural Causes. This talks about the connection between health and wealth and the experience of racism in our bodies and its impact on our health. It was made in 2008, but when you see it today, it's like it could have been made yesterday.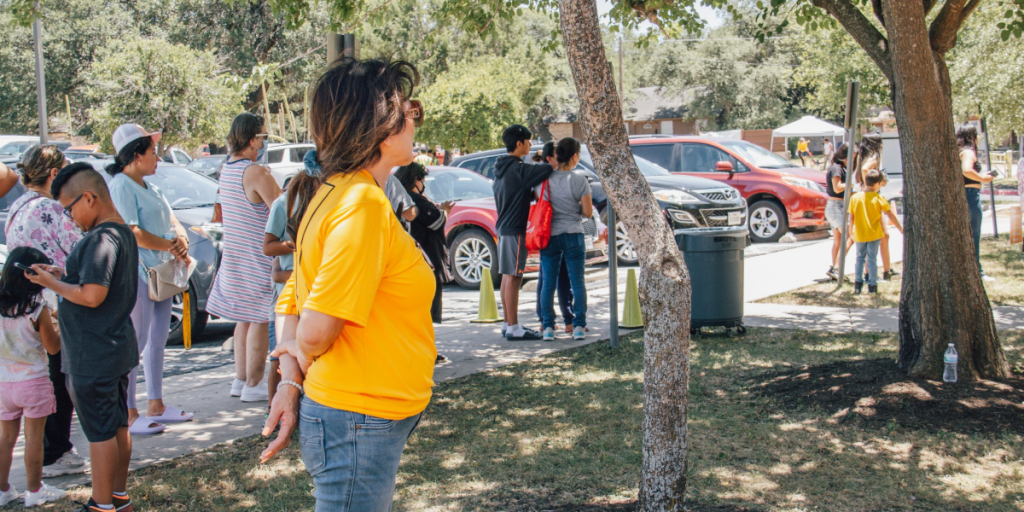 Families line up for a vaccine distribution event hosted at El Buen Samaritano. Photo courtesy of El Buen Samaritano.
What advice do you have for others?
Attitude, attitude, attitude! How I see the world gets me through both challenging and happy times. I choose to see the world as a place of opportunity, possibility, and love. I believe that how you see the world matters.
You also have to listen. Spend 90% of your time listening and the other 10% taking substantial, courageous action. I have to say this to myself all the time because I love to talk! And more than just calling out the injustice in the world, work for justice. Take actions that leave the world better than you found it.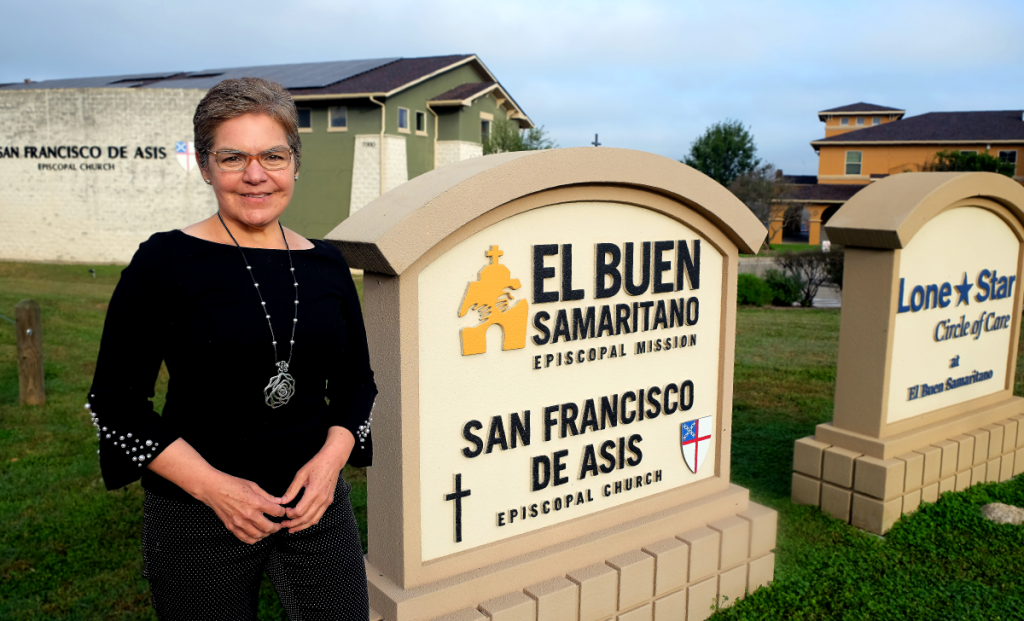 ---
You can help advance the mission of El Buen Samaritano by becoming a volunteer. There are opportunities to support adult or youth education, the food pantry and distribution programs, or during special events.
To learn more about Austin's net-zero goal and explore actions you can take to support a greener community, view the Austin Climate Equity Plan.
Share your Net-Zero contributions with us on Twitter or Facebook and use #NetZeroHero. If you know a Net-Zero Hero (or heroes!) who should be recognized for their efforts, send your nomination to sustainability@austintexas.gov.