Net-Zero Hero Rosie Treviño

I'm helping to make Austin Net-Zero by: Reducing, reusing, and getting creative with food!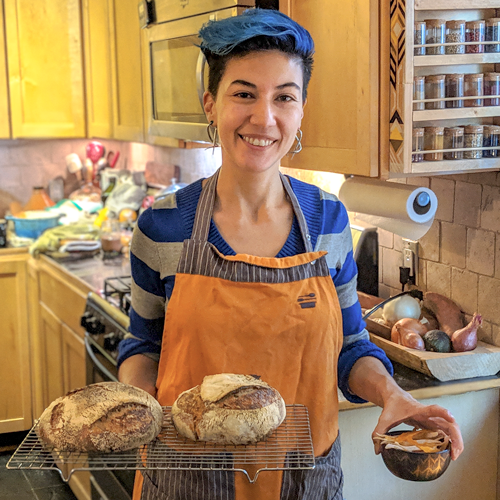 Austin is green and we all want to keep it that way! As a community, we're committed to reaching the target of Net-Zero greenhouse gas emissions by 2050, which will ensure a safe, healthy, vibrant Austin for many years to come. Here's the story of how one person can make a difference.
Meet Rosie Treviño, our newest Net-Zero Hero! Rosie loves to cook and gets creative in the kitchen, working to ensure that no food goes to waste. She was originally inspired by Chef Dan Barber's concept WastED, in which he creates delicious dishes out of often ignored or de-valued ingredients. The way Rosie uses her food scraps to create tasty food left us inspired and excited to share her methods with others.
We visited Rosie's kitchen to speak with her about her commitment to Net-Zero, what her toughest challenges have been, and what advice she has for others looking to cook Net-Zero. Read more below.

I love to cook, and it's a passion of mine to use food to its full potential. That means getting really creative in the kitchen by using what would normally be considered waste or compost and turning it into a candy, condiment, or food flavoring.

While cooking, I save all of the scraps from the fruits and vegetables I use to make things like fruit roll-ups (no additional sugar needed!), vegetable stock, candied orange peel, and veggie chips. I also make my own sourdough starter to make delicious sourdough breads, and repurpose spices in different ways. For example, I use vanilla pods to create vanilla sugar or syrup infusions for cocktails and other drinks. Since the holidays are coming up, I'll also mention that this is a great way to create unique (and zero-waste) gifts for others!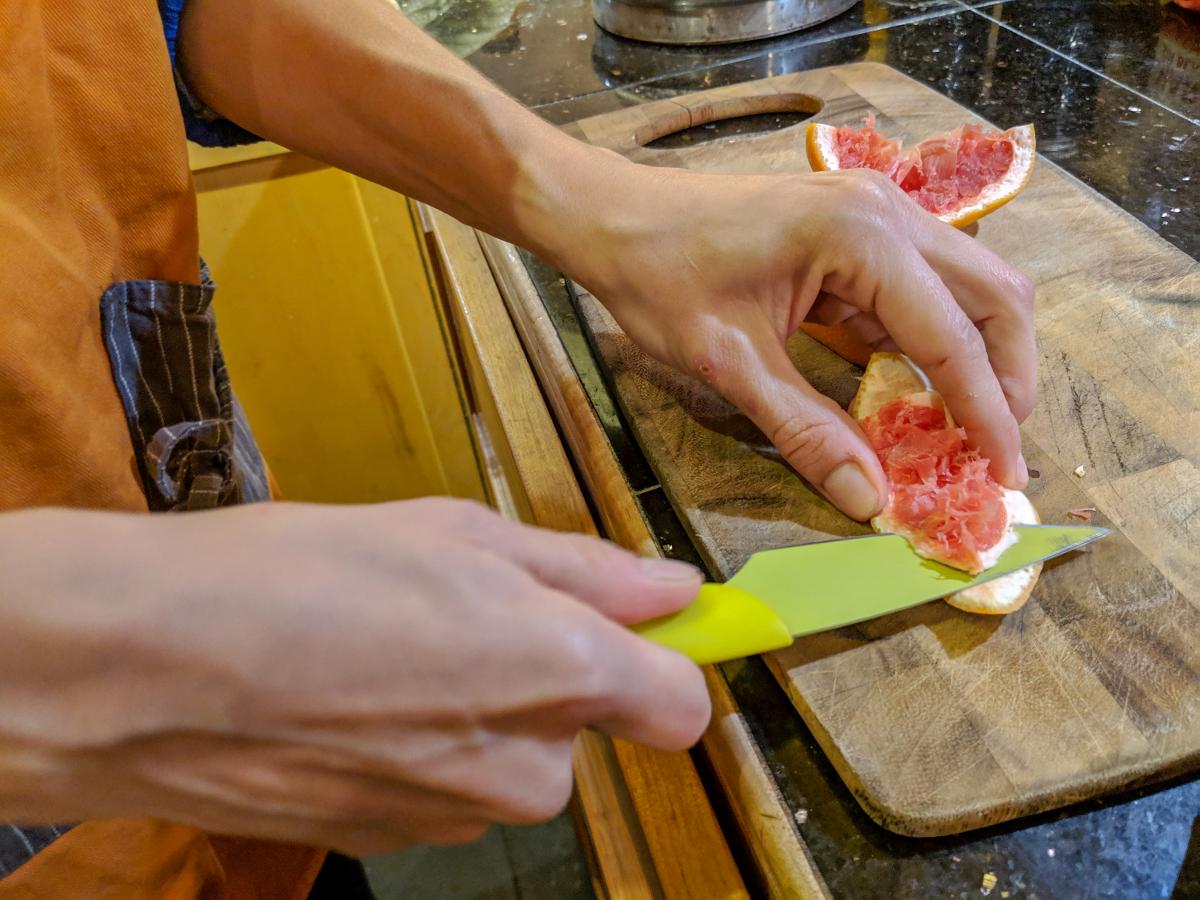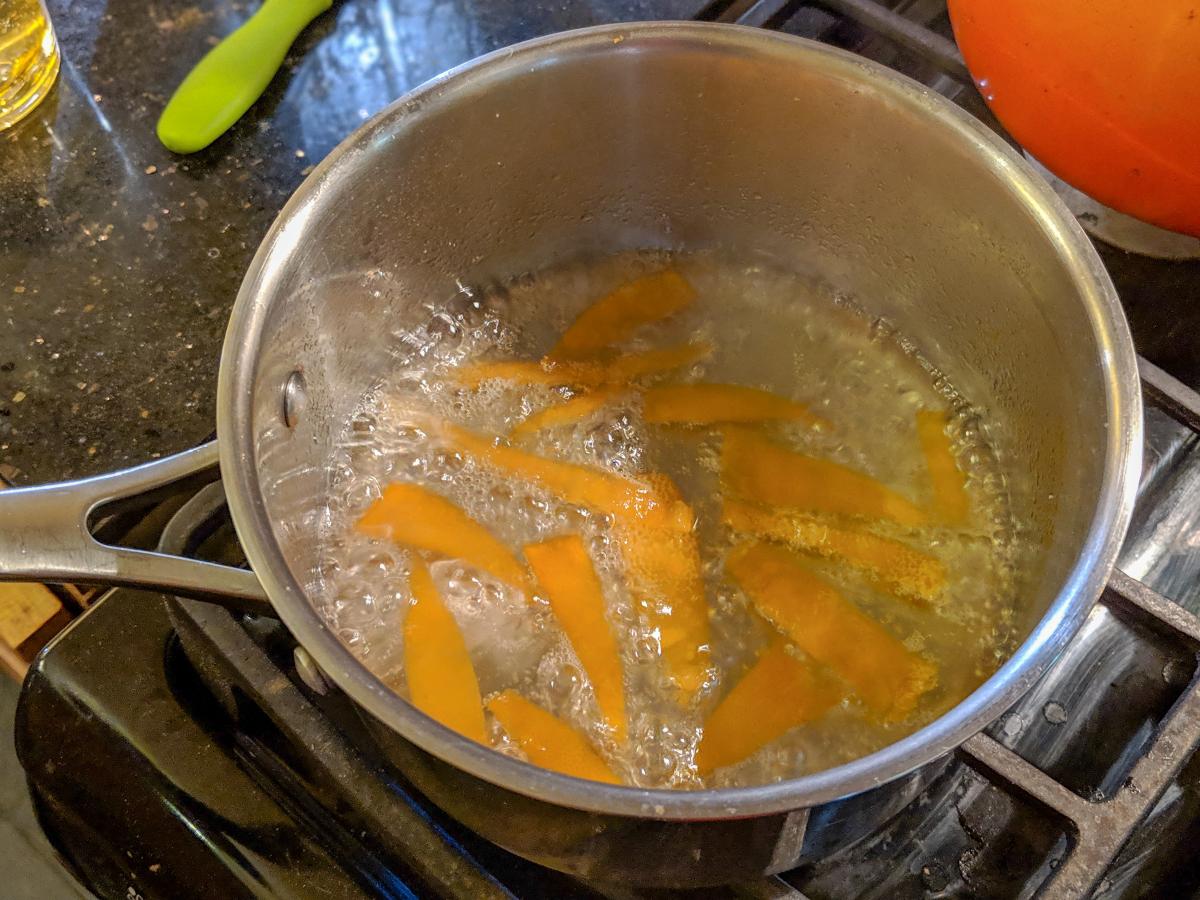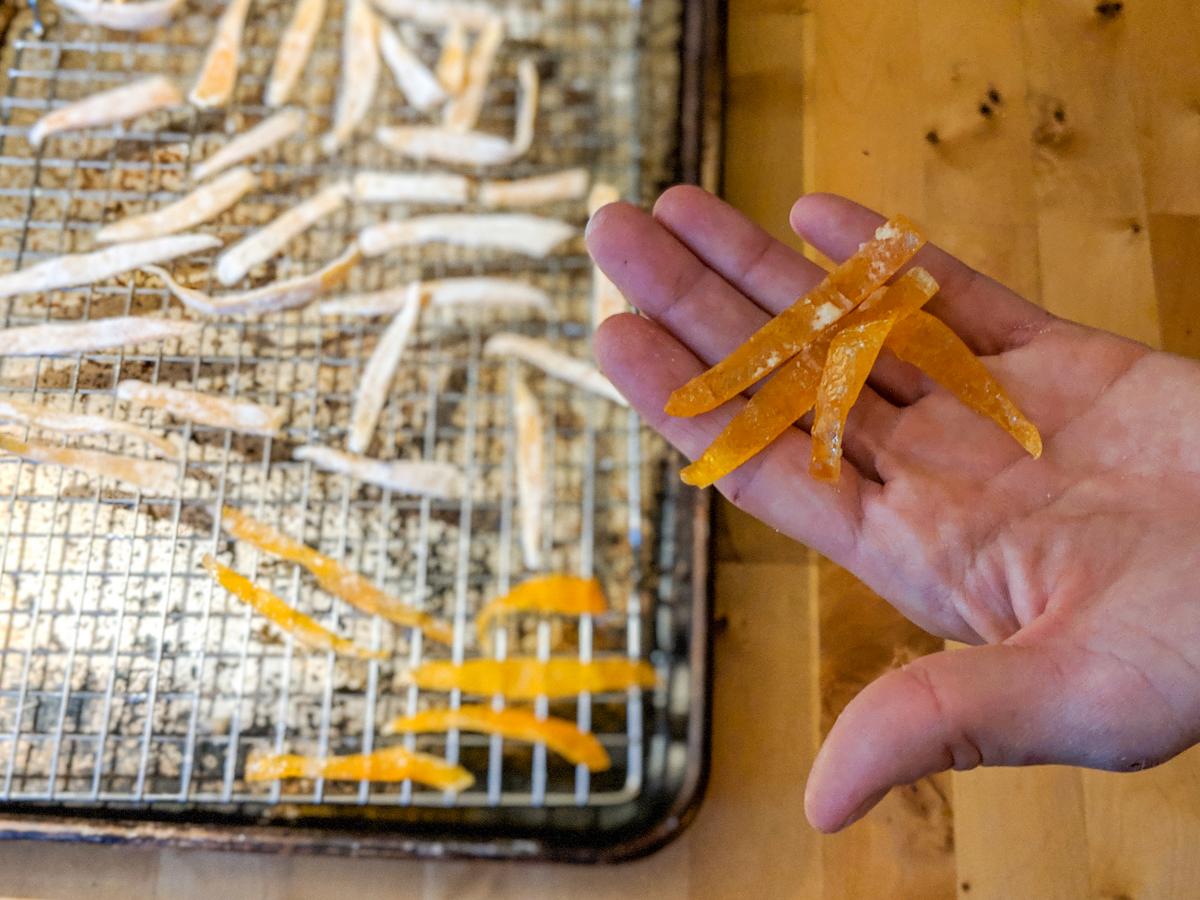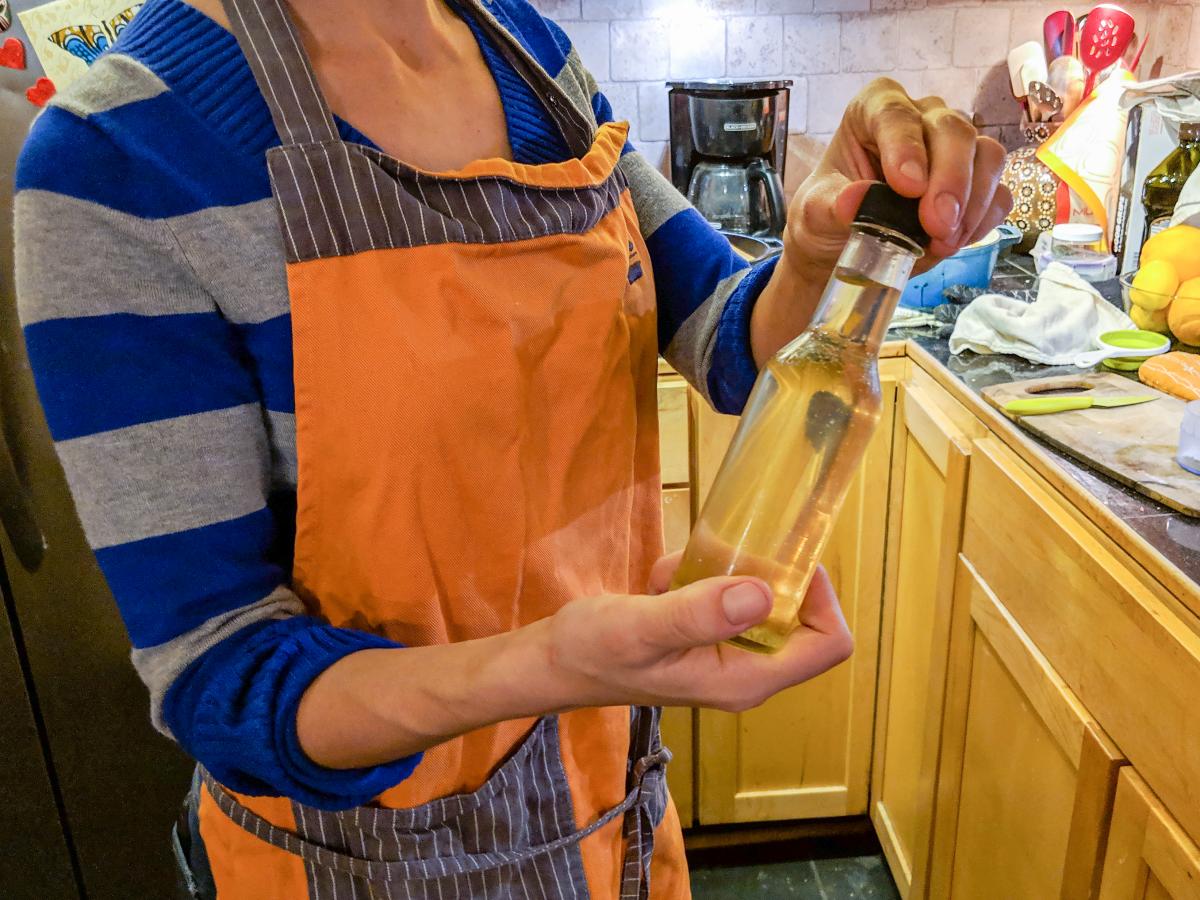 Making candied citrus peel with leftover citrus skins. Rosie also saved the leftover citrus-infused sugary water to flavor cocktails. Here's how to make candied citrus peel>

Many foods items are treated with pesticides, so I always make sure the products I use are organic, which can get pricey. It's also easy to forget about items in the back of the fridge, so I take steps to ensure the food doesn't spoil by writing an expiration date on the storage container. Lastly, I have to get creative with fridge, freezer, and pantry space when saving things such as used vanilla bean pods, used cinnamon sticks, or veggie scraps for that delicious vegetable stock. 
These culinary experiments can take up a lot of space in the kitchen!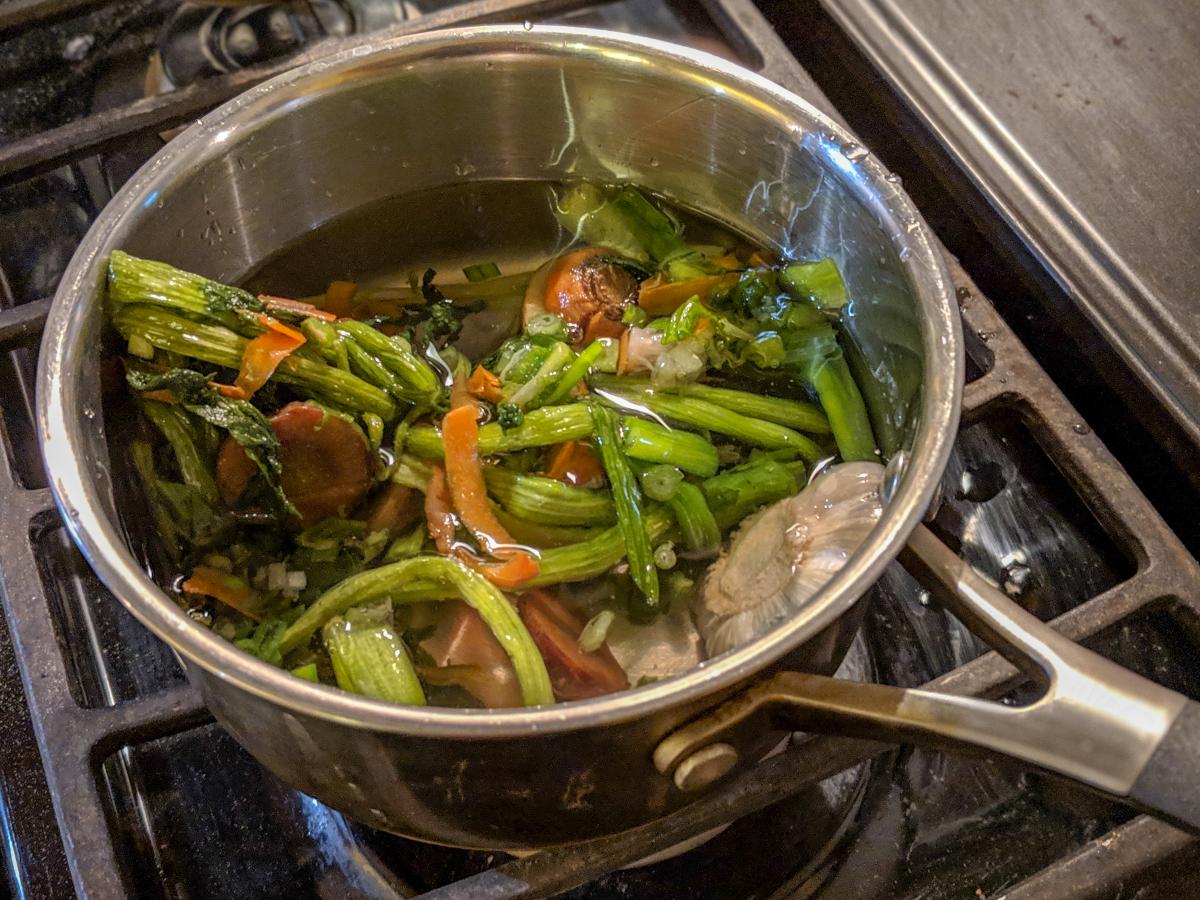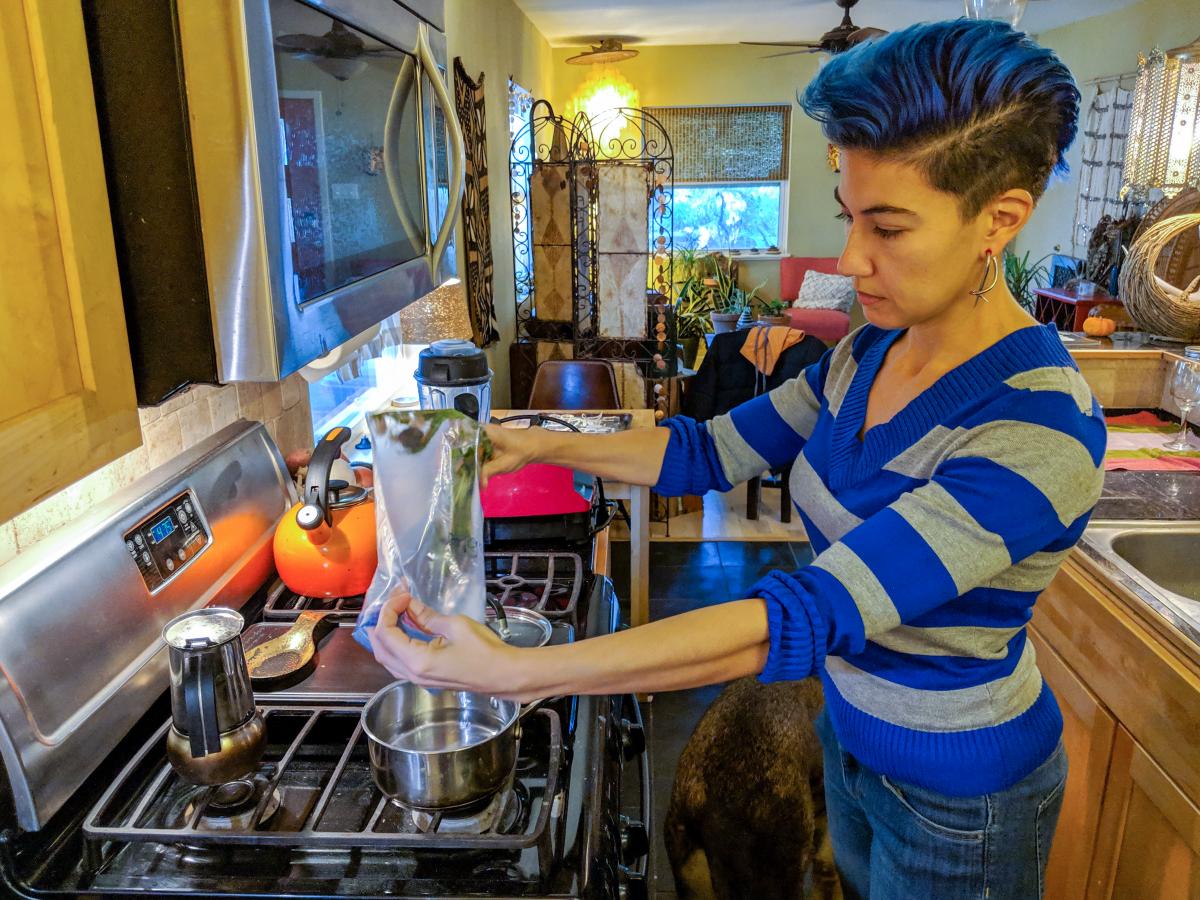 Making veggie stock from saved vegetable scraps. Rosie stores the scraps in the freezer until she's ready to make stock. Get more info on making veggie stock from scraps>

The greatest reward is creating something delicious from produce that would have been discarded as trash or compost. It's always satisfying to see the development process of your creations, from an idea to an edible, and to have celebrated and respected a food to its full potential. You learn a lot about the history of a spice, or the chemistry behind the fermentation of your starter. It's incredible when your kitchen smells of fresh bread or you can indulge in a citrus peel that may help settle your stomach as well as satisfy your sweet tooth.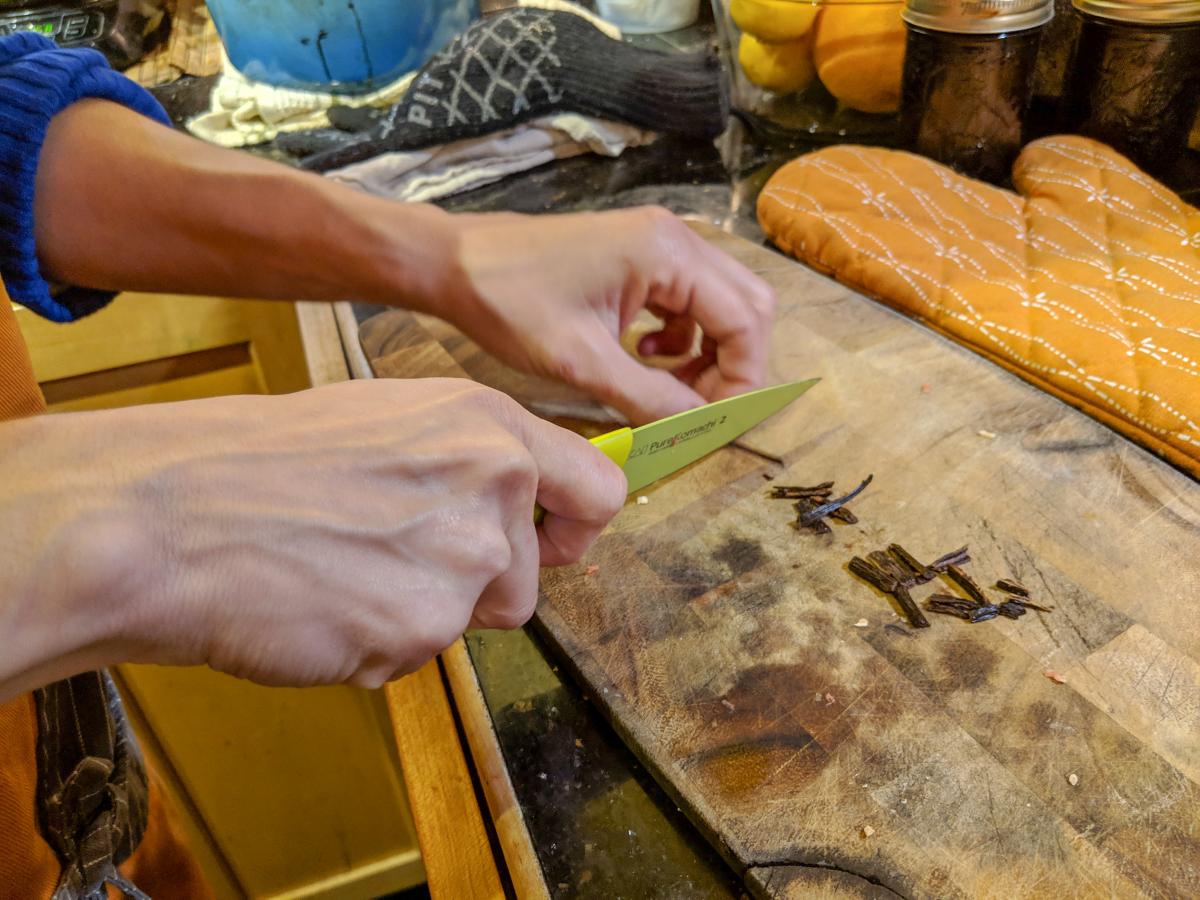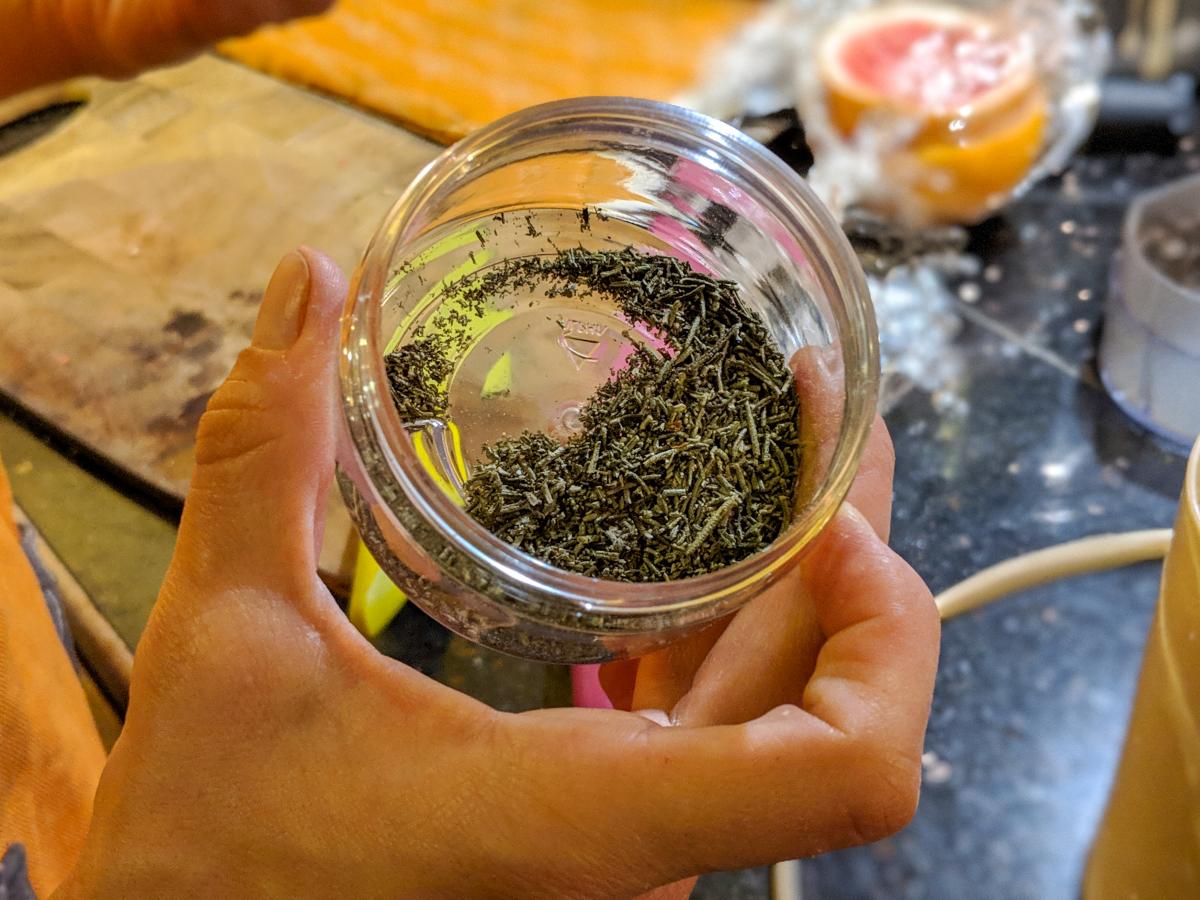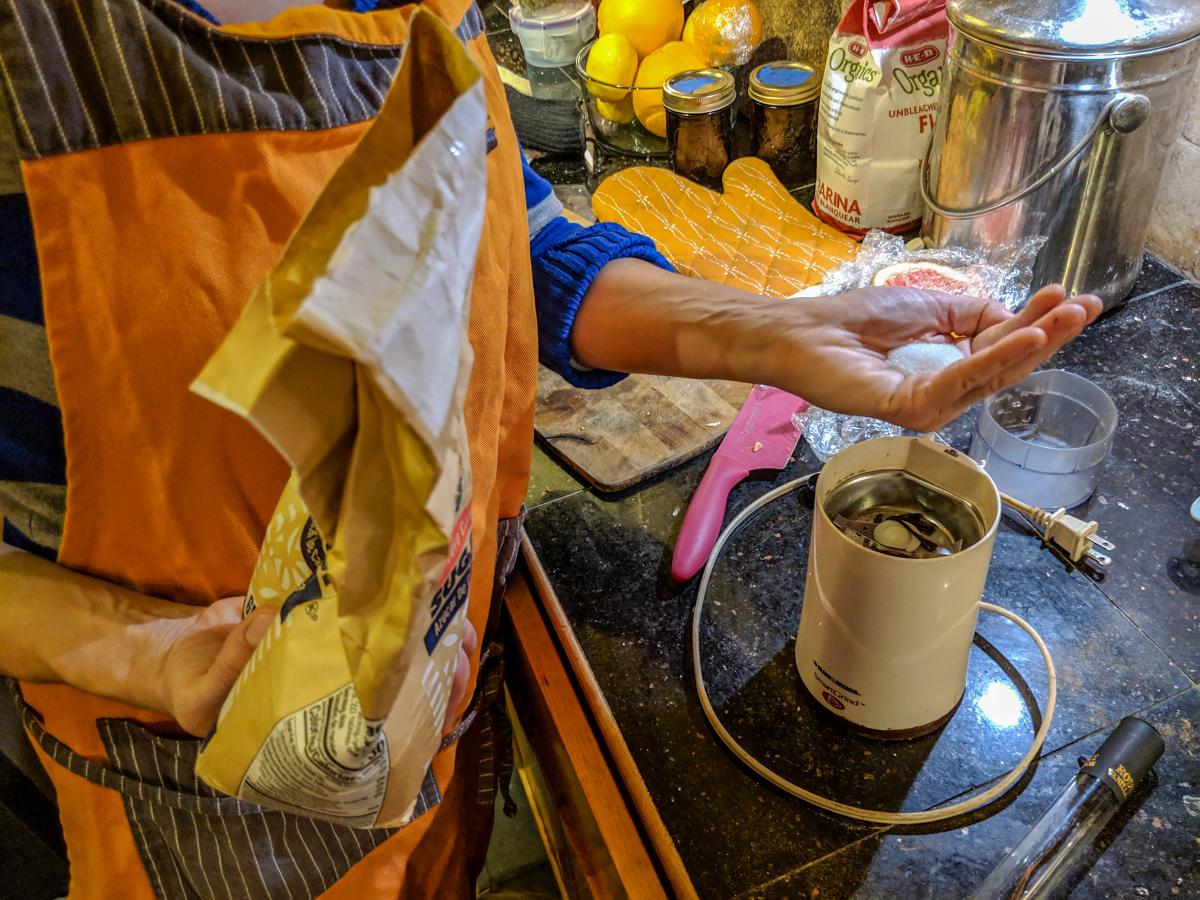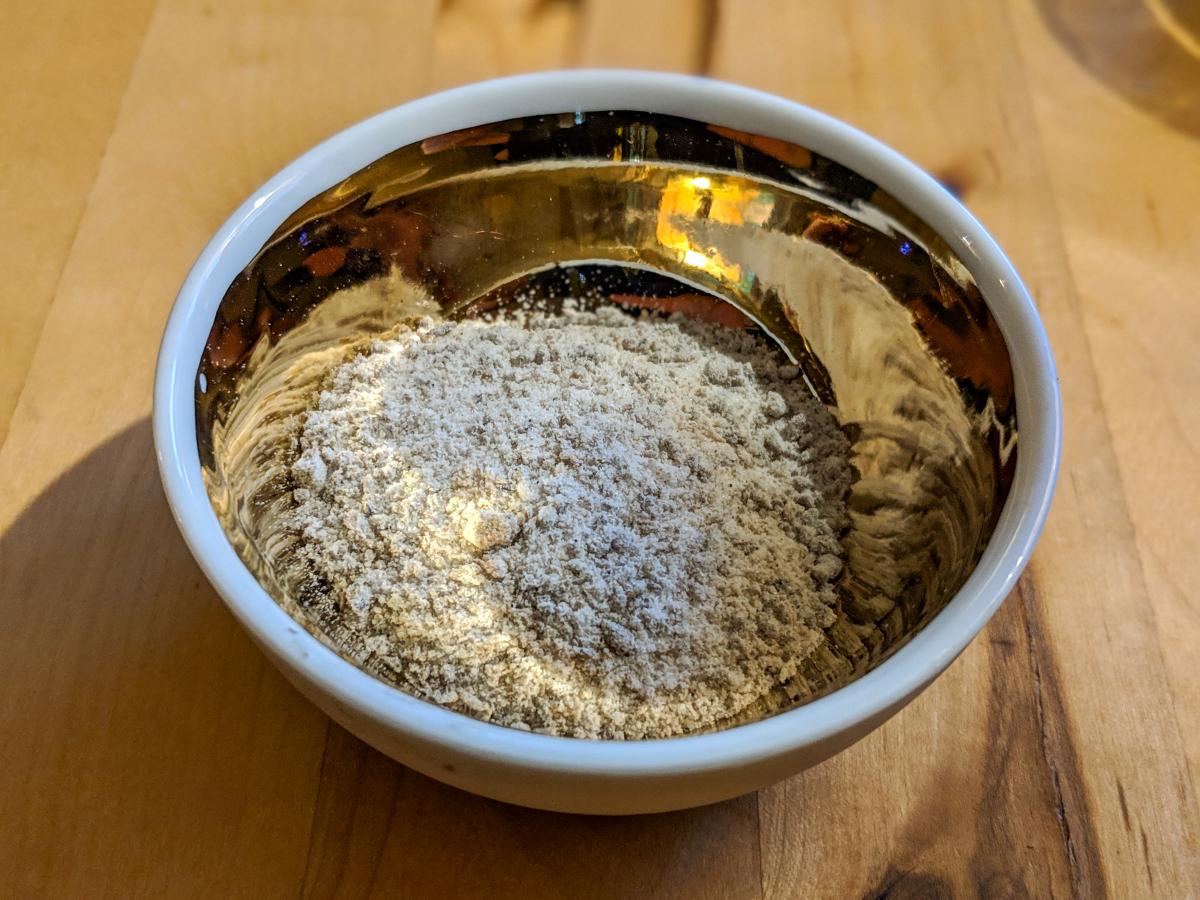 Creating homemade vanilla sugar using a spice grinder. Rosie blended granulated sugar with sliced vanilla pods to make the sugar. Then, she used the finished product to coat her orange peels.

Go beyond what a recipe calls for and challenge yourself to get inventive with all ingredients! Be courageous, creative, and patient when it comes to experimenting in the kitchen.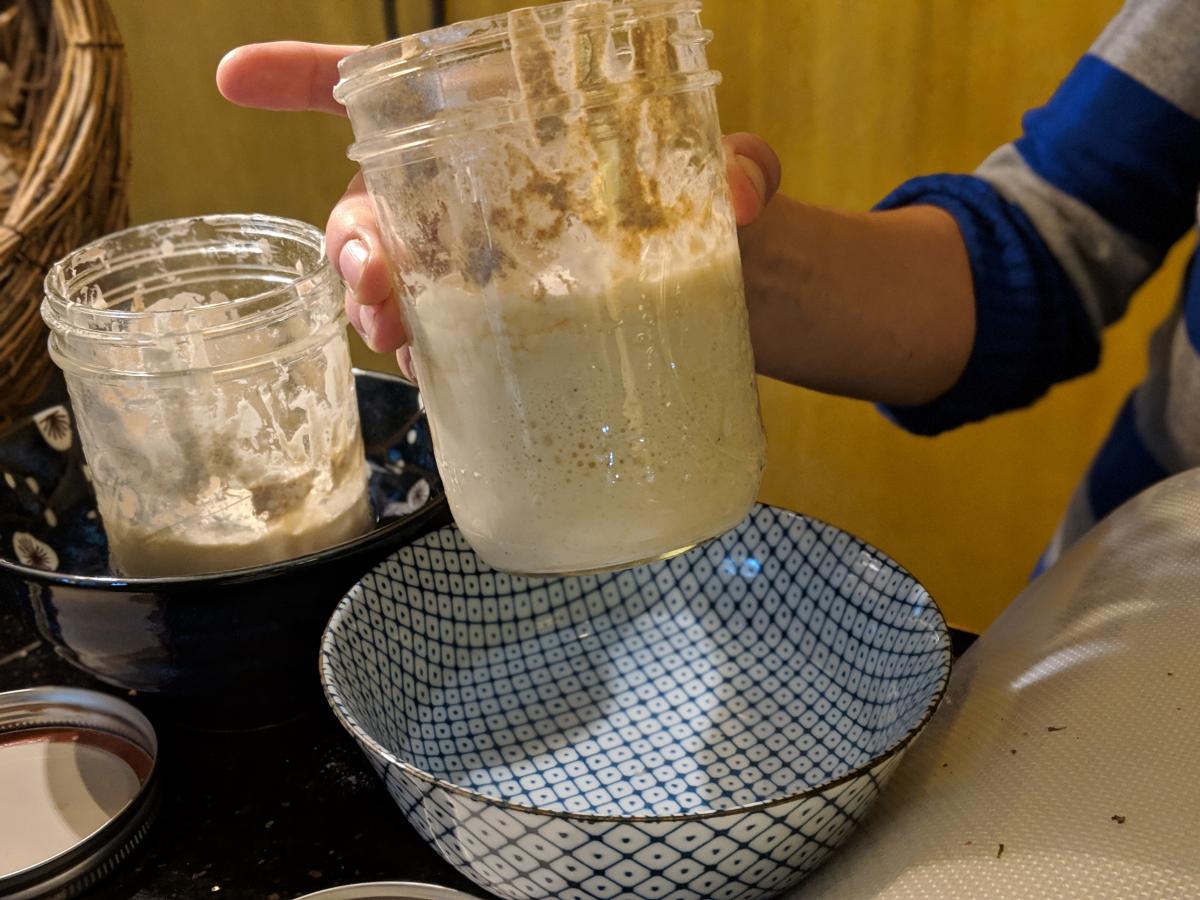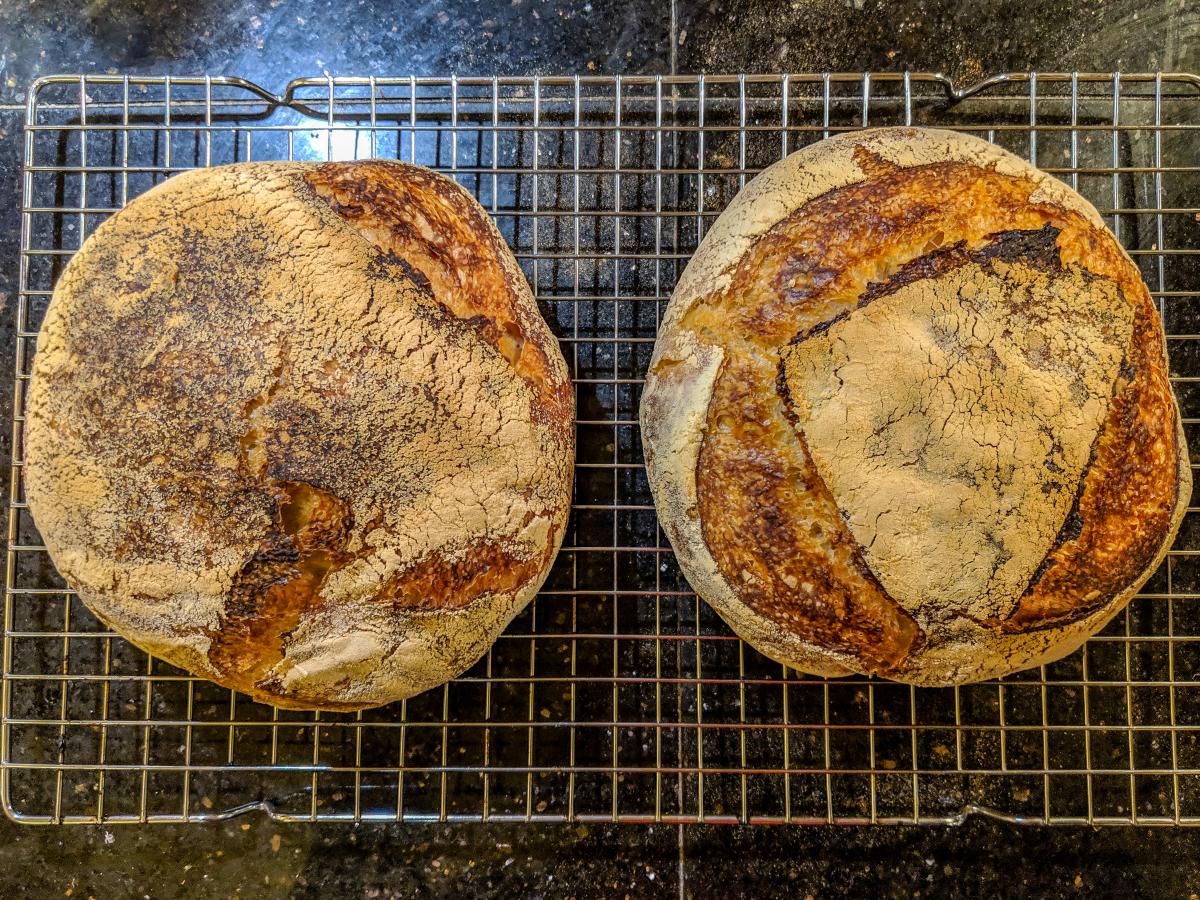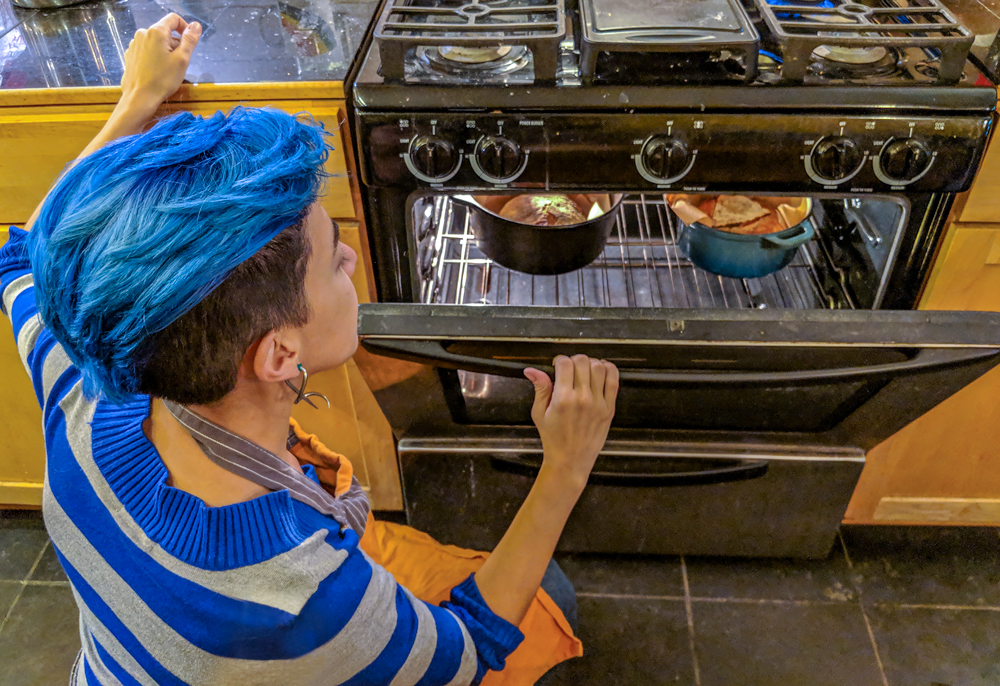 Baking sourdough bread using Rosie's sourdough starter. Learn how to make your own starter>
To learn more about Austin's Net-Zero Goal, view the Community Climate Plan.
Share your Net-Zero contributions with us on Twitter or Facebook and use #NetZeroHero. If you know a Net-Zero Hero (or heroes!) who should be recognized for their efforts, send your nomination to sustainability@austintexas.gov.