Net-Zero Hero: Susan Peterson

I'm helping to make Austin Net-Zero by: helping to create green, affordable housing managed by staff trained in sustainability — powered by solar!
Meet Susan Peterson, the former Director of Green Initiatives for Foundation Communities, a local non-profit affordable housing developer. During her time at FC, Susan has helped build the economic value of the organization's sustainability initiatives, and continues to work there as a part-time specialist focused on sustainability. She also serves on Austin ISD's Environmental Stewardship Advisory Committee. 
Prior to her work at FC, Susan lived and worked in West Africa for four years — an experience that shaped her journey toward a career focused on housing inequality and using green building strategies to help address it. We spoke with Susan about her commitment to Net-Zero, what her toughest challenges have been, and what advice she has for others. Read more below.

I lived and worked in West Africa for four years in my twenties, where I lived a much smaller life, materially speaking, than I had left behind in the U.S. I had no refrigeration and only intermittent electricity and running water. In one place I lived, we had a small solar system that provided enough power to our outlets to keep our cell phones charged. In another place, we had electricity from a hydroelectric power plant for twelve hours every other night during the rainy season. With the generous help of neighbors, friends, and colleagues, I learned to walk, bike, and take public transportation wherever I went. I shopped at local markets and cooked all my meals from scratch over a single propane burner. I scrubbed my laundry on a washboard, wrung it out by hand, and hung it on lines to dry. 
There's a long tradition of well-off folks romanticizing life in the developing world, so I want to make sure I clarify here: The people I knew in West Africa were incredibly innovative and resourceful. As North Americans, we have a lot to learn from people in developing countries about living well with a smaller footprint. However, many of the people I knew in West Africa also lived without adequate access to energy, health care, and education — and many without dependable access to clean water and nutritious food. That is not a smaller-footprint lifestyle. That's poverty.
When I moved back to the U.S., I kept a lot of the habits I'd developed in West Africa. I still line-dried my clothes. I didn't own a car. I cooked from scratch. I took cold showers and used air conditioning sparingly. These personal habits were environmental sustainability strategies that also saved me a lot of money. I began thinking about the intersections of environmentalism and poverty: environmental justice, regressive energy burdens, the heaviest tolls of climate change falling on those who had done the least to contribute to it.
My career came into focus in graduate school, where I studied poverty and inequality at the LBJ School of Public Affairs at UT Austin. I interned at the United Nations Environment Programme in Paris, where I worked on the UN's Sustainable Buildings and Construction Initiative. In my second year of my master's program, I studied housing inequality and how green building could be used to advance social equity.

During my time at Foundation Communities, I've helped the organization build the economic value of its sustainability work to $1 million a year, a figure that includes solar production, energy savings, water savings, rebates, grants, and more. That money goes right back into creating more affordable housing, improvements to our existing buildings, and programming for residents.
I oversee a green operations and maintenance certification program that provides 16 hours of sustainability training to all of our property managers and lead maintenance staff. This capacity-building effort means that staff provides sustainability leadership and expertise on-site at all of our 23 properties.
Our program of property audits, operations troubleshooting, and building retrofits has allowed us to reduce our portfolio water consumption by 17 percent and our portfolio energy consumption by 10 percent since 2013 — and we were already operating pretty efficiently.
In 2014, we launched a major resident engagement effort, introducing green-and-healthy curriculum into our free K-5 afterschool program in our 13 learning centers. This program has been supported for several years with the City of Austin's Bright Green Future grant.
Most recently, we achieved a big renewable energy milestone: 1 megawatt of solar photovoltaic capacity across our affordable housing portfolio. I'm especially proud of the project that got us to our goal: a 200-kW array at our Cardinal Point property in northwest Austin, completed as part of the Austin Energy Shared Solar Pilot Program. It's among the first properties in Austin where apartment residents can benefit from on-site solar power.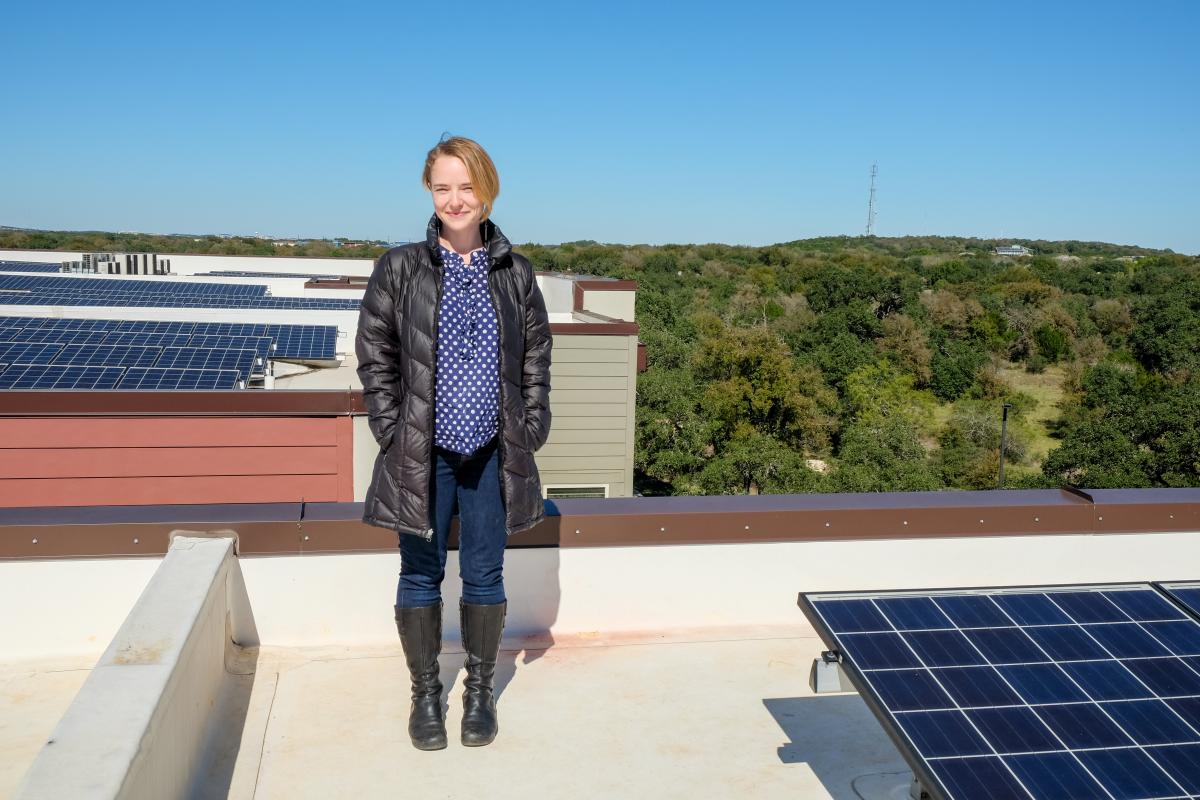 So much is hard.
I have a friend who has described sustainability work as "rearranging chairs on the deck of the Titanic." Sometimes climate change seems that intractable. I often imagine the planet giving up on our species, shaking us off like fleas. So, that's tough — knowing enough about climate change to know that the climate is going to keep changing, causing catastrophic damage to our lives and our planet.
In the category of solvable problems, one thing we've grappled with at FC is using new building technologies such as variable refrigerant flow HVAC systems, sophisticated hot water systems, and building automation and monitoring systems. In some cases, new buildings that use these energy-saving technologies don't perform as well as older buildings in our portfolio. The reasons are multiple and multifaceted: difficulty operating new systems, communication breakdowns from design to construction to operations, poor availability of service contractors to perform repairs, automation failures.
We're learning from these experiences, however, and are making design decisions on new properties that optimize for efficiency, ease of operability, and the needs of our residents. We believe this approach will support better energy performance in the future.

There's nothing like solving a tricky consumption issue and being able to quantify the results! I mean, of course there are other pleasures in life like falling in love, becoming a parent, or potato chips with French onion dip. But troubleshooting is really great.
Here's a favorite: When I started at FC, we had a property that used 140 gallons of water per apartment, per day. This was twice the water use of our average properties and 3.5 times that of our best performing properties. We tried to diagnose the problem for years, but it wasn't until we thought about the banjo countertops that we figured it out.
A banjo countertop is a 6-inch extension of the vanity countertop in the bathroom that goes over the top of the toilet, presumably to provide a little extra storage space for your mouthwash and depilatory cream. When I was doing a walkthrough with a member of our maintenance staff, I noticed there was barely enough room under the banjo countertop to take the lid off the toilet tank, let alone get a forearm into the tank to repair leaks.
We decided to renovate out the banjo countertops and retrofit the toilets to a pressure-assisted toilet using 0.8 gallons per flush. This work was not cheap — we invested $80,000 in the project. It was a gamble, but after the retrofit, the property used only 50 gallons per apartment per day — and our water savings are today worth $84,000 annually. The project paid back in just one year.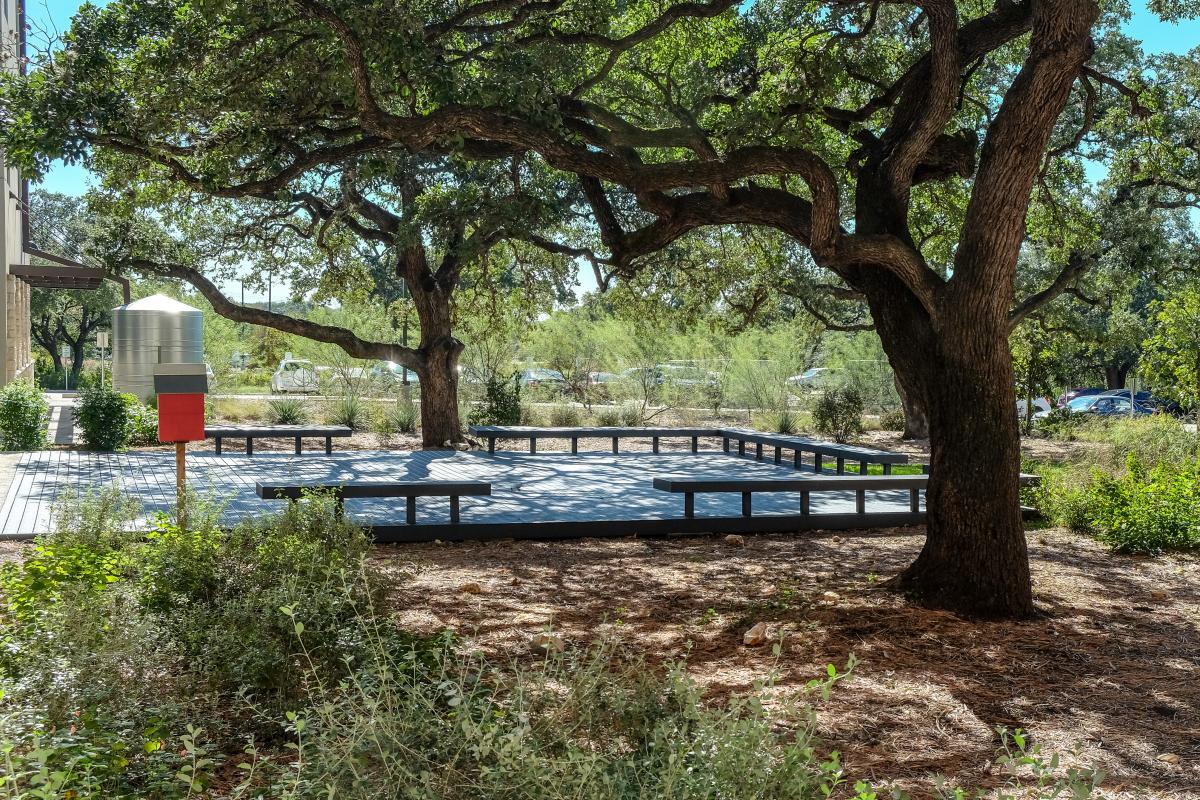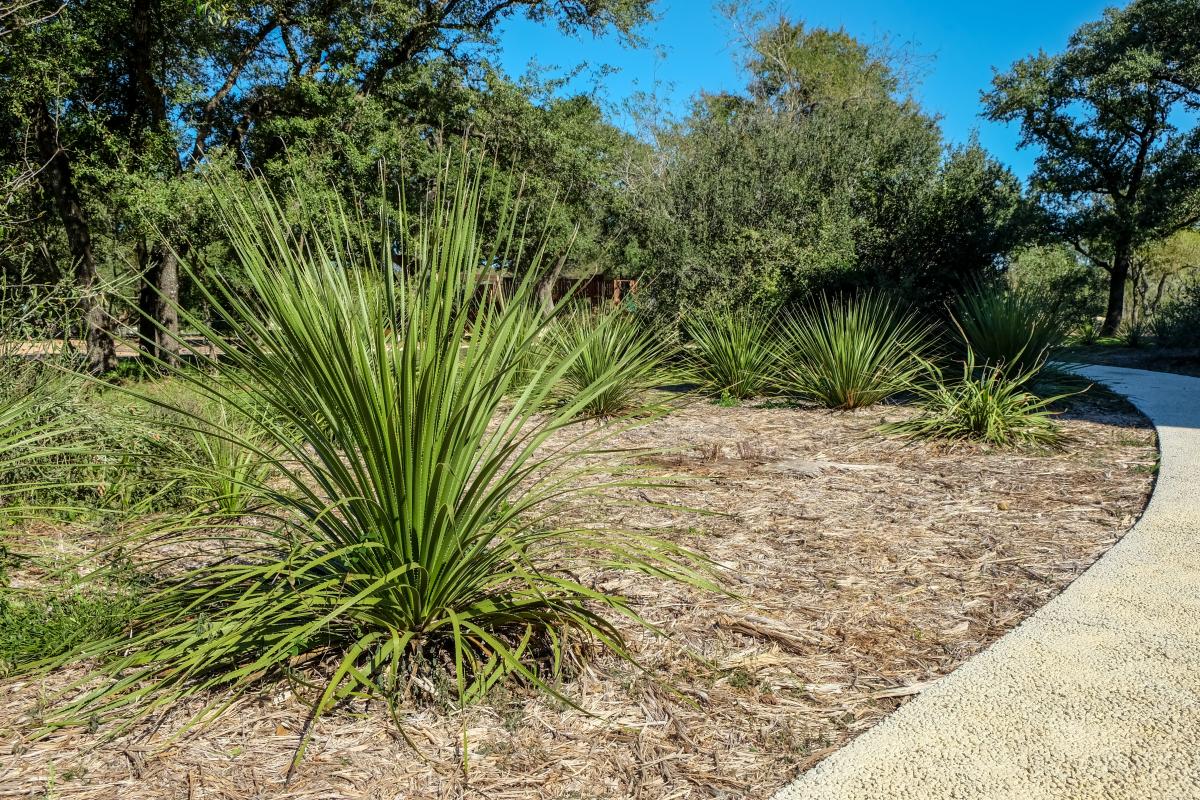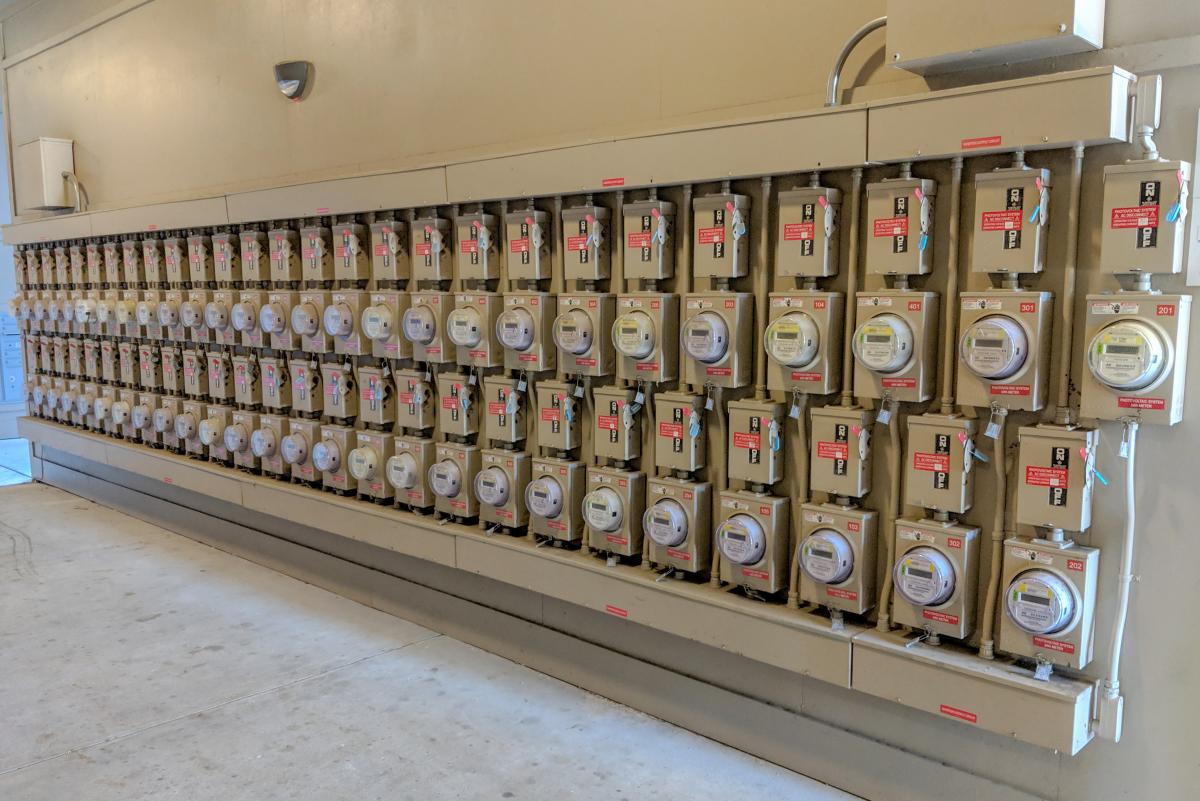 I have so much advice!
Do a waste audit at least once in your life — the visceral experience of putting on a Tyvek suit and wading through dumpsters full of garbage will really help you understand our consumption excesses.
Be a proud incrementalist! Progress is slow: we are changing habits that reside in our lizard brains and testing our most deeply-held values. Solve little problems one by one — and solve big problems little by little.
Quantify your work. Make it clear to yourself and your organization that sustainability is a smart asset management strategy with important economic benefits.
Sustainability is about culture change. This is true no matter the context you're working in: your household, your neighborhood, your workplace, a corporation, the school district, the Milky Way. There will come a point in your work when you really get this. It's the moment you realize people think you're the recycling police. Are you running yourself ragged, hosting and tabling at events, showing up at everyone else's events to make sure they're separating the waste? Are you personally taking care of purchasing paper at work to make sure it has recycled content? Are you the last one to leave the office because you want to make sure the lights are off and the air conditioner is set back? This is what sustainability work can look like: a frenzied monologue.
I've definitely fallen into this trap before. But when I'm doing my job well, it looks like capacity building — helping my organization figure out how sustainability intersects everything we do. That might look like engaging accountants in energy monitoring. It might look like helping purchasing staff define procurement standards. Or, maybe it's working with HR to create commute choices. When I'm at my best, my job is to bring everyone along.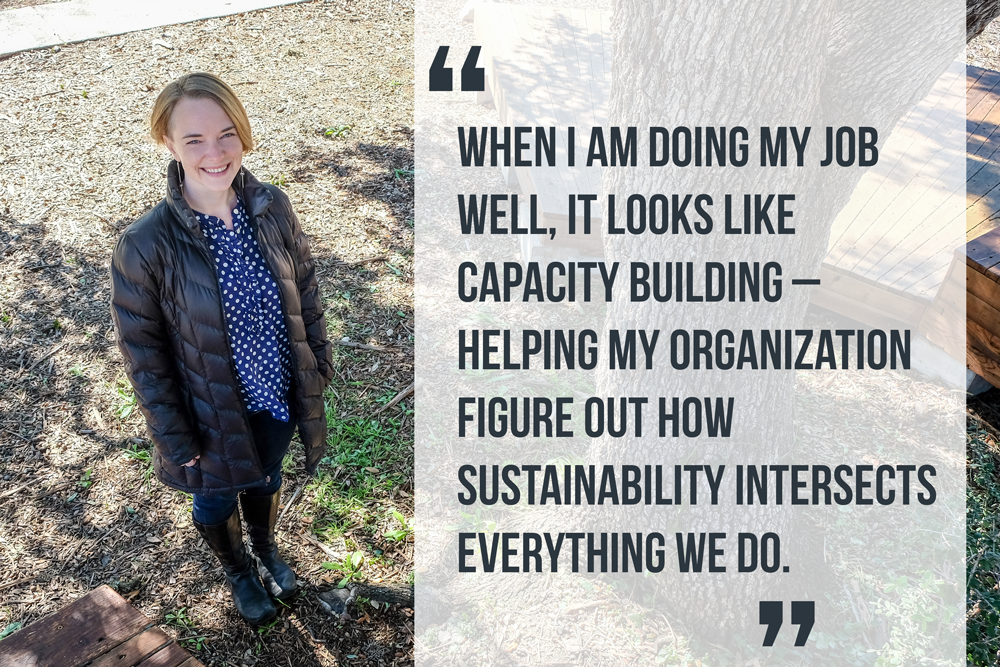 To learn more about Austin's Net-Zero Goal, view the Community Climate Plan.
Share your Net-Zero contributions with us on Twitter or Facebook and use #NetZeroHero. If you know a Net-Zero Hero (or heroes!) who should be recognized for their efforts, send your nomination to sustainability@austintexas.gov.