Net-Zero Hero: Taylor Youngblood

I'm helping to make Austin Net-Zero by: encouraging neighbors to actively take part in zero waste.
Meet Taylor Youngblood, a recycle and reuse advocate and Zero Waste Block Leader. Taylor regularly provides advice to her neighbors in the Mueller neighborhood about recycling, composting, and reuse. She tables at events, runs a blog, and has started several collection programs for hard-to-recycle items in her neighborhood. Taylor's passion is to make zero waste concepts accessible to everyone and she makes it her mission to answer even the most detailed questions from community members.
We spoke with Taylor about what motivates her, what her toughest challenges have been, and what inspires her share her zero waste knowledge. Read more below.

It all started when I was walking my dogs and observing recycling and trash carts in my neighborhood one day. When I looked closely, I noticed that there was so much contamination in the recycling carts. Just as sad were all the discarded items that could have had a second life if they had been reused or donated.
When the opportunity to attend Zero Waste Block Leader training came up, I jumped at the opportunity to learn all I could about recycling in Austin.  It seemed like the more I learned, the more questions I started getting from neighbors and friends. That's when I decided to really amp things up.
Net-Zero can feel like this big, abstract concept. The long road from here to there can seem intimidating, overwhelming, and even impossible to tackle all at once. My goal is to make that road feel accessible and navigable. Being a Zero Waste Block Leader lets me share my passion.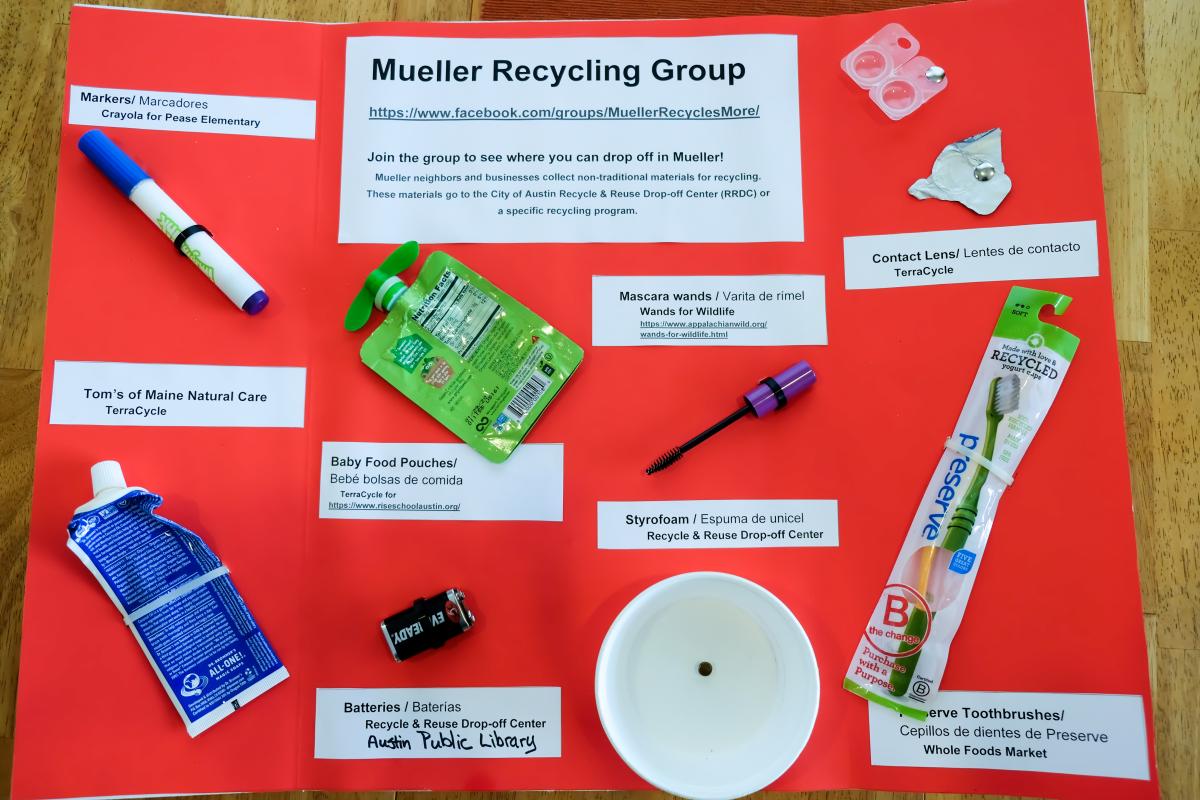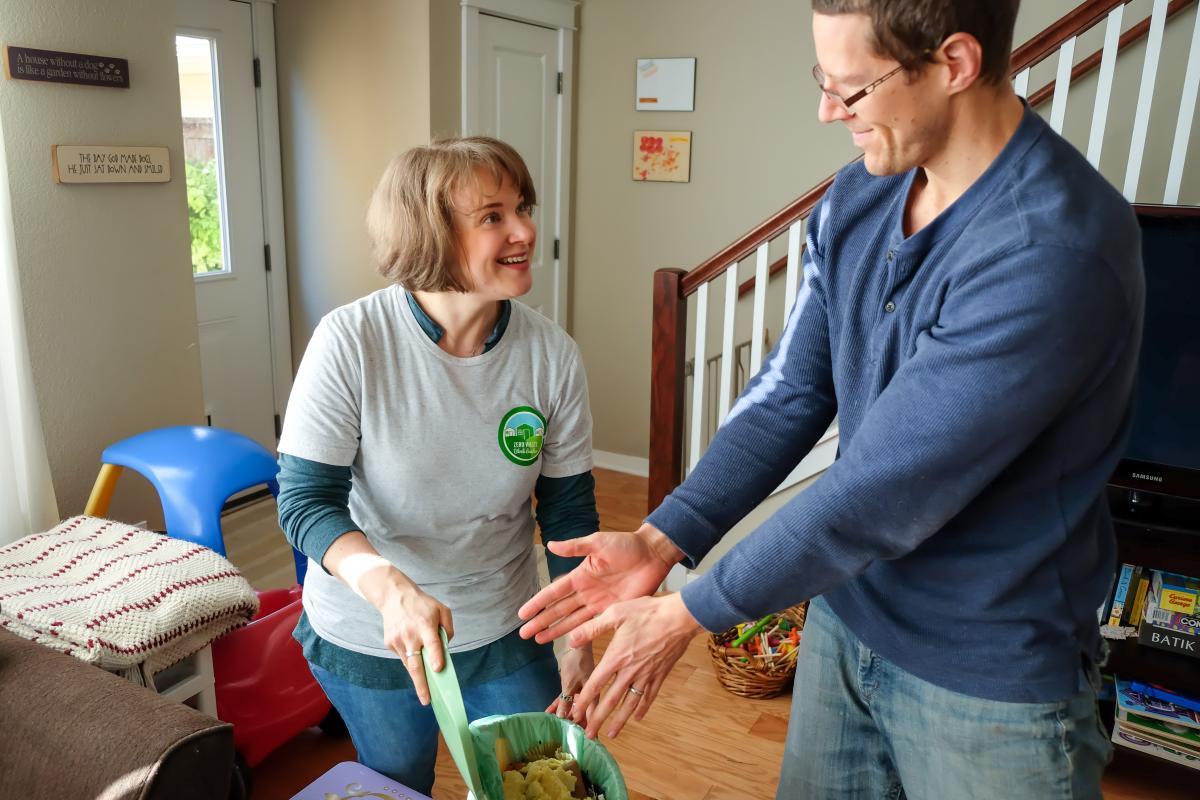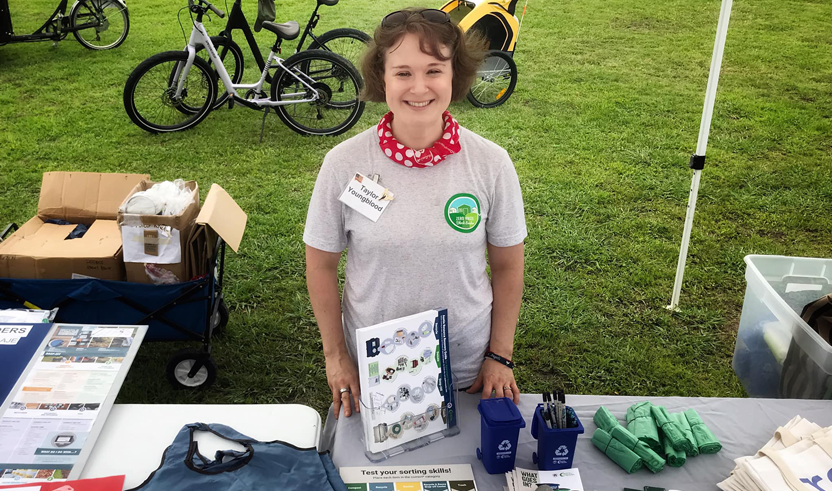 I work to stay up-to-date on what Net-Zero actually means across the different domains: compost, recycling, re-use, etc. I try to break down those details and rules into practical daily habits and share them on my blog alittlemore.green, social media, at neighborhood events, and really wherever anyone wants to talk to me about zero waste. What I'm shooting for is habits that are easy to understand, adopt, and even enjoy.
I began by posting photos, comments, and Austin Resource Recovery links on our neighborhood Facebook Group and NextDoor. A neighbor recommended I use my Zero Waste Block Leader title, so I started including it on posts and wearing my Block Leader shirt at Mueller events. I love walkup questions!
After curbside composting came to our neighborhood, I was asked to write an article introducing and explaining the program for the neighborhood newsletter. Then the questions really started coming in! I began tabling at all the neighborhood events and attending and presenting at the neighborhood association meetings. I started a blog to share longer posts and more in-depth information.
I also started collecting Styrofoam and random large items for the Austin Recycle & Reuse Drop-off Center at my home. Soon, I was receiving requests for more collection times and a wider variety of materials. Neighbors started asking how they could help with these collections so I started the Mueller Recycling Group where you can sign up to collect items from neighbors that need to be taken to the Drop-off Center or mailed in to a program like TerraCycle. That evolved further once I learned about other opportunities to recycle like Wands for Wildlife and contact lens recycling. That led me to start working with Mueller's local businesses to recycle their products as well. I hope to find more opportunities in the future.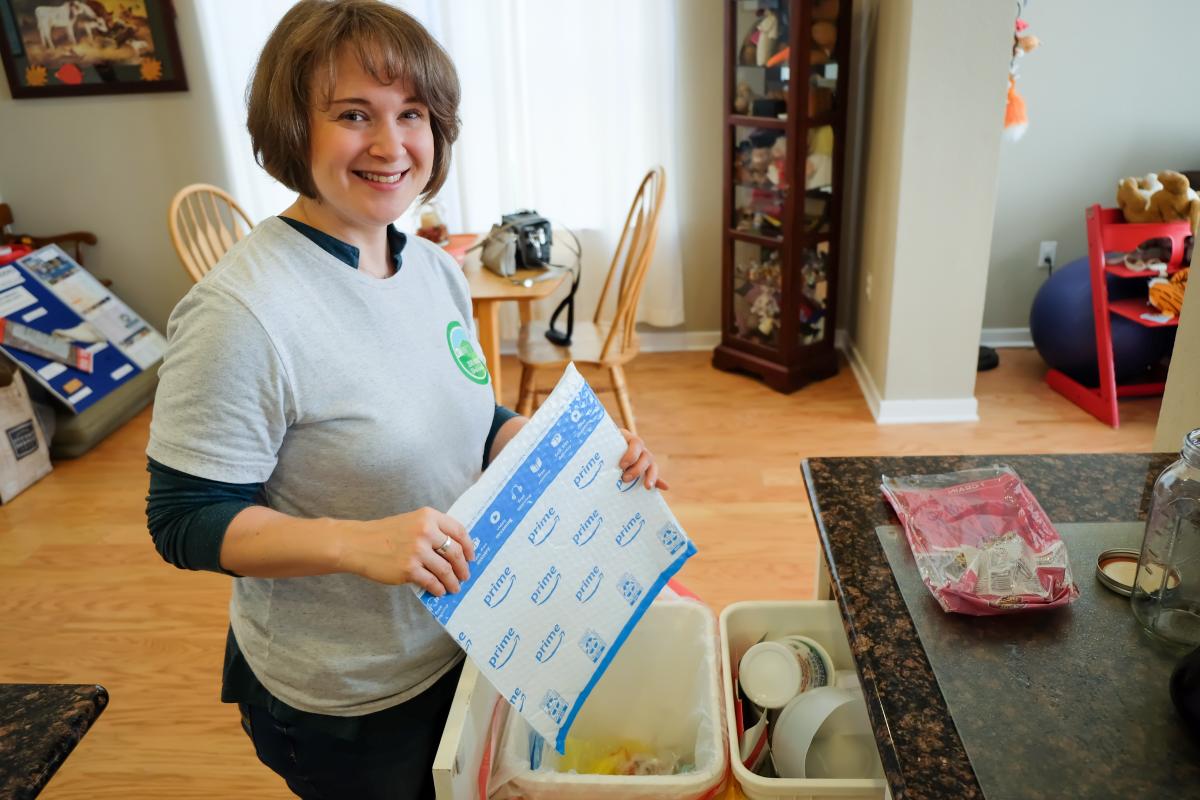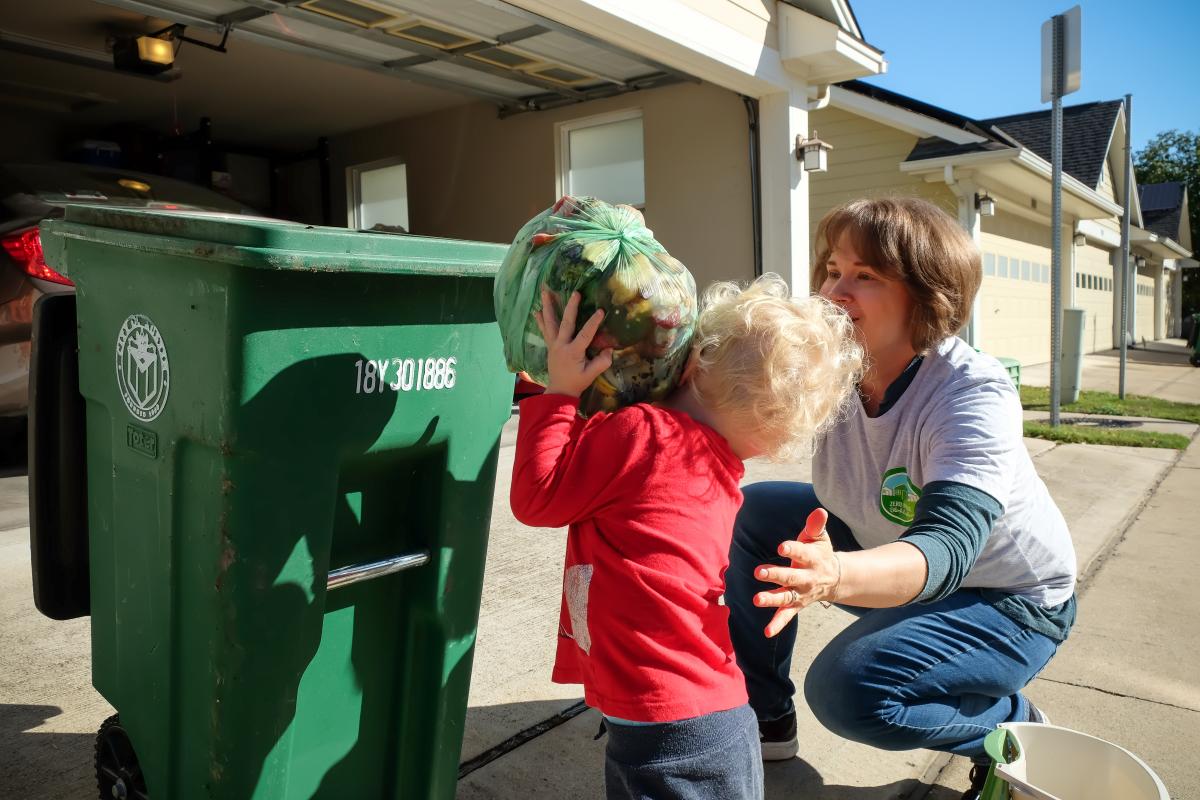 Figuring out how to educate and engage people. Despite reaching out in person and on more than four digital platforms, it's still difficult to connect with everyone. I can't seem to find the missing link. It's also frustrating and sad when people genuinely don't know they're contaminating their recycling or compost. And, trying to educate people on what they don't know they don't know is a real uphill battle.

Meeting more neighbors than I ever would have otherwise. Being a Zero Waste Block Leader has led to several leadership positions in the neighborhood and helped me make so many friends. That has been amazing! Engagement really brings neighbors together and builds community — a place where neighbors stop and greet each other by name.
The greatest reward is the increased interest. I'm starting to see more in-depth and difficult questions. I'm seeing people participate across multiple discussions and helping to advise each other directly. And, of course, I'm always thrilled when neighbors tell me they share my posts with friends and family! That's so inspiring.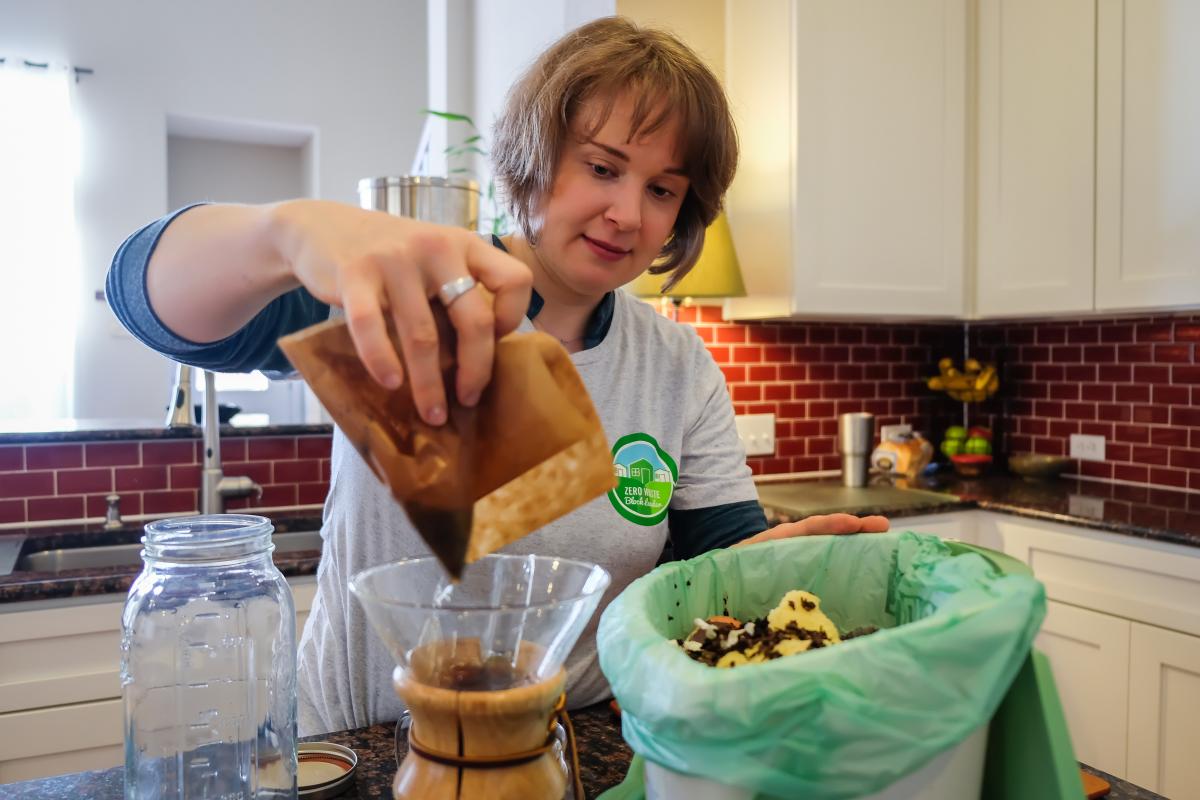 Look, listen and be available. Look with beginner's eyes for areas where you can help. Where can you speak up on a topic or issue that you have passion or knowledge about?
Listen to your community. I think I've been successful at affecting change because I listen to neighbors' concerns and questions, I follow up with them, and I get them an answer. I make myself available and I show I'm a real person experiencing the same things they are.
Communication is key. Providing more information is always better than less. I want to know everything I can about everything recycling and compost, and others out there do too.
Reach people who are new to Austin. People are moving here every day, and we need to educate them about how to reuse and properly recycle items in Austin. We need to get everyone on board if we're going to achieve Net-Zero.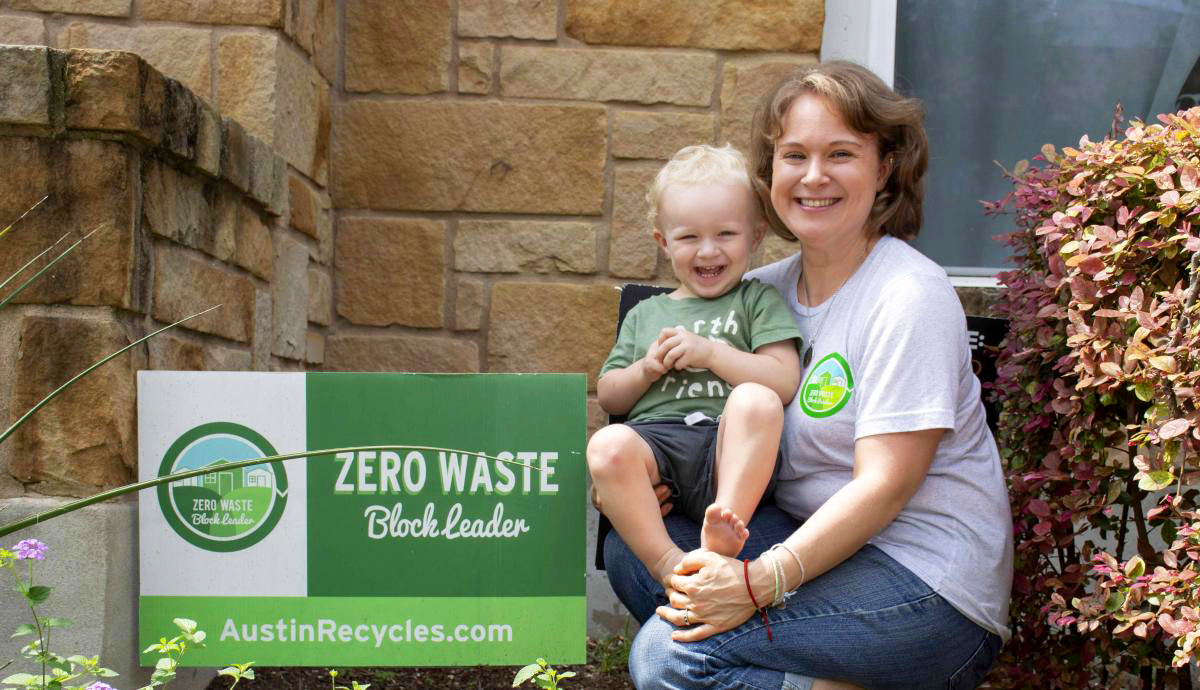 To learn more about Austin's Net-Zero Goal, view the Community Climate Plan.
Share your Net-Zero contributions with us on Twitter or Facebook and use #NetZeroHero. If you know a Net-Zero Hero (or heroes!) who should be recognized for their efforts, send your nomination to sustainability@austintexas.gov.