New Soccer Stadium Keeps it "Verde"

Hey, sports fans! Austin's new professional soccer team, Austin FC, will play their first home game at Q2 Stadium on Saturday, June 19.  So, what does this have to do with going green? Aside from the team's primary color and its rallying cry "Verde! Listos!" the sustainability features in the stadium are first-rate.
Located near The Domain, Q2 Stadium was built with fan comfort and the community in mind. With sustainable transportation options, solar panels, refillable water stations, and more, this stadium has some serious green features. Here's a look at how Q2 Stadium and Austin FC strive to be eco-conscious members of the Austin community:
Q2 Stadium is on track to become a LEEDv4 certified venue.
Rooftop solar project underway with a local renewable energy partner.
Increased Capital Metro transit frequency on game days.
Free bike valet on site to encourage active transportation.
8 acres of open green space on site, connected to the local trail system.
YETI water stations to help reduce waste, especially single-use plastics.
Energy-efficient HVAC system.
Enhanced recycling, composting, and waste management.
Electric vehicle charging stations on site.
These features, along with the most mesh seats of any MLS stadium, a 200K square-foot roof that covers all seats and the concourse, and an open design that allows for air flow should make Q2 a comfortable experience for fans. What's more, for each goal that Austin FC scores this season, the team and HEB are donating $100 to the Central Texas Food Bank. Now, this is a green team we can get behind!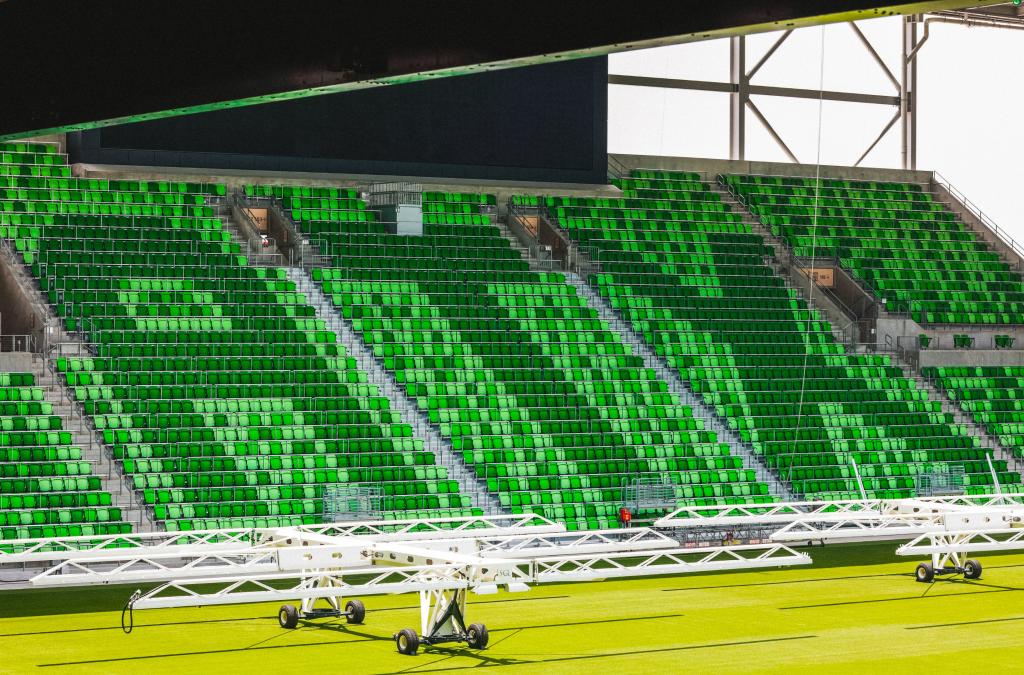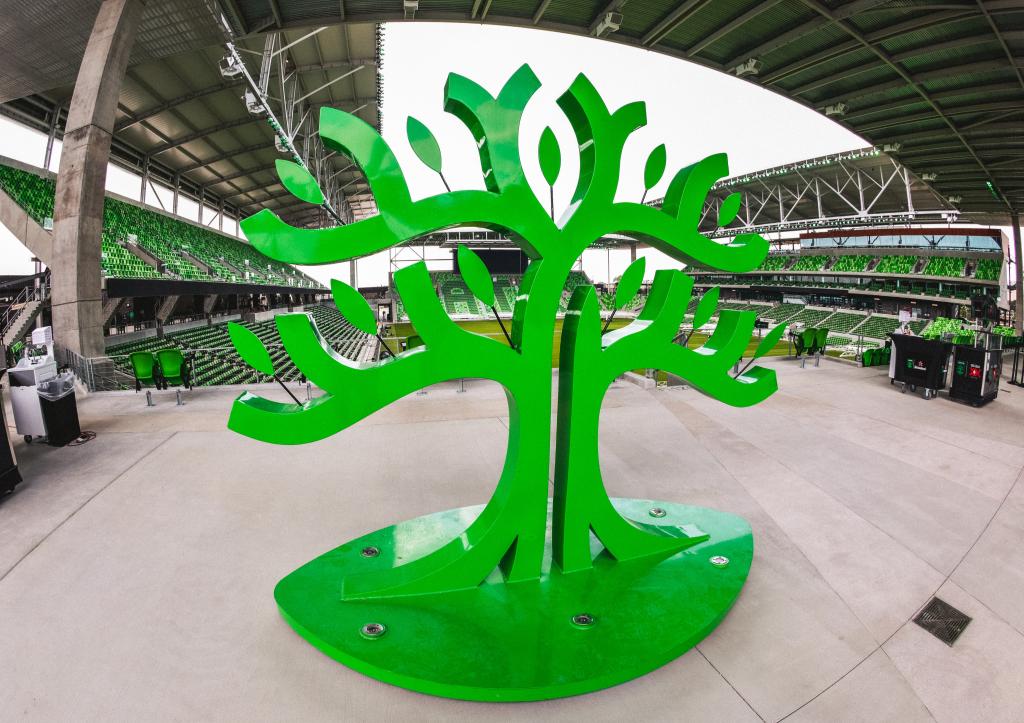 Looking to get to the stadium sustainably on game day? Here's how:
Bus: Capital Metro is increasing their transit frequency on game days and will offer Park & Ride facilities for people who do not live near a route to Q2 Stadium.
Rail: The MetroRail Red Line has resumed Saturday service, and the line ends at Kramer Station near Q2 Stadium. Wayfinding signs will direct fans during the 15-minute walk to the stadium.
Driving & Parking: Through the Pavemint mobile app, fans can reserve pre-paid parking spots within a mile of the stadium. Additional on-street parking will be available via the City's Park ATX app but not available in nearby neighborhoods.
Bicycle: Bicycle lanes and other infrastructure will lead to the stadium's bike valet service on the east side of the building.
Rideshare: Rideshare users will have a designated drop-off zone on the west side of Q2 Stadium. Pick-up zones will be located Brockton Drive and Rutland Drive.
For a full list of mobility options and regulations, visit the Austin FC mobility page.
Not attending in person, but still want to watch the game?
In Spanish, watch on Univision/Unimas/TUDN or listen on TUDN Radio Austin (104.3-HD2, KLQB)
Verde! Listos!
*All photos by Austin FC