This week, City officials unveiled Austin Energy's showcase for electric transportation in the new Seaholm EcoDistrict – Electric Drive. The area is located on a portion of West 2nd Street between Walter Seaholm Drive and Sandra Muraida Way, and is a mobility hub that features charging options for two- and four wheel electric vehicles.
At the ceremony, Mayor Steve Adler was joined by Council Member Ann Kitchen, Austin Energy General Manager Jackie Sargent and Chief Sustainability Officer Lucia Athens. Electric Vehicle Program Manager Karl Popham emceed the event. The speakers focused on Austin's commitment to sustainability and meeting the net-zero community-wide greenhouse gas emissions goal by 2050. As Lucia Athens noted, "The way we design and build cities is more important than ever."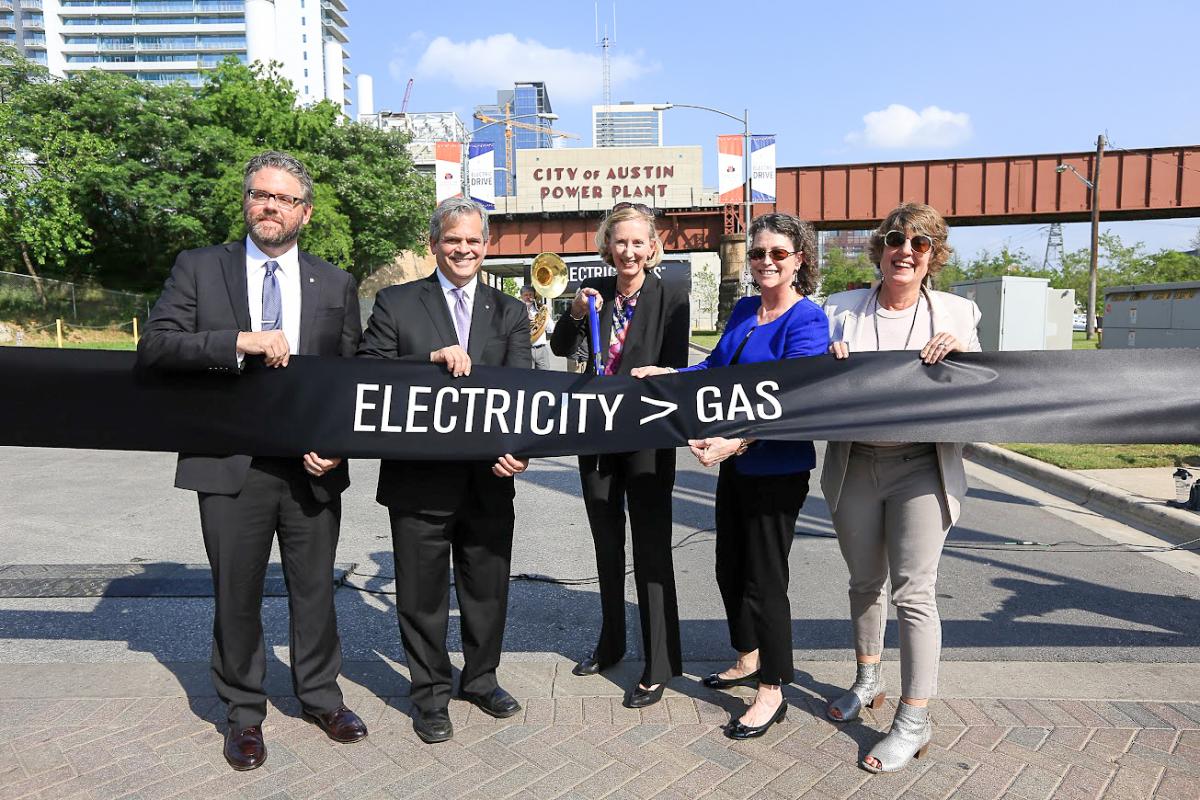 Left to right: Karl Popham, Steve Adler, Ann Kitchen, Jackie Sargent, Lucia Athens
Supporting zero-emissions vehicles, Electric Drive is home to a DC fast charger, which can charge an electric car in a fraction of the time a regular charging station can (we're talking minutes as opposed to hours!) There's also level 2 charging for those who have a little more time to explore the Seaholm EcoDistrict. These stations are part of a larger charging network managed by Austin Energy, and are powered by Texas Wind energy.
| | |
| --- | --- |
| | |
| Solar charging kiosk | DC fast charger located on Electric Drive |
One of the most striking elements of Electric Drive is the solar-powered kiosk, where you can charge up an e-bike, scooter, motorcycle, cell phone, or nearly anything else needing a charge using energy from the sun. The kiosk, which is essentially a functional public art piece, features outdoor seating and tables made from reclaimed wood, two bike racks, and a repurposed vintage gas pump that holds battery storage and shows solar production and CO2 reduction. The Art Screens use salvaged letters and wheels from the Seaholm Power Plant, which Austin Energy formerly used to deliver power to Austin.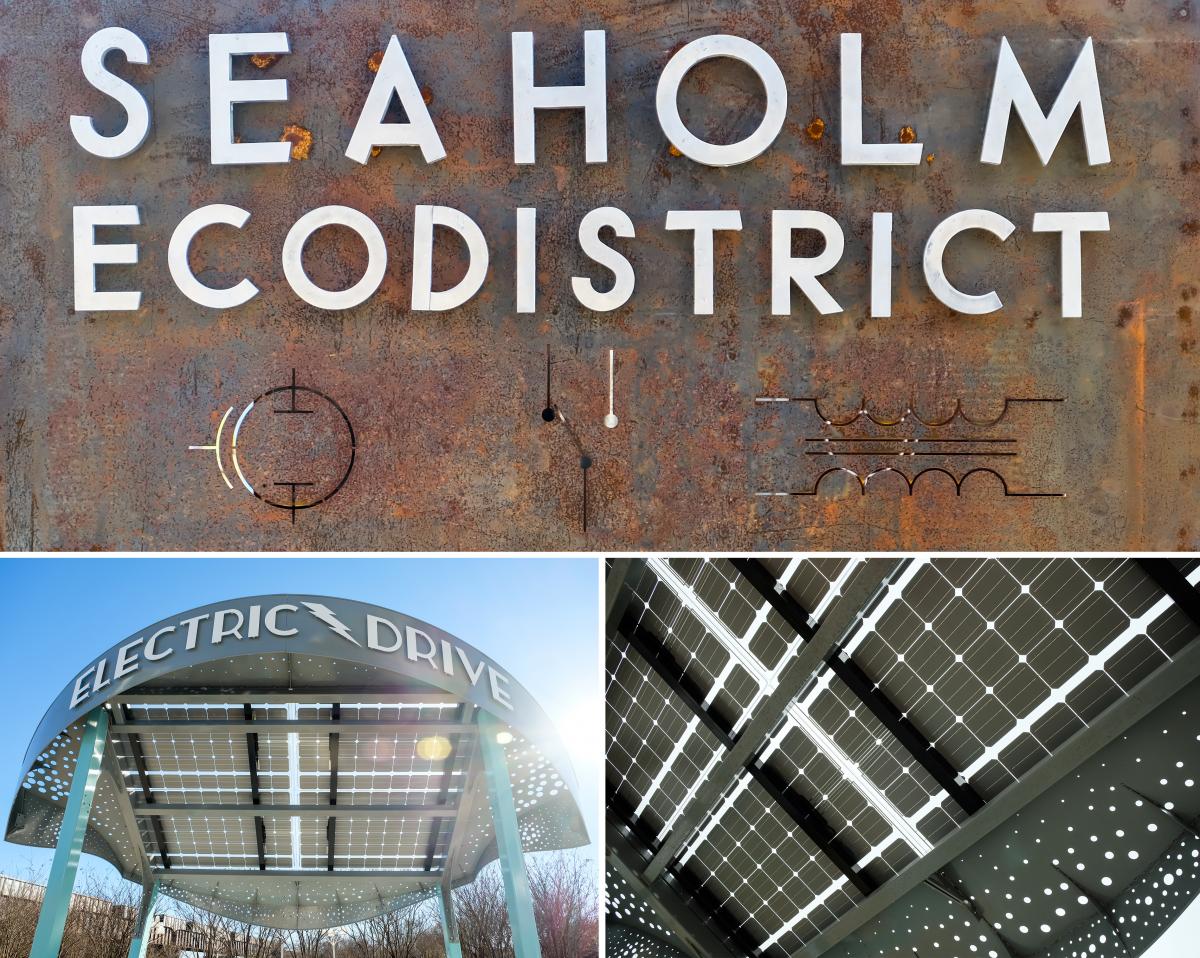 Electric Drive Solar Kiosk and Art Fence designed by Beth Ferguson and Dallas Swindle of Sol Design Lab, 2017
You might be wondering, "Why didn't they call it Electric Avenue?" The truth is that the street name "Electric Avenue" was already taken, but we think Electric Drive is still great! The street fits in well with Austin's Smart City roadmap, which aims to provide our community with faster, better, cheaper transportation options while cutting vehicle emissions.
Electric Drive is nestled within the 90-acre Seaholm EcoDistrict, which is a state-of-the-art compact and connected neighborhood with 15 "green" points of interest. These feature LEED certified green buildings, water quality features, energy efficient cooling, public art and much more. If you want to know even more about the EcoDistrict, you can take a guided tour using the TravelStorys app. There's even a ghost story about the old Seaholm Power Plant!
And just for fun, check out these pictures from 1960 and today. What a transformation!
| | |
| --- | --- |
| Seaholm area in 1960 | Seaholm area today |