Congress Avenue is considered the "Main Street of Texas" with leading views toward the Texas State Capitol, historic architecture and direct connections to both the natural and urban spaces of Austin. The street requires special attention and a variety of initiatives are underway to make Congress Avenue accessible for everyone. 
Congress Avenue Mobility and Safety Improvements
In December 2020, Austin Transportation completed installation of near-term mobility and safety improvements on 1.3 miles of Congress Avenue between Riverside Drive and 11th Street. The changes include left and right turn lanes at key intersections, safer and more flexible signalization, protected bicycle lanes, and improved pedestrian crossings. The bicycle lanes will be protected using flexible delineator posts and parking stops. Access to all driveways and on-street parking will remain in place. The improvements are a significant interim step towards the complete improvements envisioned in the Congress Urban Design Initiative (UDI).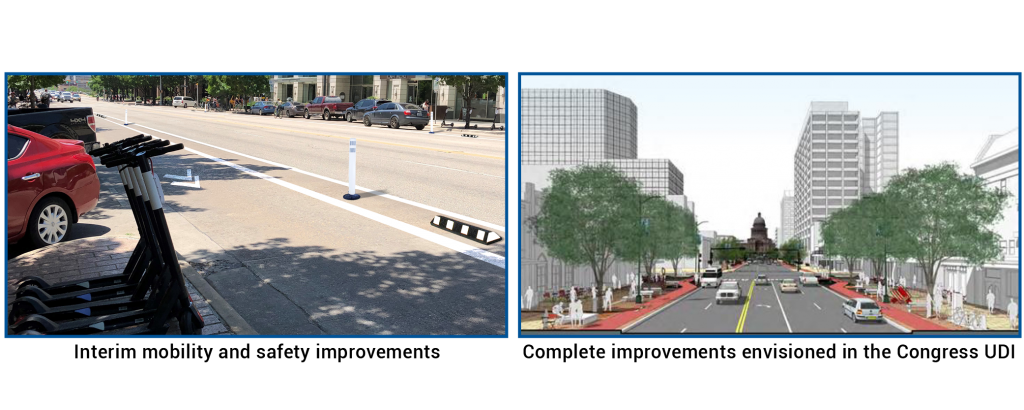 About the Congress Avenue Urban Design Initiative
The Congress Avenue Urban Design Initiative (UDI) envisions Congress Avenue as a more human-centric, multi-functional complete street with a clear and attractive identity. The complete improvements as envisioned in the Congress Avenue Urban Design Initiative (UDI) would require total reconstruction of the street from right-of-way to right-of-way, as pictured above (right). The interim mobility and safety improvements are aligned with this future vision by rebalancing street space to better serve the needs of everyone on the street. This includes establishing a more appropriate space for bicycle and scooter traffic off of sidewalks and separated from motor vehicles, freeing up sidewalk space for people walking, dining, shopping, and enjoying other street life, as well as addressing safety and operational needs at key signalized intersections that do not currently function optimally.
Temporary Pilot Period
In summer of 2020, with direction from Austin City Council Resolution 20200611-051, City staff installed temporary bicycle lanes to open street space to people on bicycles and scooters, giving more space on sidewalks to pedestrians, as well as to retailers and restaurants per COVID-19 risk-based guidelines. The temporary bicycle lanes were installed on June 30, 2020 and will remain on the street until these mobility and safety improvements are in place.
Safety Improvements
The interim improvements are designed to address significant existing crash patterns along Congress Avenue, totaling $190 M in comprehensive crash costs over a 5 year period. Two of the top five high pedestrian crash intersections in downtown Austin are on Congress Avenue, at Cesar Chavez Street and 6th Street. Three of the top 200 citywide crash locations in Austin are also along Congress Avenue, at Riverside Drive, Cesar Chavez Street and 4th Street. The improvements are expected to reduce multiple crash types, including head-on crashes, improve yielding and visibility, shorten crossings, and establish physical separation for motor vehicles from bicycles and scooters. The configuration will also provide a safer alternative space for scooters and bicycles off of sidewalks, including on the Congress Avenue Bridge. New left turn lanes and signal upgrades at Cesar Chavez Street, 5th Street and 6th Street will improve predictability and safety for all road users.
About the design
The design includes the following:
Protected bicycle lanes between Riverside Drive and 11th Street
New left turn lanes at Cesar Chavez Street, 5th Street, and 6th Street with protected turn phases to reduce head-on crashes and pedestrian conflicts
Dedicated right turn lanes at northbound Cesar Chavez Street, Barton Springs Road, and northbound Riverside Drive with yellow flashing right turn arrows to increase yielding to people crossing the intersection
Shorter pedestrian crossing distances
Protected intersection designs at Riverside Drive, Barton Springs Road, 3rd Street, and 11th Street
Simplified lane configuration along Cesar Chavez Street between Congress Avenue and Brazos Street
Enhanced bicycle crossing markings in front of on-street parking locations
Contact Us
Please email MobilityBonds@AustinTexas.gov or call (512) 974-2300 with any questions.
Frequently Asked Questions (FAQ)
How will local business access be maintained?

All existing local business access and on-street parking along Congress Avenue will remain the same. The installation is also compatible with the Shop the Block initiative which repurposes space for physically distanced outdoor seating, queuing, and retail.

How will the project impact motor vehicle traffic?

The project is expected to reduce risks for multiple crash types, particularly at the intersections of Cesar Chavez, Riverside, Barton Springs, 5th St. and 6th St., while meeting motor vehicle traffic demands. A comprehensive Mobility Report was prepared for the Congress Urban Design Initiative. This report looked at the effect of modifying Congress Avenue lane configurations on motor vehicle traffic in order to rebalance the avenue. The study accounted for current traffic and traffic growth due to development forecasted for 2040 and mode shift that would result from much safer walking and bicycle/scooter conditions. Based on the findings of this report, the planned near-term changes are expected to accommodate motor vehicle traffic as volumes return to normal in the coming months, while achieving an immediate reduction in crashes and a safer more comfortable avenue for all users.

The Congress Urban Design Initiative recommended a 5-lane approach at intersections north of Cesar Chavez. Why is a 4-lane approach being used at some intersections (2nd – 4th and 7th – 10th Streets)?

The Congress Urban Design Initiative (UDI) envisions a complete reconstruction of Congress Avenue from right-of-way to right-of-way. With complete reconstruction there are significantly greater options for reconfiguring street space that are not possible with the planned interim improvements, considering that the street cannot be rebuilt with currently available resources. Given the immediate need to balance both multimodal comfort and safety along the corridor with motor vehicle operational needs, the planned interim improvements will use a 5-lane approach north of the river at Cesar Chavez, 5th Street, and 6th Street where motor vehicle left turn volumes are higher. A 4-lane approach will be used at the other intersections from 2nd – 4th Streets and 7th – 10th Streets where left turn volumes are generally lower, which enables better rebalancing of the available space on avenue. If a 5-lane approach were used exclusively from Cesar Chavez to 11th Street, the resulting 5' bicycle lane would be much narrower, less comfortable, and not provide space for users to pass each other. The Congress UDI Mobility Report considered both 4-lane and 5-lane alternatives at these intersections and both were acceptable.

How are the interim improvements compatible with special events?

Many special events are held on Congress Avenue including parades, foot races, and festivals, and those celebrations will continue on Congress Avenue with the new interim improvements. The devices used for the physical protection of the bike lanes keep the available space on Congress Avenue highly flexible. Curb lines will not be moved and existing parking will remain as it is today.