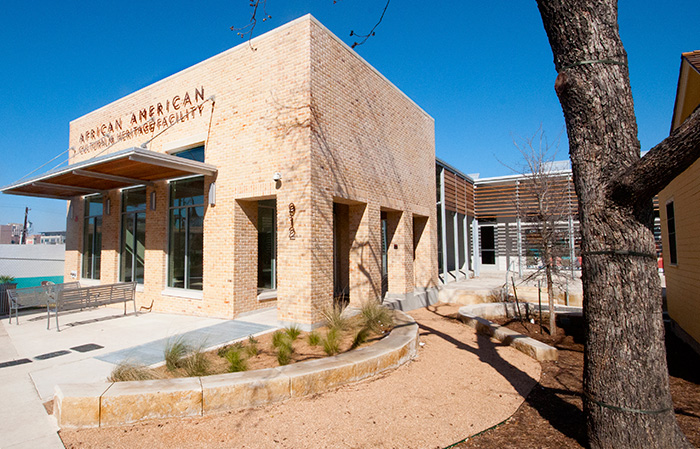 The facility is currently closed to the public due to the COVID-19 pandemic. 
Visit Austin's COVID-19 Information webpage for more information on local Orders, health and safety information, and resources for individuals and businesses.  
The African American Cultural and Heritage Facility is available to reserve for small community groups and events, such as dance, yoga, and music classes for adults and children. The facility aims to nurture and preserve the artistic legacy of the African American Culture and Heritage District through partnerships, programs and events. 
To request, reserve, change, or cancel a reservation, call 512-974-2445 or email aachf@austintexas.gov. 
Available Spaces
The African American Cultural and Heritage Facility has several indoor and outdoor spaces available for reservation:  
Outdoor Plaza (up to 49 people)  
Meeting Room, for rehearsals, auditions and informational meetings (up to 12 people)  
Greater Austin Black Chamber's Conference Room (up to 10 people) 
Computer Room (up to 4 stations)  
Dance Studio (up to 20 people)  
The African American Cultural and Heritage Facility does not provide equipment for events, such as tables, chairs, speakers, tablecloths, podiums, and microphones. There is a kitchenette available for event organizers.
Facility Requirements
The Meeting Room, Computer Room, Dance Studio, and Courtyard are intended for informational, educational, artistic, cultural, and community needs. These spaces are available at no cost for approved activities. The spaces are reserved on a first-come-first-serve basis every three months.  
No food or drinks are allowed in the Computer Room, Dance Studio, and Meeting Room.  
Requests should be received no later than two weeks before the proposed date. All events should be open to the public. 
Weekend events are limited to two hours each day. Weekday events are limited to three hours each day and a monthly maximum of 10 hours.  
All event attendees are required to sign-in for the event. Guests ages 18 and younger must always be accompanied by an adult.  
Event organizers will be charged for any damage to the room or furnishings beyond reasonable wear and tear. Event organizers are responsible for cleaning up any trash left by attendees before leaving the premises. 
Failure to cancel a reservation may result in denial of future use of the African American Cultural and Heritage Facility.  
Groups that cause damage, disturbances, or fail to comply with these guidelines may be indefinitely denied future use of the African American Cultural and Heritage Facility.

Groups are prohibited from using any space for commercial purposes or charging a fee to enter.

 
The City of Austin is committed to compliance with the Americans with Disabilities Act. Reasonable modifications and equal access to communications will be provided upon request - including translation and interpretation services. For assistance, please contact the Economic Development Department at 512-974-7819 or Relay Texas 7-1-1.