- to
Looking for a garden pick me up after a long hot summer? Look no further! Fall back in love with gardening at the Grow Green Fall Garden Party on 10/28! Come chat with horticulture professionals who focus on creek-friendly gardening and take home a plant, a tree, a mushroom block, and more! Bring your dull & dirty tools to learn how to sharpen & clean them at our tool tent. And don't forget your kids at home – we will have plenty of crafts & activities for all ages including a seed ball-making station. For those of you with specific plant issues, a Master Gardener will be available to answer your questions at our plant clinic. And for folks interested in attracting more pollinators to their garden parties, we will have a "Gardening for Pollinators" presentation at 10:30am. Refreshments, snacks, & good gardening vibes will be plentiful. Costumes are always encouraged, especially plant-themed ones.
Cost
Free! No registration required
Parking
The closest parking for attendees is in the lot at 863 N Pleasant Valley.
Learn More
Get more gardening tips and learn about sustainable gardening at www.growgreen.org
Partners
Roots and Wings Festival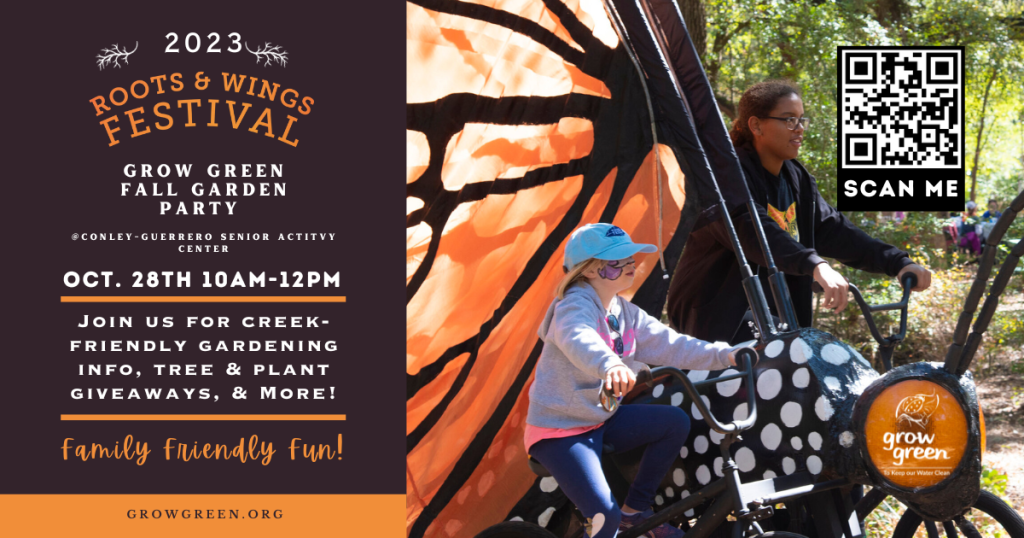 Conley-Guerrero Senior Activity Center
808 Nile St.
Austin, TX 78702
United States