BEAT THE HEAT! ¡QUE CALOR!
AUSTIN, Texas – This summer, the City of Austin wants you to know that, by ordinance, all employees performing construction activities at a construction site are entitled to a rest break of no less than 10-minutes for every four hours worked. Your site supervisor should also post a sign about rest breaks at each construction site. 
As temperatures climb dangerously high during the summer months, you are encouraged to take preventative measures to protect yourself from heat exhaustion and other weather-induced conditions. Your workplace safety is a priority. Remember to hydrate and beat the heat! 
To report a possible code violation, call Austin 3-1-1. 
Click here to learn about the Rest Break Ordinance.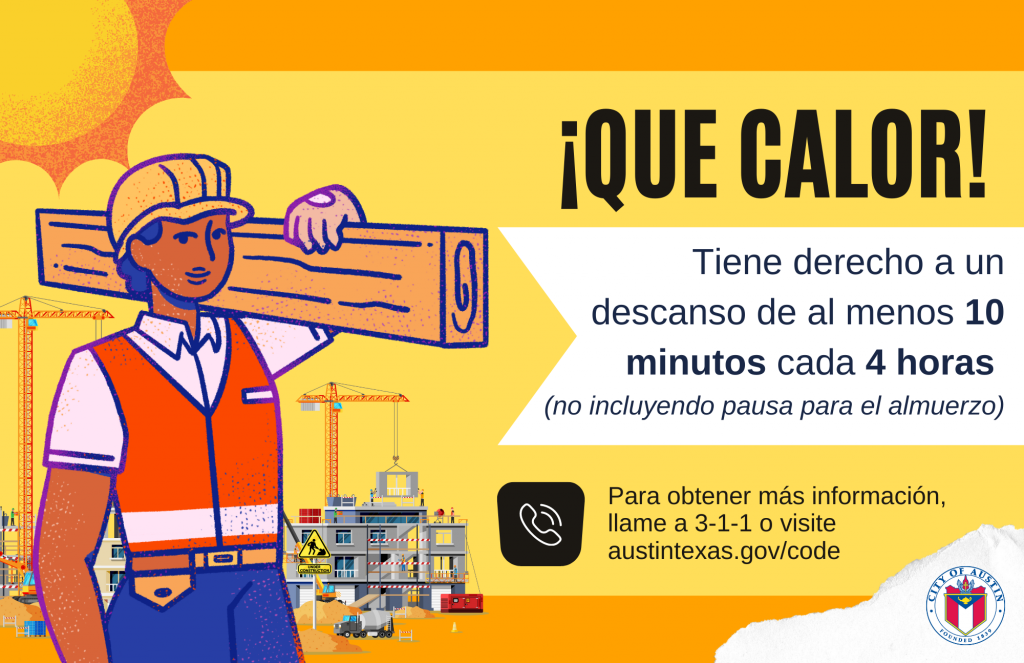 ¡Que Calor! Aprenda sobre la Ordenanza de Descanso en sitios de construcción en Austin este verano 
AUSTIN, Texas – Este verano la Ciudad de Austin quiere que sepan que, por ordenanza, empleados trabajando en actividades de construcción tienen derecho a un descanso de al menos 10 minutos por cada cuatro horas trabajadas en un sitio de construcción. Su empleador también debe colocar un letrero sobre los descansos en cada sitio de construcción. 
Mientras las temperaturas suben a niveles peligrosos durante el verano, se le recomienda tomar medidas preventivas para protegerse del agotamiento por calor y otras condiciones inducidas por el clima. La seguridad en su lugar de trabajo es una prioridad. ¡Recuerden, hidrátense para combatir el calor!  
Para reportar infracciones del código, llame al 3-1-1. 
Haga clic aquí para obtener información sobre la Ordenanza de Descanso.