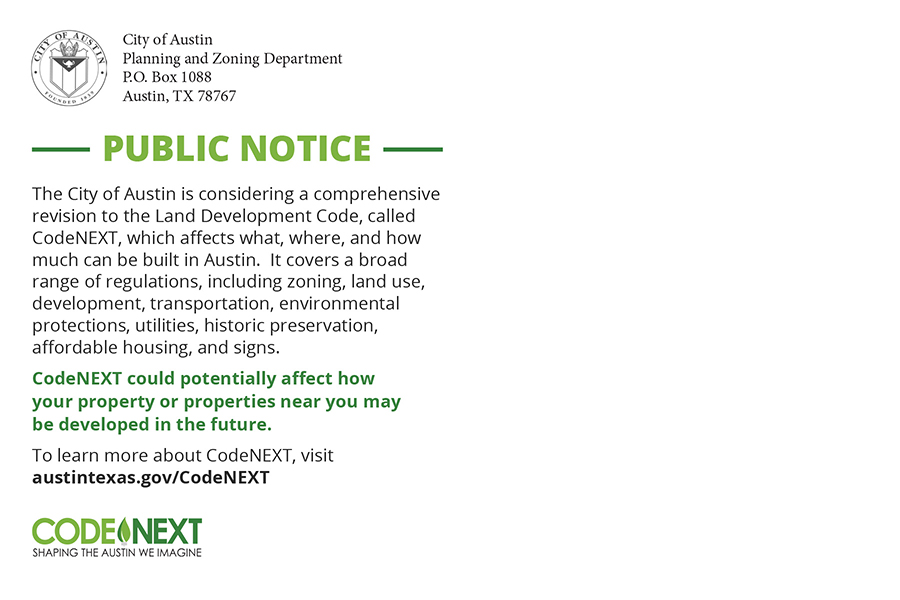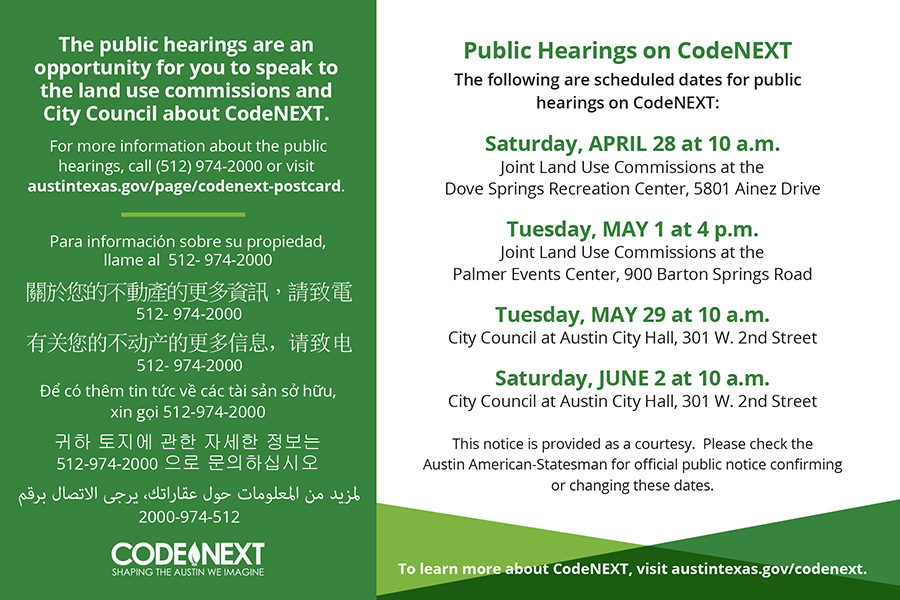 Why did I get this postcard?
The postcard is a notice from the City of Austin to inform you about public hearings related to changes to the land development code (commonly called CodeNEXT). It was sent to every property owner and utility account holder in Austin. No additional action is required on your part, however, you are invited to speak at the public hearings about CodeNEXT.
What is CodeNEXT?
CodeNEXT is the City of Austin initiative to rewrite the land development code. Austin's current land development code was written in the 1980s. To learn more about the project, visit austintexas.gov/department/about-codenext.
What are the public hearings?
Public hearings are an opportunity to speak directly to the City Council about CodeNEXT.
When are the public hearings?
The City Council public hearings will be held on:
10:00 a.m. Tuesday, May 29 at Austin City Hall; 301 W. 2nd Street
10:00 a.m. Saturday, June 2 at Austin City Hall; 301 W. 2nd Street
The legal notice for the public hearings will be posted in the Austin American-Statesman ahead of the public hearing dates.
What can I expect at the public hearings? (Updated 5/23/18)
Anyone wishing to speak at the May 29thOR June 2nd CodeNext Public Hearings must register using the Speaker Sign-up Kiosks located in the lobby at City Hall. The public hearings will begin at 10:00 AM. Additional kiosks/laptops will be available to make registration easier. Please see below for more detailed procedures and frequently asked questions.
Speaker Registration

Registration to speak begins at 9:00 a.m. on the day of the hearing.
Each person registered to speak will receive 3 minutes.
A person may only speak at one of the public hearings.
Anyone wishing to distribute handouts must provide 14 copies to the Clerk when called to speak.
Anyone wishing to have a presentation or document placed on the screen must provide that information to the technology staff located in the chambers in advance of being called to speak.
The May 29th Public Hearing is scheduled to end at 10 p.m. If Council votes to end the meeting before a person registered to speak (registered before 10 p.m.) is called, their registration will be automatically transferred by the Clerk's Office to the June 2nd Public Hearing.
Any person registered to speak at the May 29th Public Hearing, but must leave before being called must notify the Clerk prior to leaving if they wish to be transferred to the June 2nd Public Hearing.
Each person attending a Council meeting should observe decorum. A person should not speak out of turn, use disparaging or abusive language, or make threats of violence against any other person during the meeting.  The presiding officer may shorten a person's speaking time or ban a person from speaking for the duration of the meeting for a violation a decorum as set out in Council Meeting Procedures, Section 1-1-3.
Donating Time

A person may receive additional time donated to them by a maximum of 2 speakers for a maximum amount of time of 9 minutes.
Speakers wishing to donate time must use the Speaker Sign-up Kiosks to donate their time prior to the primary speaker being called.
Individuals donating time must be present when the primary speaker is called for time to be donated.
Group Request for Specific Speaker Sequence

Any group of individuals or an organization wishing to testify as a group in a specific sequence must provide the City Clerk with a list of names and desired speaker order prior to the first speaker in the group being called.
No group may use more than 27 minutes in total. 
At the discretion of the Mayor, the order in which groups requesting a specific sequence will be called is based on the registration order of the middle speaker.   
All individuals listed in the sequence must register using the Speaker Sign-up System prior to the first speaker being called.
The Clerk staff will provide a form the day of the meeting to list names and order of speakers.
Language Interpretation or Sign Language Services

Spanish interpreters will be available during the following hours:

Tuesday, May 29th from 4 p.m. – 8 p.m.
Saturday, June 2nd from 10 a.m. – 2 p.m.

Anyone needing a Spanish interpreter outside of these hours, may contact the City Clerk's Office at 512-974-2210 no later than May 27th to request services.
Any person may request language assistance other than Spanish or sign language interpreter by contacting the City Clerk's Office at 512-974-2210 no later than May 27th. The Clerk's Office will coordinate with the requestor in advance to find out what time they will be at the hearing to make arrangements.
What if I do not wish to speak but would like material or handouts distributed to Council?
Any person who would prefer not to speak but would like material distributed to Council can email the material prior to the meeting to: city.clerk@austintexas.gov.
How can I tell what number I am in the speaker registration system?
A screen placed in the lobby at City Hall will allow speakers to see where they are registered in the order of speakers. 
What if I have to temporarily leave the room and my name is called?
Any person registered to speak but temporarily out of the room when their name is called may notify the Clerk when they return that they still wish to speak.
Can I speak at both public hearings?
No, a person may only speak at one of the public hearings.
Will staff be available to assist with registration if I need it?
Yes, staff will be available in the lobby to assist with registration.
How can I get to the public hearings?
All public hearings have free parking available.
There are bike racks at City Hall
Austin City Hall is served by CapMetro bus routes 1, 2, 3, 4, 5, 6, 7, 10, 17, 19, 20, 21, 22, 30, 37, 801, 803, 980, 981, 982, 985, 987, and 990
For more transit information, including a complete list of routes and schedules, visit capmetro.org.
Where can I learn more about CodeNEXT?
For basic information about the CodeNEXT draft, download our Code Draft 3 Guide. The Guide includes background information about CodeNEXT, details about the zones and map, and ways to get involved.
For more detailed information about zoning, take a look at the draft zoning chapter of the land development code, and to see the current and proposed zoning map, check out our map tool.
Additionally, our blog breaks down a variety of CodeNEXT topics and includes project updates. We post frequent updates on our social media pages as well: facebook.com/AustinCodeNEXT and twitter.com/AustinCodeNEXT.
Can I meet with the CodeNEXT team?
Through the end of May, the CodeNEXT team will be holding office hours, which are one-on-one sit-down meetings with code writers, where you can ask any questions you have about the code. You can sign up for office hours at tiny.cc/codenextofficehours or by calling (512) 974-3583.
How can I provide feedback?
The best way to provide feedback about CodeNEXT is to share your thoughts with the commissions and Council by attending the public hearings. In addition, all feedback City staff receive will be shared with the Planning Commission, Zoning & Platting Commission, and the City Council. You can comment directly on the draft land development code by visiting codenext.civicomment.org, and you can comment on the proposed zoning map by visiting codenext.engagingplans.org.