This project will stabilize approximately 1,400 linear feet of creek behind Eubank Drive from North Bend Drive to Walnut Creek.
The goal is to protect yards, trees, buildings and infrastructure by stabilizing the stream banks. The project includes the following:
Stabilization of the creek to prevent loss of land and fences from erosion
Enhance native vegetation along the stream banks
Restore the natural function of the stream
New landscaping and planting throughout the project area

Location
The project is located on the Eubank Tributary to Walnut Creek between Eubank Drive and Lamar Boulevard, from North Bend Drive to Walnut Creek.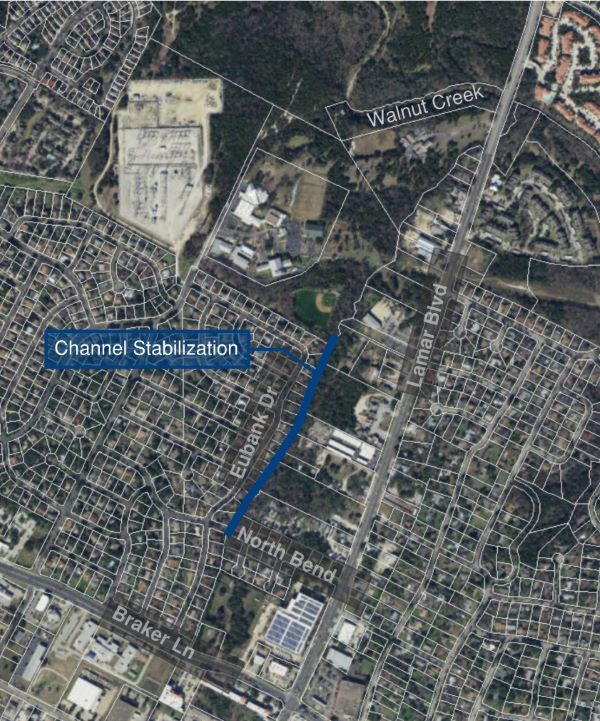 Status and Timeline
Our capital improvement projects take many years from start to finish. The process typically includes the following phases:
Feasibility Study – when information is collected to identify potential solutions.
Preliminary Engineering – when a solution is identified and costs are estimated.
Design – when the details are worked out and construction plans drawn up.
Bidding and Permitting – when a contractor is hired and all permits are acquired.
Construction – when the project is built.
This project is currently in the Preliminary Engineering Phase where potential solutions are developed and identified. With progressing erosion, we aim to expedite the Preliminary Engineering Phase and anticipate beginning the Final Design Phase in 2023 with construction occurring in 2024.
Background 
The Stream Restoration section has been aware of the erosion in this channel since 2008, and we have continued to monitor the channel since. Between 2019 and 2021, we received multiple Customer Service Requests to reinspect the erosion. At these site visits, new erosion sites were added and previous erosion sites were updated based on observed progressing erosion. Along with these updates from the site visits, Watershed Protection's  "Erosion Mission prioritization" was updated as part of our annual planning and that process resulted in a decision to progress with an expedited project in this area.
Questions?
Kelley Rich, Project Lead, 512-974-6081 or kelley.rich@austintexas.gov