4 ways it benefits the lake's ecosystem
The recent spread of a clingy green plant on Lady Bird Lake's surface may puzzle residents, but scientists say it's a sign of the lake's ecological health. 
Cabomba, or fanwort, is the native aquatic plant that's growing along both north and south shores of Lady Bird Lake between Barton Creek and the Lamar Bridge.

It has increased in the lake recently - as Barton Springs Pool vegetation is removed for swimmers, the plants are often put into Barton Creek below the pool.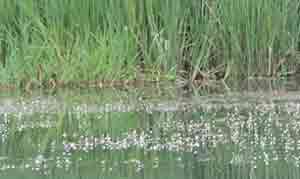 In the past few years, the plant has established and spread in the lake itself. It is a native plant and has delicate white flowers that often bloom underwater, said Mary Gilroy, Environmental Scientist for the City's Watershed Protection Department.
While this plant can come to the surface, it does not form dense surface mats, and is considered a good addition to the lake's ecosystem, Gilroy said. Native aquatic plants such as Cabomba provide the lake and creek with some important boons:
Oxygen
Food
Hiding places and habitat for fish, turtles, waterfowl and other aquatic life
Trapping sediment to help keep the water clear.
The woody debris (twigs, sticks, etc) caught up in the plants also are natural and environmentally-beneficial, Gilroy said. As the wood decomposes, it actually helps use excess nitrogen, which can contribute to nuisance algae blooms.
The plants may also collect unsightly debris and trash. The Watershed Protection Department collects 250 tons of trash from the Lady Bird Lake each year.
Citizens can help keep the lake clean by putting litter in trash cans. For more information, call the Watershed Protection Department's Environmental Resource Management line at 512-974-2550 or visit the Austin Lakes Index web page.
Helpful Links