Announcing the 2023 Friends in Gardening Award Winner: Tina Coba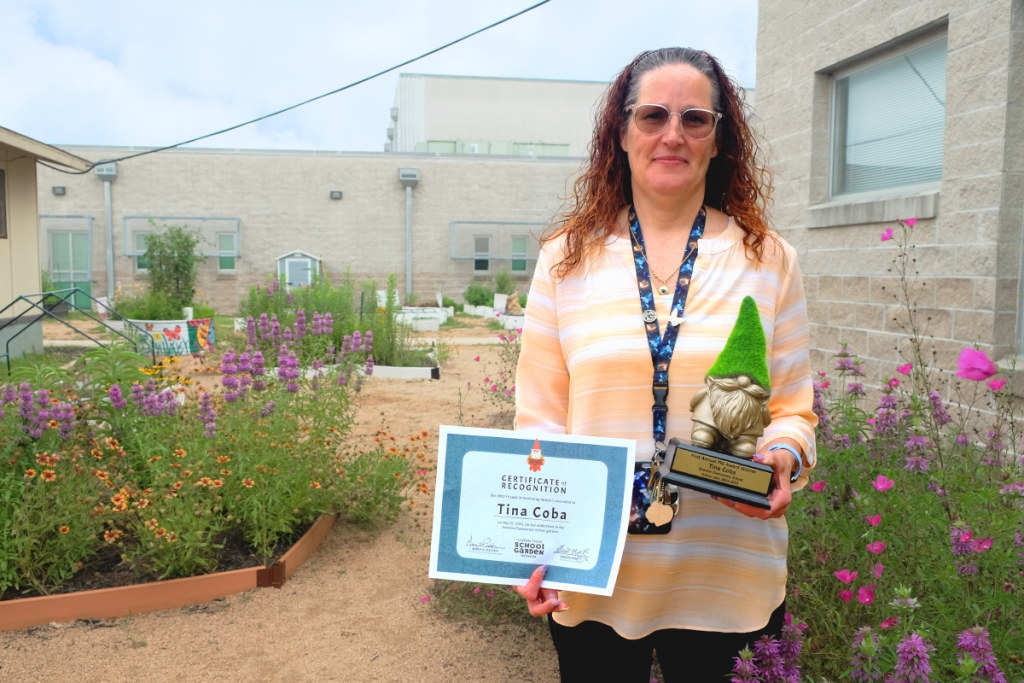 At the Office of Sustainability, we know that the many school gardens across Austin offer students an opportunity for play, discovery, and learning — and that they wouldn't be possible without the tremendous support of volunteers. The Friends in Gardening Award was created in 2023 by the Central Texas School Garden Network to recognize the efforts of an outstanding school garden volunteer. This week, Mary K. Priddy, Education and Outreach Coordinator with the Office of Sustainability and Coordinator for the Central Texas School Garden Network, was proud to present the first-ever Friends in Gardening (FiG) Award to Tina Coba, Instructional Specialist at Overton Elementary School.
Tina was nominated by Elizabeth Harper, Program Manager at EcoRise. In her nomination, Elizabeth called out how much Tina has been able to get done in just a few short years of working on the garden. "Tina, by her own admission, didn't know much about gardening going in, so it was really a matter of trial and error, learning alongside the students, and it has worked," said Elizabeth. The Overton Elementary School Gardens now covers over 5,000 square feet. The school brought in more than $4,000 in Eco-Audit Grants from EcoRise, partnered with local non-profit PEAS to offer gardening programming during the school day, and hosted dozens of volunteers through It's My Park Day events. Elizabeth continued, "Most importantly, each of the more than 424 students at Overton have gotten to spend at least some time outdoors these past two school years, learning about ecosystems, biodiversity, soil, vegetables, and more."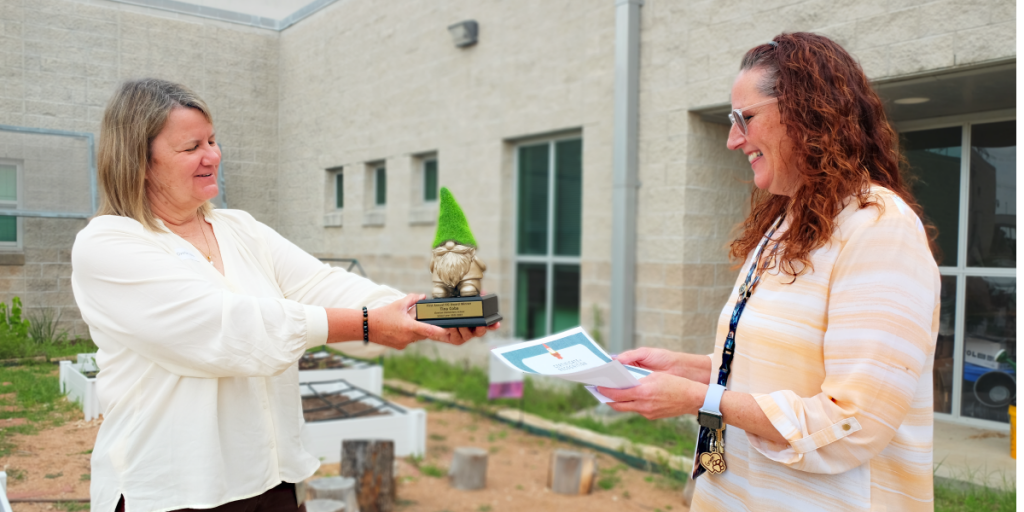 Meeting with Tina, her enthusiasm for the garden is infectious. She is a military veteran who now supports dozens of teachers in her role at Overton. She calls the garden her "legacy project." In walking through the space, Tina points out the milkweed (they're hoping for butterfly visitors soon) and shows off the recently installed pond. In the vegetable flats this year, Tina shares that they are growing potatoes and sweet potatoes, a new experiment for the school. Tina, her team, and students are now working on a plan to add a rain barrel to their storage shed so that they can qualify for Green School Park status. As the winner of the FiG Award, Tina received a $50 Central Market gift card, a certificate of recognition, and the coveted Golden Gnome trophy.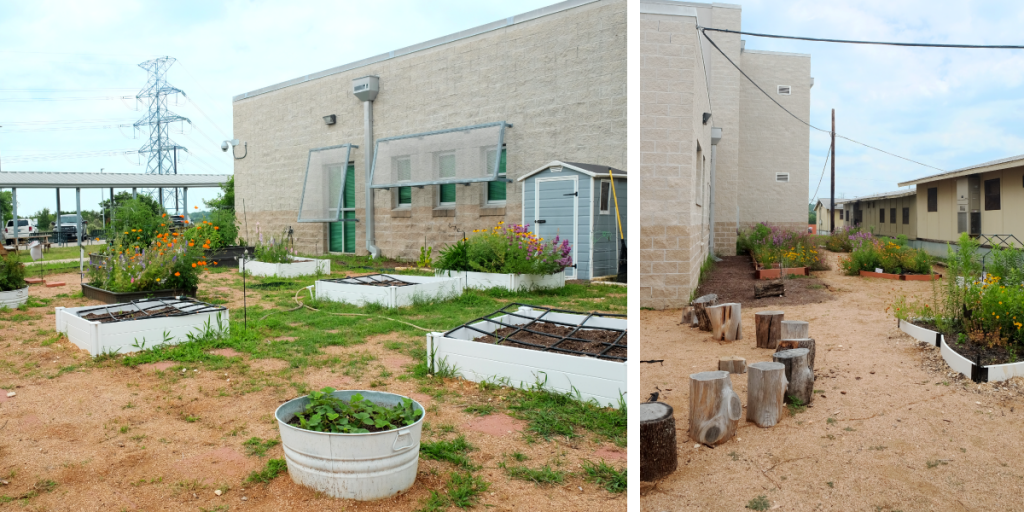 Research has proven time and time again that when young people spend time outside, they reap many physical and emotional benefits. We celebrate and thank Tina for going above and beyond to support not only Overton's school gardens but also, in doing so, its students. In the words of her nominator, Elizabeth, "Personally, in my work with EcoRise, I get to meet a lot of gardening heroes across many schools, both within Austin and across Texas. No one in my mind is more deserving of the FiG award than Ms. Tina Coba who is always all in for students and for the environment."
If you would like to explore ways to green your school's campus, learn more about the Bright Green Future Grant program.