From band manager to [Re]Verse Pitch supplier  
Did you know?

Selling 100 vinyl records provides bands as much income as 500,000 Spotify plays or 2.5 million YouTube views, according to Caren Kelleher, founder and owner of Gold Rush Vinyl, a vinyl record manufacturer in Austin, Texas. 
Caren Kelleher was frequently frustrated ordering vinyl records for the bands she managed a few years ago in California. It took up to seven months to fill an order and, even then, the record quality was unreliable.  
Like any true entrepreneur, Kelleher set out in search of a quicker, more reliable solution. In 2018, she founded Gold Rush Vinyl, a record manufacturer in Austin, Texas—the Live Music Capital of the World. They pride themselves on filling orders in a quarter of the time. Their process also creates 30 percent less waste and recycles the water used during manufacturing.  
An old-school product doesn't have to mean old-school production. In a traditional manufacturing process, one-third of the vinyl records produced aren't usable. These facilities grind up the leftover plastic, a type of polyvinyl chloride (PVC), and combine it with new plastic to make more records. But, reheating and combining plastics can create a less reliable product.   
At Gold Rush, quality is key so regrinding isn't an option. Instead, employees take extra care when producing their product.  "Our people make a huge difference," says Kelleher. "Our team is extremely focused on quality and waste reduction in the front end of production." As a result, faulty records account for only three percent of production, compared to the industry standard of 33 percent.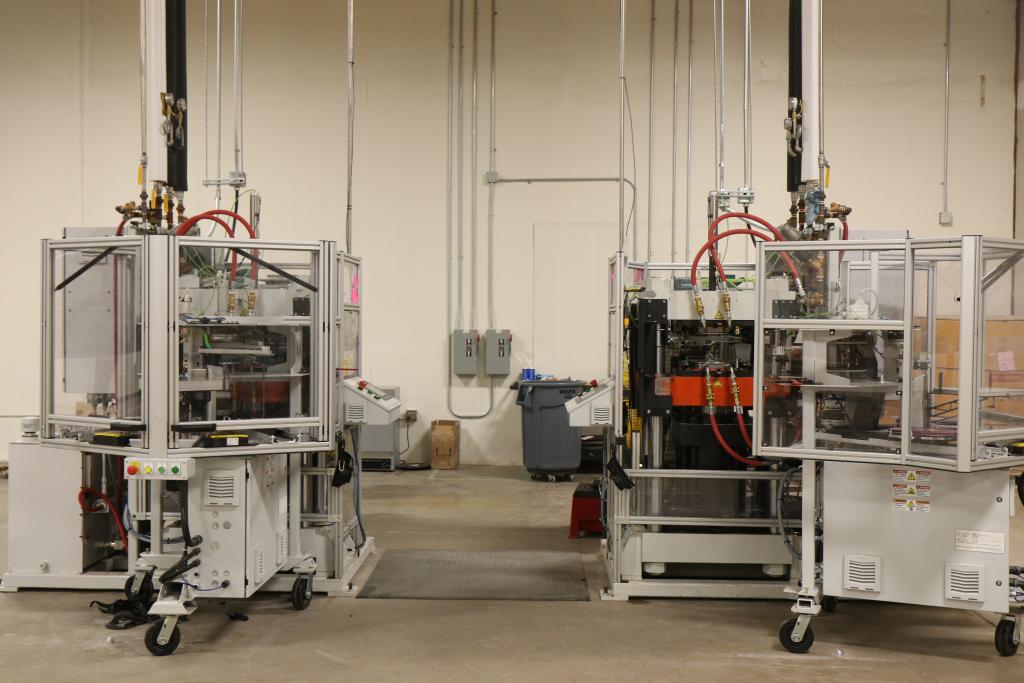 Consistency and efficiency go together throughout Gold Rush's operation.  All water used in production is recycled and treated so that it keeps the same properties each time. Even their water heaters are precise. In a traditional facility, it takes ninety minutes to heat water to the right temperature. At Gold Rush, it takes only three minutes! No wonder the business magazine Fast Company called Gold Rush Vinyl "the Tesla system of record pressing." 
On the journey towards zero waste, Kelleher has searched high and low for a way to keep record 'scraps' out of the landfill. She pitched the material at this year's [Re]Verse Pitch competition, hoping to find an entrepreneur with a brilliant idea and way to use these vinyl record scraps. As luck would have it, both winners of the competition pitched business ventures using the scrap. LoFi Recycling Systems and Terra Helmets hope to create products that include planters for small-space gardeners and helmets for scooter sharing companies, respectively. After years of searching for an outlet, Kelleher is grateful; "It's really wonderful when people can take new eyes to an old industry and find new uses for things."  
What's next on Gold Rush's journey towards zero waste? They're searching for partners in Texas to shift towards a more sustainable supply chain. While PVC is a main component of vinyl records, Kelleher says unidentified "fillers" are also used. Gold Rush would "love to find new partnerships in Texas that aren't contributing to the plastic problem in the world."   
Over half of Gold Rush Vinyl's clients are local. So if you buy a record from an Austin band, you're likely supporting Gold Rush Vinyl's low-waste facility. Talk about sustainable tunes!