From brownfield to EcoDistrict: The Seaholm transformation

In the heart of downtown sits a former power plant that once served as the sole power source for the City of Austin. In its heyday, the Seaholm Power Plant could produce up to 120 megawatts of power. But as Austin's population continued to grow, other plants were built to keep up with the rising power demand, decreasing the city's reliance on Seaholm. The plant was eventually decommissioned in 1989, and it lay derelict for many years.
Around 2004, a major effort to transform this area from a contaminated brownfield to an ecologically resilient neighborhood district was initiated, making this area Austin's first EcoDistrict. Visitors and residents now experience a thriving area that has been brought back to life with green, people-friendly additions that reflect Austin's spirit of originality and soul. There are many notable features of the area that make it an "EcoDistrict", which are centered around the concepts of environmental sustainability, wildlife habitat preservation, people-centric design, and public art.
ENVIRONMENTAL SUSTAINABILITY
Many of the Seaholm Power Plant's original features were preserved, allowing visitors to experience the old turbines, boilers, and the original art deco signage. Seaholm stopped producing power in 1989, and the area was eventually remediated through a nine-year, thirteen-million-dollar program that addressed mercury, asbestos, cadmium, PCBs, and lead. Austin's community-owned electricity provider, Austin Energy, played a major role in cleaning up the area.
The Green Water Treatment Plant was Austin's first water treatment facility. In 1923, a University of Texas chemistry professor developed a simple method to treat river water using lime. As technology evolved and new water treatment facilities were built, the Green Water Treatment Plant was no longer needed and was decommissioned in 2010 to make way for a four-block redevelopment project in this prime downtown location.
District Chilled Water is an innovative technology that provides high-demand electric customers — like downtown businesses and large residential buildings — with neighborhood-scale efficient air conditioning. The chillers work essentially like giant ice machines, freezing water in three-story tall coils overnight, using off-peak energy that helps Austin Energy manage electric loads. Buildings that tie in to the system don't have to have their own AC units to cool their interior spaces, freeing up valuable real estate and rooftop space.
Rainwater Harvesting was incorporated into the design for the New Central Library when a four-story, underground concrete vault was discovered during construction of the area. The vault was converted into a massive, 373,000-gallon rainwater-harvesting system that collects rainwater and drainage and uses it to irrigate the surrounding landscape and the Library's green roof, and to flush toilets in the building.
Electric Charging is featured in various areas throughout the EcoDistrict. Electric Drive was re-named and outfitted with fast charging equipment to allow people to charge their electric cars. Soofa Solar Benches are featured throughout the area, allowing users to relax and enjoy the scenery while charging electronic devices using renewable power from the sun.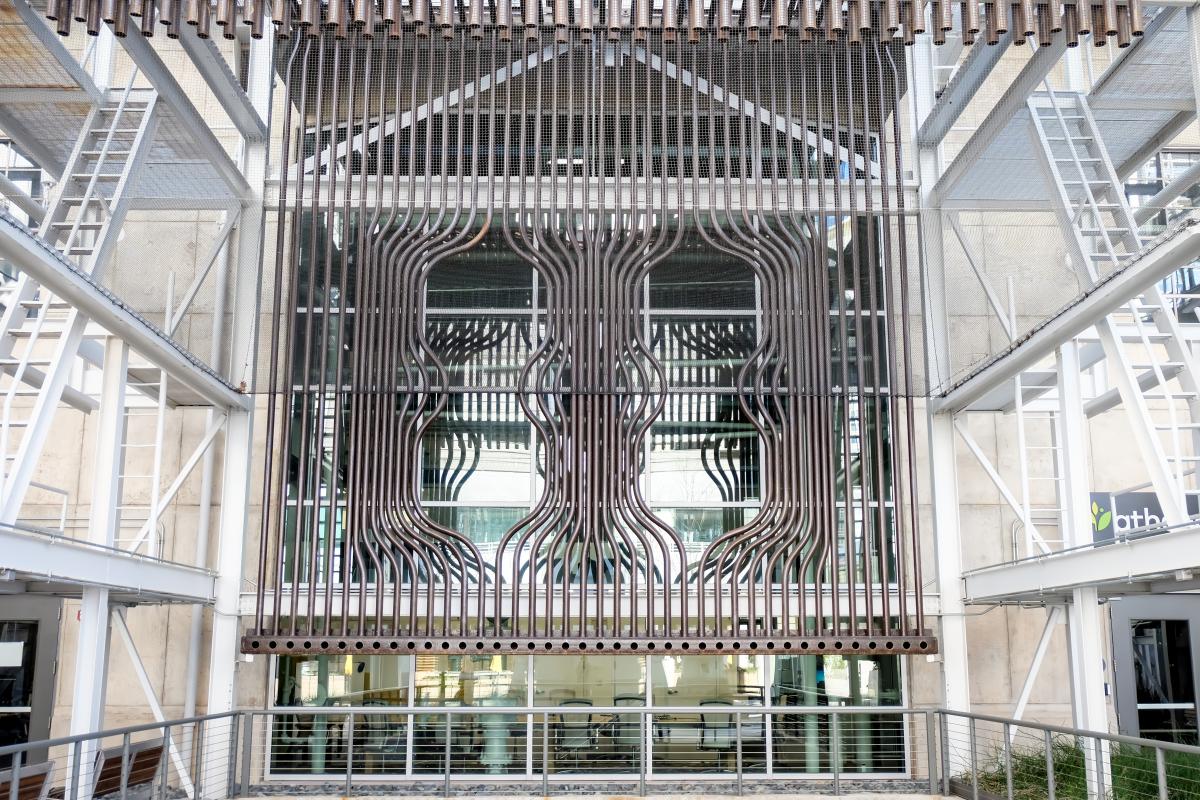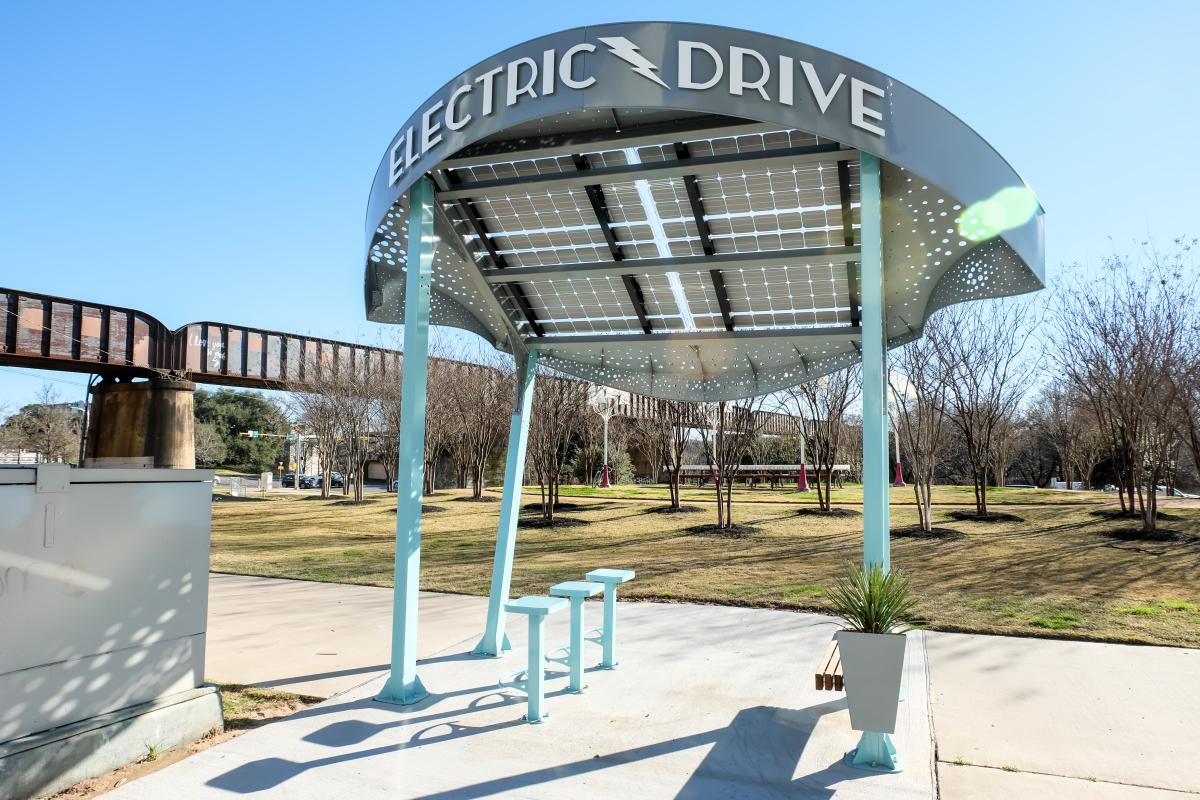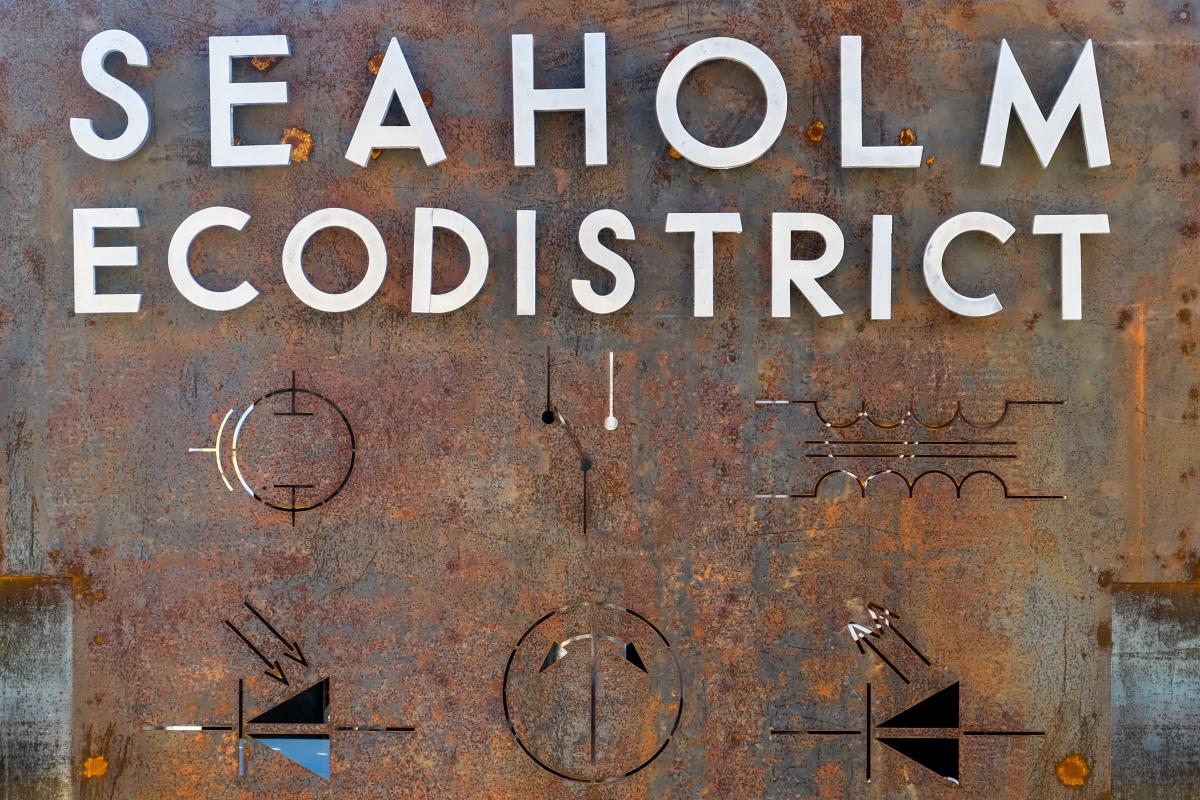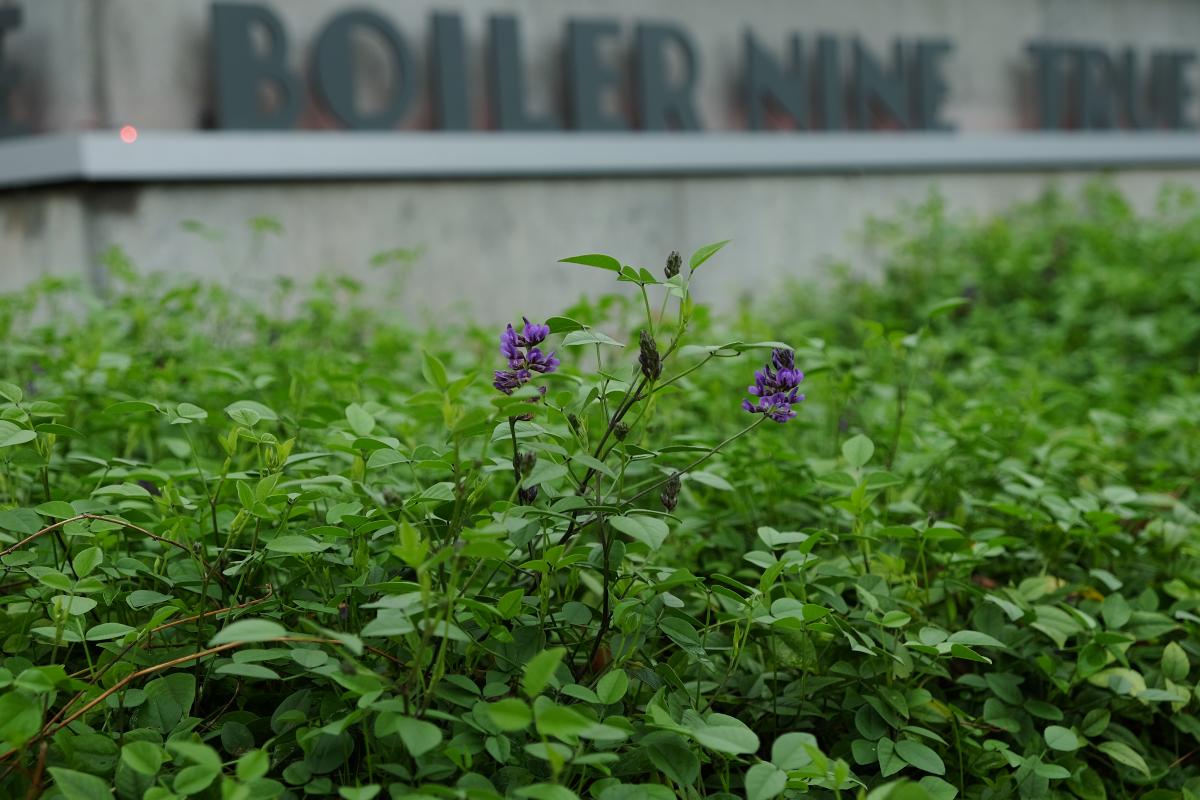 WILDLIFE HABITAT PRESERVATION
Along the shores of Shoal Creek, and near the Pfluger Pedestrian Bridge are several design strategies at work to protect our natural habitat. Thoughtful design creates attractive earth-friendly landscapes that reflect the character of central Texas, such as the limestone features, while conserving resources and providing attractive habitat for wildlife. Native and well-adapted plants have been carefully chosen to withstand drought conditions, resist pests and diseases, and serve as food sources for wildlife.
Rain gardens in the area help preserve water quality by capturing stormwater and providing natural filtration into the soil. This helps maintain our groundwater, prevent erosion, and keep harmful pollutants like fertilizers, oil, and other chemicals out of our waterways.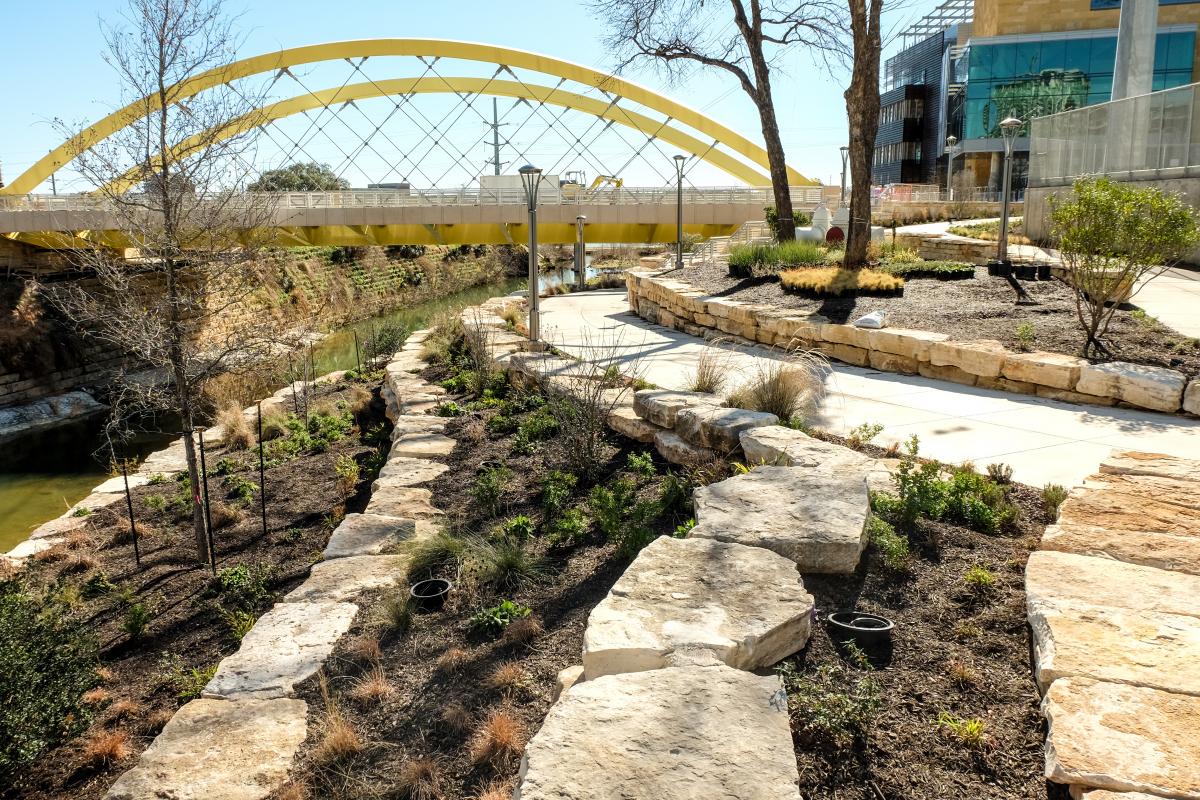 PEOPLE-CENTRIC DESIGN
New bridges, trails and bikeways were constructed or improved to help connect bicyclists and pedestrians safely around town and throughout the EcoDistrict. Along many of these routes, there are peaceful spots to sit and reflect, or to take in views of the city.
The Shoal Creek Trail was originally built in the early 1960's and is one of the oldest trail systems in Austin. The trail runs along the Shoal Creek Greenbelt from 38th Street and Lamar Boulevard for three and a quarter miles to Lady Bird Lake, where hikers and bikers can connect to other urban trails.
The Ann and Roy Butler Hike and Bike Trail is a 10.1-mile trail around Lady Bird Lake. Originally called "Town Lake", the name was changed in 2007 to honor former first lady Claudia "Lady Bird" Johnson, who was an ardent champion of beautifying the area. The Hike and Bike Trail meanders along the water's edge past skysrapers, neighborhoods, ball fields, and cultural attractions. A key tie-in to the hike and bike trail was the Pfluger Pedestrian Bridge, which allows users to safely cross the lake. The Lance Armstrong Bikeway also connects cyclists to the trail, and throughout the downtown area.
The Butterfly Bridge is an airy, pale yellow bridge that gets its name from the arches are slanted out to the sides, reminiscent of the wings of a butterfly. This extension of Second Street literally bridges the gap between the Seaholm EcoDistrict and the Second Street District. There are no permanent supports for the bridge in the water, which leaves no footprint on the trail or creek, and is designed to withstand Shoal Creek flooding.
Festival Street connects the Butterfly Bridge to the New Central Library and can be adapted for a variety of civic functions and public gatherings. On Festival Street, rather than the traditional vertical curbs along the edges of the roadway, forty-two-inch metal posts, known as bollards, are used to safely separate pedestrians and vehicles. This curbless design helps facilitate the transition from street to plaza.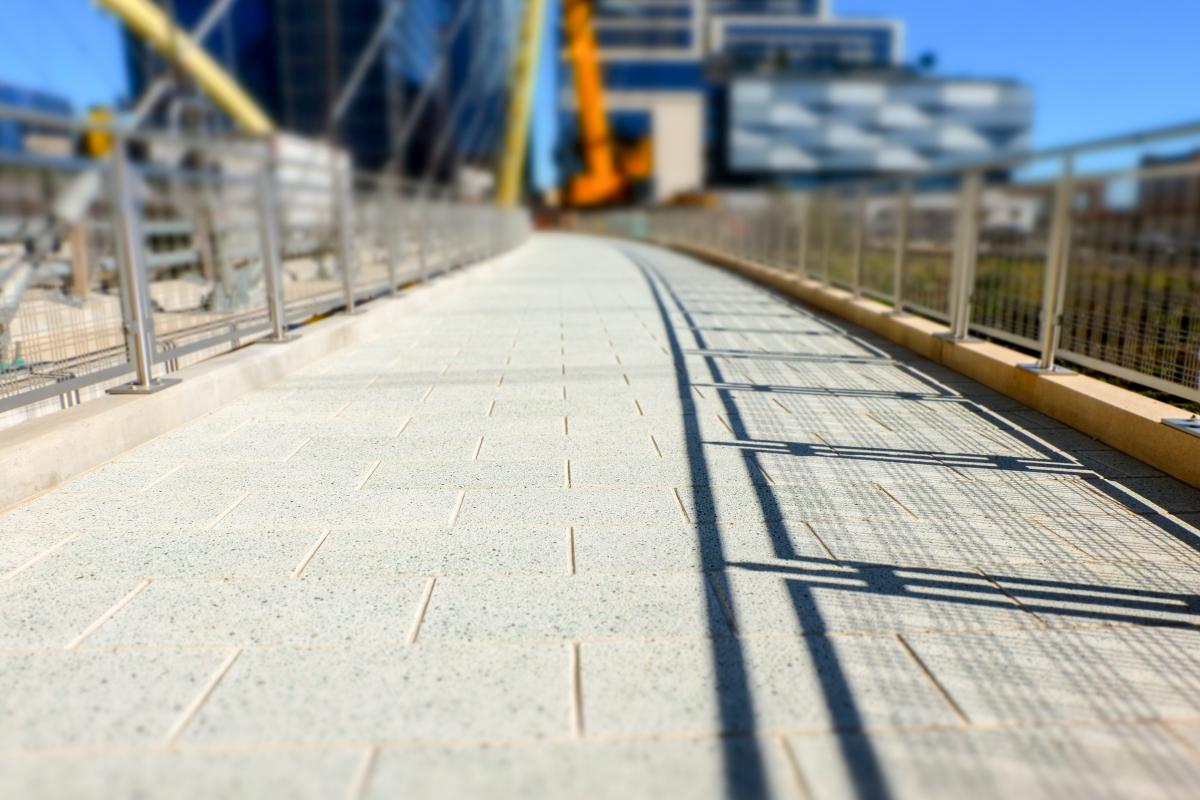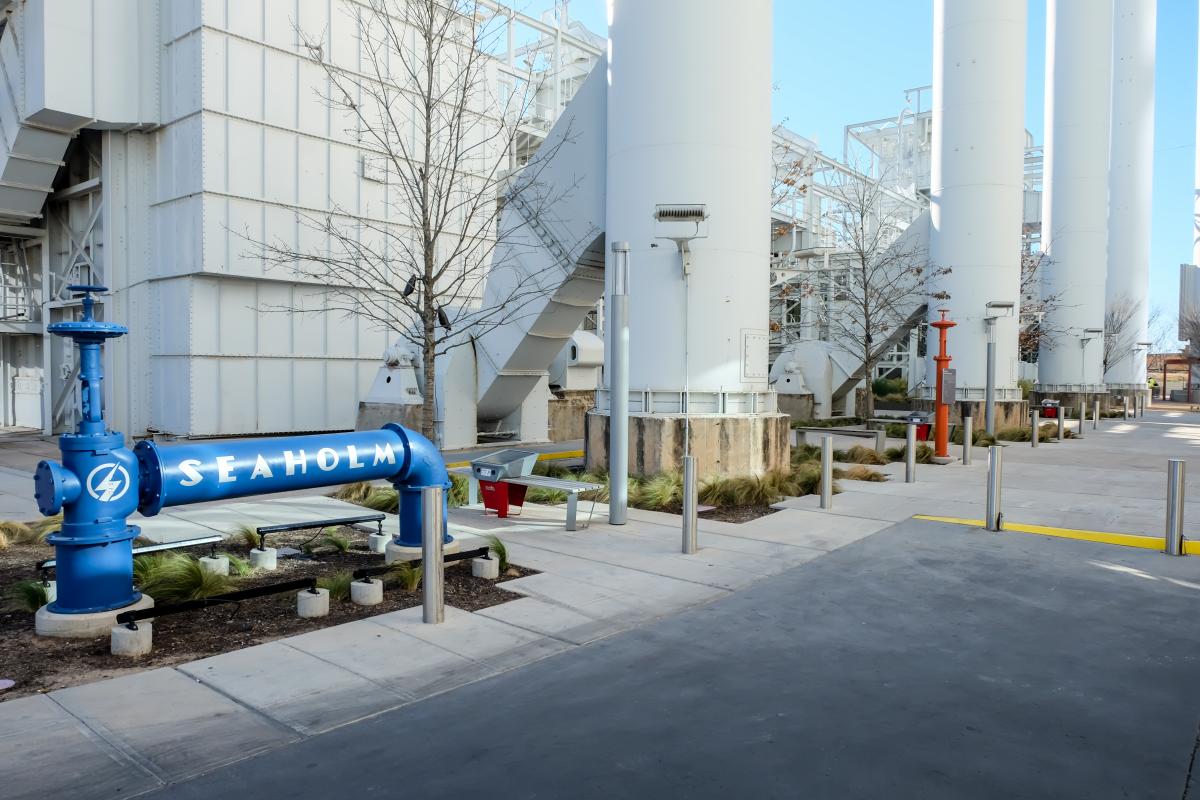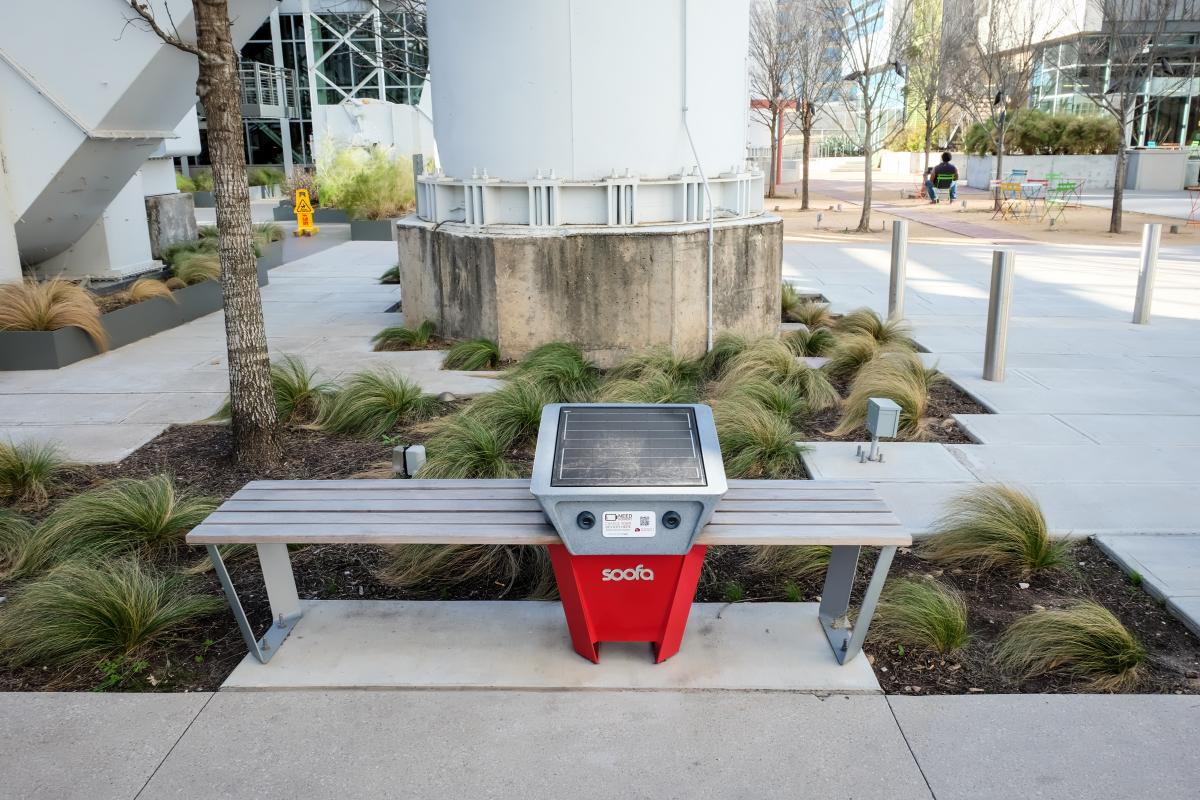 PUBLIC ART AND PLACEMAKING
There are several notable public art pieces in the EcoDistrict area, and many are interactive — inviting participants to gather, experience, and wander.
Open Room Austin

is a 24-foot-long table with a lacey "tablecloth", benches, and lighting with surrounding crepe myrtle trees. These elements create an al fresco "room" for Austinites and visitors to share.
Power Picket helps transform a substation — something that isn't traditionally seen as "beautiful" — and makes it into a colorful work of art. For the piece, the artist used conventional materials in unconventional ways, including mini-mesh chain link, pre-cast concrete and perforated metal panels to offer viewers a glimpse into the inner workings of the active electrical substation.
Caw is a 37-foot clock installation featured in the atrium of the New Central Library. The sculpture features Grackles, which are birds commonly seen in Austin.
Array is a work of art that serves a functional purpose. For Festival Street, these "art bollards" serve to protect pedestrians and are made of individually hand-textured bars of milled steel arrayed around a steel tube, then welded and capped. Spin is array's companion sculpture, and introduces an interactive element: people can actually spin the sculpture, creating a moment of play for children and adults.
Wander is a digital placemaking project that provides a playful way to explore Austin, with a "choose your own adventure" experience and a series of non-linear story options written by Austin storytellers. Users can go on an adventure multiple times, experiencing the city differently each time through choices provided within the stories.
Little Mama, Big Mama Baby, and Tall Solo are the large, lumpy creatures featured along Festival Street near the new Central Library. They were inspired by the shapes and textures of hippos and elephants.
The Seaholm EcoDistrict served to transform a former contaminated brownfield site that was unsafe for people into a thriving new hub for sustainable design. In its new incarnation as a lively neighborhood, everyone is encouraged to come and enjoy this safe, green, and revitalized space as one of Austin's newest and most exciting assets. In many ways, the features of the EcoDistrict are both a nod to Austin's past and a beacon toward it's shining, green future.