Don't Miss Alliance Children's Garden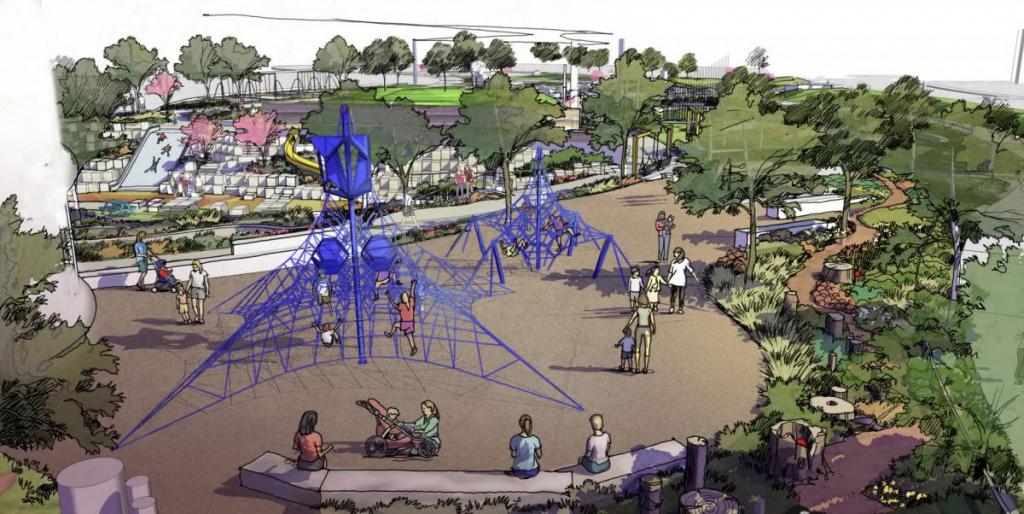 The spectacular Alliance Children's Garden is located near Lady Bird Lake with a view of the Austin skyline. It's one of the newest additions to the city's parks and recreation system and is located at the Michael Butler Park at Town Lake Metro Park.
Unlike any Play Space in Austin
The Alliance Children's Garden is more than a new park, it represents the unique culture of Austin and recognizes the history of the parkland where it's located.  Innovative play features invite kids to use their imaginations, explore, and play cooperatively. The space is visually striking and welcoming to generations of Austinites.
The type of play and the park amenities at Alliance Children's Garden are unlike any other play space in Austin. Four areas reflect Austin's culture and environment, including the hill country garden, the skyline garden, the art and culture garden, and the rock and slide valley garden. Though the garden rooms feature traditional play pieces, most play amenities are integrated into the landscape and unlike other play opportunities. 
A Park with a Long History
The land where the Alliance Children's Garden is located has a long and important history in Austin. The area was a brick yard from 1876 to 1958, which was owned by Michael Butler. Prior to purchasing this land, Butler owned a plant just north of the Colorado River (Lady Bird Lake) that manufactured bricks. Most of Austin's brick structures built between 1873 and 1900 contained Butler Bricks, including the Texas Capitol, which still contains three million Butler Bricks that support the interior of the building.
Butler died in 1909 and his family took over the business. In 1941, the Butler Family deeded land to the City of Austin for civic use, at a fraction of the land's value. These 91 acres became part of the Austin parks and recreation system and the Alliance Children's Garden sits on two of them. Throughout 1984, the Town Lake Park Alliance gathered 19,577 signatures forcing a charter referendum on the upcoming ballot to make the entire city-owned waterfront a public park.
Don't miss the Alliance Children's Garden. While you're there, check out the markers commemorating the history and contributions of the Butler Family, and enjoy the unique play spaces.