DRAWing towards Zero Waste: local program keeps art supplies out of the landfill
By: Andy Dawson and Bailey Grimmett
If you haven't heard, there's a colorful way to reuse in Austin. The Diverting Resources for Artistic Works program (DRAW) is an Austin Resource Recovery service aimed at reusing and extending the lives of art supplies such as acrylic paints, canvases, brushes and related items. Located at the Recycle & Reuse Drop-off Center (RRDOC), and as an expansion of the center's ReUse Store, DRAW is a resource aimed at offering barely-used art supplies to local residents in creative need.
The RRDOC collects all kinds of materials, including art supplies, to be disposed of properly. However, back in 2011, RRDOC employees found that many of the art supplies being dropped off were still in good condition and had a lot of "life" left in them. To keep from sending these usable items to the landfill, the DRAW program was created. Each week, employees go through the items that have been dropped off and determine if they can be reused; if so, they are set aside for the general public to pick up. On its eighth year, this small but impactful program has kept around 8,000 pounds of materials out of the landfill each year.
But don't take our word for it. Thao Phan, a local art teacher who educates students on topics ranging from introduction to art to advanced sculpture and ceramics, heard about DRAW last year and has been using the service for classroom (and personal) projects ever since. "DRAW is an awesome program!" Phan recently stated. "I can find classroom materials, craft supplies, paints and glazes for all kinds of projects."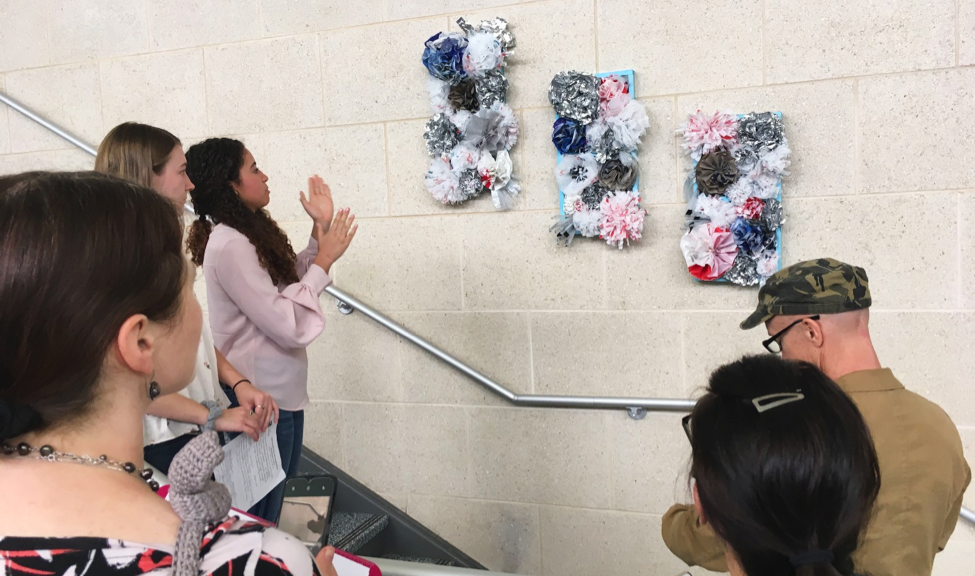 These bright and blooming wall hanging pieces were created by Phan and her students using plastics, wood and paint, courtesy of DRAW.
Dig a little deeper and you'll find that Thao not only considers DRAW a great resource for her and her students, but a resource with a mission behind it that's close to her heart, "I love how DRAW supports local artists, educators and the community!"
Everyone (especially local artists and teachers like Thao) is encouraged to take advantage of this reuse resource. Visit the Recycle & Reuse Drop-off Center, located at 2514 Business Center Dr., Austin, TX 78744, Monday through Friday during operating hours. Availability of supplies varies.