A "fort-unate" reuse partnership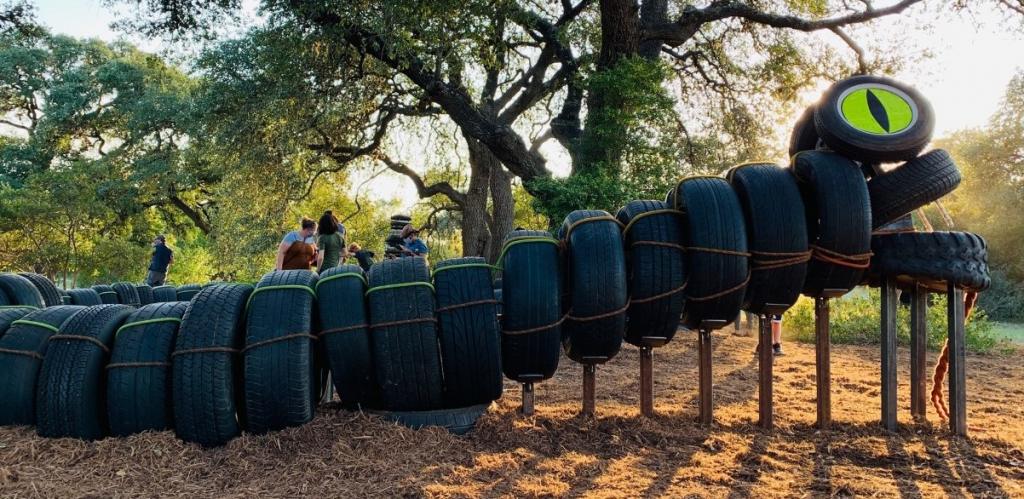 By: Bailey Grimmett
Austin's Recycle & Reuse Drop-off Center (RRDOC) accepts hard-to-recycle items like Styrofoam, plastic bags, old electronics and household hazardous waste for special recycling in order to keep the items out of the landfill. But did you know the center also accepts tires for a small fee? Most tires are shredded and used in playgrounds or on recreational surfaces for public use. Recently, some tires were put to reuse in a creative way.
Through a recent (and fort-unate) partnership with the Texas Parks and Wildlife Department, the RRDOC donated more than 100 tires for an upcoming project as part of the Ladybird Johnson Wildflower Center's annual Fortlandia exhibit. With these tires, Texas Parks and Wildlife was able to create the Snake, Rattle & Roll! fort. It is a giant rattlesnake constructed with more than 100 tires, which visitors can see on display at Fortlandia through January.
The Snake, Rattle & Roll! fort is a great example of how everyday items and materials (like our car tires) can be reused and given a second life. Thanks to Austin and Travis County residents, more than 100 tires were kept out of the landfill and are now benefiting our community. Tire-rrific job, Austin!