In the Heart of Austin, You'll Find a Heart as Big as Texas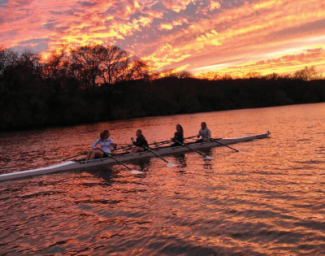 Did you know that Lady Bird Lake is considered internationally as "a good piece of water?" That's according to Kevin Reinis, Executive Director of the Austin Rowing Club. Rowers come from all over the world to dip their oars in the lake.
The Austin Rowing Club is helping to grow Lady Bird Lake's reputation in the worldwide rowing community. And the nonprofit organization is one of many vendors for the Parks and Recreation Department that are making our parks and recreation system an amazing asset to for residents and visitors.
The Austin Rowing Club provides opportunities for community members to improve their health and connect with nature—two things that are central to PARD's mission. But they're not just offering a good workout on "a good piece of water." They've also got an incredible heart for giving back to the community.
A Heart for Giving Back
The Austin Rowing Club helps underserved community members and individuals that have been traditionally left out of rowing get out on the water. They offer programs for veterans, breast cancer survivors, at-risk youth, economically disadvantaged youth, senior citizens, Paralympic athletes, and adults with differing abilities, to name just a few.
Throughout the year, you can find kids on the water in boats and kayaks, visiting the Austin Rowing Club from PARD's recreation and activity centers. Plus, the club hosts adaptive recreation programs for adults from PARD's Danny G. McBeth Recreation Center and Annex.
Austin Rowing Club is also a steward of Lady Bird Lake and the surrounding Ann and Roy Butler Hike and Bike Trail, providing financial and volunteer support to keep these gems safe and clean.
The Heart of Texas Regatta
At the end of this month, you may notice some exciting activity on the east end of Lady Bird Lake—the Heart of Texas Regatta. The regatta is two days of racing, with local and visiting teams of all ages—from teenagers to seniors—and all skill levels. Since 1983, the organization has hosted this event on Lady Bird Lake. Over 1,500 competitors gather annually at Edward Rendon Sr. Metropolitan Park at Festival Beach to row the 1,000-meter course. This year, the Heart of Texas Regatta will be held February 29 through March 1.
You can join in the fun of this 37-year tradition by volunteering, watching, and, of course, racing.
The Austin Rowing Club enlists the help of over 100 volunteers to help make this race possible for the community. You can sign up on their website.
Check out the races from 8 a.m. to 5:30 p.m. from the Ann and Roy Butler Hike and Bike Trail along the east frontage road of Interstate 35 or from the Boardwalk at Lady Bird Lake.