Net-Zero Hero: Aileen Chen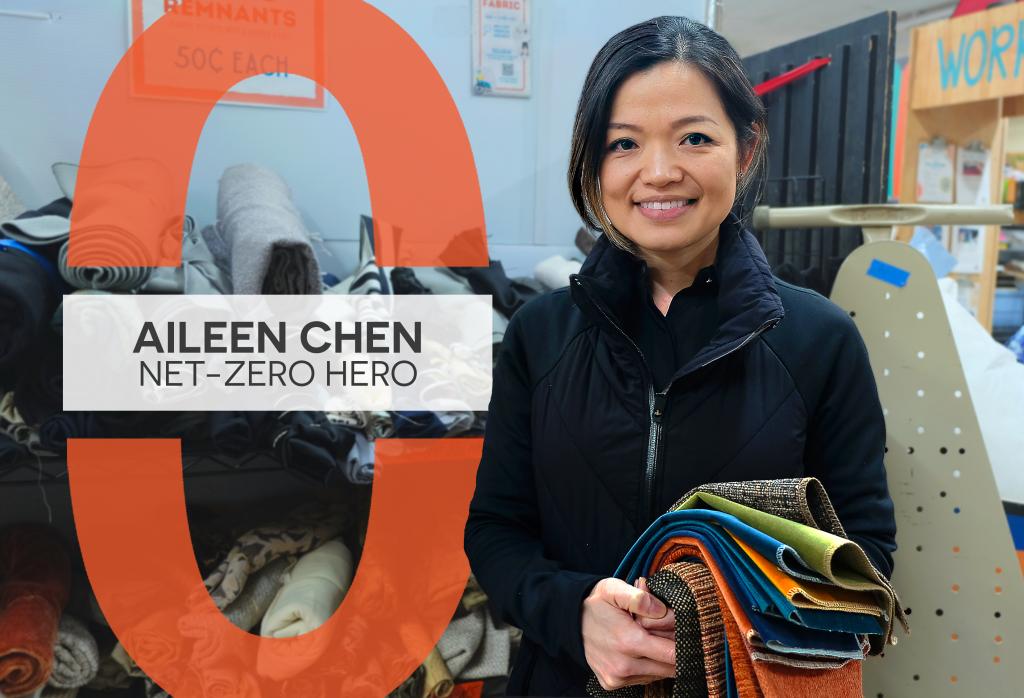 I'm helping to make Austin Net-Zero by giving new life to high-quality materials, imagining and creating them into modern, functional goods.
Meet Aileen Chen: maker, mother, entrepreneur, and our newest Net-Zero Hero! Aileen is the founder of REVISION GOODS, where she works to give otherwise-discarded materials new life by creating "modern, functional home goods that don't burden the planet." As Austin works towards its zero waste goal, entrepreneurs like Aileen are helping our city reimagine new ways for waste to be used.
We met with Aileen at Austin Creative Reuse and traveled with her to her south Austin studio. During our time together, Aileen spoke with us about what inspired her to start REVISION GOODS, resources that have helped her on her journey, and how other Austinites can get involved.
---
What inspired you to take action?
Growing up, my parents reinforced in me the idea that everything we used required resources and hard work to create. They emphasized that, as such, we must treasure our belongings and use them to the greatest extent possible, even if there were options to buy new replacements. As an adult, I worked for 15 years in the consumer products industry after pivoting from finance and consulting. This work helped me understand more intimately the vast amount of waste in our current linear economy where we "take (from the earth), make (into products), waste (throw away)." Astoundingly, more than 90% of the things we use end up in the landfill, often after a short lifespan. This left me questioning: The amount of resources is not infinite… how long could this system last?
After becoming a parent, I became more concerned about how this unsustainable system impacts the planet and our future generations. I tried to instill in my children the same gratitude for objects we use and the mindset of reusing or repairing materials whenever possible — as my parents had done for me. Itching to make an impact beyond my home, I started learning more about the circular economy and looking for where I could make a difference.
While exploring ideas for styling my home, I found myself struggling with two conflicting desires: one, wanting to purchase the beautiful items I saw down the rabbit hole that the internet can be, and the other, wanting to reduce my family's environmental footprint. I questioned why there weren't more sustainable options for satisfying that human desire to beautify our spaces and convey our styles and personalities through art, objects, and architecture. Why couldn't the things that styled our homes and work spaces be made from existing and sustainable materials instead of new materials that extract more from our planet?
I challenged myself to use existing materials to design and create home goods and art objects that even my most design-forward friends would use. This endeavor coincided with the Reverse Pitch Competition. The competition, sponsored by the City and the Austin Young Chamber, encourages local entrepreneurs to find solutions for hard-to-recycle materials. I signed up to compete to put some fire under myself and leverage the program's resources and connections to propel the idea forward.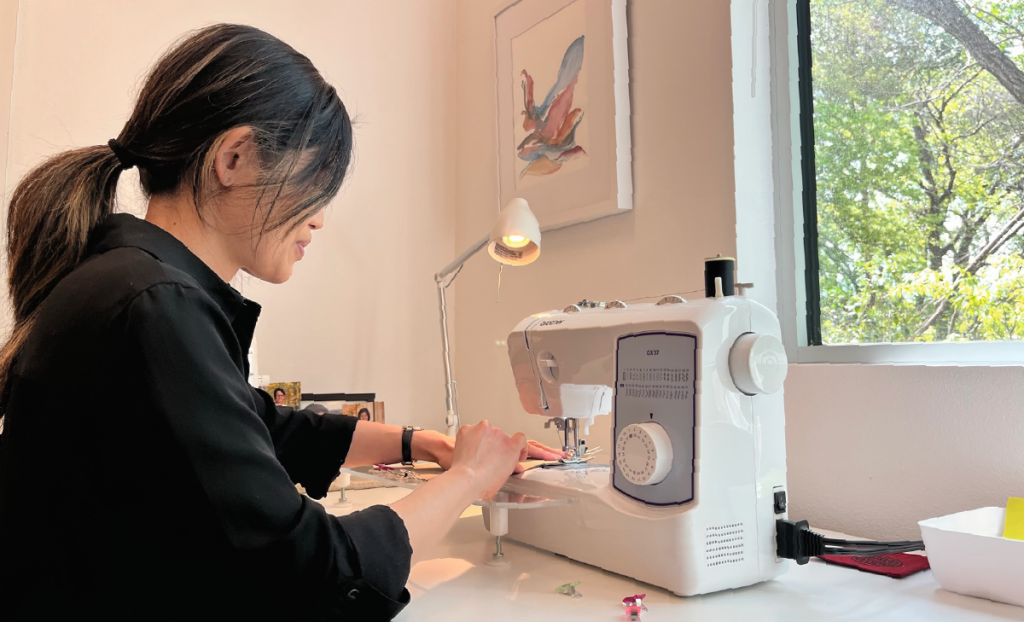 Aileen works at a sewing machine in her studio.
This led me to Austin Creative Reuse (ACR), where I discovered the huge array of creative materials that they collect, meticulously sort, and make available at very affordable prices to the community. ACR has diverted nearly two million pounds of materials from the landfill to date, with a 97% diversion rate! ACR and Reverse Pitch opened my eyes to the thousands of tons of architectural/interior design samples and other premium materials (fabric, stone, metal, etc.) that go to Texas landfills each year, after their initial and singular purposes were served. I felt compelled to try to lessen the burden on our planet by finding solutions for these beautiful, premium materials that deserved a second life.
How did you do it?
I sourced premium materials with certain desired attributes from ACR and interior design and architectural firms I connected with. My previous experiences in sourcing, design, and production processes, and creating art throughout my life, came in handy and made for a joyful exploration phase. I played with materials and reimagined what they could become — pillow covers, tissue boxes, table runners, seat cushions, pouches... Prototyping helped me better understand the materials and how to create from their very disparate sizes, designs, and textures.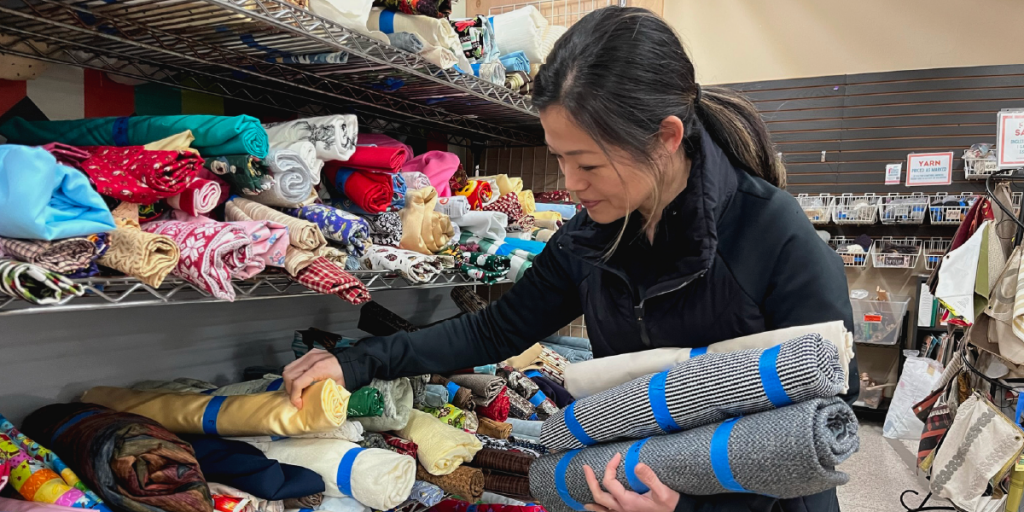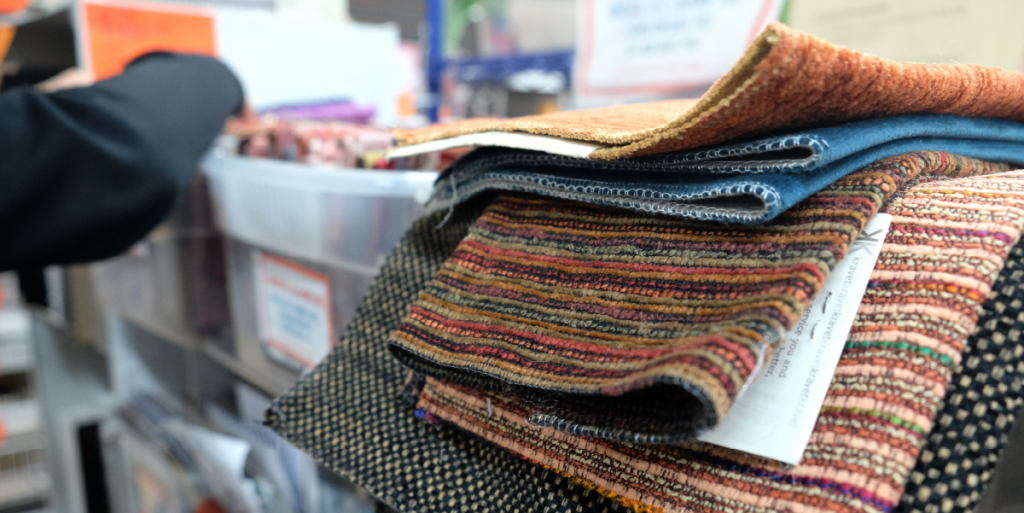 Aileen shops for quality fabrics at Austin Creative Reuse.
I decided to brand the creations under "REVISION GOODS," conveying the idea of re-envisioning and revising objects into something new. The name also captured my hope and vision of a more circular, sustainable future.
Having created some products, I needed to figure out if there was demand for such creations. I set up an Instagram account to test this concept (@nowasteinnature) and started vending at markets in Austin to get direct customer feedback and test out the designs, concept, pricing, messaging, etc.
Market after market, I was continually encouraged by the strong reception — customers bought my creations, my email list grew to a few hundred people, and my social media account was small but growing. There were also dozens of people who stopped to chat, share ideas, and connect me with others to help with this endeavor. Many repeat customers showed up time and time again. A woman from Houston once scheduled a meet-up with friends in Austin to coincide with a market where I had a booth so she could come by to buy some REVISION GOODS creations! I also got to meet numerous local artisans and other upcycling entrepreneurs, collaborating on some products and figuring out how to grow the upcycling ecosystem together. (If any local artisans are interested in collaborating, please reach out!)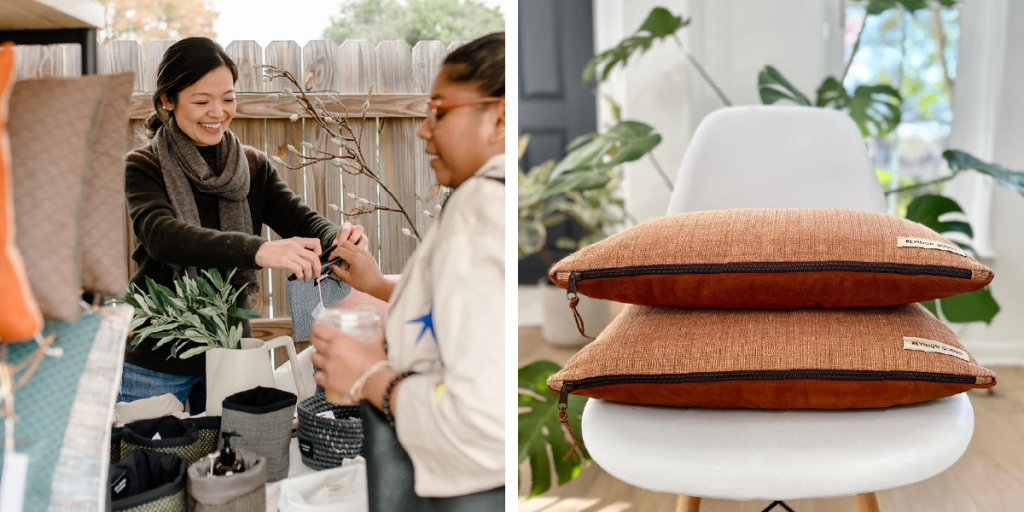 Left: Aileen chats with customers at The Front Market (photo courtesy of Future Front Texas); Right: A pair of REVISION GOODS pillows created by Aileen (photo courtesy of Aileen).
After being chosen as one of the Innovation Fellows of the Reverse Pitch competition and benefiting from the program's entrepreneurial resources included in the prize package, I also pitched the idea at the Circular Austin Showcase in August 2022 and was chosen as a winner. 
The incredible support and encouragement from customers, the community, the City, and its programs continue to fuel me to keep honing this idea. I want to build REVISION GOODS into a compelling option for elevated home goods for consumers, one that keeps more and more premium materials out of the landfill and helps change people's perception of what upcycled goods can be. 
What's been most rewarding about getting involved in this way?
The most rewarding feeling is seeing the transformation of materials from "waste" into something valuable that someone is excited about owning. I put "waste" in quotes because I'm talking about it only by definition of its initial intended use and not by an objective measure of its quality. The process makes me hopeful about the potential for people to leverage more existing resources and see the possibilities in "waste."
What's been the toughest part?
One of the main challenges with upcycling is the ability to scale and make a bigger environmental impact. It's a pain point that I hear upcycling artisans and entrepreneurs talk about regularly — how to prep and design with materials that are so disparate in attributes. This enables each creation to be unique — a one-of-a-kind or small-batch piece — but it's hard to replicate into larger quantities, making the creations more affordable and allowing us to renew more materials more quickly.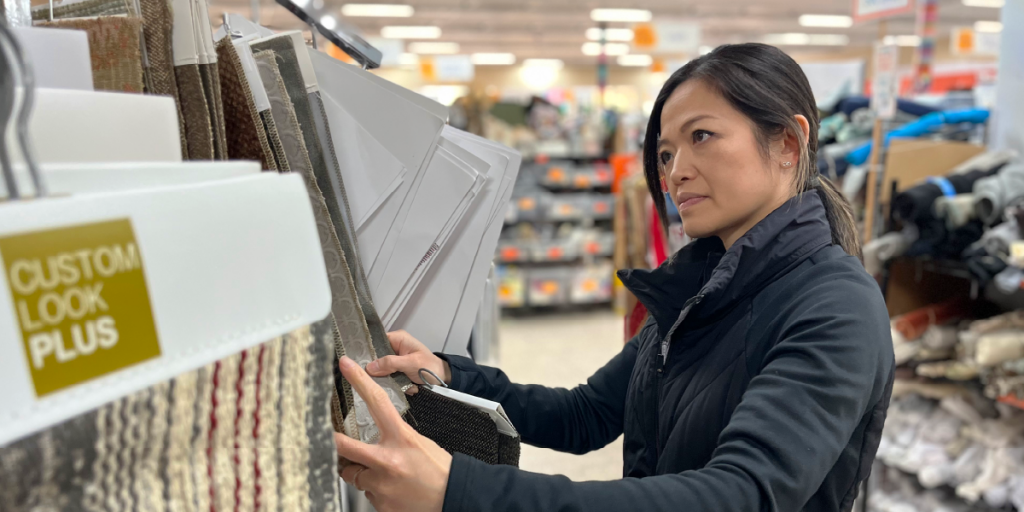 Aileen searches through architectural samples at Austin Creative Reuse.
It's been the tough yet mentally fun part, figuring out how to scale the sourcing, designing, and production of these materials so that this concept can have a greater impact on diverting this waste stream. 
One way I've scaled the production is by partnering with Open Arms Studio (OAS), a cut-and-sew studio in Austin under the Multicultural Refugee Coalition that hires and pays fair wages to refugees in Central Texas. After I source, prep, and design the materials of each REVISION GOODS piece, OAS helps me with the final sewing of some products. This enables me to renew more materials and provides work for more OAS employees. OAS and all of its staff are a gem in Austin that I hope more local businesses can leverage and support. 
REVISION GOODS is young but growing and at the beginning of its journey with big ambitions. It is an endeavor that I hope I can dedicate myself to for years to come. I also hope in years' time, REVISION GOODS is one of numerous upcycled brands out there… and upcycled goods will be so commonplace that "made from renewed materials" is a baseline for consumers.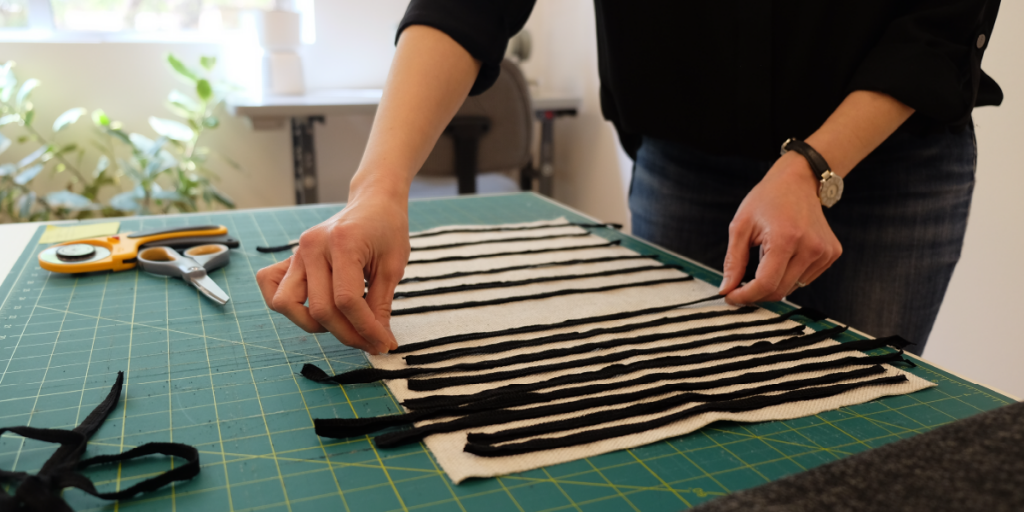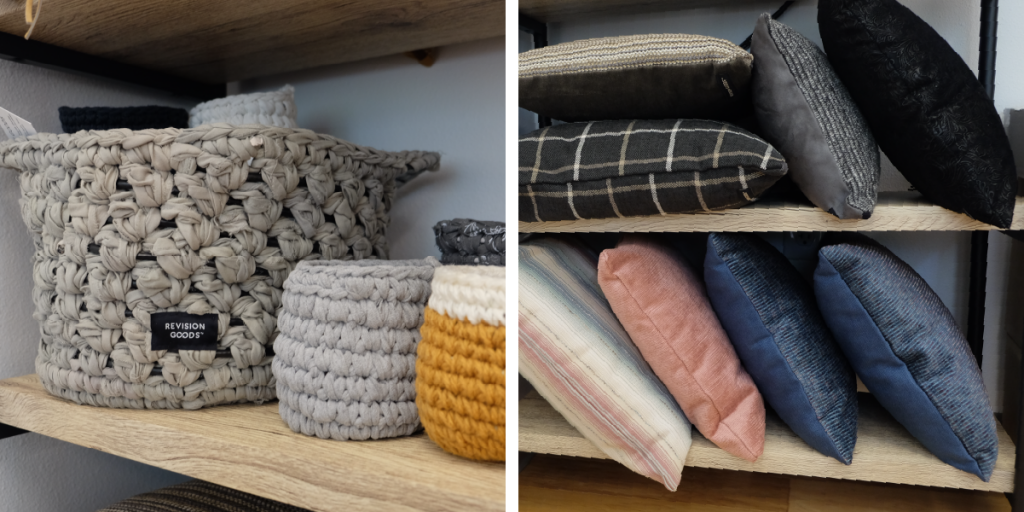 Top: Aileen works on a textile layout using hems for texture. Bottom: REVISION GOODS products are displayed throughout Aileen's South Austin studio.
The City of Austin has a goal of reaching zero waste by 2040. For fellow Austinites hoping to reduce their waste and get more involved in the circular economy, what local resources would you point them towards?
The city has so many resources, with more sprouting. Some of my favorites:
What advice do you have for others?
For a healthier planet now and into the future, we need to rethink the way we consume and think more about the lifecycle of things we use. 
One way to do so that I found helpful over the years is to just… PAUSE. Before I throw something away, I try to pause to consider what is the best next phase for this item — can it be repaired, reused, or donated? If none of these, can it be composted or recycled, or must it be thrown away, and how. Before I buy something, I try to pause and sometimes step away for a bit (from the store, the laptop, the "Buy" button) and think about more sustainable or creative substitutes, or whether I need it at all.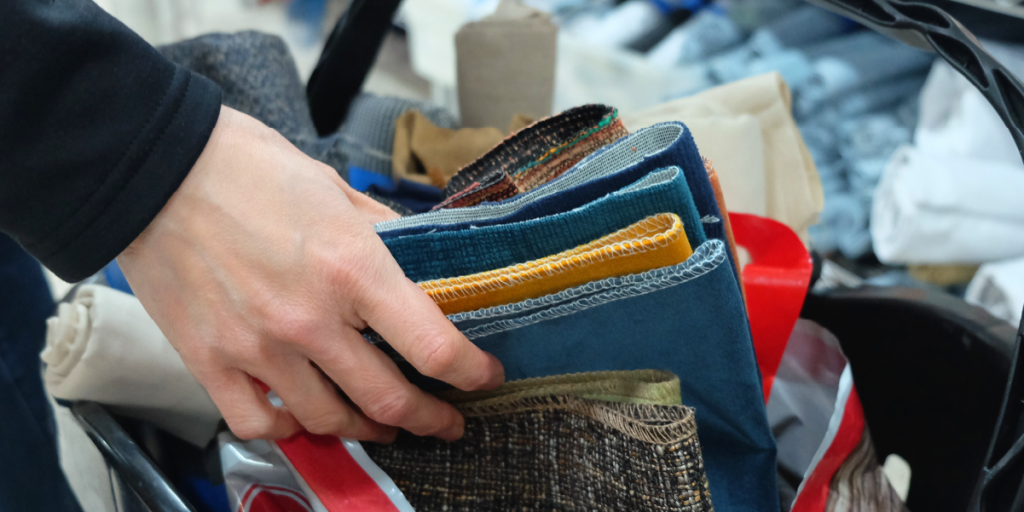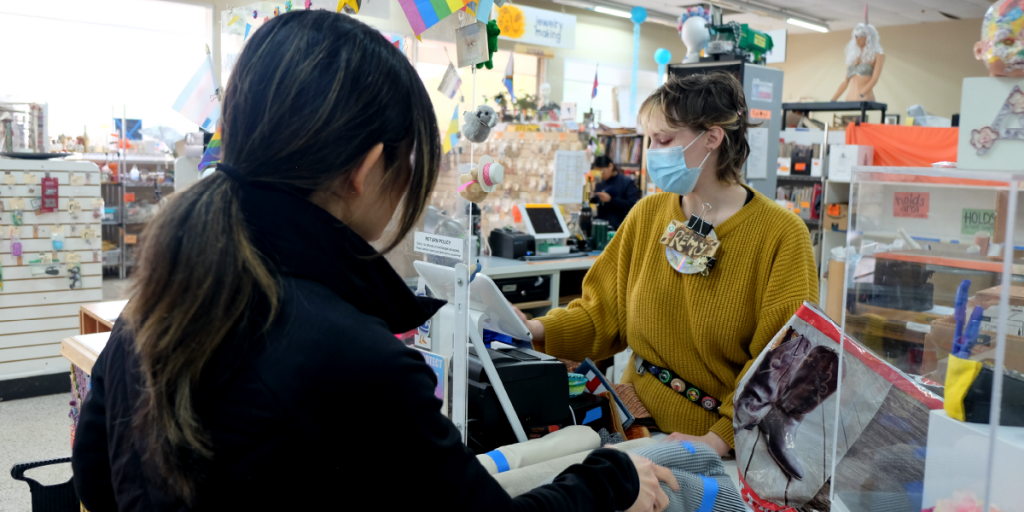 Top: Aileen reviews the items in her cart before checking out. Bottom: Aileen checks out with staff member Remy at Austin Creative Reuse. 
Over the years, I've felt less weight in minimalism and more pride in using things to their fullest and buying things that last. The downside of prolonging use is the potential accumulation of items. I try to sift through things from time to time and donate less-used items to places where they can be put to better or more frequent use. 
While governments and corporations should concurrently enact change at large scales, each of us as consumers have a lot of power to use our spending decisions to drive change. Put your dollars toward the brands and causes you support. Not all sustainable alternatives are expensive (like shopping vintage/thrift or buying school supplies at ACR) or time-consuming (buy from local creatives instead of making it yourself). Simply not buying is also a powerful action.
Since becoming a mom and especially now with teenagers, I know that children are watching our actions and learning from how we make decisions. If our kids learn to value the things they have, buy items that last, and put things back into circulation whenever possible, they and the next generations will keep the lifecycle of things front of mind. They will influence decisions made across our economies in the years to come — how we use more regenerative materials, how companies provide take-back programs, how to consume less and consume more thoughtfully, and, maybe, sometimes, knowing how to simply pause.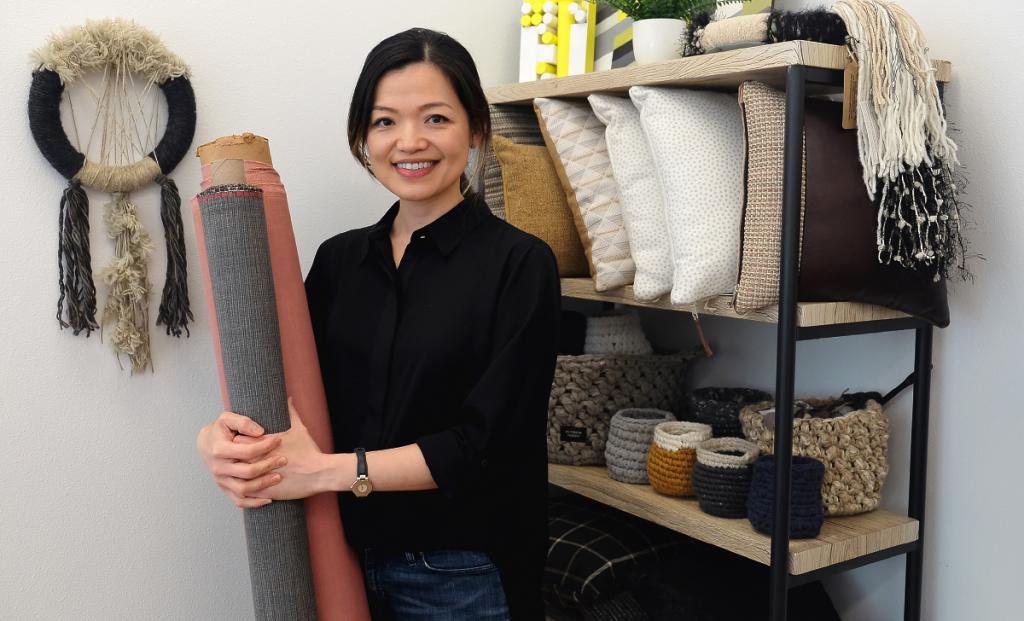 ---
Find Aileen and REVISION GOODS at an upcoming market and read more about Austin's zero waste goal. To learn more about Austin's net-zero goal and explore actions you can take to support a greener community, view the Austin Climate Equity Plan.
Share your Net-Zero contributions with us on Twitter or Facebook, and use #NetZeroHero. If you know a Net-Zero Hero (or heroes!) who should be recognized for their efforts, send your nomination to sustainability@austintexas.gov.