Net-Zero Hero: Congregation Beth Israel

We're helping to make Austin Net-Zero by: powering our synagogue with solar energy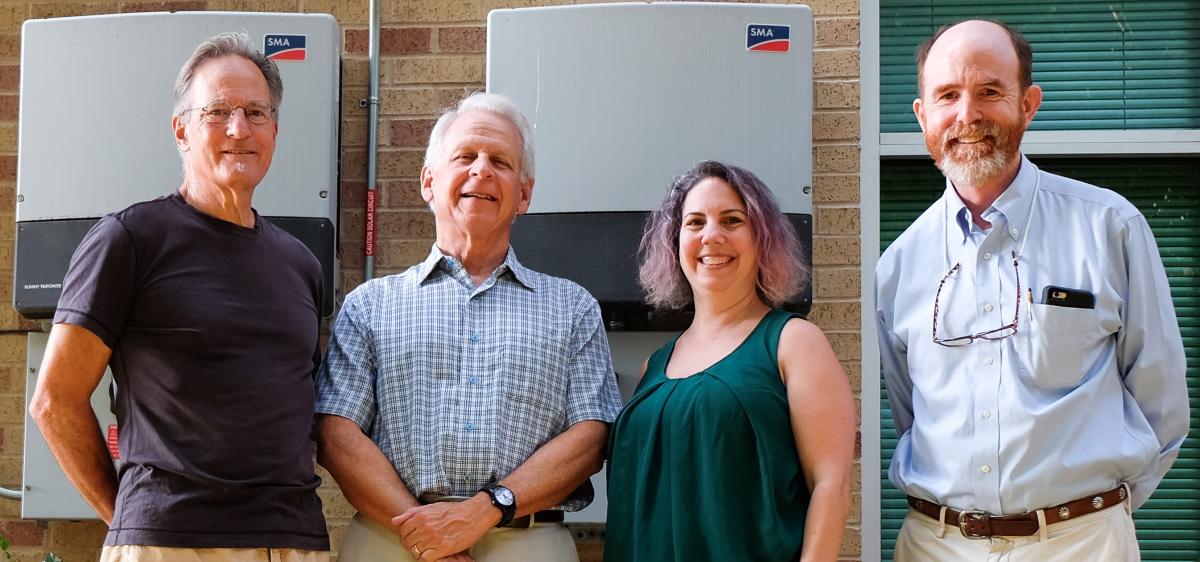 Austin is green and we all want to keep it that way! As a community, we're committed to reaching the target of Net-Zero greenhouse gas emissions by 2050, which will ensure a safe, healthy, vibrant Austin for many years to come. Here's the story of how one group can make a difference.
Meet the Net-Zero Heroes of Congregation Beth Israel: Forrest Novy, Leon Barish, Jennifer Smith, David Todd and Rabbi Steven Folberg. A few years back, this team helped lead an effort to install a rooftop solar array at their place of worship. The project was a great success and ended up being an opportunity to teach their fellow congregants, as well as the larger faith community, about the benefits of renewable energy.
We spoke to them about their commitment to Net-Zero, what their toughest challenges were, and what advice they had for others. Read more below.

Under Genesis 2:15, "The Lord God took the man and put him in the Garden of Eden to work it and keep it." To us, this means that the Judeo-Christian community has a religious mandate to take care of the world. Like many other congregants at Congregation Beth Israel, we believe that climate change is a very serious and immediate prospect for our society.

This crisis requires all of us to think quickly and creatively about ways to reduce our carbon footprint.
Several years ago, Forrest Novy noticed that the large, flat, unshaded roof of the synagogue would be perfect for solar panels. He ended up spending lots of time patiently explaining the virtues of solar energy to his fellow congregants, helping them to become more familiar with the concept.
In particular, one "selling point" of installing solar was that natural gas and oil prices have been volatile in recent years. Finding energy sources with more stable pricing just makes sense — particularly for a non-profit like the synagogue that doesn't have a way to pass on rising costs to customers.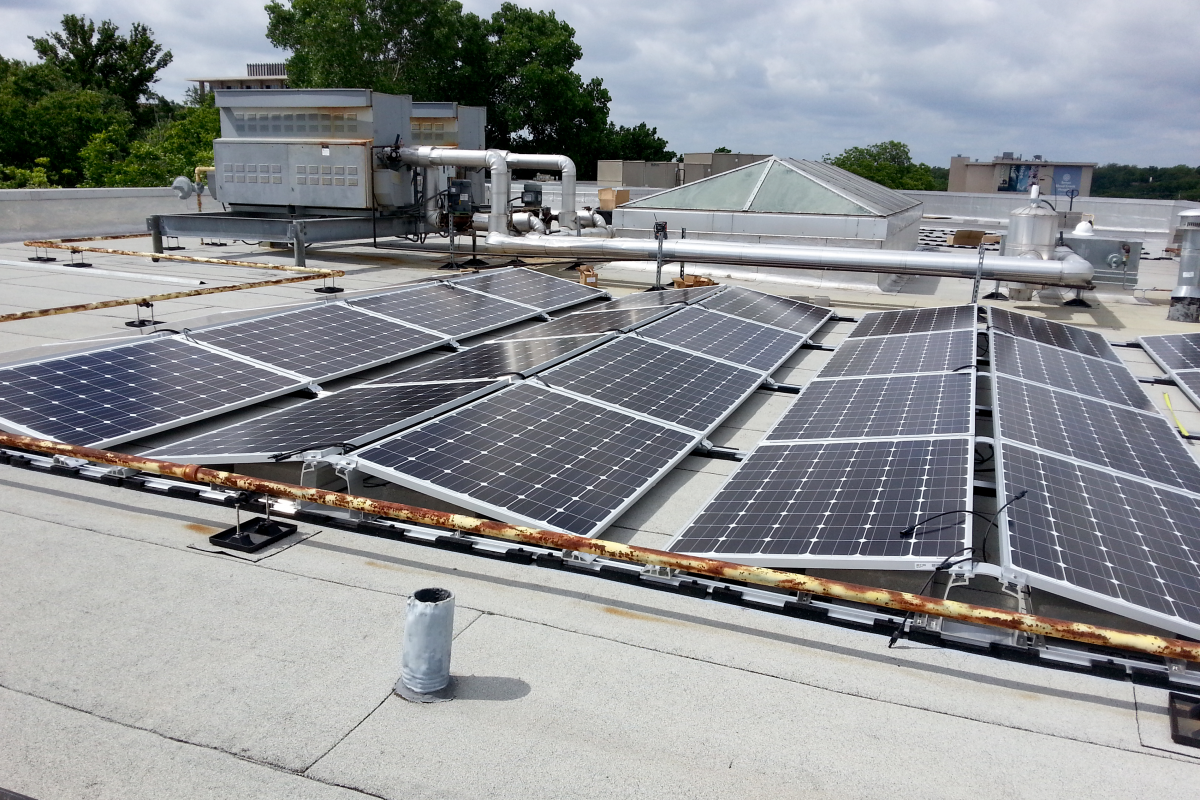 Top right photo, left to right: Forrest Novy, Leon Barish, Jennifer Smith, David Todd

We solicited our fellow synagogue members, explaining the environmental, religious, financial and educational reasons for using solar power and managed to raise a significant amount of money towards the project. Then, in the closing months of the project, another congregant made a very generous gift that helped make the array a reality.
Austin Energy also provided a critical incentive through their Solar PV Program to help subsidize the large up-front cost of the array.
To get the install done, we considered competing bids from various solar companies and chose an experienced installer with the lowest price per kilowatt and highest power output per panel. In reviewing bids and continuing through construction, we worked closely with Austin Energy, often consulting with their staff for advice.

Getting people to understand that it's sometimes cheaper in the long-run to pay for something up-front, rather than on an installment plan. In other words, spending money on a solar array now vs. paying monthly utility bills every month for years to come.
Another tough part was having to weigh the core costs of religious programming against the secular costs of keeping the lights on. There was also some distrust of the reliability of solar energy in the minds of some of the congregants who saw it as a new, untested technology.
Overall, it was like a marathon race. Patience and commitment were key in order to see the project through.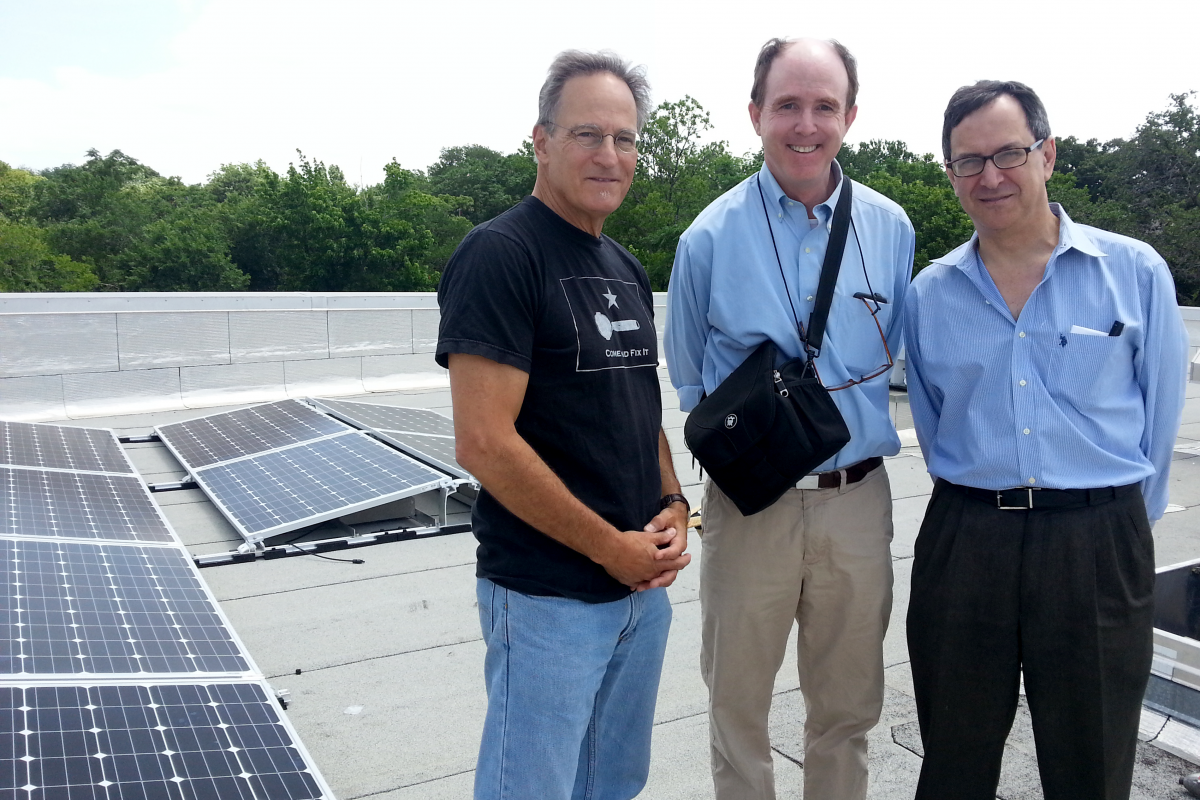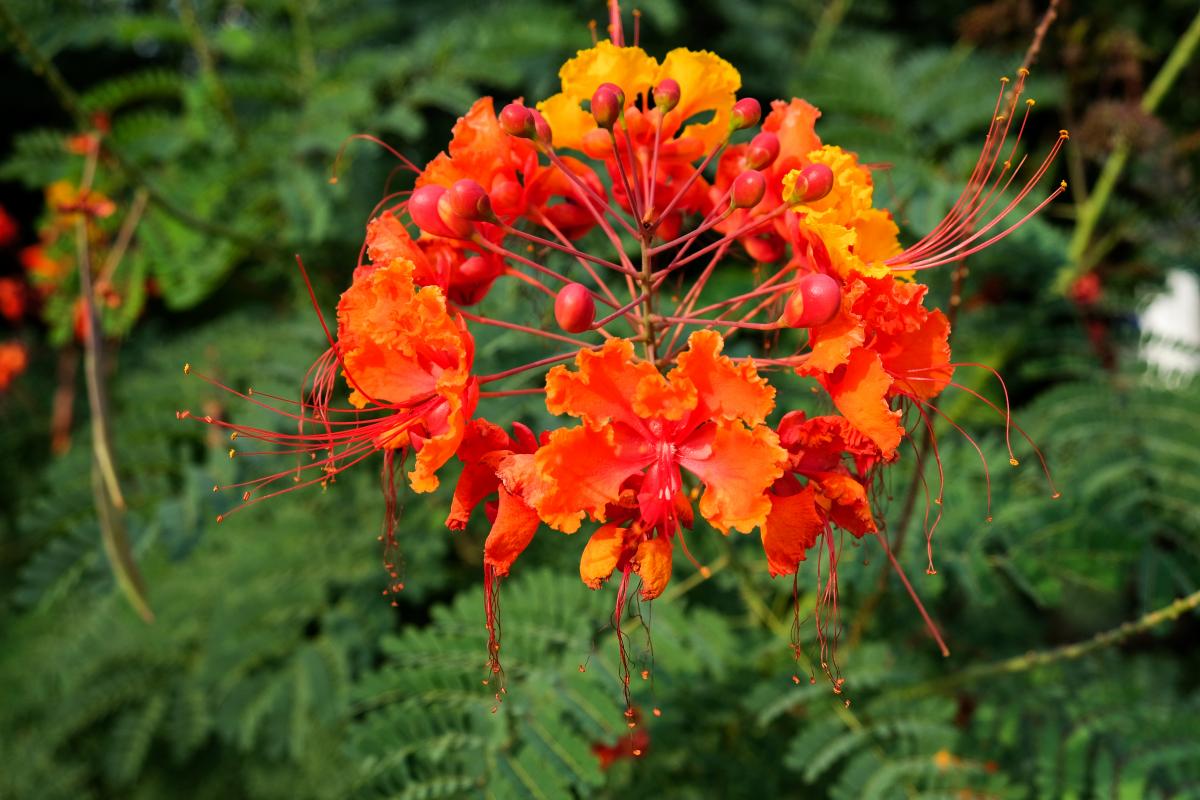 Top photo, left to right: Forrest Novy, David Todd, Rabbi Steven Folberg.

Seeing the congregation members' reaction to a project of this magnitude was a very positive experience for us. Also, the reliability of the system has been a great comfort, although that's lent some invisibility to the solar mission at times.

Try it, you'll like it!
Document the project and celebrate it so that your friends and neighbors can know that you've "gone solar" and understand why you thought it was worthwhile. Rabbi Folberg did a wonderful job of filming the installation, and we really enjoyed talking about the project with the Austin Interfaith Environmental Network.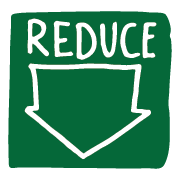 When you use clean, renewable solar power for your home or business you help reduce Austin's carbon footprint and help protect the environment. You also contribute to the expansion of green jobs in the Austin area. Interested in going solar? Check out Austin Energy's Solar Incentive Program.
To learn more about Austin's Net-Zero Goal, view the Community Climate Plan.
Share your Net-Zero contributions with us on Twitter or Facebook and use #NetZeroHero. If you know a Net-Zero Hero (or heroes!) who should be recognized for their efforts, send your nomination to sustainability@austintexas.gov.