Net-Zero Hero: Girl Scout Troop 40348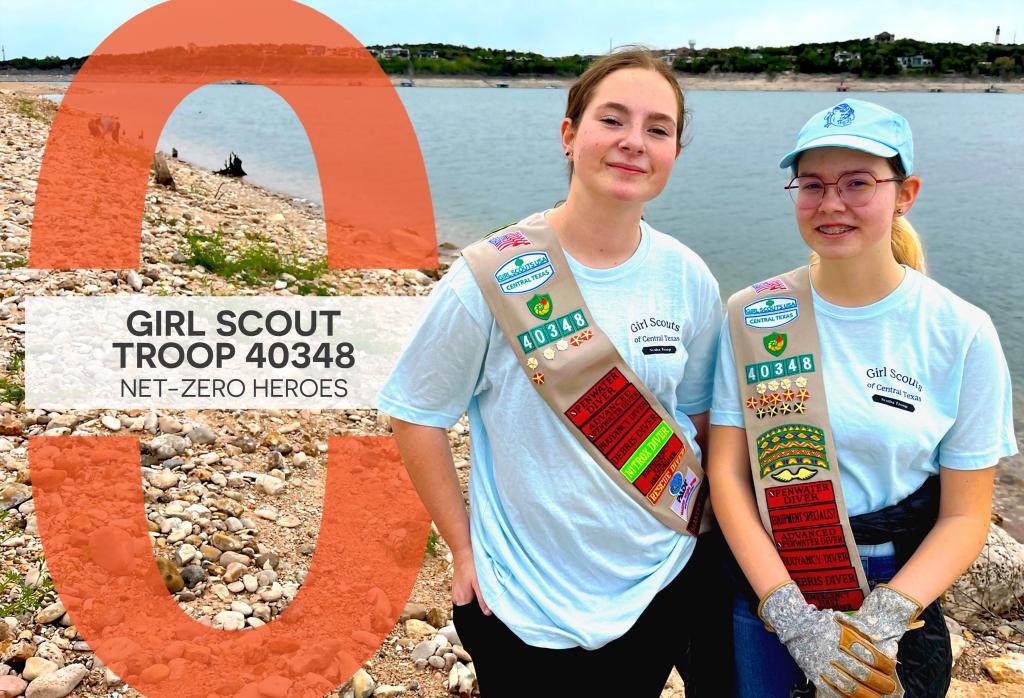 We're helping to make Austin Net-Zero by promoting stewardship of our local watersheds.
As part of the Girl Scout Law, every scout agrees to "use resources wisely" and "make the world a better place." For Troop 40348, the scouts live these practices above and below the waves. Girl Scout Troop 40348 is the first Girl Scout scuba troop in the country, and we're proud to introduce them as our newest Net-Zero Heroes. 
From wearing ocean-safe sunscreen to organizing watershed cleanups, the scouts of Troop 40348 are committed to finding ways to conserve and support clean, sustainable watersheds locally and across the world. We met with members of Troop 40348 at Bob Wentz Park for a shoreline cleanup and spoke with scouts Eleanor (a.k.a Sandshark) and Summer (a.k.a. Starfish) as ambassadors for the troop to discuss what got them involved and how the troop practices its mission to "Dive Like a Girl Scout."
---
What inspired you to take action?
Summer: Something that's inspired me to take action to help our local watershed is when I go diving, I notice a lot of trash. I worry about how that affects our local waters and the gulf in the future. 
Eleanor:  Yes. As divers, we spend a lot of time in water, both near and far from home.  Over the years, we have noticed a decline in the natural beauty of our dive sites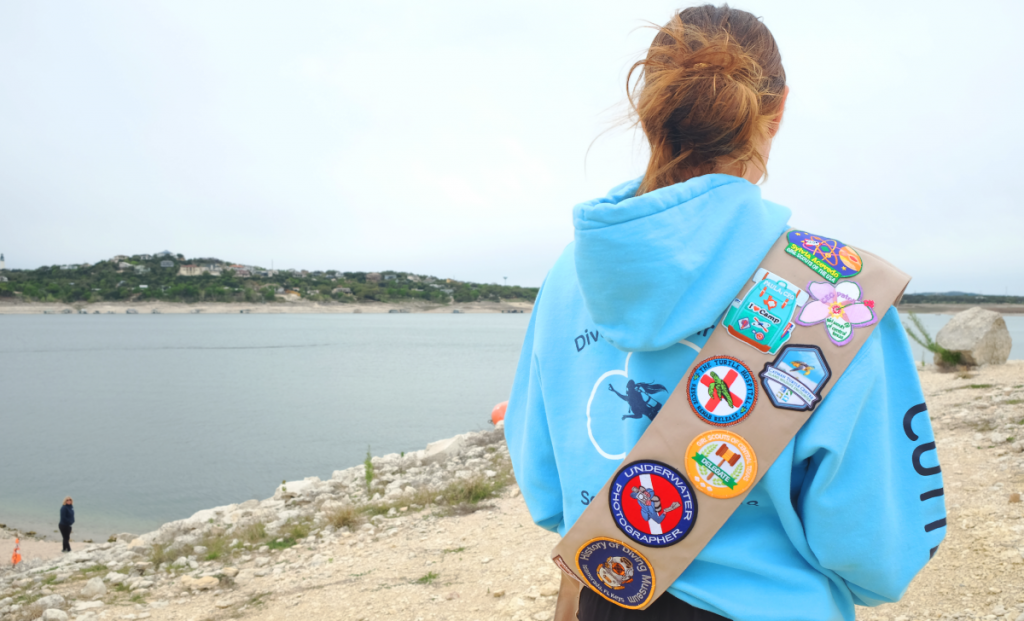 Scout AJ looks out over Lake Travis.
How did you do it?
Summer: In the past, we started off with little things like the Lake Travis Clean Up, which we do every year, and with projects that include picking up trash and learning about the ocean and how trash impacts animals in the ocean. We've also taken specialty certifications like PADI's Dive Against Debris, Project AWARE, Sea Turtle AWARE certification, and the Dive Authorization Course at Spring Lake.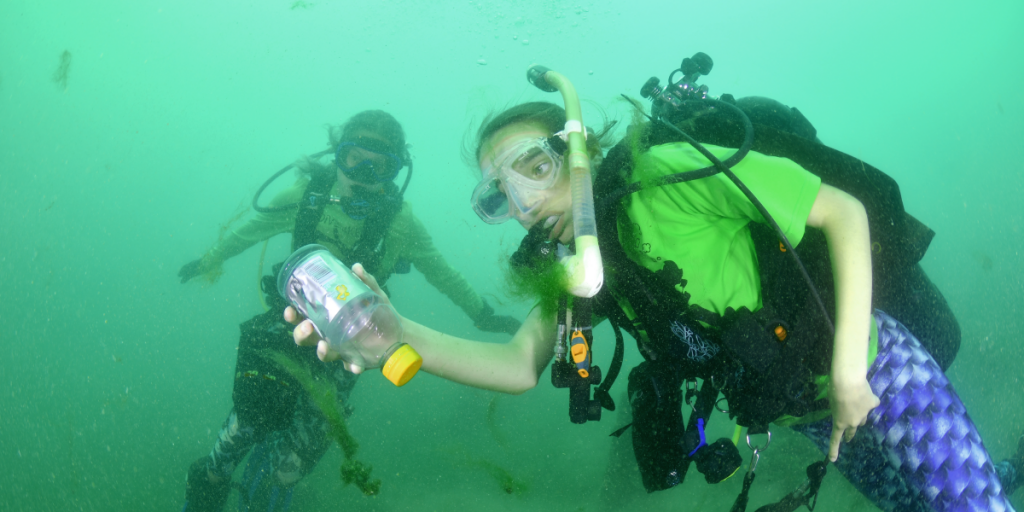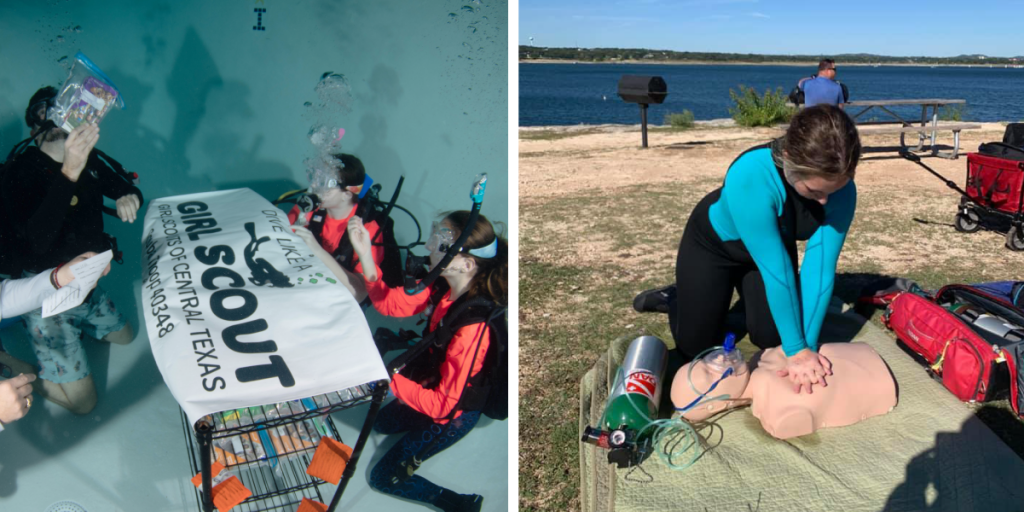 Above: Scouts from Troop 40348 pick up trash from Lake Travis during a dive. Bottom left: Customers dive to place their orders and float their cookie boxes from the scouts' underwater sale.  Bottom right: Summer completes a dive safety training. Photos courtesy of Girl Scout Troop 40348.
Eleanor: More recently, we launched Project SOFE (Save Our Freshwater Environment), which focuses on three main principles that we believe will better preserve our aquatic environments:
Plan your Trash

Choose to Reuse

Be Sun Smart
First, we introduced these principles into girl scouting. Next, we plan to implement them within the dive community at large. We believe conservation should be achievable for all. Therefore, we want our Project SOFE guidelines to be practicable.
What's been most rewarding about getting involved in this way?
Eleanor: My mom was certified as a diver before I was born. Now, she can take me to all the places she dove, and I get to see the places she saw twenty years ago. 
Summer: For me, the most rewarding part about cleaning up trash in our local watershed is seeing the lake be cleaner and not full of trash.  Seeing all the trash we pull out and weighing it is rewarding and fun.
Eleanor: Definitely! I want to be able to take my kids to all the places where I dive today. I can't do that if the sites are filled with trash and the damage it brings with it.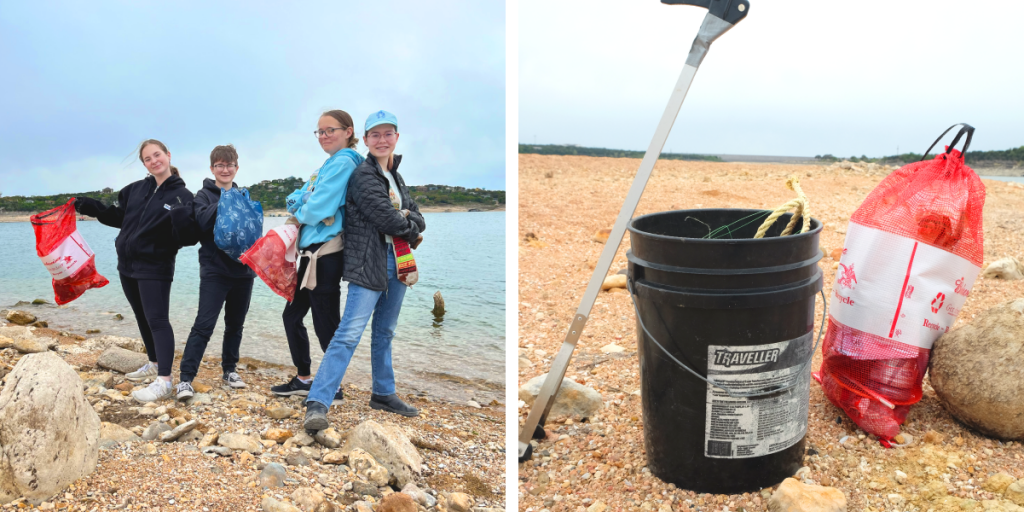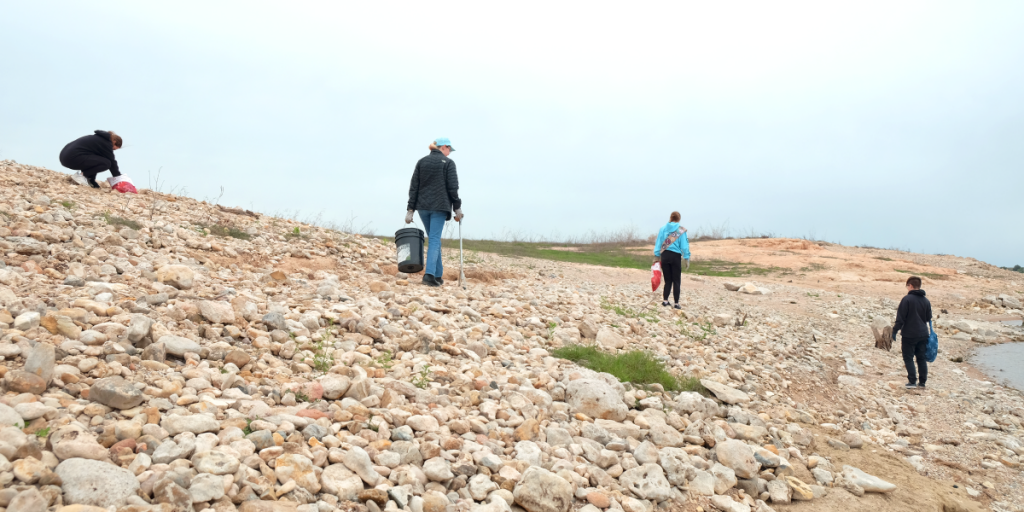 Top left (from left to right): Troop members Summer, Ziv, AJ, and Eleanor show off the trash they've collected. Top right: A full bucket and bag of trash collected by Troop 40348. Bottom (from left to right): Scouts Summer, Eleanot, AJ and Ziv scour the shoreline for trash and debris.
What's been the toughest part?
Summer: I feel like the toughest part is time. Since we are high schoolers, everyone has lots of activities. It is hard to coordinate with troop volunteers because we are all busy. It's hard to get together because we live in different parts of Central Texas, and most of us don't drive. It makes the time that we have together so special and fun.
Eleanor: As teenagers, our generation has grown up being told that we are going to inherit the world, but when we look at the world, it's full of trash.  And it's not great. Many think that it's our problem to fix, but the truth is that we all have to fix it — together. Saving the planet isn't a generational thing. We may be young, and we aren't professionals, but we still need people to listen to us.
What is something you wish everyone knew about the health of our oceans and marine life? 
Eleanor: What happens in the ocean does not stay in the ocean. I wish people realized it's impossible to ignore how interconnected each individual person is with the ocean.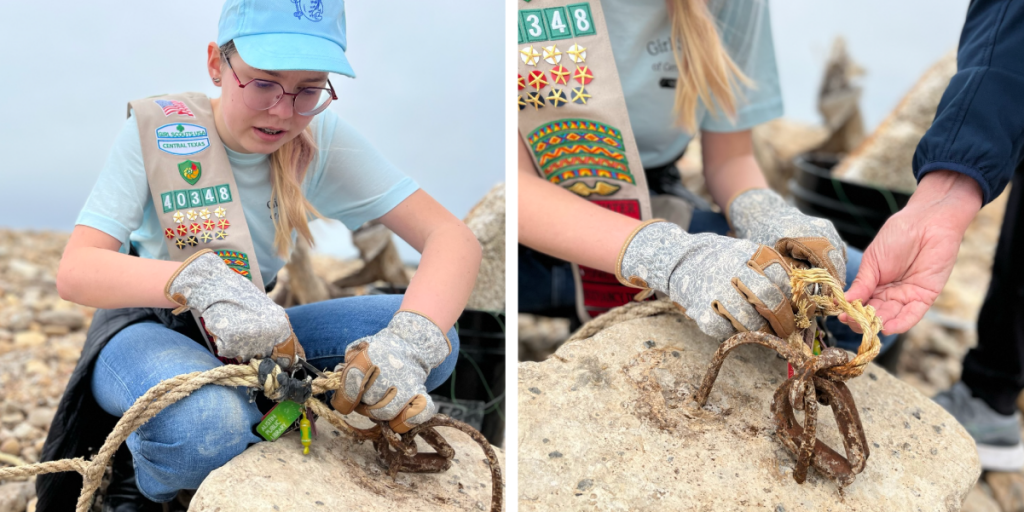 Summer: People can see the trash on the surface of the water, but they don't see what's going on underwater and how that affects the environment.
When the underwater animals get affected, the land animals also get affected. For example, birds can become ill or die from eating trash or from oil spills. Not only does this affect our ocean, but it also affects our freshwater too. So much can be tied back to our aquatic ecosystems, which connect to our land ecosystems.
Eleanor: The ocean and watersheds provide materials to sustain our bodies, stabilize our climate, and host some of the most beautiful environments. 
For those reading this who have never tried scuba diving, can you describe what the experience is like? What have you learned about yourself by scuba diving?
Summer: When I first started scuba diving, I never wanted to do it but when I actually got underwater, it was amazing. It was like being in an aquarium  —  truly amazing!  
Eleanor: So, growing up I was also afraid. I was afraid of floating off to a place where no one could hear me. When you dive, you feel weightless, and it's silent and sometimes a little cold, and I thought that would feel scary and alone but it didn't — It felt wonderful. It's like stepping into the only place where all you have to do is exist.
Summer: Yea, I used to be afraid of deep water and what animals deep water held but, when I began diving, I learned I was okay, and the ocean is not a scary place.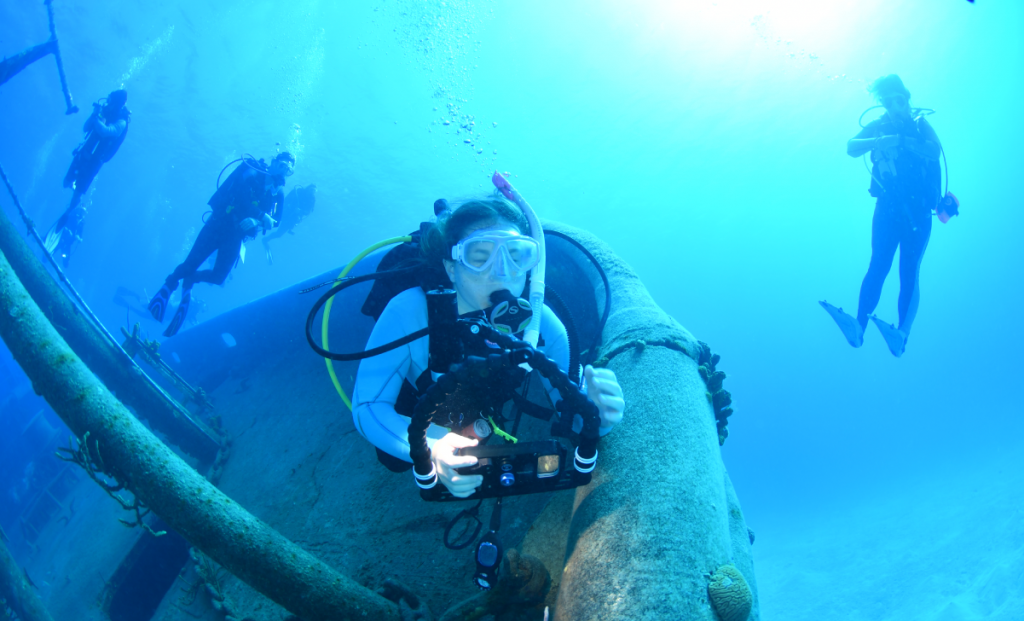 Scouts practice how to safely take underwater photographs.
Is there a book, documentary, or other piece of media you would recommend for folks wanting to learn more about these topics?
Eleanor: I would recommend the movie Wall-E and the PADI Open Water Diver Manual.
Summer: I like the books 100 Dives of a Lifetime [by Carrie Miller] and Texas Aquatic Science [by Rudolph A. Rosen].
What advice do you have for others?
Eleanor: Remember that there's no chosen one. There is no one that will magically lift a sword out of a stone and make it all better. 
Summer: Take baby steps. It doesn't need to be big massive steps or you're not going to want to keep going. But if you take little meaningful steps and grow and grow and grow, you will make big changes. If everyone did this, the world would be a better place.
Eleanor: Yeah, we all have to take steps together to make a difference. No one is perfect, but there are millions of other people out there trying to make a difference too.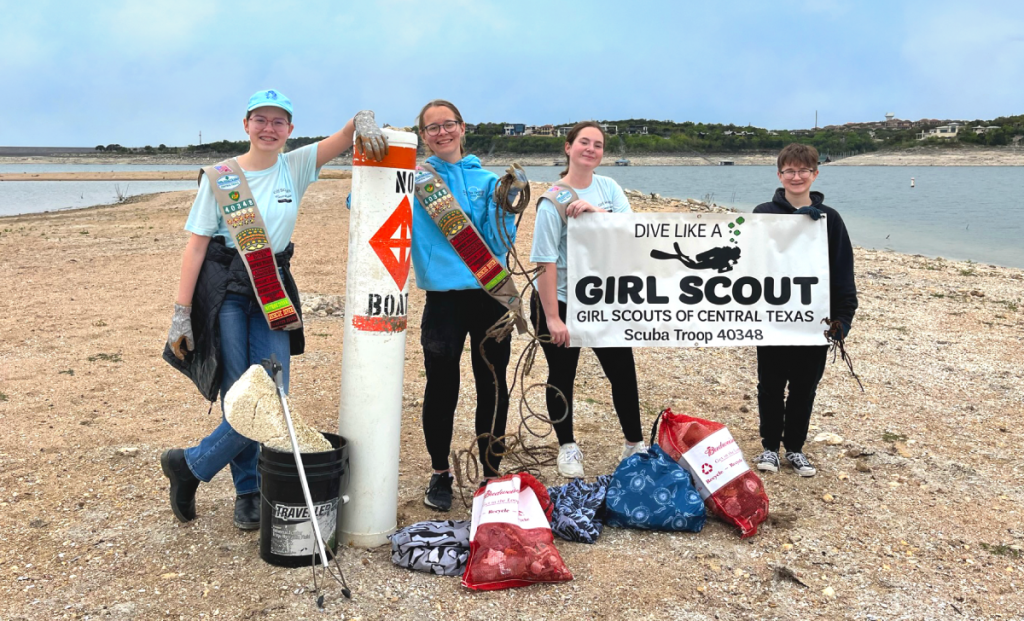 ---
Explore ways that you can get involved in Austin's food system. To learn more about Austin's net-zero goal and explore actions you can take to support a greener community, view the Austin Climate Equity Plan.
Share your Net-Zero contributions with us on Twitter or Facebook, and use #NetZeroHero. If you know a Net-Zero Hero (or heroes!) who should be recognized for their efforts, send your nomination to sustainability@austintexas.gov.